Namche Bazaar is the most popular gateway to the Khumbu Himalaya of Nepal. Also referred as the capital city of Sherpa, Namche Bazaar is also a popular market place in the Khumbu region. The village is set in a horseshoe shaped bowl looking straight out at the steep surface of Kongde Peak. Being the perfect destination for acclimatization, Namche Bazaar is probably the biggest and one of the well known villages along the Everest region trekking routes dominated by Sherpa settlement.
Once, Namche Bazaar was a historic trading center especially known for its homemade Yak Cheese and Butter. Sherpa's from neighboring villages and traders from Tibet would show up there to trade goods demonstrating remarkable traditional arts and craftsmanship. But at present, Namche Bazaar has become a hustling tourist hub where you can find trekkers and climbers at the start or end of their Himalayan journey. Namche Bazaar still maintains its pristine culture, tradition and practices and a warmest hospitality to the visitors.
In this blog, we've briefed about the best things to do while you're in Namche Bazaar:

Breakfast with Everest at Hotel Everest View:
A day hike up to the spectacular Hotel Everest View at Syangboche is highly recommended when you are resting at Namche Bazaar. This Hotel is a perfect example of nature meeting luxury. You will witness one of the most beautiful Mountain View from here including Everest. Hotel Everest View was established in 1971 and has been listed on the Guinness Book of World Records (2004) as the Highest Placed Hotel in the world at an elevation of 3693m. You can have access to internet or Wi-Fi along with excellent accommodation facilities. The never ending view of Mount Everest can be acknowledged from this comfy hotel offering Breakfast with Everest.
Stopover Saturday Market: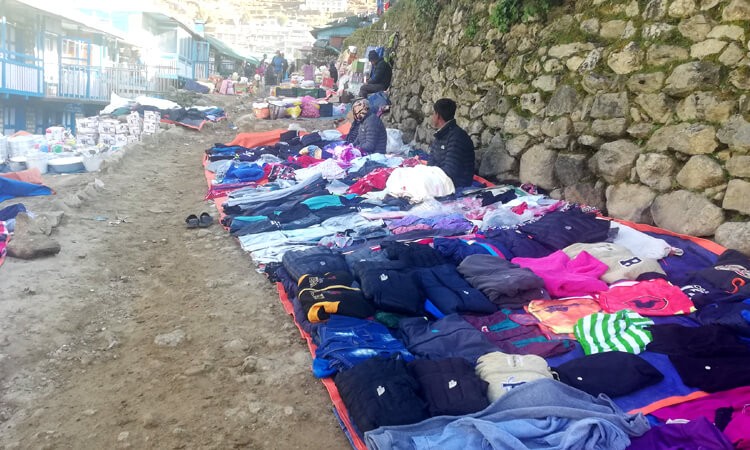 Every Saturday morning is Market Day in Namche Bazaar. Trading starts early in the morning at 8 am approximately. This market establishes the limelight in the middle of the town where traders from different villages present their essential goods to attract likely customers. All essential stuffs are carried by porters to Namche and almost people from every nearby village visit this market for shopping personal needs and essentials needed for their lodges and livelihood. Almost before midday, the whole market gets vanished so that people can return back to their village. It is a wonderful experience to witness the people of Everest region concentrated in Namche Bazaar Saturday Market which makes you comprehend life in the mountain regions of Nepal closely.
Sherpa History, Culture and Tradition: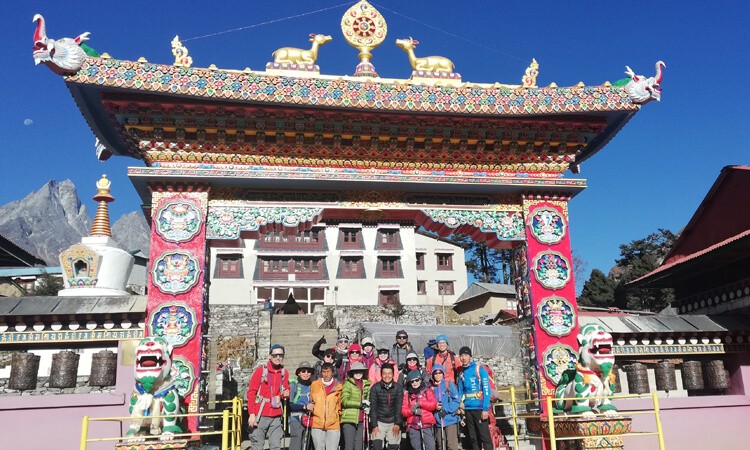 Namche Bazaar is the abode to the hundreds of Sherpa families and these people have been residing in this village since the very beginning. Namche Bazaar adds positive circumstances to acknowledge the authentic Sherpa culture and tradition in the closest manner possible. Accordingly, there are few great places to learn about Sherpa culture in Namche; Naunche Gonda Visitor Centre and Sherpa Culture Museum.
'Naunche' is the Sherpa term used for Namche, and 'Gonda' means temple. The center provides motivating history of the town and the Sherpa people who are believed to have been arrived in Khumbu region about 500 years ago. Another place is the Sherpa Culture Museum which was initiated by Sir Edmund Hillary in 1994. Here, one can observe how Sherpa people traditionally lived. This museum helps the travelers to appreciate the Sherpa people outside their image as trekking and climbing guides and porters. A visit to the Khumjung and Khunde village is also a great way to experience the Sherpa culture. Along the trail, you will see many Mani walls, stupas, gompas and prayer wheels. It is respectful to pass these monuments in a clockwise direction.
Spell-binding Side Trips (Khumjung, Khunde and Thame):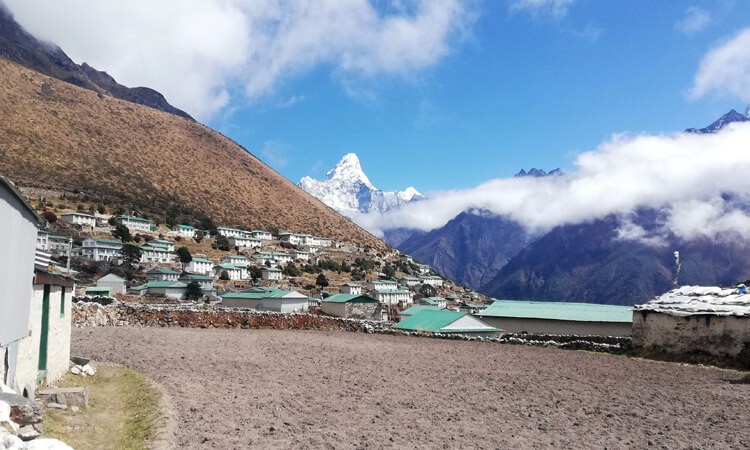 Khumjung and Khunde villages are the nearby Sherpa villages popular for their naturally green fields, authentic Sherpa culture, legendary Everest summiteers and the majestic views of Khumbu Himalaya. Full day hike to these villages will be rewarding with an opportunity to meet and greet the local people, experience the affection of Sherpa culture and witness the magical mountains (Mount Everest, Thamserku, Ama Dablam, etc). Another notable highlight of Khunde and Khumjung village is the cave located above Khunde where Guru Rinpoche once meditated. Similarly, Khumjung School built by Sir Edmund Hillary's Himalayan Trust in 1960 worth a visit when you're at Khumjung. All the roof of their houses is green in color which is why these villages are also named as Green valley.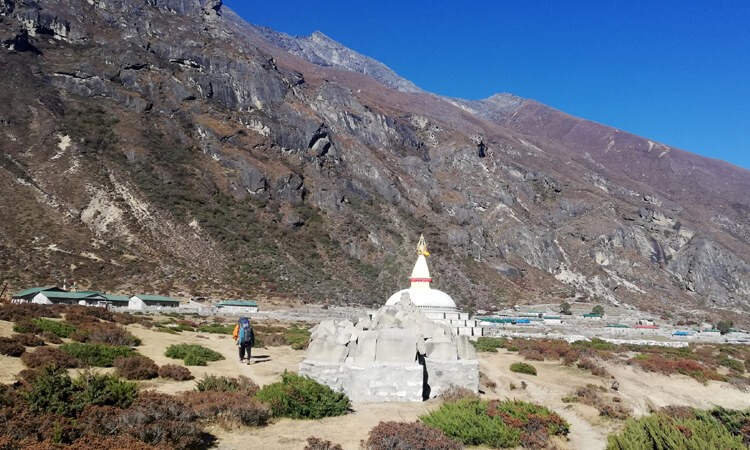 Thame village is a longer option from Namche but totally worth it. This beautiful village is situated at the end of Khumbu Valley. Standing at an elevation of 3800m, the trail follows the challenging Everest Three High Passes Trek itinerary. It is remote and untouched by the effects of modern civilization. Thame is the village where Apa Sherpa (20 times Everest Summiteer) and Ang Rita Sherpa (widely known as snow leopard) were born. It is also the childhood home of Tenzing Norgay Sherpa, the first ones to climb Mt. Everest with Sir Edmund Hillary. Thus, it won' be wrong to say that this village is an absolute gem to explore for all the enthusiast travelers.

Celebrate Your Success with Team at Local Pub at Namche Bazzar: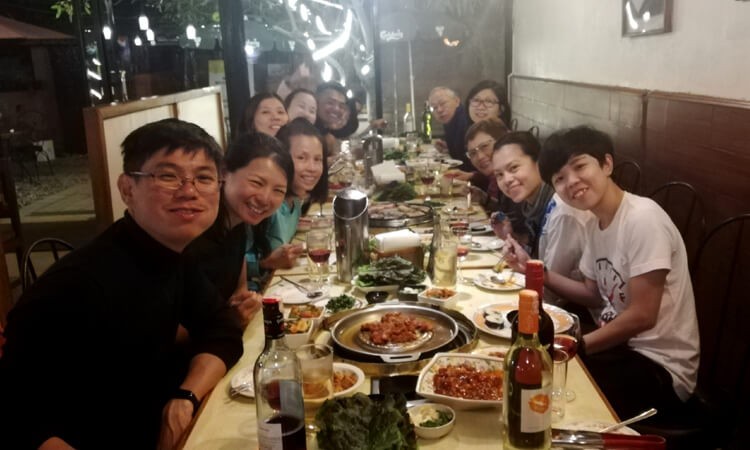 Namche Bazzar is a great place to celebrate your journey with your team. There are several bar and pubs where you can have a nice time and relax. The atmosphere inside the bar is always congratulatory as most of the people visit this bar after accomplishing their goals which might be reaching Everest Base Camp, other treks in Everest region or even the successful summit of Mount Everest or other Himalayan Peaks nearby. We recommend no to head here if you have just started your trek. Rather, it's a perfect spot to hang on our way back because it's not every day you can drink at an Irish pub at such altitude with stunning view of Khumbu Himalaya. Irish Pub along with others at Namche will be a best way to celebrate your success with Yak dishes on the menu which is served only here in Nepal.