Mera Peak Climbing History
Mera Peak Climbing: A worthwhile summit experience in the Everest region
Mera Peak Climbing is an exciting and tempting adventure that combines trekking through stunning landscapes with the reward of summiting a 6,476-meter (21,247-foot) peak in the Everest region of Nepal. It is one of the most popular trekking peaks in the country for climbers of all levels of experience, and while the climb is straightforward, it requires good physical and mental preparation. Nestled at an elevation of 6,476 meters, Mera Peak (North) is the highest permitted trekking peak in the Everest Region.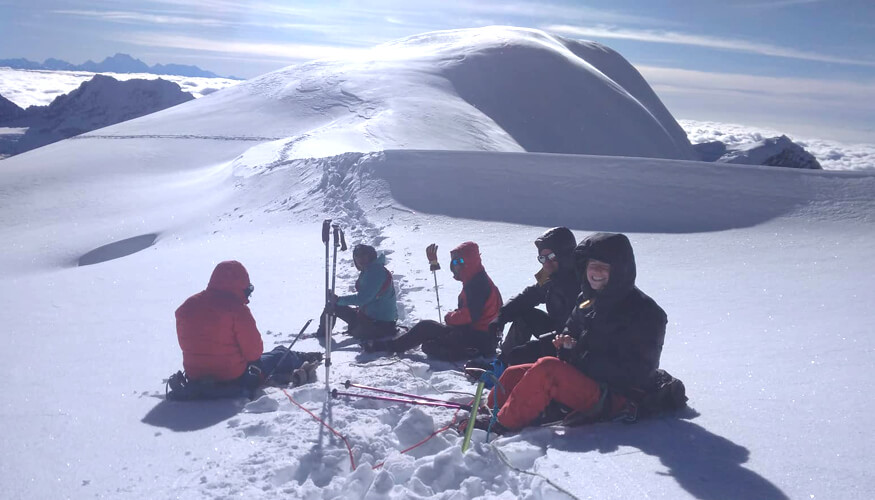 The first ascent of Mera Peak was made in 1953 by British Army officer Jim Roberts and his Sherpa Guide, Sen Tenzing made the first ascent of Mera Peak In 1975, French climbers Marcel Jolly, G Baus, and L Honills became the first to climb the true summit of Mera Peak, known as Mera North, via the standard route, which remains the most popular today. Since then, Mera Peak has become one of the most popular trekking peaks in the world. It is a relatively easy climb, but climbers should be well-acclimatized and have basic mountaineering skills.
Mera Peak: Notable Events in Climbing History
This description is more concise and direct, and it also highlights the fact that the events listed are from the climbing history of Mera Peak and not just notable events in general:
1953: First ascent of Mera Central by Jim Roberts and Sen Tenzing
1975: First ascent of Mera North by Marcel Jolly, G Baus and L Honills
1986: First ascent of the southwest pillar by Mal Duff and Ian Tattersall
2017: Hari Budha Magar becomes the first ever double above-knee amputee to climb a mountain over 6,000m in altitude by summiting Mera Peak
Approaches to Mera Peak
Mera Peak Climbing (Most Preferred Route)
Mera Peak Climbing is an inspiring adventure that combines trekking through stunning landscapes with a rewarding summit experience. It is one of Nepal's most popular trekking peaks in the Everest region, and for good reason. The climb is straightforward but requires good physical and mental preparation. The Mera Peak summit offers stunning views of 5 over-8000-meter Mountains such as Mt. Everest, Mt. Kanchenjunga, Mt. Lhotse, Mt. Makalu, and Mt. Cho Oyu.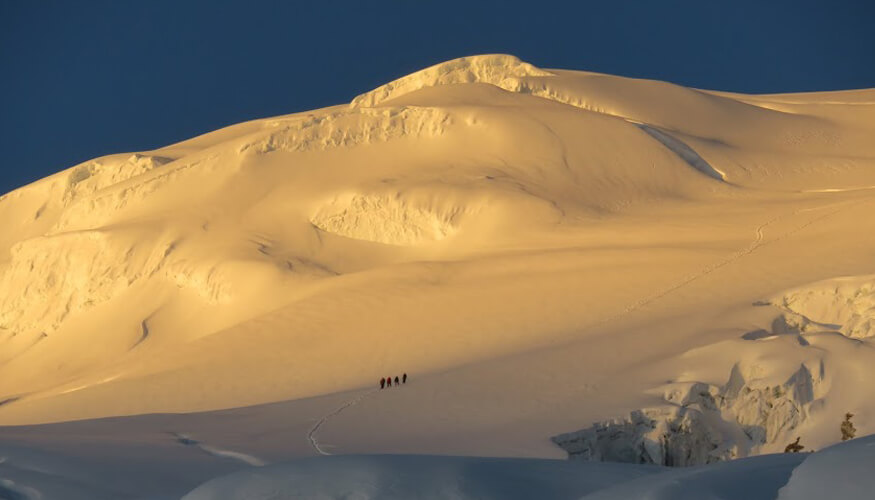 We, the Annapurna Foothills Treks, have crafted the ideal itinerary for a 21-day Mera Peak ascent via the lower route, ensuring optimal acclimatization before the summit push.
Our Mera Peak Climbing journey begins with a scenic flight from Kathmandu to Lukla (2,840m). From there, the trail descends through forests to the traditional village of Surke (2,290m). The trail ascends gradually to Pakhepani (2,560m) before reaching Paiya (2,730m). From Paiya, the trail continues to Panggom (2,850m), a Sherpa village above the Hinku Valley. Moving on towards Mera Peak, the trail passes through several Sherpa settlements, namely Ramailo Danda (3,276m), Chhatra Khola (3,122m), Kothe (3,600m), Thangnak (4,356m), and finally Khare (5,045m).
While the climb to Mera Peak is not technically demanding, it is important to be in good physical condition. The high altitude and steep sections can be challenging, so it is important to acclimatize properly and take your time. With good preparation and the help of our local Professional Sherpa Climbing team, Mera Peak Climbing is an achievable and rewarding adventure for climbers of all levels of experience.
Mera Peak Climbing via Zatrwa La Pass
Mera Peak Climbing via Zatrwa La Pass is the shortest version of climbing Mera Peak, which can be done in the shortest time period (16 Days) or can be customized even shorter. Because of this, this approach is also widely known as Rapid Mera Peak Climbing. But to do that, one should have prior multiday trekking experience and acclimatize well before undertaking Mera Peak via Zatrwa La Pass (4620m).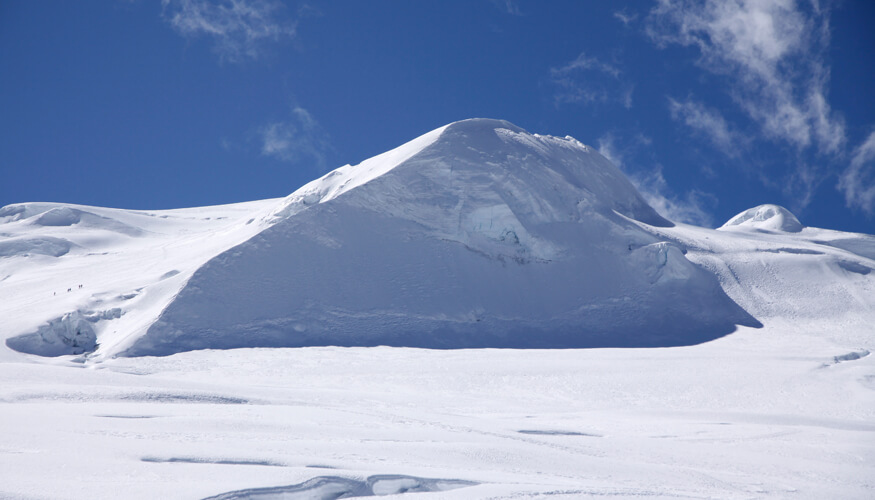 Our Rapid Mera Peak Climbing itinerary is carefully designed to allow for a steady ascent and adequate acclimatization before the summit push. We start with an exhilarating mountain flight to Lukla, followed by a gradual hike eastward, gaining altitude along the way. We cross the Zatrwa La Pass (4,620m) and descend to the village of Thuli Kharka. The trail passes through pine forests, lush green valleys, and sparkling rivers. Along the way, you will have the opportunity to see the local Sherpa people, who have been living in this region for centuries.
From Thuli Kharka, we hike towards Taktor and eventually reach Kothe (3,600 m), Thangnak (4,356 m), and Khare (5,045 m). The summit of Mera Peak is truly an extraordinary unforgettable experience. Take your time to relish the breathtaking panoramic view of the world's five tallest mountains: Mount Everest (8,848.86 meters / 29,031 feet), Mount Kanchenjunga (8,586 meters / 28,169 feet), Mount Lhotse (8,516 meters / 27,940 feet), Mount Makalu (8,481 meters / 27,825 feet), and Mount Cho Oyu (8,188 meters / 26,864 feet).
Mera Peak Climbing via Paanch Pokhara (5 Divine Holy Lakes)
Mera Peak (6,476 m) is the highest trekking peak in Nepal's Khumbu Himalayas. It is a technically easy climb compared to other trekking peaks in the region, such as Island Peak and Lobuche Peak, making it an ideal choice for beginner climbers. Adventure lovers are drawn to Mera Peak because of the magnificent views that reward climbers along the trail and from the summit. From the top, climbers can witness a surreal panoramic view of over 8,000-meter Mountains, including Mount Everest, Lhotse, Cho Oyu, Makalu, Kanchenjunga and other soaring Himalayan Peaks.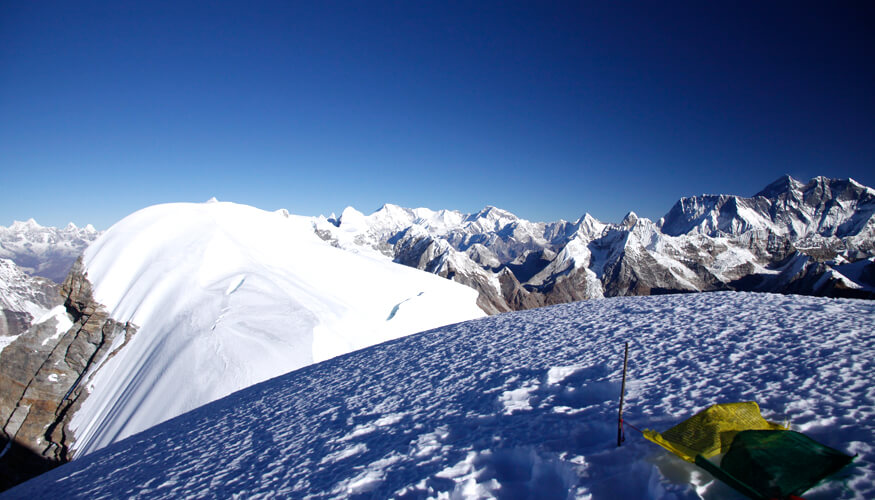 Mera Peak Climbing via Paanch Pokhari is best suited for those adventure seekers who opt to drive rather than fly. Most of the tour operators begin their Mera Peak Climbing by flying their clients from Kathmandu to Lukla (or now from Ramechhap as KTM-Lukla flights are rerouted from Manthali). But, choosing this version of Mera Peak Climbing via Panch Pokhari doesn't need to purchase flight tickets as we will be driving to the Trip starting point (Bung) and Trip ending point (Phaplu). By doing so, our guests will not need to stay extra nights at Lukla waiting for their flights which mostly get delayed, and flights sometimes get more risky and hassling compared to driving.
Our Mera Peak Climbing via Panch Pokhari adventure starts off with a jeep drive to Bung, passing Phaplu. From bung, we begin our hike to villages like Khiraule and other small villages. The trekking trail is also easy to follow and well-maintained, offering us magical views of the extensive valley and the surrounding surreal Himalayan foothills. Additionally, you'll pass the beautiful alpine lakes of Panch Pokhari (the five beautiful alpine lakes) on the way to Mera Peak. These lakes are very holy and attract hundreds of pilgrims every year during the full moon festival in August. Upon reaching Kothe from Panch Pokhari, we rejoin the standard trekking trail to Mera Peak.
Our Genuine Concern
In recent years, there has been an increase in the number of people climbing Mera Peak. This has led to concerns about environmental impact and overcrowding on the mountain. To address these concerns, the Nepal government has introduced a number of measures, such as limiting the number of climbers per day and requiring climbers to obtain a permit.
The government has also established a number of eco-friendly initiatives on Mera Peak, such as solar-powered lodges and waste management programs. Despite these challenges, Mera Peak remains a popular destination for climbers from all over the world. It is a beautiful and challenging mountain, and it offers a unique opportunity to experience the Himalayas.
If you are looking for a challenging but rewarding trekking peak to climb in Nepal or a beginner who wants to get an introduction to Nepal Himalaya, Mera Peak is a great option.