Everest Base Camp Trekking in Nepal is undoubtedly an all-time Himalayan Classic and one of the best hiking and trekking routes around the world. As the name implies, Everest Base Camp journey accomplishes the dream of enthusiast travelers who wish to follow the footsteps of legendary mountaineers to the foothills of the world's highest mountain, Sagarmatha or Chomolungma or Everest. From the bountiful Sherpa villages and cultures, lifestyles to the deep blue shades of Khumbu vistas, the trail to Everest Base Camp 5364m in Nepal is definitely once in a lifetime adventure that every adventure seeker looks for.
Need further more reasons to start your journey to the Himalaya of Nepal. Here we have discussed some key highlights of trekking to Everest Base Camp in Nepal:
Exciting flight to and from Lukla Airport: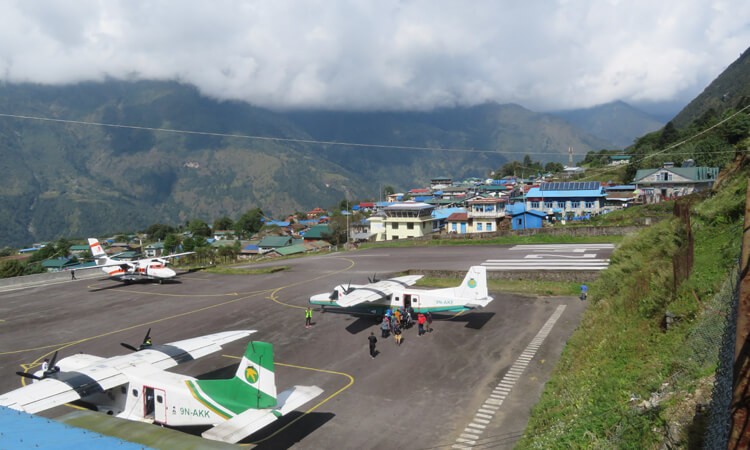 Flight to Lukla airport 2860m, also known as the Tenzing Hillary Airport, is a thrilling and memorable experience in Nepal. Most of the trekkers prefer to begin and end their Everest Base Camp Trekking from Lukla airport. However, there are other options to reach Everest region via Phaplu or even Jiri, but Lukla is considered as the major gateway to Khumbu region. Interesting fact about Lukla airport is that Lukla airport is nestled upon a cliff and falls downward at the end of the runway which is believed to be one of the shortest runways all around the world. This scenic flight rewards the travelers a captivating view of forested hills, lush green terrace farmlands, clouds and the magnificent mountain ranges.

Sherpa Capital: Namche Bazaar: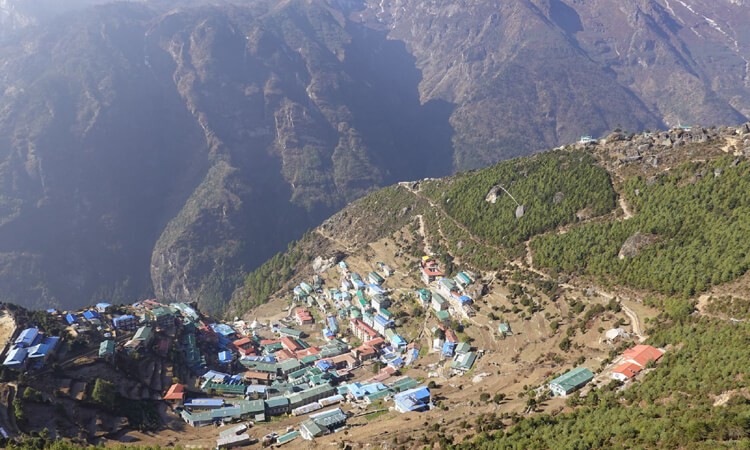 Namche Bazaar is the largest Sherpa settlement of the entire Khumbu region. It is a beautiful destination in itself with colorful tea houses, lodges and flapping prayer flags. The setting of this mountain town is majestic as it is spread on the steep sides of a horse-shoe shaped valley facing the beautiful Kongde Ri Peak. Namche bazaar is the perfect spot for acclimatization as there are several side trips or day hikes that trekkers can do from here and one can witness a magnificent view of mountain peaks and explore Namche and its surroundings. Namche Bazaar is also widely known as the "Gateway to Khumbu Himalaya" and equally plays a vital role in the development of tourism sector of the Khumbu region.

Hotel Everest View, Syangboche: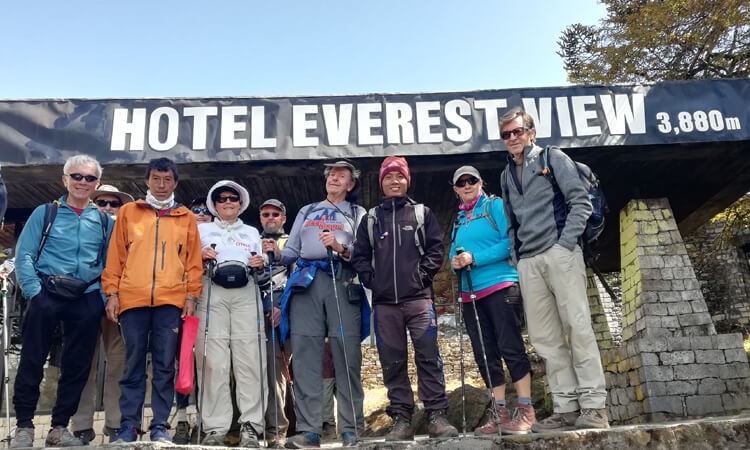 Founded in 1971, Hotel Everest View has been listed on the Guinness Book of World Records (2004) as the Highest Placed Hotel in the world at 13000ft (3963m). During our acclimatization day at Namche Bazaar, we do a half day hike to Syangboche for better acclimatization and the outstanding views. Upon reaching Hotel Everest View, it represents the adventurous atmosphere of the Himalaya. It is a perfect place to witness the nearby villages and enjoy the beautiful landscapes filled with evergreen fir trees, shrubs and rhododendron forests. Here, you can have access to internet or Wi-Fi along with excellent accommodation facilities. The constant view of Mount Everest can be appreciated from this luxurious mountain hotel offering Breakfast with Everest. A cup of tea/coffee from this hotel with the majestic views of Khumbu Himalaya is quite an experience during your Everest Base Camp Trek in Nepal.

Khumjung and Khunde: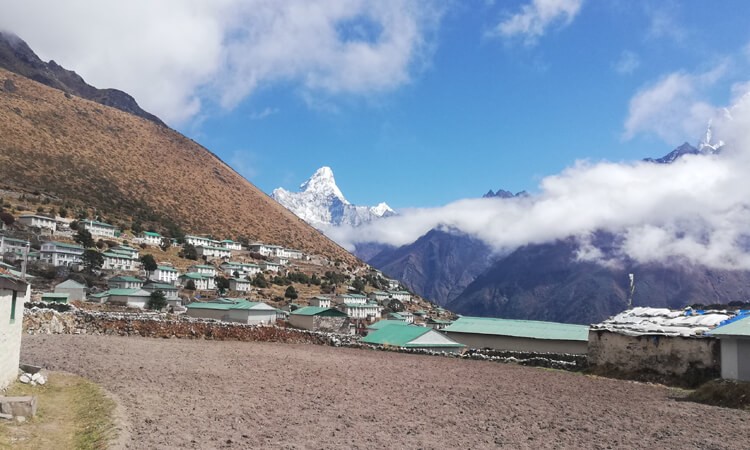 Khumjung and Khunde are the famous Sherpa villages especially for the authentic Sherpa community and legendary Sherpa climbers that comes from these villages. The visit to these beautiful villages makes for a fantastic full day hike from Namche Bazaar during your acclimatization day. Visit to these villages will be rewarding with a chance to meet and greet the local Sherpa people, experience the warmth of Sherpa culture, taste their cuisine and observe glorious mountains namely Mount Everest, Lhotse and beautiful mount Ama Dablam. Buddhism prevails throughout the area, which is recognizable not only by the fluttering prayer flags, but also by Mani walls and white chortens. Khunde Hospital, built by Sir Edmund Hillary in 1966 (maintained by the Himalayan Trust) aims to treat local people and also provide emergency care to trekkers in need. Similarly, Khumjung School built by Sir Edmund Hillary's Himalayan Trust in 1960 worth a visit when you're at Khumjung.

Monasteries and Stupas: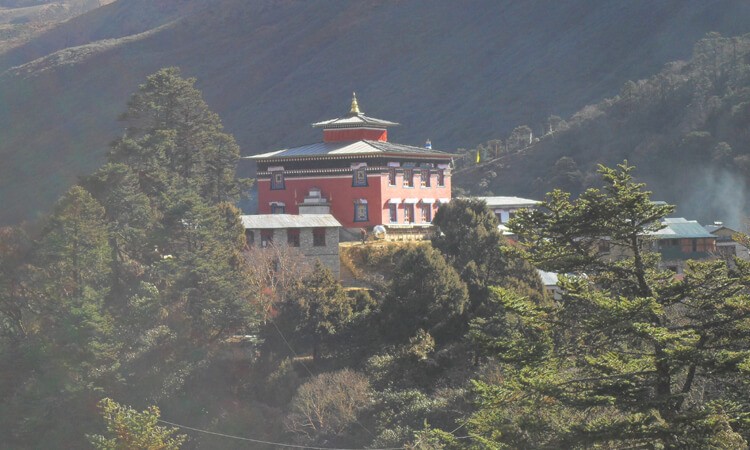 Everest Base Camp Trekking is an exceptional experience put together to grant you to explore the celebrated Buddhist monasteries along the trekking trail. A monastery is a crucial part of Sherpa culture and community. Almost each village has its own monasteries. Tengboche Monastery, Pangboche Monastery and Thame Monastery are most celebrated ones.
Tengboche Monastery:-
Nestled in Tengboche village, Tengboche monastery is an appealing and charming Buddhist monastery. Among the monasteries in Everest region, it is one of the most renowned and popular ones. Tengboche monastery is a must visit place during your Everest Base Camp Trek. Trekkers and climbers usually visit the monastery for blessings of a successful journey from the monks who live in the monastery. Also, you can have remarkable views of peaks like Mount Ama Dablam, Everest, Nuptse, Lhotse, and Thamserku from Tengboche.
Pangboche Monastery:-
Pangboche Monastery is believed to be the oldest monastery in the entire Khumbu region. It is famed for its supposed Yeti Scalp and Hand which is preserved in the monastery. Buddhism is believed to have been introduced in the Khumbu region towards the end of the 17th century by the legend Lama Sange Dorjee who himself built Pangboche monastery.

Majestic Himalaya: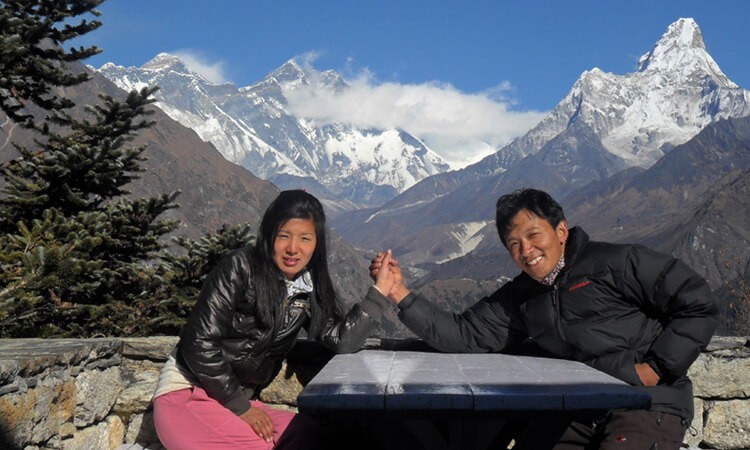 Mountain views are definitely major highlights of Everest Base Camp Trek. From the 8000m expedition to 5000m trekking peaks, Khumbu is full of beautiful mountains. Trek to Everest base camp is the one and only trekking route where one can witness four mountains above 8000 meters. They are Mount Cho Oyu (8201m), Makalu (8481m), Lhotse (8516m) and the worlds' highest mountain, Mount Everest (8848m). Encountering these Himalayan giants soaring high is certainly a spectacular sight to witness. Apart from that, trekkers will be accompanied by other prominent peaks constantly en route to Everest Base Camp. Other famous mountain such as Nuptse, Pumori, Ama Dablam, Thamserku, Taboche, Cholatse, Kantega, Kongde Peak, Lobuche, and Island Peak are a treat to cherish during this beautiful trek in Nepal.

Kala Patthar (The Black Rock):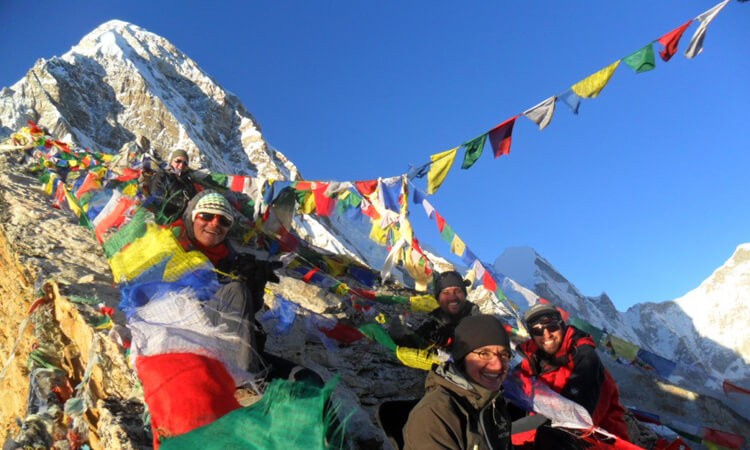 Kala Patthar 5545m is the highest and one of the most scenic points during the Everest Base Camp Trek in Nepal. One can witness probably the best sunrise view from this view point as it rewards the trekkers with a 360 degree extensive view of Mount Everest along with other Himalayan Peaks such as Lhotse, Makalu, Cho Oyu, Ama Dablam and others. Gorakshep is the last village with tea house facilities. It will take around two – three hours from Gorakshep to reach to the top of Kala Pattar. Since Mount Everest cannot be seen from the Everest Base Camp itself, most trekkers visit Kala Patthar which provides a stunning sunrise view of Everest massif in a dramatic manner.

Reaching Everest Base Camp: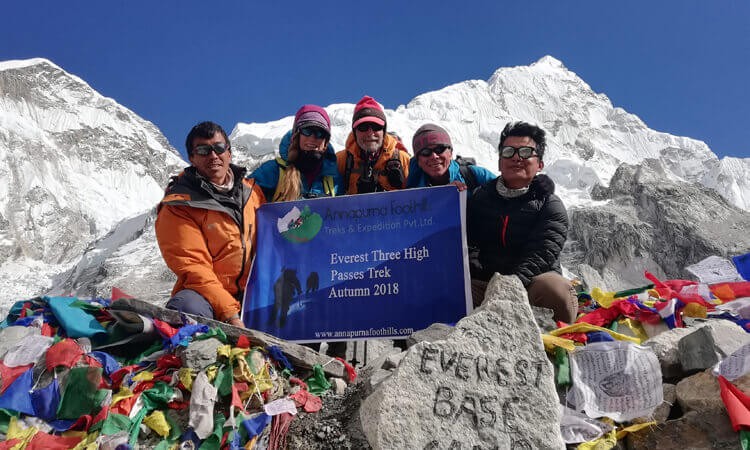 Reaching Everest Base Camp 5364m is a surreal feeling. Besides the objective part of the trip, Everest Base Camp is a lively place. Especially if you are trekking during pre monsoon season then there will be hundreds of Sherpa and foreigners waiting to climb the mountain. After a week long trek, tough journey, cold nights, winds and other uneasiness that you endured until now, the feeling of getting to Everest Base Camp is quite an achievement. The entire Everest Base Camp area is adorned with colorful prayer flags, large valley, apex touching snow peaks and the sharp Khumbu Glacier Icefall. While standing beneath the shade of the world's highest mountain, the feeling of enchantment and motivation becomes too big to possess. It definitely makes for a lifetime experience in the Himalaya of Nepal.

Sherpa People and Culture: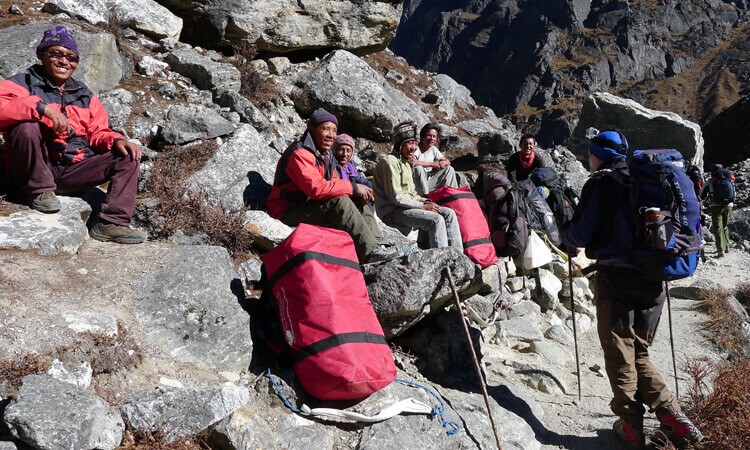 SoluKhumbu is the home to thousands of Sherpa people and these people have been residing in Everest region since the very beginning of Khumbu civilization. Since, Sherpa people are well known for their mountaineering, climbing skills, high altitude trekking abilities, warm hospitality and tourism for sure is their main source of income. Accordingly, Everest Base Camp Trekking provides an excellent favorable circumstance to relish the legendary Sherpa people and culture, tradition in the closest manner possible. This epic trek allows you to experience and explore the preserved culture, traditions, festivals, rituals, practices, and lifestyle of local Sherpa people and their community. Along the trekking trail, you will see many mani walls, stupas, gompas and prayer wheels. It is respectful to pass these religious monuments in a clockwise direction.

Landscape and Wilderness: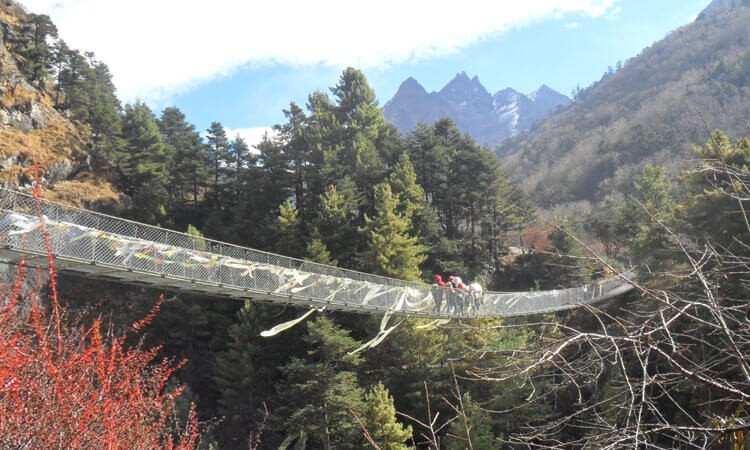 Trek to Everest Base Camp is quite an experience in terms of landscapes and terrain. This one is definitely a high altitude trekking experience in the Himalaya of Nepal. Beginning from Lukla, you'll gain elevation gradually. Bright prayer flags are strung from high places all along the trail which climbs gradually upwards through beautiful rhododendron and magnolia forests. The green vegetation and tree lines around its pristine environment makes walking much easier on high altitude adding more moisture within dry air surrounding that helps to maintain oxygen level better and as well to get acclimatize faster than on barren landscapes. With increasing elevation, you'll see jaw dropping dramatic landscapes en route to Everest Base Camp. As we climb higher, the temperature drops and by the time we reach the pastures of Dingboche and Lobuche, you'll be walking in an icy wilderness and on frozen rivers. The dramatic views of the giant peaks in the Khumbu region change every day as you trek along the Everest Base Camp trekking trail. You can experience the wilderness of mountains expanding actively as you will find yourself being among the stillness of glorious Himalayan peaks.

Well Maintained Trekking Trails: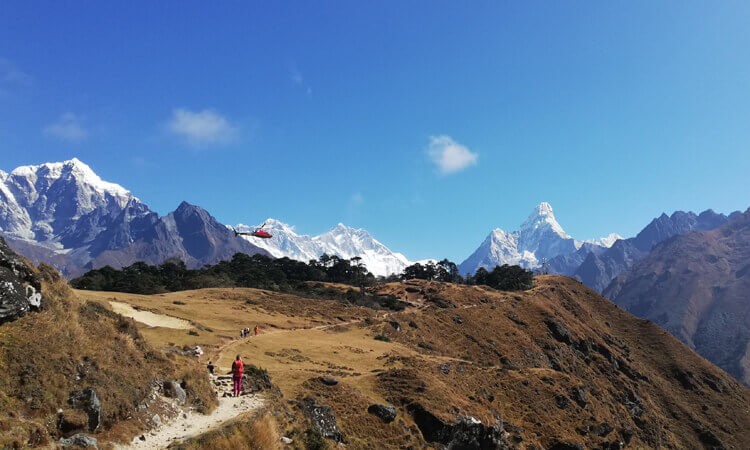 There is a reason why Everest Base Camp Trek is regarded as one of the best trekking routes in the world. Besides, the Himalayan vistas, local people, culture and the amazing landscapes, the trekking trails to Everest Base Camp are clean, well marked and maintained nicely. Most of the trekking trails in Everest region are well established and preserved accordingly. Tourism being the main source of income for locals Sherpa in Everest region, they keep their surroundings neat and clean following the guidelines of the local committee. Everest region boasts of impressively well-maintained trekking trails with conveniently located teahouses. These trekking routes are well marked with signage along trail, rubbish bins at rest places, safe and secure to travel alone or with a small group.

Amazing Tea House/Lodge Trekking Experience: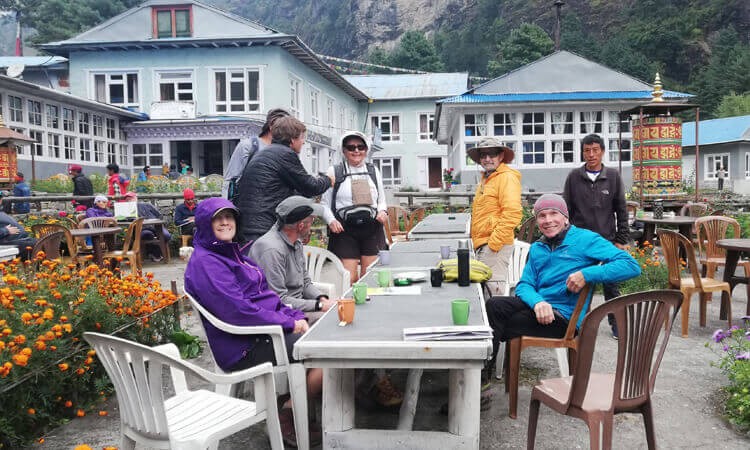 It would be fair to say that trekking to Everest Base Camp will give you the best teahouse/lodge trekking experience in Nepal. One of the interesting facts about this trek is that trekkers can commence their trek at dawn, traverse through high passes, appreciate the glorious mountain views by noon and be back at teahouse for freshening up till dusk. Trekkers will find teahouses within distance of one or two hours, with various options and facilities in the accommodations as well. During your Everest Base Camp journey most teahouses will have mostly twin rooms, clean, hot showers, wide varieties of menu, internet, WIFI card, charging facilities, and warm hospitality offered to you during your stay. The eye appealing local foods with clean and pleasant rooms and warmest hospitality of local Sherpa host will simply uplift the whole experience.