Manaslu Circuit Trekking is the amazing blend of wild and remote trekking experience, adventure and culturally immersive experience in the Himalaya of Nepal. Manaslu Trekking is often described as one of the best remote tea house treks in Nepal. Manaslu Circuit is the ultimate trekking adventure where you will meet fewer trekkers compared to the Annapurna or Everest Region of Nepal. Manaslu Region was opened only in 1991 and still is practically unheard of staying in rustic lodges in stone-house villages which is exciting to observe and experience. Recently, this trekking route is gaining more and more deserving recognition because of its spellbinding ancient culture, biological variations, alluring mountain views and pristine traditions and lifestyles that the local communities have kept as it is for ages. This wonderful trekking around Manaslu Circuit will leave you with a sense of awe and respect for the cultural and Himalayan wonders of Nepal.
Here are our 8 amazing reasons why you should put Manaslu Circuit Trekking in Nepal on Top of your BUCKET LIST:

1. Probably the Best Remote Tea House Trekking in Nepal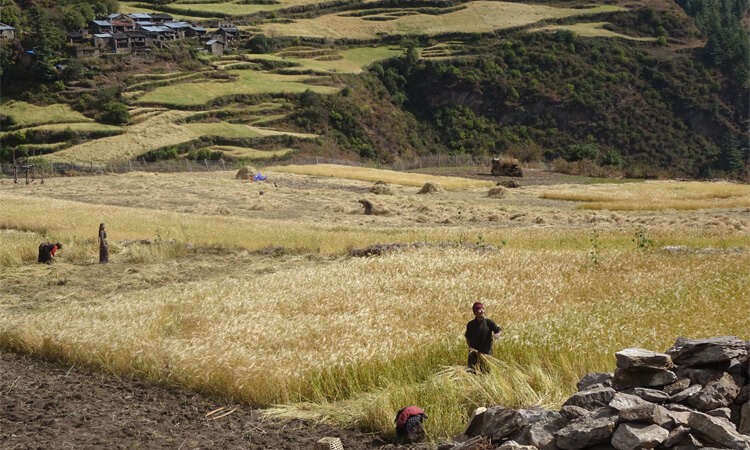 It would be right to say that the Manaslu Circuit Trekking is probably the best remote tea house or lodge trekking in the Himalaya of Nepal. You can find more remote trekking areas in Nepal such as Western Nepal of Dolpo, Phoksundo Lake,Rara Lake or even Kanchenjunga or Makalu Base Camps in Eastern Nepal but most of the trekking routes will have no or just basic lodge or home stays and we have to organize fully camping trips. Everest Base Camp, Annapurna Base Camp, Annapurna Circuit, Poon Hill Trekking are the most popular tea house treks of Nepal but Manaslu Circuit stands out among others because of its off- the-beaten-trails and due to its absolute natural beauty, ancient cultural belongings and wild exploration which provide the best occasion to gather the lifetime experience of this impeccable trekking in Nepal. The trekking trails of this route offer you the dazzling glimpses of Himalayan flora and fauna, scenic and diverse landscapes and villages rich with local culture and tradition which makes this trek a must do for any trekkers. Despite the remoteness, the Manaslu Circuit trekking routes are well maintained by the local community. We will find nice and comfortable tea houses along the Manaslu circuit trekking route. Even at Dharamsala or Larkya Phedi, we will have basic tea house facilities before attempting for Larke La Pass.

2. Hidden Gem of Nepal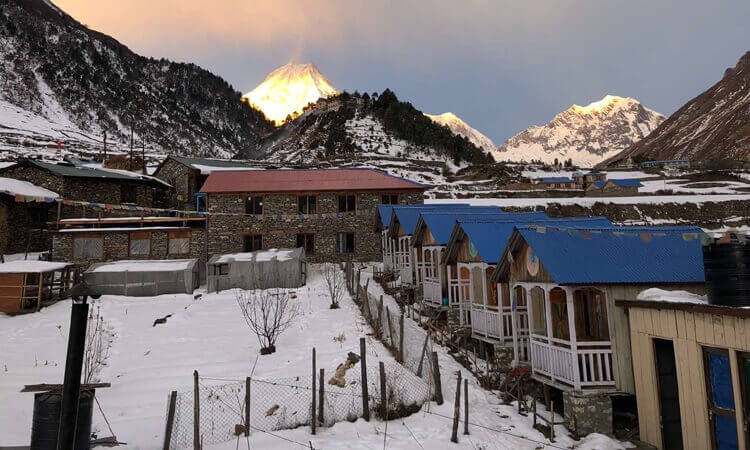 Manaslu Circuit Trekking route is definitely the Hidden Gem in the Himalaya of Nepal as this trek offers the trekkers to appreciate the diverse range of biodiversity, ecosystem and the remote lifestyle of the aborigines influenced by the Tibetan culture and stunning views of the mountains. Deeper into the valley, there are fewer and smaller villages often perched on the steep valley sides. Small terraced fields are farmed with ancient methods and hard labor by farmers who scarcely notice the remarkable panorama of peaks like the magnificent Manaslu and the Himalchuli massifs on the Nepal-Tibet border. This stunning scenery is part of the harsh reality of life for the inhabitants of this rugged land. Manaslu Circuit is still a new tea house trekking route comparatively. Previously it used to be a fully organized camping trekking.

3. Thriving Cultural Experience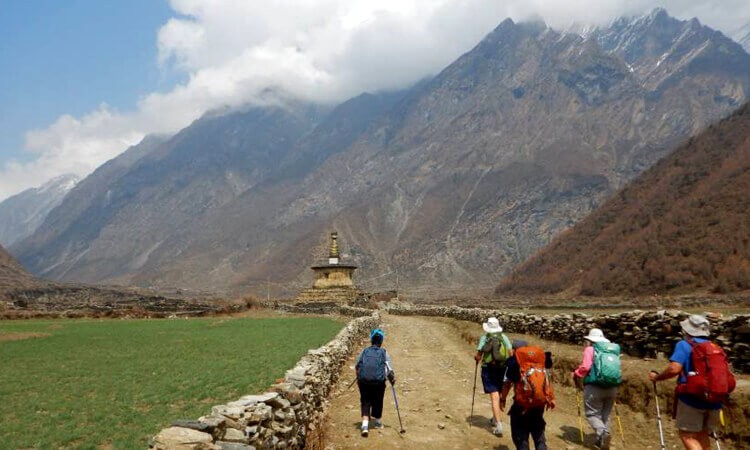 Manaslu circuit trekking explores the cultural immersive experience of remote trekking in Nepal. The local people of the Manaslu region have been successful to preserve the pristine depiction of Tibetan Buddhist culture. Manaslu region possesses some of the most beautiful and sacred Tibetan monasteries in Nepal. Due to which the locality is enhanced with considerable monasteries where we can see the monks learning sacred education regarding Buddhism till date. The distinctive odor of the historic villages and the isolated foothills of Himalaya reflect Nepal of several years back leading you back in time. Most of its history, its learning and bringing it into practice are associated with Tibet. The view of the Tibetan plateau against the stark white Himalaya makes this a truly spiritual place. In the main villages of the trekking trail such as Samagoan, Lho or even Samdo you can find how the native local people are living under their own world, detached from the world. You can find the purity and innocence in their face.

4. Wide Ranging Wilderness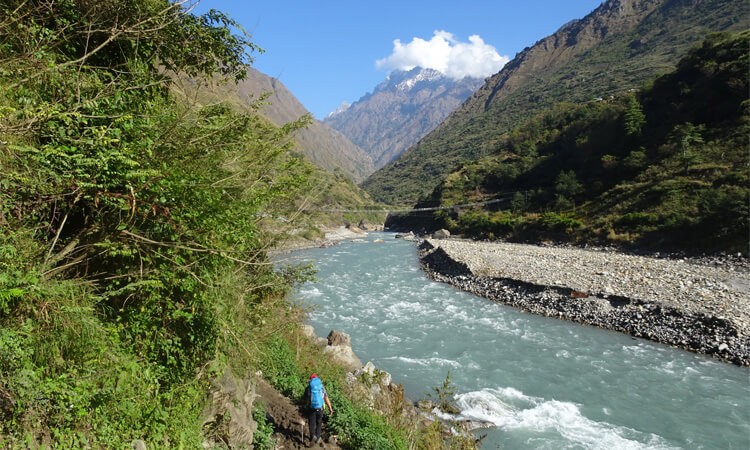 Manaslu Circuit Trekking rewards every single adventure seekers to explore the wilderness from start to finish of this amazing trek. In the lower altitudes comprising walking with the river edges of deep flowing Budhi Gandaki River along with outstanding landscapes, flora and fauna and well maintained trekking trails. Manaslu Circuit gradually acclimatizes by climbing fewer hours per day and as we gain more altitude with different landscape, vegetation and atmosphere. We will encounter mythical snow capped towering peaks in front of our eyes i.e. Himlung Himal (7125m), Cheo Himal (6820m), Kang Guru (6981m), Annapurna II (7939m).. to quote only a few. Changing terrain, settlements, local people and the high altitude makes its presence felt. Trekking under the shadow of such magical mountains is definitely a lifetime trekking experience in Nepal.

5. Off the beaten path trekking in Nepal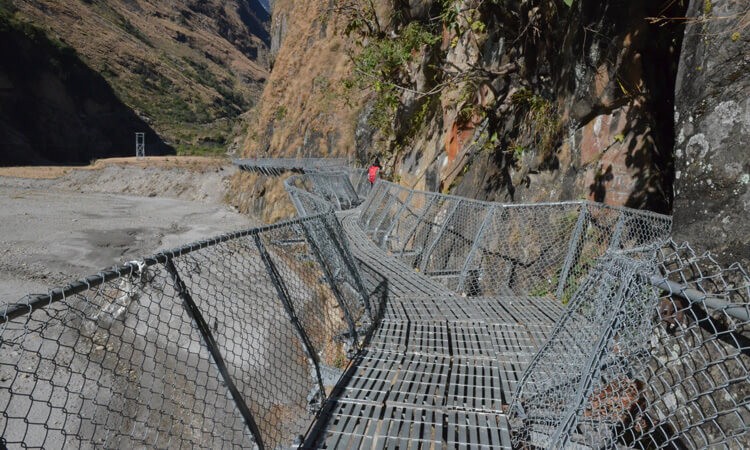 Around Manaslu Trekking is the ultimate off the beaten path route in Nepal. Comparing to the popular treks such as Everest Base Camp or Annapurna Base Camp or Annapurna Circuit, Manaslu Circuit Trekking is the less engaged route. You will see fewer numbers of trekkers along the Manaslu trekking trail. Despite of its popularity, if you're a traveler who loves to seek the place which is less commercial and are good with idle trails, this adventure is the perfect trip for you without any doubt. Even in the main trekking seasons in Nepal (autumn and spring), this trek is replete with routes which are placid with admirably tranquil atmosphere allowing you a divine peace of mind into the nature.

6. Crossing the Challenging Larke La Pass (5213m)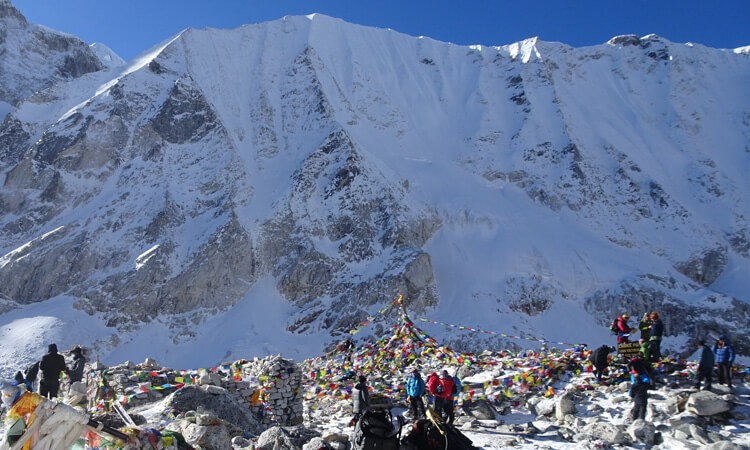 Larke La Pass, 5213m is the highest point of your Manaslu Circuit Trek. Crossing Larke La Pass is a test of physical and mental strength and endurance. Dharamsala or Larkya Phedi is the last village before the Larke La Pass. Early morning start is suggested so that we escape the high winds on the pass and get to Bhimthang on time. The scenery is just outstanding as it offers a perfect combination of exceptional charm of Himalaya (Mt. Manaslu, Himalchuli and Cheo Himal) along the way and rich Himalayan biological varieties. Larke La is a long pass comparatively. Not very steep or technical but the walk to the top and descending can take time depending upon your hiking pace. These mountain peaks tower above us as we descend from alpine into tropical areas, bursting with ferns, bamboo, waterfalls and blue-green lakes bordered by white beaches. At last we reach the heavily forested valley of the Marsyangdi River until we meet up with the popular Annapurna Circuit Trekking trail at Dharapani.

7. Fascinating Side Trips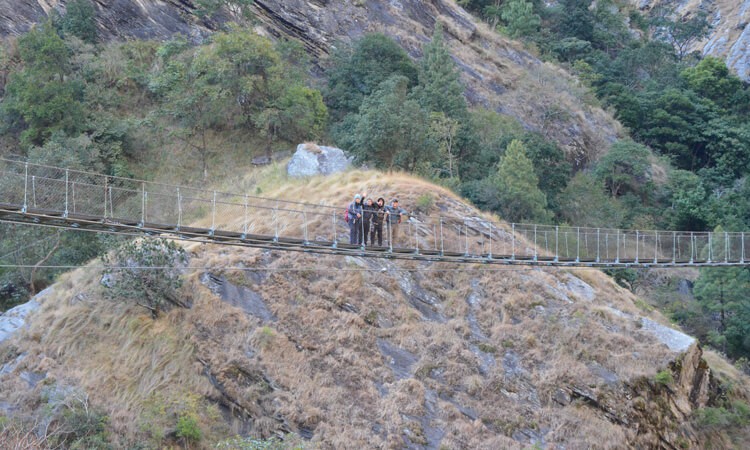 Trek to the beautiful Manaslu region offers you with several interesting side treks and destination that can be reached after a couple of hours trekking from nearby village. Some of the notable side trips are Manaslu Base Camp, Birendra Lake, Pungyen Gompa, Serang Gompa. Nevertheless, you should consider that hiking to such places are doable but just as a day hike. Addition of Tsum valley in your existing Manaslu circuit itinerary is great. If your travel time allows then we highly suggest this exciting option in your Manaslu Trekking itinerary.

8. The place where the Mountain Dwells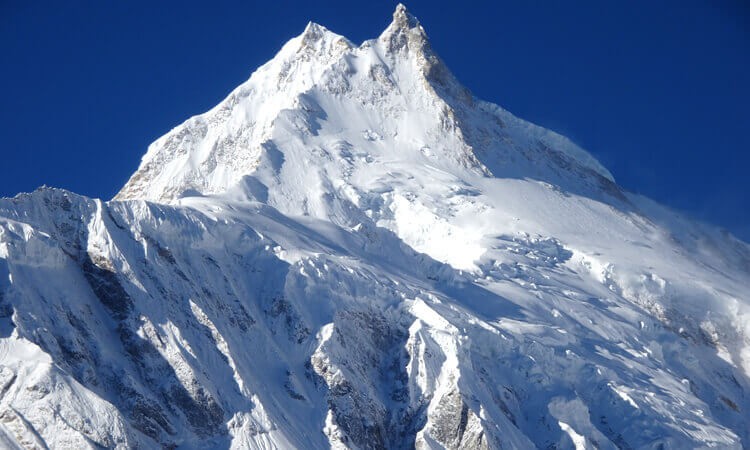 While trekking along the Manaslu Circuit, you will have exceptional and different views of Mount Manaslu (8156m, the world's eighth highest mountain). Manaslu is also one of the only three 8000m peaks that are situated absolutely in Nepal. The summit ridge of Mount Manaslu, you can see two distinct horns which give Manaslu a unique and attractive appearance. The shades of Manaslu changes dramatically as you circle the mount during the entire trek. The sunrise and sunset shots of Mount Manaslu is just mesmerizing. Beside Manaslu, we will also witness majestic views of Ganesh Himal, Himalchuli, Kutang Himal etc. during this amazing journey. Meanwhile at the end of this exceptional trek, one does have an opportunity to observe the mighty the Annapurna massifs.