Nepal undoubtedly is a major tempting destination for adventure hiking and trekking in the natural beauty encircled with gigantic Himalayan ranges. Every adventure seeker admires an excellent hike and when it comes to trekking and exploring beneath the Himalaya, Nepal comes first in mind of many travel enthusiasts. From long and demanding treks to short, easy day hikes, Nepal wide varieties of treks that you can choose from. You can select arrays of hiking options depending on your time frame, interests, level of fitness and previous hiking experience and start your journey in the beautiful Himalaya of Nepal.
A beginners trekking in Nepal is a less challenging to some extent but equally rewarding and exciting experience. A beginners trek is usually regarded as a trek which is done in lower elevations and short treks at lower elevations will also make for a great trekking experience as these kinds of treks offer spellbinding mountain views along with the taste of the local culture, lifestyle and people. You can experience the authentic feeling of rural villages, eye witness magnificent mountain scenery and traverse through the innate grace of nature and wildlife on foot. Altitude sickness or Acute Mountain Sickness (AMS) will be rare as these treks have ideal mixture of altitude, length, and number of days.
It is said that there is something for everyone in Nepal which is absolutely true and accordingly, Nepal offers several amazing short and less challenging trekking trails which are absolutely great for beginners and can be done throughout the year. While choosing a trip for you and your loved ones, we suggest you to go with the one that alleviates you and is more convenient rather than the one that's top graded. As long as you unite with the trail and vicinity, everything else will fall into its place accordingly.
Our experienced and local team of Guides at Annapurna Foothills has curated this amazing catalog of best beginner treks in Nepal. These treks are easy and can be completed within short time frame. We highly recommend doing these treks with your family, friend and loves ones.

1. Helambu Trek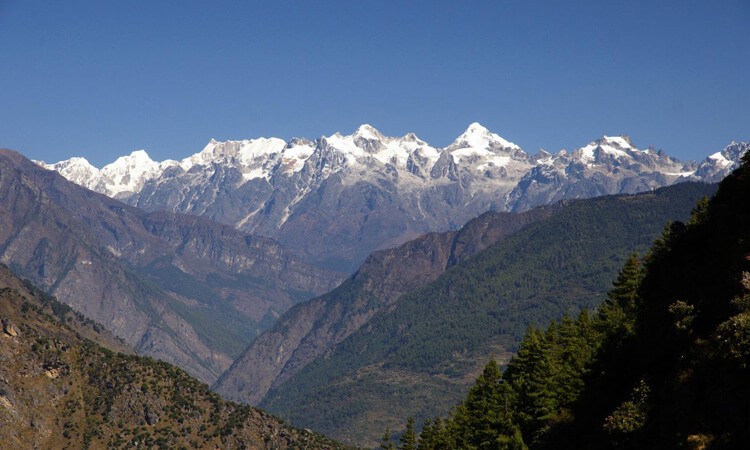 Helambu Trek can be done by the trekkers of all ages who take pleasure in the nature, culture and outdoors as this hike is not too demanding and is relatively a easy trekking experience in Nepal. The trail passes through pleasant forests, green valleys, rhododendron forests, Tamang and Sherpa villages and communities. Staying in the authentic and cozy guesthouses or homestays of the of the ethnic Sherpa, Tamang and Lama villages, gives a taste of the local culture and lifestyle. The ancient monasteries, stupas give a glimpse into traditional Buddhist culture. There are spectacular views of the Langtang, 7245, Ganesh Himal, 7405m, Dorje Lakpa, 6990m and other mountains of the Langtang range. This is a perfect gateway nearby Kathmandu valley and suitable for beginner trekkers.

2. Ghandruk Loop Trek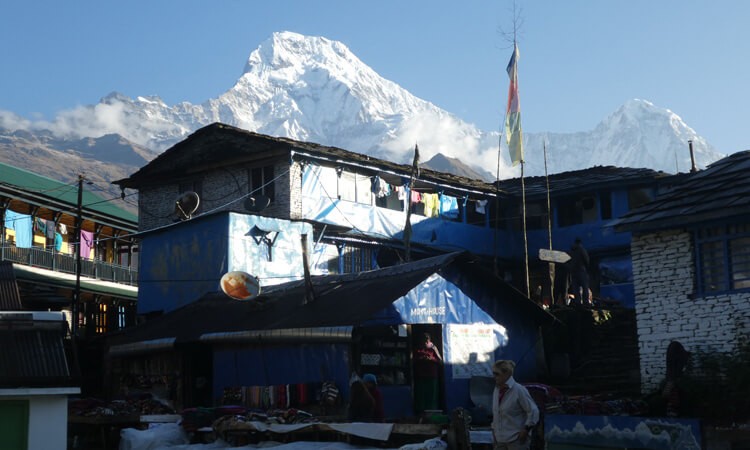 Ghandruk Loop Trek is one of the easiest and top rated trekking trails in the Annapurna Region offering magnificent mountain scenery. This trek doesn't go very high and the distances can be covered at a relaxed trekking pace. It is a good family trek that even the younger children will enjoy as each day; you will be surrounded by nature, amazing mountain scenery and the traditional lifestyle of the Gurung people. The Ghandruk Loop Trek offers an introduction to Nepal with splendid scenery, enticing Gurung culture and dazzling views of Annapurna Mountains such as Annapurna II, Annapurna III, Machhapuchhre, Lamjung Himal, Annapurna South, 7195m, Annapurna I, 7647m and Annapurna IV, 7525m, etc. can be observed in this culturally rich trek.

3. Balthali Village Trek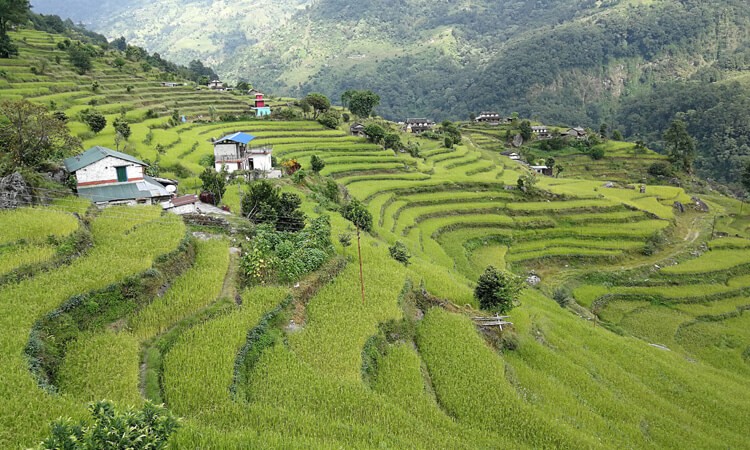 Trek to Balthali village can be the perfect introduction for easy trekking in the Himalaya of Nepal. This hike can be categorized as a short village trek starting with a scenic drive from Kathmandu, on the top edge of Kathmandu valley. During this trek, one can witness long established classical Nepal offering spellbinding view of Langtang Himal, Ganesh Himal range, Manaslu, Dorje Lakpa, Gaurisankhar, and Everest on the northern horizon. The trail is somewhat off beat traversing through small farming villages along with lush green forests, primeval temples, and terraced fields. You don't have to be exceptionally fit to do this trek. This is a perfect beginners hiking experience at lower altitude with short walking hours and distances.

4. Ghorepani PoonHill Trek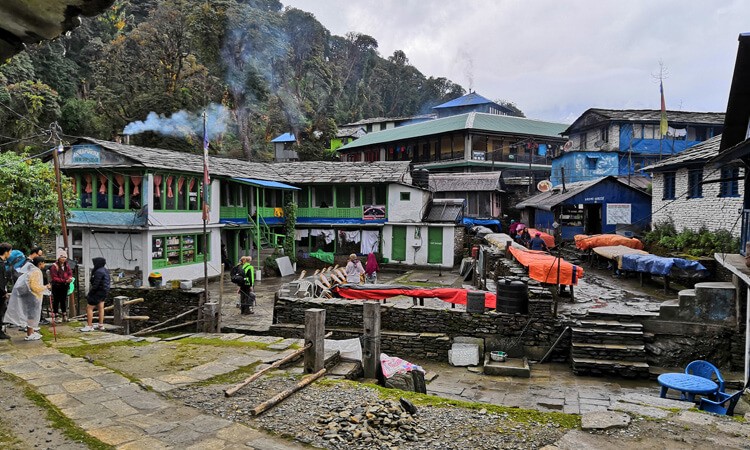 Without any doubt, Ghorepani Poonhill Trek can be the ideal trekking for beginners as well as families trekking in Nepal. It is the most idyllic path for those with less an ultimate opportunity to encounter the amazing mountain landscape and the wonderful culture of the Annapurna Region. Eye witnessing the magical sunrise from Poonhill; the sun first rays touching the peaks of the Dhaulagiri, Annapurna, Nilgiri and other magnificent mountains of the Annapurna range, reflecting in shades of red, orange and pink; a truly magnificent view, is one of the major highlight of this trek. The entire Ghorepani area is densely forested with rhododendron, the national flower of Nepal. In spring season these forests turn into a magnificent blanket of red blossoms, and the Annapurna range provides a backdrop of white snow, a perfect setting for your first trip in the Himalaya of Nepal.

5. Pike Peak Trek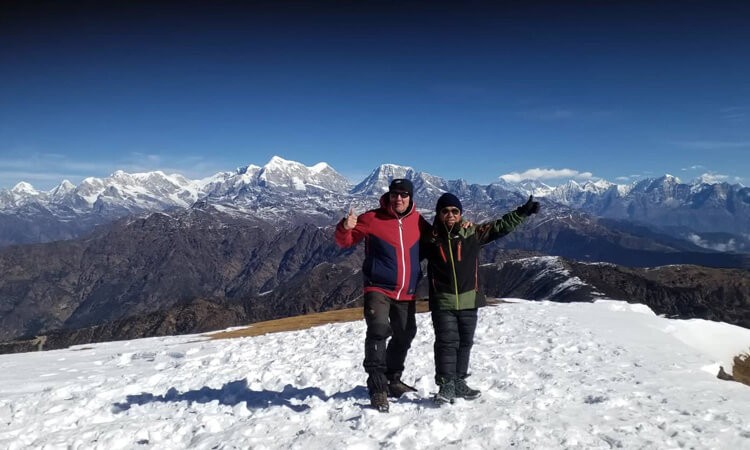 Pike Peak Trek also known as "Lower Solu Trekking", is one of the most scenic treks in Solukhumbu region. Once, Sir Edmund Hillary himself claimed that the view of Mount Everest from Pike Peak to be his favorite. The name Pike is derived from the name of a Sherpa tribe deity. During the month of July, locals hold different celebrations to worship their tribe god. This moderate trek is ideal for those who want to veer off the typical tourist trails and try something offbeat and exciting. One of the treks main highlights is a sunrise hike up to Pike Peak, 4065m, to witness the implausible panorama which includes four of the highest mountains in the world Mt. Everest, 8848m, Mt. Kanchenjunga, 8598m Mt. Lostse, 8586m and Mt. Makalu, 8475m, as well as numerous other 6000 and 7000m peaks including Ama Dablam 6812m, Thamserku 6623m, Kantega 6780m, Kusum Kangaru 6370m and Mera Peak, 6476m.

6. Panchase Trek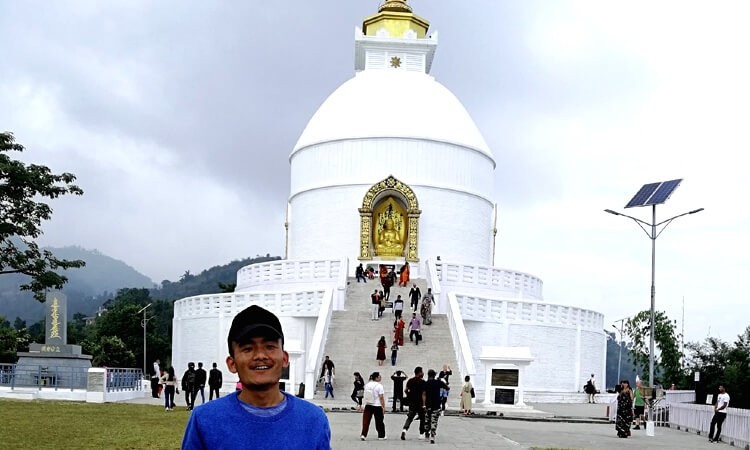 Panchase Trek is a short offbeat hike through the lush green forest nearby Pokhara. This trek is best suited for travelers wanting a genuine Himalayan trekking experience with unbelievable views without the time required for a long trekking duration. One can take their time to appreciate the views and take plenty of pictures along the trail as hiking hours are shorter on a daily basis (4 hours a day) compared to other trekking trails. The Panchase Trek offers stunning views of Mount Dhaulagiri, Annapurna I, Manaslu, Lamjung Himal, Machhapuchhre and other wilderness experiences. It is also equally known as the sacred site for Yoga and meditation. Beside this, it provides an amazing diversities and beauty in the scenery as the trek goes through delightful rice fields, splendid vegetation and local Gurung, Magar and Brahmin villages and communities.

7. Langtang Valley Trek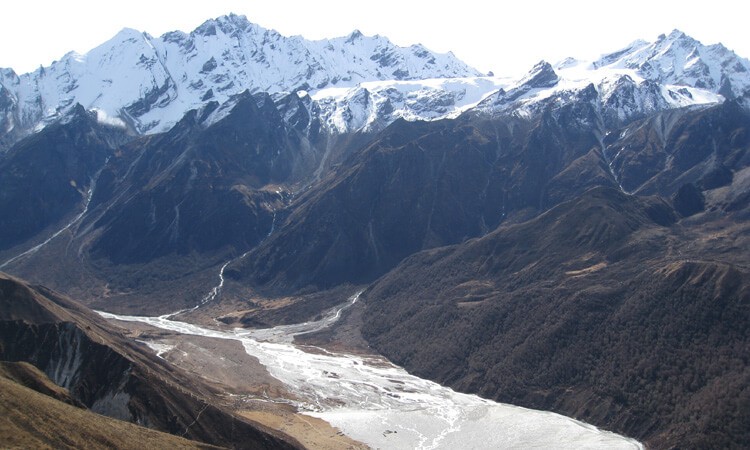 Langtang Valley Trek is one of the most accessible trekking areas in Nepal. Starting with a 130 km road trip from Kathmandu to Syabrubensi (9 hrs), the landscape of culturally rich Langtang begins to seem surreal as we get closer. The whole valley is open on all sides and dry as a desert. The magnificent Langtang Lirung 7246m dominates the myriad of huge peaks. As we climb the final distance to Kyanjin Gompa, the mountain views seem to become more and more magnificent with each step. A knoll overlooking the village gives a 270 degree panoramic view of glaciers and 5000 meter snowy white peaks. Hike to Kyanjin Ri (4779m) is a major highlight of this amazing trek. The view of the valley and mountains on the Langtang Valley Trek is constantly changing, but still unbelievably stunning. The Langtang Valley Trek passes through many quaint villages where Tibetan script on prayer walls and chortens remind us of the Tibetan-Buddhist heritage of the inhabitants. This trek is suitable with friends, families or solo and a great hike for beginners in Nepal.

8. Royal Trek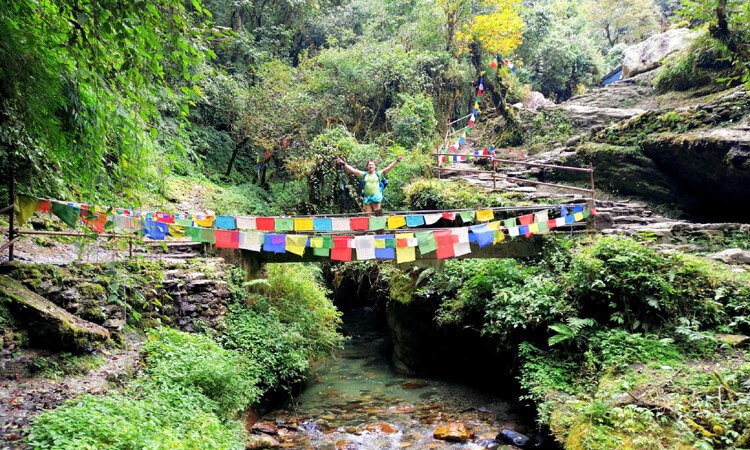 Royal Trek in Annapurna region is one of the shortest and most rewarding treks in Nepal. Travel enthusiasts who wish to experience authentic village lifestyle and witness magical mountains views, Royal Trek is the right choice. During the early 80's, Prince Charles along with his 90 companions explored this relishing trekking route before he wedded Princess Diana. Accordingly, this short trek was renamed 'Royal Trek' which was before known as 'Syaklung Trekking'. This trekking trail is suitable for people of all age groups as any adventure seeker can walk along these Gurung villages providing warmest hospitalities with spellbinding Himalayan view of Annapurna ranges (I, II, III) and Annapurna South, Fishtail, Langtang, Dhaulagiri, Nilgiri, and Lamjung and other neighboring peaks. Royal Trekking trail is peaceful, tranquil and less crowded compared to other trekking areas in Annapurna Region. This trek is a mesmerizing experience. This is a great trek if you are in search of privacy as you can immerse yourself in innate nature closely. This is a perfect one week trek which is enjoyable and relatively short and easy trek combined with some of the most picturesque scenery of Annapurna Himalaya of Nepal.