Overview in Brief
Mera Peak and Island Peak are undoubtedly, two of the most popular trekking peaks in Nepal. Both Mera Peak and Island Peak are common choices for beginner climbers, but many find it difficult to choose between the two. Although they are both located in the Khumbu region, they have several key differences, which we will be discussing in this blog post.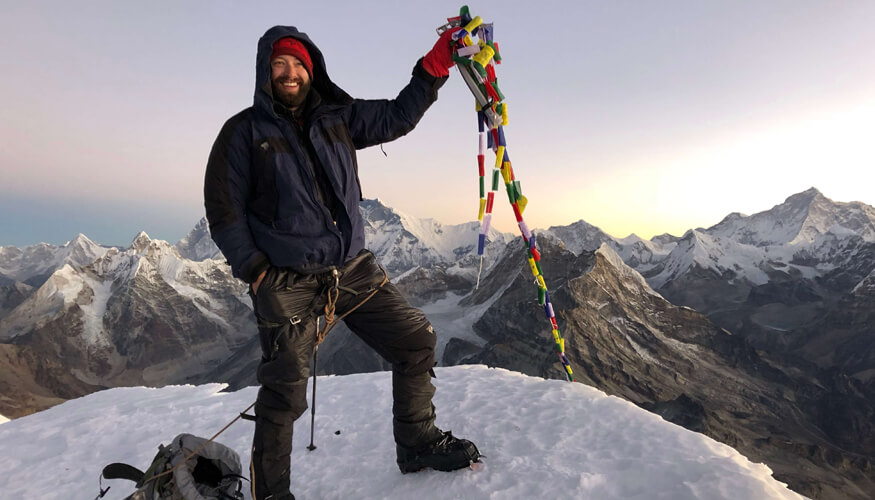 Elevation (Above Sea Level)
Mera Peak, at an elevation of 6476 meters (21,246 ft.), is the highest permitted trekking peak in the entire Khumbu region. Although the Mera Peak route is not technically challenging, climbers still need to be physically fit and have good endurance due to the high altitude and demanding nature of high-altitude trekking, which includes long and challenging days of trekking, steep ascents and descents, and often harsh weather conditions.
On the other hand, Island Peak (also known as Imja Tse) stands at an elevation of 6189 meters (20305 ft.) The route to the summit involves some steep snow and ice climbing, and there are a few exposed sections. Prior experience in rock and ice climbing, as well as high-altitude trekking, will be helpful for your Island Peak Expedition.
Best Season
In brief, both autumn (September – November) and spring (March-May) are the ideal seasons for climbing Mera Peak as well as Island Peak and any other treks and climbs in Nepal Himalaya.
But speaking precisely, Autumn is the safest and most popular season to climb Mera Peak, whereas Spring is the ideal season to do Island Peak Climbing in the Khumbu region. As the summit window for Mount Everest (8848.86m) opens best during spring, the climbers will opt to do the Island Peak as their training peak before heading toward their main objective making the peak pretty much busier in spring than that of autumn.
However, Mera Peak and Island Peak are achievable and can be done in any of the two seasons with proper team, guidance and support.
Difficulty (Technicality) Level
Comparatively, climbing Island Peak is more difficult and technical than climbing Mera Peak. Mera Peak is a technically straightforward climb that is suitable for climbers with previous trekking experience and basic mountaineering skills. It does not require advanced technical mountaineering skills, such as using ropes for steep rock or ice climbing. Comprehensive physical training, including cardiovascular exercises, strength training, and endurance building, is highly recommended before undertaking the Mera Peak Climb.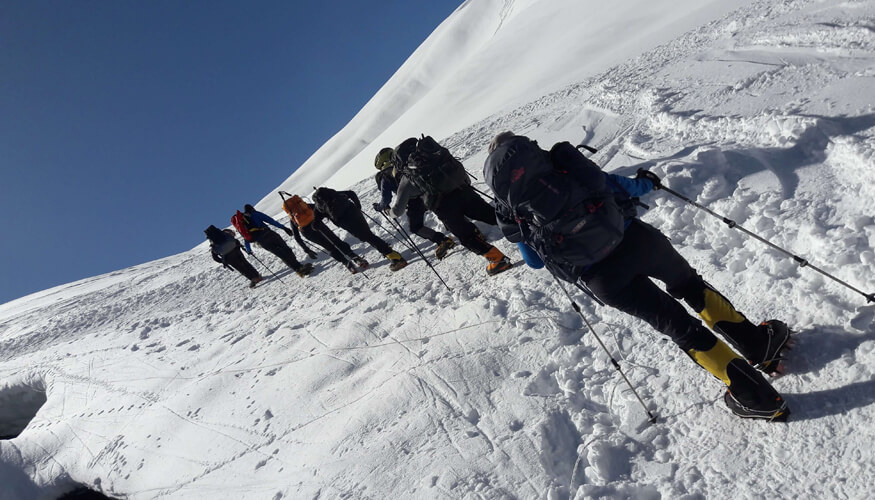 Island Peak is a good ice and rock climbing experience at altitude which requires experience with equipment such as mountaineering boots, crampons, abseiling, glacier trekking, crossing ladders, ice axes and climbing fixed ropes. The final 150 meters of the climb to Island Peak, known as the Ice Head Wall, is the most challenging section. It is a steep, icy slope that requires climbers to be in excellent physical condition, well-acclimatized, and properly equipped.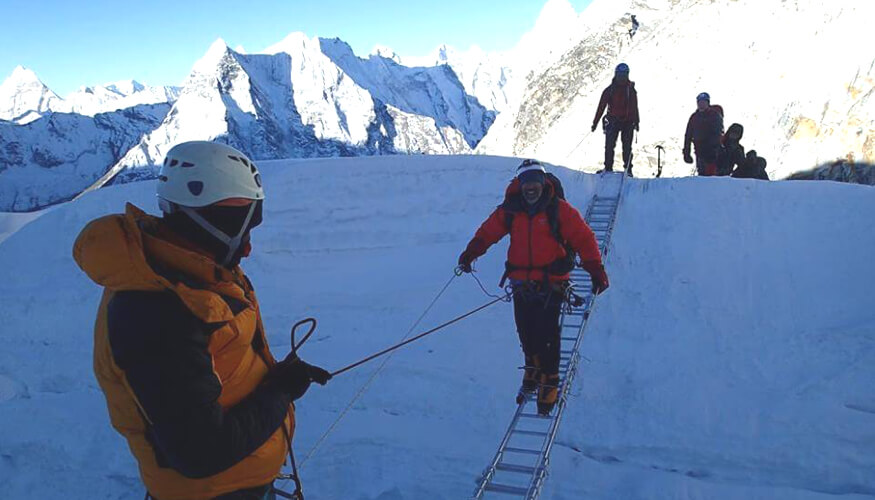 | | | |
| --- | --- | --- |
| Difficulty Level | Mera Peak | Island Peak |
| Physical Difficulty | Strenuous | Very Strenuous |
| Technical Difficulty | Easy | Moderate |
| Alpine Grading | PD (Peu Difficile) | PD+ (Peu Difficile Plus) |

View from the Summit
Mera Peak Summit View
Climbing Mera Peak and reaching the summit is a lifetime experience for sure, as the view from Mera Peak summit is one of the best viewpoints offering a surreal panoramic view of 5 tallest mountains in the world. Mera Peak summit offers stunning views of the over-8000-meter-mountains such as Mt. Everest 8,848 m (29,031 ft), Mt. Kanchenjunga 8,586 m (28,169 ft), Mt. Lhotse 8,516 m (27,940 ft), Mt. Makalu 8,481 m ( 27,825 ft) and Mt. Cho Oyu 8,188 m (26,864 ft), Mt. Ama Dablam 6812m (22,349 ft) and other snowy giants.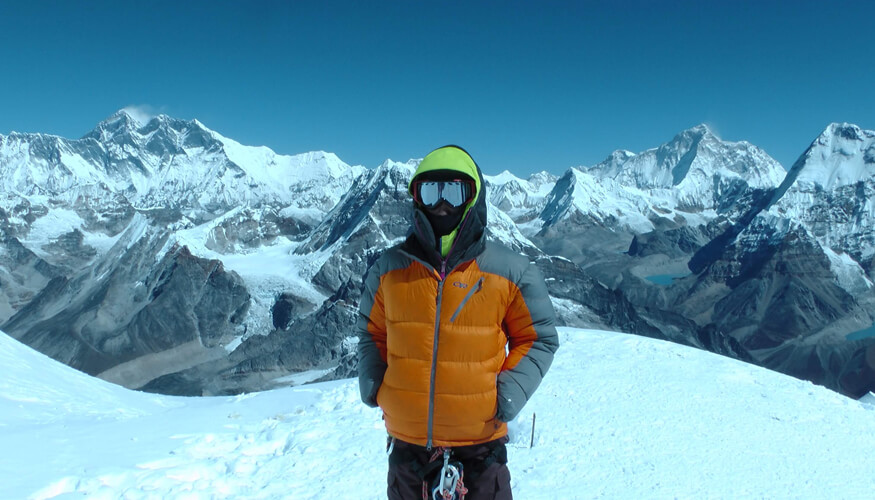 Island Peak Summit View
From the summit of Island Peak, the incredible view of the Himalayas includes Mt. Nuptse (7879m), Mt. Lhotse (8501m), Mt. Lhotse Middle Peak (8419m) and the unclimbed Mt. Lhotse Shar (8383m). To the east, the perfect pyramid of Mt. Makalu (8475m) and the frozen waves of the Lhotse Shar Glacier, and to the south, Mt. Baruntse and alluring Mt. Ama Dablam. You can even see as far as Mt. Kanchenjunga (8,586 m) on a very clear day. The summit ridge is narrow and exposed, but the views are worth it. It is a truly unforgettable experience to stand on top of Island Peak and take in the beauty of the Himalayas.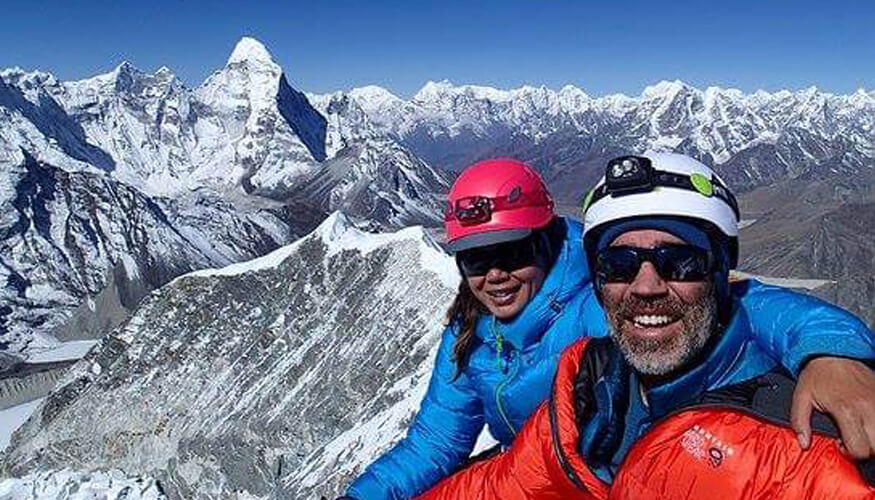 Mera Peak vs. Island Peak (which one to pick)
Mera Peak is best suited for people who are physically fit and have a good level of mountaineering experience. It is not a technically difficult climb, but it is a challenging one due to the altitude. The summit is at 6,461 meters (21,190 feet), so climbers must be able to cope with the effects of high altitude.
On the other hand, the route to Island Peak is technically challenging. Climbers must cross crevasses on ladders and use fixed ropes to reach the summit. The most difficult section is the final 150 meters (Ice Head Wall), which is a steep climb. Climbers must be in excellent physical condition, well acclimatized, and properly equipped to summit Island Peak. The summit push can take 10-14 hours, depending on the climber's fitness level and experience.
Ultimately, the best peak for you will depend on your individual fitness, experience, and goals. If you are a beginner looking for a challenging but rewarding climb, then Mera Peak is a good option. If you are an experienced climber looking for a more technical challenge, then Island Peak is a better choice.
Mera Peak and Island Peak Trip Cost
Mera Peak trip cost can vary depending on a number of factors, including the duration of the trip, the number of people in the group, the level of service you choose, and the time of year you travel. Accordingly, our standard Mera Peak is quoted, which is mentioned below:
| | |
| --- | --- |
| No. of People | Price per Person (in USD) |
| 1 | $ 2800 |
| 2-8 | $ 2300 |
Similarly, the cost of Island Peak Trip varies depending on the length of the trip, the level of service you choose, and the time of year you travel. Accordingly, our standard Island Peak is quoted, which is mentioned below:
| | |
| --- | --- |
| No. of People | Price per Person (in USD) |
| 1 | $ 3050 |
| 2-8 | $ 2250 |

Required Experience for climbing Mera Peak and Island Peak
Mera Peak
The required experience for climbing Mera Peak depends on the level of difficulty you choose. The easiest route, Mera Peak North, is graded as Alpine Grade PD, which means it requires some technical climbing and glacier travel. This route is suitable for climbers with previous trekking experience and some mountaineering experience.
Island Peak
The required experience for climbing Island Peak (6,189m/20,305ft) depends on the specific route and the level of difficulty you are comfortable with. However, in general, most climbers will need to have the following:
A good level of fitness and stamina
Previous experience of trekking at altitude
Some experience using crampons and an ice axe
Basic mountaineering skills, such as rappelling and abseiling

Concluding Mera Peak vs. Island Peak
Mera Peak and Island Peak are both popular trekking peaks in the Khumbu region of Nepal, but they have several key differences that may make one a better choice for you than the other. If you are a beginner who is looking for a challenging but rewarding climb, Mera Peak is a good option. If you are an experienced climber who is looking for a more technical challenge, Island Peak is a better choice. In the end, the best peak for you will depend on your fitness level, mountaineering experience, and what you are looking for in a climb