We would like to proudly announce that Nepal is officially open for travelers all around the world. We look forward to welcome you. We will be very happy to organize your trip according to your requirements and we can ensure that your trip will be a memorable and enjoyable experience.
The following protocol has been issued on 18th March 2021 by the Government of Nepal (Council of Ministers) for managing the arrival of incoming tourist to Nepal.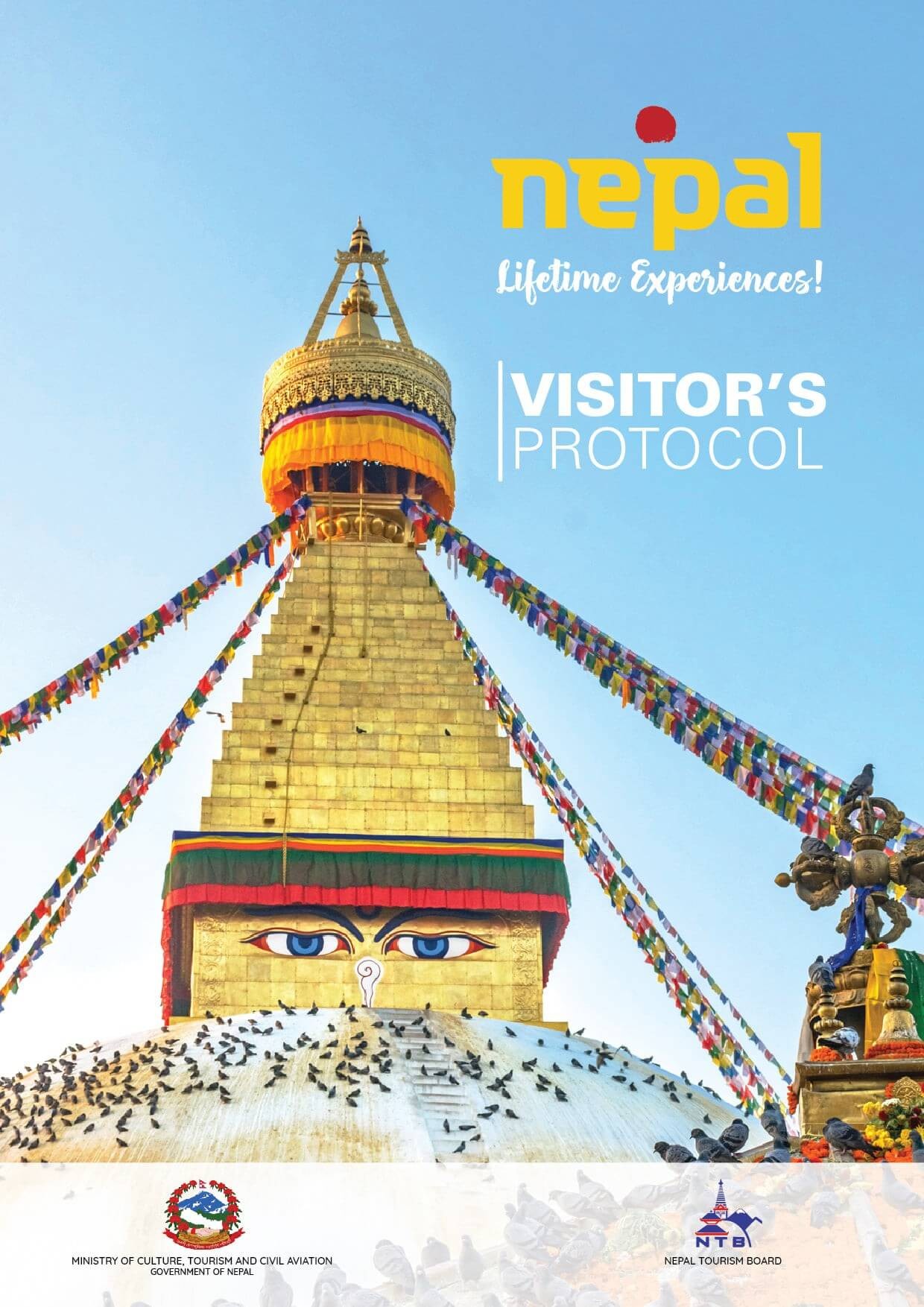 THE PROCESS FOR ENTRY TO NEPAL (VISA RELATED):
Tourist visiting Nepal must take visa from Nepal's Diplomatic Mission in their respective country.
In absence of Nepal's Diplomatic Mission or in case of di­fficulty in availing visa in the home country, visitors arriving by air can get on arrival visa from the Immigration desk at Tribhuvan International Airport. However, such tourists must have a pre-visa recommendation letter issued by Department of Tourism (DOT) OR Nepal Tourism Board (NTB).
DOT or NTB shall issue the visa recommendation letter; only after submission of all required documents by the concerned local agency in Nepal.
FOR TOURISTS COMING TO NEPAL: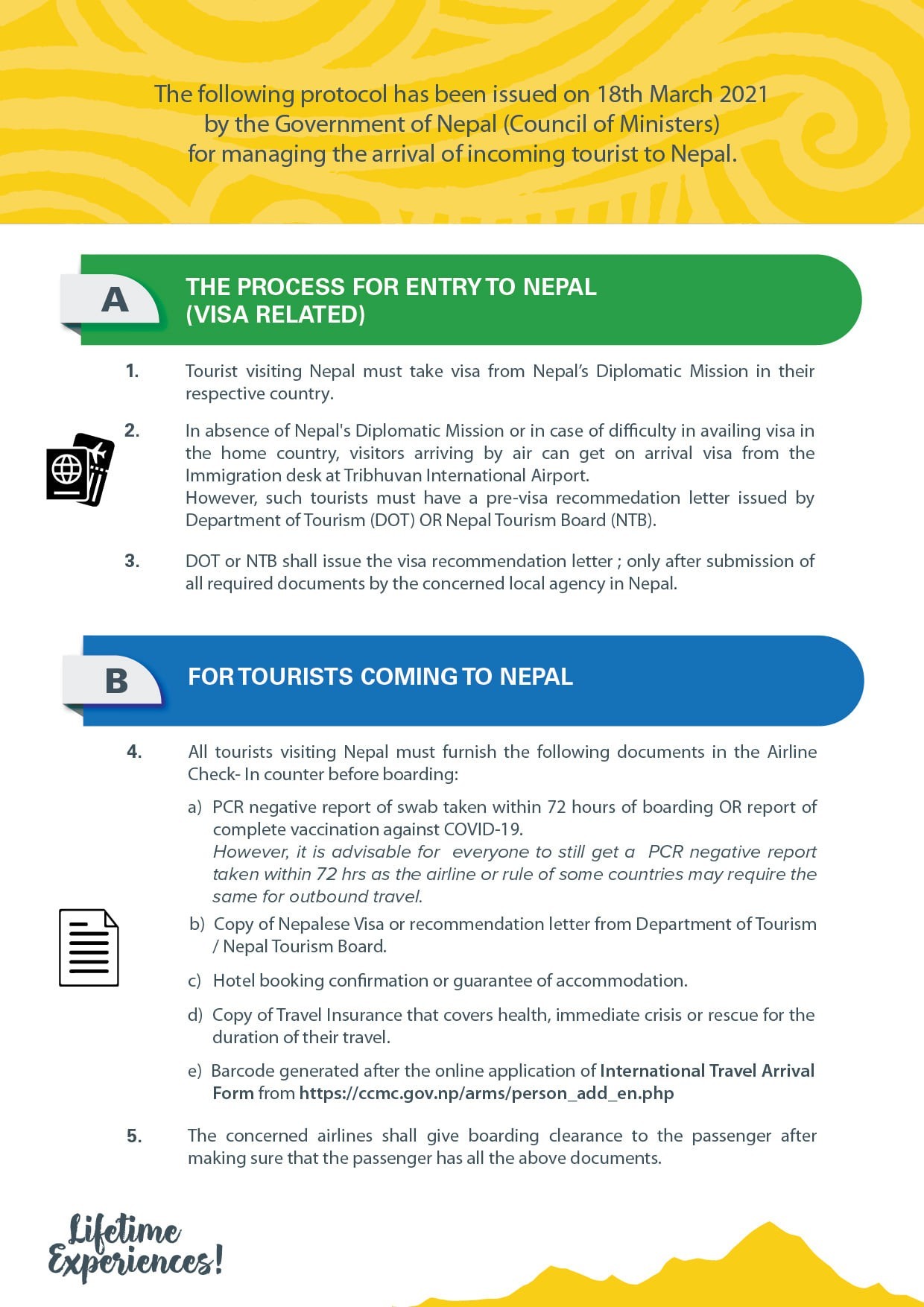 4. All tourists visiting Nepal must furnish the following documents in the Airline Check- In counter before boarding:

a) PCR negative report of swab taken within 72 hours of boarding OR report of complete vaccination against COVID-19. However, it is advisable for everyone to still get a PCR negative report taken within 72 hrs as the airline or rule of some countries may require the same for outbound travel.
b) Copy of Nepalese Visa or recommendation letter from Department of Tourism / Nepal Tourism Board.
c) Hotel booking confirmation or guarantee of accommodation.
d) Copy of Travel Insurance that covers health, immediate crisis or rescue for the duration of their travel.
e) Barcode generated after the online application of International Travel Arrival

5. The concerned airlines shall give boarding clearance to the passenger after making sure that the passenger has all the above documents.
AFTER ARRIVING IN NEPAL: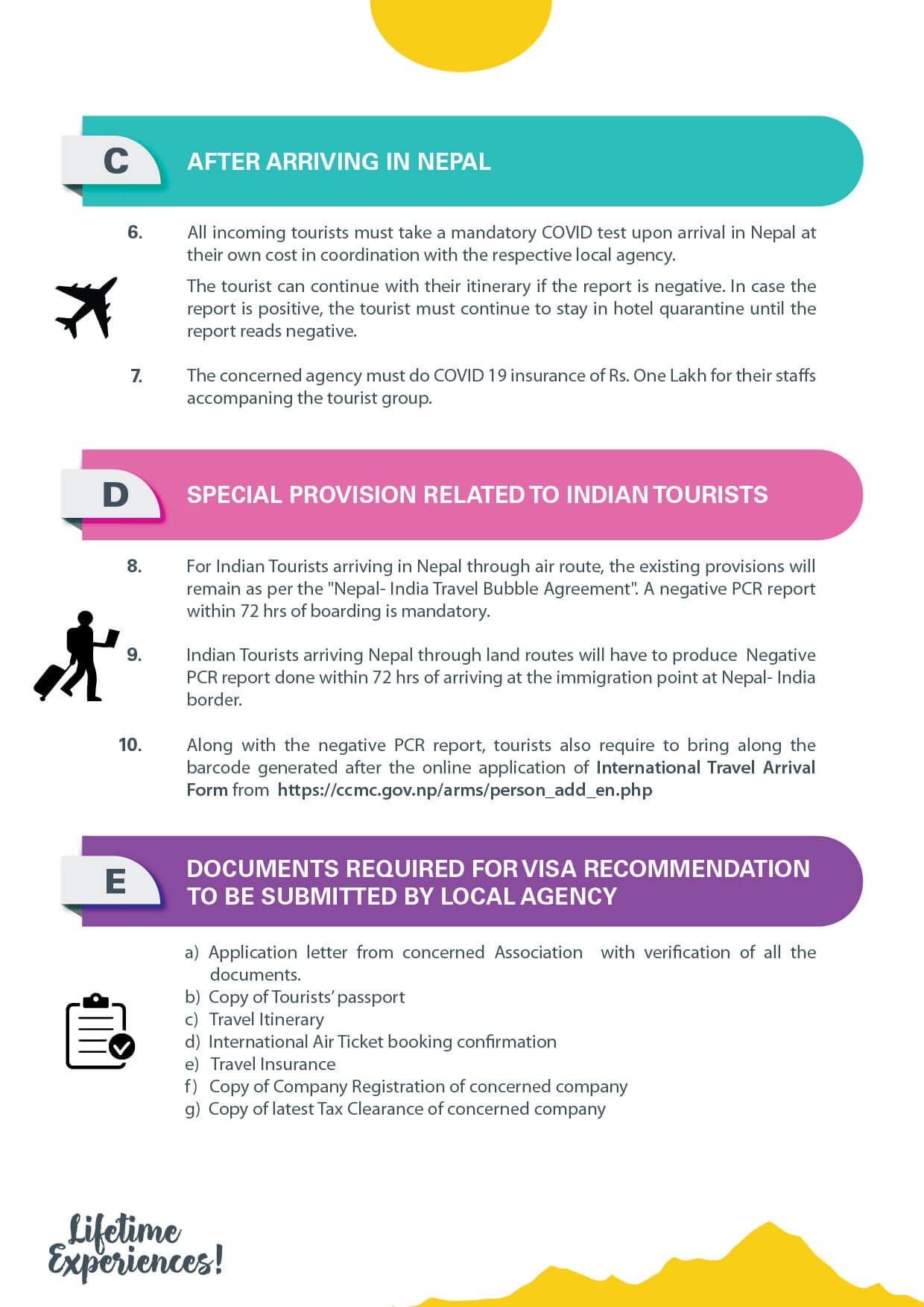 6. All incoming tourists must take a mandatory COVID test upon arrival in Nepal at their own cost in coordination with the respective local agency. The tourist can continue with their itinerary if the report is negative. In case the report is positive, the tourist must continue to stay in hotel quarantine until the report reads negative.
7. The concerned agency must do COVID 19 insurance of Rs. One Lakh for their staffsaccompanying the tourist group.
DOCUMENTS REQUIRED FOR VISA RECOMMENDATION TO BE SUBMITTED BY LOCAL AGENCY:
a) Application letter from concerned Association with verification of all the documents.
b) Copy of Tourists' passport
c) Travel Itinerary
d) International Air Ticket booking confirmation
e) Travel Insurance
f) Copy of Company Registration of concerned company
g) Copy of latest Tax Clearance of concerned company
We hope this post will help you to understand the recent protocol for travelers visiting Nepal. Please find the PDF copy of the protocol for tourists visiting Nepal.