Visualizing Annapurna Base Camp (ABC) 4130m
Trek to the Amazing Annapurna Base Camp is a captivating blend of outstanding hiking and spectacular wilderness with a backdrop of majestic Annapurna massifs. Annapurna Base Camp is an oval -shaped plateau at an altitude of 4130m, nestled 40KM north of the exquisite lake city of Pokhara, which is the starting and ending point for most of the trekking around Annapurna region. Choosing Annapurna Base Camp for trekking offers you to encounter two magnificent base camps as Machhapuchhre Base Camp is on the way to Annapurna Base Camp. Comprising some of the world's highest mountains including Annapurna I (8091m) along with astonishing towering peaks, trek to the base camp of Mount Annapurna would be a dazzling trekking - mountain experience. This amazing trek follows a gorge leading into the mountain fortress known as the 'Annapurna Sanctuary', the divine abode of the Hindu goddesses Annapurna and Gangapurna. Local culture, nature, flora and fauna, people and the mountains make this journey to Annapurna Base Camp a lifetime experience in the Himalaya of Nepal.

Highlights of Annapurna Base Camp Trekking
sunrise and sunset over at Annapurna Base Camp 4130m
amazing panoramic sunrise view from Poon Hill 3210m
delightful forest of rhododendrons, oaks and other diverse floral and faunal species
step in the foothills of the world's 10th highest mountain, Mount Annapurna I (8091m)
traditional and cultural Gurung and Magar villages along trail
one of the best tea house trekking in Nepal
last night refreshment at Jhinu hot spring

Enchanting Sunrise at PoonHill 3210m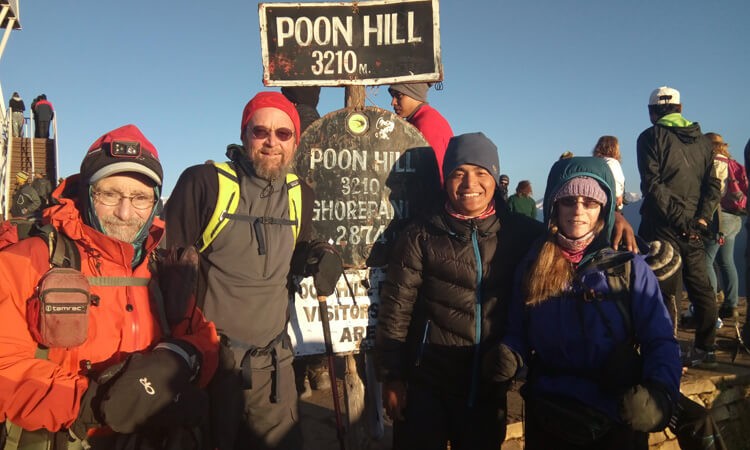 An hour trek from Ghorepani, Poon Hill is nestled at an altitude of 3,210m. For every enthusiast traveler, hike to Poon Hill is the perfect spot to experience the panoramic view of Dhaulagiri range, Annapurnas', Machhapuchhre, Gangapurna and many other 6000+ peaks. The very first rays of sun touching the peaks of the Dhaulagiri, Fishtail, Annapurna, Nilgiri and other famous mountains of the Annapurna range, reflect in shades of red, orange and pink; a truly magnificent view to witness.

Trekking Routes
Annapurna Base Camp Trekking starts and ends in Pokhara – the second biggest city and a divine place to start and end the trek. Pokhara is 200KM west from Kathmandu. All domestic airlines run several flights daily from Kathmandu to Pokhara. About 7-8 hours drive by tourist bus. There are several routes or approaches to get to Annapurna Base Camp. As per your interests, time period the itineraries can be arranged. We suggest making the itinerary in loop instead of starting and ending your trek at same point. Most popular routes are
Start from Nayapul-Ghorepani-ABC-Nayapul
Start from Ghandruk- Chhomrong-ABC-Nayapul
Start from Phedi-Chhomrong-ABC- Nayapul
Local Bus or Taxi or Private Tourist Vehicle are available to get you to the starting point and receive you from the ending point to bring back to your Hotel in Pokhara.

When to Visit Annapurna Base Camp?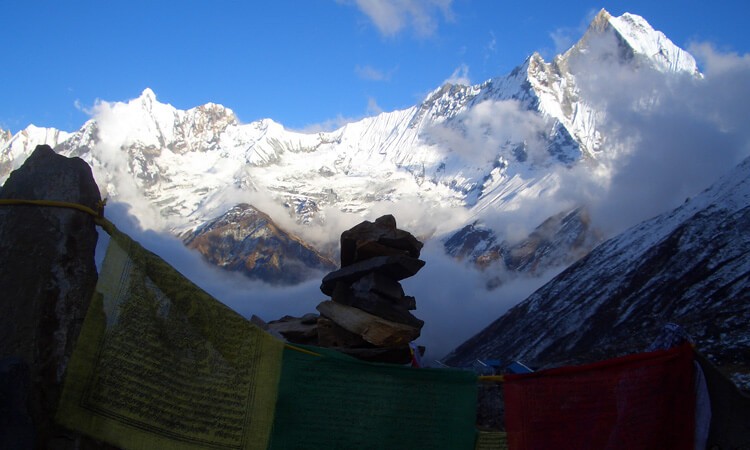 Prayer Flags at Annapurna Base Camp

Autumn / Fall season (September - November) is the ideal period to do the Annapurna Base Camp Trekking. This post monsoon period is generally the peak season for trekking in Nepal. Similarly, spring season (March – May) is also a great period to do the Annapurna Base Camp Trekking. Especially with blooming rhododendron forests along the trail, spring trekking has its own charm. Holiday period around Christmas and New Year is also good time to visit Annapurna Base Camp. During winter season there are fewer trekkers on the trail. Some people prefer this time period as they enjoy the beauty of the nature and the environment of the remote areas without the influx of many trekkers. However, if there is a lot of snow on the path recently then the trail can get quite challenging above Dovan. This trek can be done in monsoon too but the views won't be that clear because of heavy rainfall and we need to be careful of leeches on the trekking trail as well.

Cultural perspective of Annapurna Base Camp Trekking
The most prominent ethnic groups in the Annapurna region are the Gurung, followed by the Magars. The Gurung are the most widely dispersed, being found from the hills of Gorkha district to as far West as Palpa. Gurung and Magar culture will be quite visible during our Annapurna Base Camp Trekking. Meanwhile Ghandruk is the second biggest Gurung settlement village beside Sikes in Nepal. Tea houses, lifestyles, language, traditions etc. will be very much influenced by the culture of these ethnic groups.

Food and Water
Food in the Annapurna region will be one of a kind. During the first few trekking days, one can get wide varieties of food items for breakfast, lunch and dinner. Most tea houses will have a Menu accepted by the local community. The menu will have variety of meals up to Chhomrong. And as you trek higher, the choice on the menu will be limited but the food will be fresh, warm and eye appealing. Still, you can have Italian dishes (Pasta, noodles, pizza, etc.) throughout the trail. Foods are well cooked, tastes good and served with pleasant smile. Basically, you will have dinner and breakfast at the lodge where you stay overnight and lunch will be on the way with simpler menus.
While trekking, it is very important to keep yourself hydrated. You should drink at least 3-4 liters of water each day. We do not suggest drinking tap water from the tea houses. We suggest bringing water bottles with UV light and purification. You can also bring a supply of water purification tablets or liquid. You can always buy boiled water at the tea houses. Although mineral water is also available in most places, there is no provision to dispose the plastic bottles properly so, we encourage our guests to do what they can to protect the environment.

Accommodation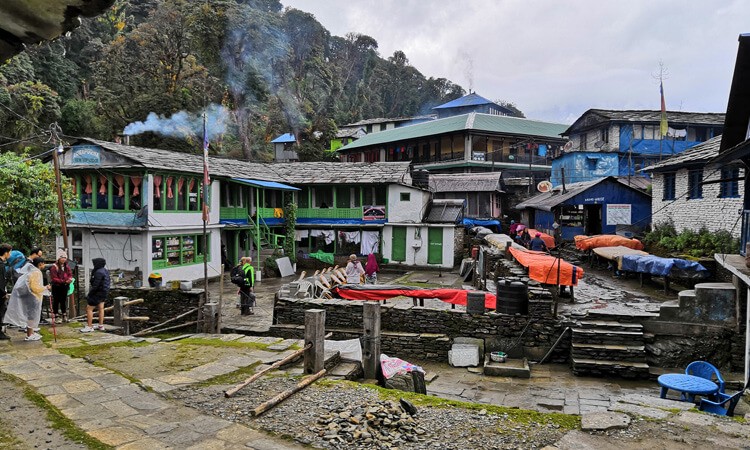 Typical Tea House/ Lodge at Tadapani

Annapurna Foothills takes great care to arrange the most comfortable accommodation possible throughout your stay. We will provide a standard tourist accommodation for your stay in Kathmandu and Pokhara. During the trekking, we will provide clean and comfortable rooms for your stay at the tea houses.
Most tea house/lodge has rooms with twin sharing basis. They will have 2 single beds, clean and comfortable. Tea houses until Chhomrong will have rooms with attached toilets inside. The family run tea houses are a great place to get to know the local people, experience the culture, lifestyles in the mountain and enjoy the excellent food that they serve. In Nepalese culture, a guest is equal to god and tourism and hospitality industry follows the similar value of welcoming and serving their guests.

Re-charging Batteries of Electronic Items on the Trek
You can recharge your phone, digital camera, iPod, batteries etc. with electricity or solar power sources. You may need to buy an adaptor in Kathmandu before the trip since the plugs in Nepal might be different. The lodges charge a small fee per hour for recharging facilities.
Nepal uses 220-240 volts to power your appliances. The sockets fit both round and flat plugs.

Is there Wi-Fi, hot shower, battery charger available during Annapurna Base Camp Trekking?
Most of the tea Houses will offer Wi-Fi, hot shower, battery charger with a small amount of money. The WI-FI service may not be very fast but can check emergency message or important updated for your work.

Things to Pack – Get the Right Gear
Packing right gears and clothing is crucial in making your hiking and trekking experience smooth and comfortable in Nepal. Not just for Annapurna Base Camp but for any other trips in the Himalaya of Nepal. While trekking in the mountains of Nepal, you don't need a different outfit on a daily basis but make sure you have packed well for your hiking experiences in Nepal. Packing is generally based as per the activity, per your trekking region, time duration and grades of difficulty. Please check our Packing Checklist for trekking in Nepal.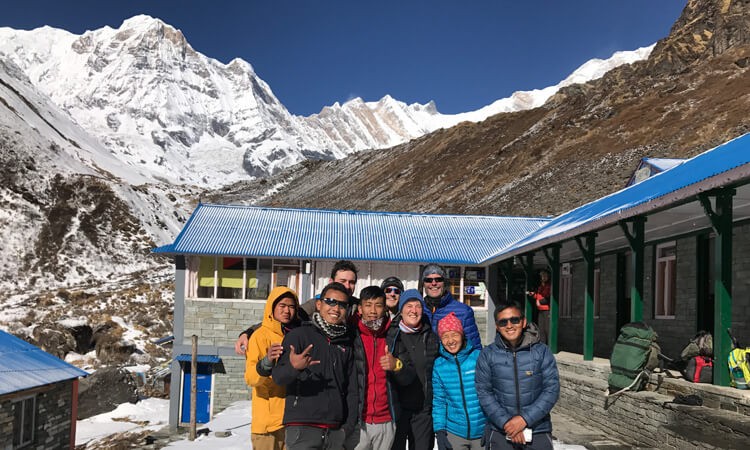 Group Picture at Machapuchchhre Base Camp

Difficulty Level of Annapurna Base Camp Trekking
Annapurna Base Camp Trekking is for those adventure seekers who dreams of countering the high Himalaya of Nepal in a short time frame. The altitude at Annapurna Base Camp is 4130m which means acclimatization is vital. We will generally be walking for between 7 to 8 hours each day including all breaks. The flagstone hiking trail is almost constantly either going uphill or downhill. We should expect lots of stone paved steps climbing up and down. In the lush forest of the approach to the Annapurna Sanctuary the underfoot conditions can be damp and slippery depending upon the season.
Average fit person with experience of multi-day hiking should be good for Annapurna Base Camp Trekking. Trip Grade is moderate and one who has enough walking/running experiences previously should be ready for this amazing trekking in the Annapurna Himalaya of Nepal.
Suitability: reasonable level of fitness required.
Walking times: 5-6 hours per day for up to 10 days
Altitude: up to 4310m
Terrain: mostly following well-travelled trails, daily ascent and descent
Remoteness: reasonable level of local infrastructure, including lodge accommodation

How long does it take to do Annapurna Base Camp Trekking?
Well, depending upon your interest and holidays period limitation, we can customize your trip to Annapurna Base Camp. Normally, it can be done in a time frame between 7 -10 days.

Can I trek to Annapurna Base Camp with my children?
For sure, you can. The only requirement is to have a good walking experience previously as the trip grade is moderate and less challenging. Multi day walking, hiking and camping experience will be very helpful. We suggest trekking through a local company and make this trip a private family experience in the Himalaya of Nepal.

Do I really need a guide for Annapurna Base Camp Trekking?
Well, it depends on your skills, budget and time available. Some people go to Annapurna Base Camp Trekking without a licensed trekking guide and carry everything themselves. There are usually a lot of trekkers on Annapurna region so you would probably not be alone but easily could be as in harsh weather or in a medical emergency, you will be on your own. So consider your skill level carefully. We strongly suggest our guests to do the trek with professionals and we believe our guides are highly experienced and for sure professionals making your safety their foremost priority.

Permits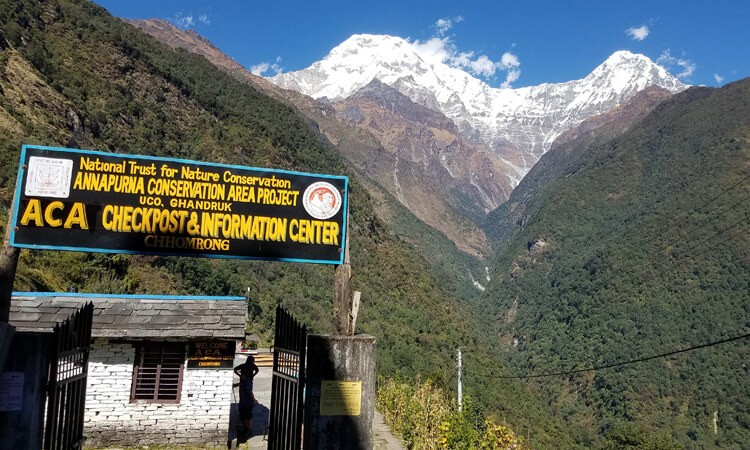 You need two permits to do the Annapurna Base Camp Trekking:

Annapurna Conservation Area Project (ACAP permit)
Trekker Information Management System (TIMS card)
permits can be bought either in Pokhara or Kathmandu at Tourist Information Center. With Annapurna Foothills, we take care of all the permits required for your Annapurna Base Camp Trekking.

Weather Conditions
Weather in the Himalaya is always unforeseen. In Nepal, there are four major seasons i.e. spring, summer, autumn and winter. Weather condition differs as per season and altitude. Trek to Annapurna Base Camp is doable throughout the year. Each season has its own unique features and pros and cons.
Weather in spring season is warm and cool. The temperature ranges from 15 – 20 degrees Celsius during the day. The nights and early mornings are slightly colder. The views of the beautiful landscapes, the villages, and the magnificent Himalaya are magnificent during spring. Especially the blooming Rhododendron forests along the trail are just amazing.
During summer, the temperature on a sunny day ranges from 18 - 22 degrees Celsius approximately. Mostly, it rains in the late afternoon. Trekking in this region needs the right preparations and appropriate clothing. The muddy and slippery trails add adventure to your trekking. And be prepared for the leeches during hiking as well.
Autumn is claimed to be the ideal season for trekking in this region. During this season, the weather is more stable and reliable than the rest of the seasons of Nepal. The temperature remains approx 10-15 degrees Celsius during the day and the nights and early morning gets a bit colder ranging at 4-8 degrees Celsius on a regular day. The fresh and cool weather is great for encountering the white snow giants and alluring landscapes of Nepal. With clear blue skies, sunny days to experience the gigantic Annapurna massifs
Winter season can be perfect time to visit Annapurna Base Camp. The temperatures on the trails drop to negative during cold mornings and nights in the Tea houses is also below zero depending upon the altitude. Less trekkers on trail, beautiful views, winter trekking can be really nice if you can cope with the cold. The weather and snow condition is a concern. Few sections are prone to snow avalanche depending upon the snow condition. Some of the tea houses will remain closed during winter. However, some do remain open for business and they will be happy to give you the best service they can.

Travel Insurance for Annapurna Base Camp Trekking
We strongly recommend our valued guests to have travel insurance for their Nepal trips. Your travel insurance should cover all the extra expenditure that might come into account due to various health issues, injuries or accidents; the cost of the ambulance, helicopter rescue, hospital charges, cost of the medical treatment and charges including doctors' fees. The insurance must cover all the activities that you will be undertaking during your stay in Nepal. Annapurna Foothills Treks and Expeditions Pvt. Ltd. can organize the appropriate medical and evacuation response based on your policy.