Our Upper Mustang Trek takes you on an unforgettable journey into the heart of the Himalayas of Nepal where you will find one of the oldest cultures on earth alive, in the hidden Kingdom of Lo. Lo Mangtang is an enclave of ancient Tibetan civilization protected from the world by a huge wall and miles of barrenness. While Tibet has lost much of its heritage since being occupied by China, this out-of-the-way place has held on to its language, religion and traditions.

There is little written history about Upper Mustang, but there are intriguing signs of early civilization that can be pieced together in a fairly reliable way. High on the rocky cliffs are inaccessible cave dwellings, some which date as far as back as 8 – 10,000 BC. Around the 7th century, Upper Mustang became was part of the Tibetan Empire, known as the region of Ngari.

By the 14th century Ngari became part of the Malla Empire, but this isolated corner retained its Tibetan heritage.The independent Kingdom of Lo was built in 1380 and thrived during the salt trade as a strategic point of crossing the Himalaya.The trek follows the route of the caravans that once carried salt from Tibet to trade with grain from the lowlands of Nepal.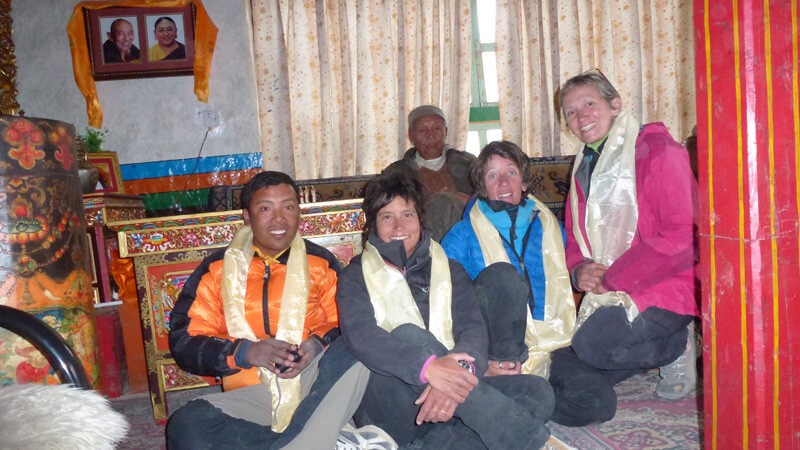 Upper Mustang Trekking takes you north of the giant Dhaulagiri and Annapurna mountains and across the Tibetan plateau. This area lies in a rain shadow; and as a result it is a vast arid land of wind eroded cliffs and canyons of spectacular colors and formations.Tibetan-style hamlets surrounded by fields and windswept monasteries remind us of the small but hardy people who survive in this harsh environment. They will welcome us into their homes and kitchens, which in Tibetan culture is the center of the house, and we will get a glimpse into their lives.

When you enter the walled kingdom of Lo Mangtang, you find yourself in a different world. A labyrinth of narrow alleys run between whitewashed stone houses with firewood stacked on the roofs. Endless chortens, gompas, mani walls and monasteries, which date back to the 15th century, reflect the importance of their Buddhist faith. The architectural detail and ornate paintings inside the monasteries are a sharp contrast to their simple homes. Groups of women sit together on street corners to spin wool and chat. In the evening, shepherds return with their herds of goats through gate and the narrow lanes back to their sheds.

The king of Lo who is a direct descendant of the first king, Ame Pal, still lives in his 4 story palace and although he doesn't have any power anymore, he is still highly respected. You can even pay him a visit. You may also want to visit the Amchis or doctors of traditional Tibetan medicine or stop at the Amchi School where this ancient wisdom is preserved. It is possible to go by horse to Chhoser, where there is a small monastery and an old cave high in the rocks.

Upper Mustang Trekking starts with a 20 minute flight from Pokhara to Jomsom, a flight that takes you over the deepest gorge in the world and between Dhaulagiri and Nilgiri mountains. When you start trekking north from Jomsom, following the Kali Gandaki River, you will notice that the trail is very busy. This is because there is a steady stream of Hindu and Buddhist pilgrims who visit Muktinath. We will also want to see Muktinath, but it is easier to do that on our return trek (it requires a steep climb from Kagbeni.)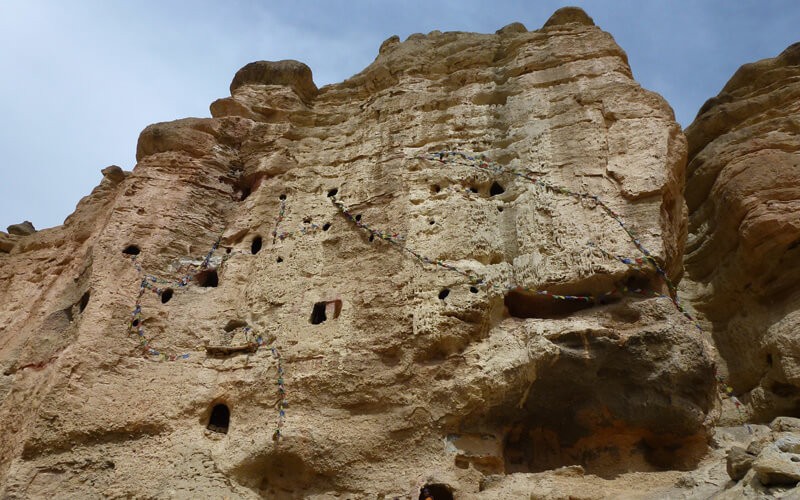 There is a check post at Kagbeni where we will clear our permit formalities before we enter this forbidden region of Nepal. Leaving Kagbeni it takes 4 to 5 days to reach Lo Mangtang. There are several high mountain passes of 3500 - 4000 meters. (The return trek goes via Dhakmar, which has 2 passes of around 4200m.) Near Dhakmar there is what is thought to be the oldest Tibetan monastery in the world. Lo Gekar Monastery was built in the 8th century by the famous Guru Rinpoche. According to legend, Guru Rinpoche had to kill a powerful demon before building this monastery. He then painted the bright red blood of the demon on the rocks around Dhakmar.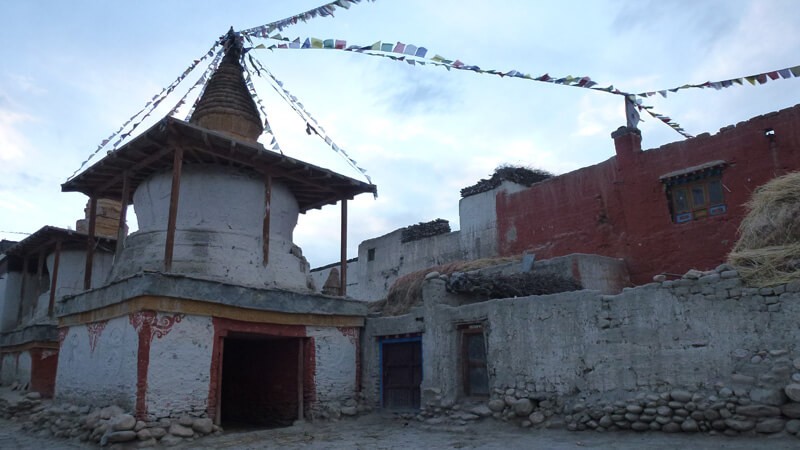 Until 1992 no foreign visitors were allowed to enter the kingdom. Nowadays Upper Mustang is a restricted area which means foreigners can enter but they have to pay US$ 500 for a 10 day permit (each additional day costs US$ 50).