Explore new limits and push beyond boundaries! Climb your First Mountain:
There are different ways to enter the world of mountaineering. It doesn't necessarily start with attending a climbing school/camp, or doing indoor wall and rock climbing. If you choose your peaks carefully, you can begin by starting with the easier peaks to build the technical skills from expedition to expedition.

Advice for Trekkers Entering the World of Trekking Peaks:
The term Trekking Peak is in itself somewhat misleading, as trekking peaks actually involve mountaineering of varying degrees of technical difficulty. A trekking peak could be described as a trip which consists mostly of trekking as well as a couple of days mountaineering. Trekking peaks usually involve ascending a glacier to a high camp followed by a summit day with some technical climbing. Mountaineering expeditions require a different set of skills as well as technical climbing equipment. You may have to walk roped together across a glacier, cross a snow field wearing crampons, ascend a steep slope clipped into a fixed rope, or climb a vertical ice wall using the front points of your crampons and an ice axe.
Besides whatever methods you have to become physically and mentally prepared for the challenge, we have given you some homework to do: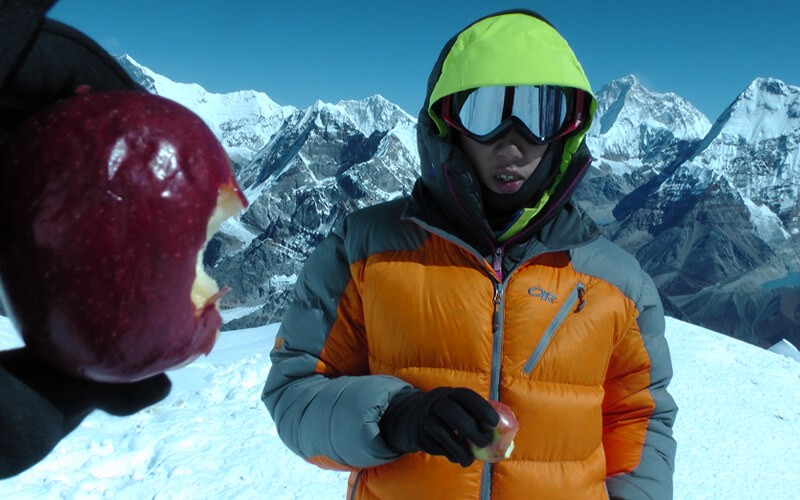 1.Research the mountain: Find out as many details as you can about the technical parts of the climb. Some describe Mera Peak trip as a "walk-up". While Mera Peak is a reasonable choice for novice climbers, it is no ordinary walk that reaches 6476 meters elevation! Don't try to climb anything too difficult too soon.Choose the appropriate level of technical difficulty.

2.Research the Company: While some people play it safe and pay the price to go with an international company and expatriate guide, it is worth your while to question anyone who says that only an expatriate guide can give training and help you through the technical challenges.That isn't to say you should just go with any adventure travel company that is selling the particular trip. Some shady Nepal-based companies have tarnished the reputation of the local companies. You should check out which companies have a great reputation for having qualified and experienced guides who will support you to make your summit dream come true.

3.Hope for Favorable weather: This seems easy, but it is important that you are mentally prepared for the lack of control you will have over this factor. The snow and glacier conditions vary from year to year. You book the trip at the ideal time, but the weather may affect the difficulty of the expedition, or even keep you from an attempt. It's part and parcel of mountaineering.