Climbing a mountain in the Himalayas of Nepal is always a remarkable experience. Whether it is climbing 6000 m trekking peaks or 7000 m expeditions, or the highest mountains (above 8000m including Mount Everest (8848.86m)) expeditions in the Nepal Himalaya, one thing that stands intact is the preparations, clothing, gear and types of equipment that you take for your Trip.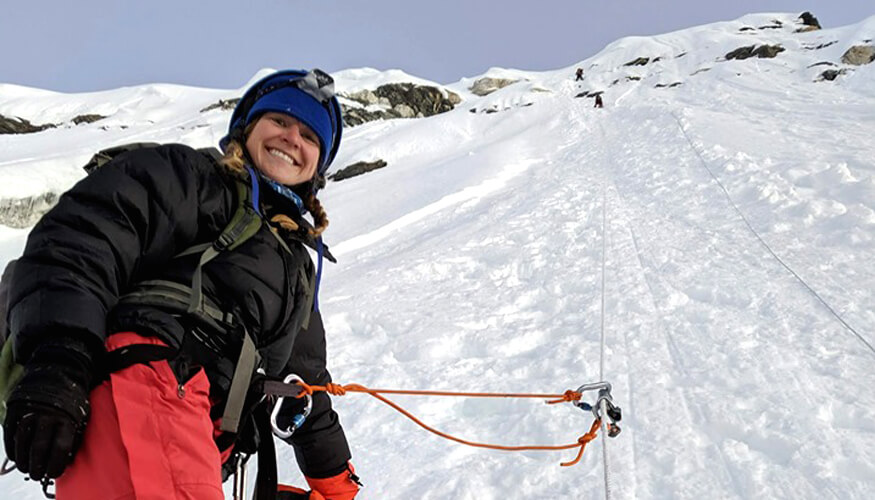 While undertaking popular trekking peaks such as Mera Peak, Island Peak, Lobuche East, Pokalde Peak, Chulus etc. and a step ahead such as Ama Dablam, Mount Baruntse, and Mount Himlung, make sure you check this complete equipment checklist before packing for peak climbing in the Himalayas of Nepal. The choice of gear, equipment, and clothing depends on your goals. The purpose of these gears and equipment is also similar in big mountains.
List of Equipment for Peak Climbing in Nepal
Personal Climbing Gears
Considering climbing famous trekking peaks such as Island Peak, Mera Peak, Lobuche East, Kyajo Ri, etc., and a step ahead such as Ama Dablam, Mount Baruntse, and Mount Himlung, these Personal Climbing Gears is a must:
Mountaineering / Climbing Boots (Double Layer Insulated)
Climbing Harness (Lightweight)
Climbing Helmet
Carabiners (2 Screwgate and 2 snapgate)
Ice Axe with a waist leash
Mountaineering Crampons
Prusik Cords
Ascending Device (Jumar / Ascender)
Descending Device (Belay Device or Figure 8)
Down Suits (above 7000 meters Expedition)
Group Climbing Gears
Ice Hammer
Ice Screw
Snow bar
Ropes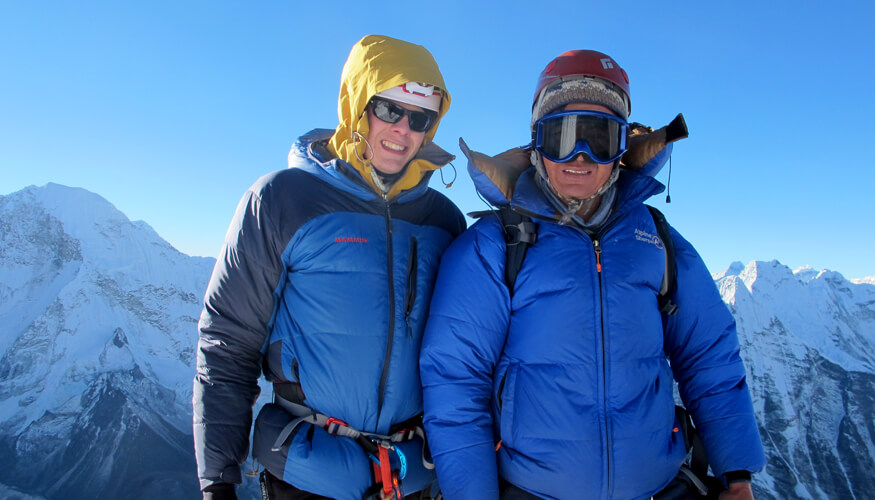 Clothing
Headwear and Neckwear
Warm beanie hat
Tubular Headwear (buff)
Sun hat or cap (cap and buff all fit under your hood)
Polarized Sunglasses with UV protection
Ski Goggles
Headlamp (Black Diamond / Petzl) with spare batteries
Sunscreen with a factor of 50+
Upper Body
3 Light and trekking weight thermal tops
3 T-shirts or cool-max trekking shirts
1 Fleece Jacket or pullover (Merino, soft shell)
1 Waterproof shell jacket with hood (lightweight, breathable)
1 Expedition-weight insulated Down Jacket with hood
1 Down Jacket
1 Down Vest
Lower Body
2 Thermal base layers (merino or Polar Tec power dry)
2 Pairs of trekking pants, preferably that zip on/off at the knees so they double as shorts.
1 Heavyweight hiking trousers (windproof soft shell for warmth at higher altitude)
1 Waterproof/ Rain pants
1 Lightweight Thermal Leggings (merino or Polar Tec power dry)
2 Light Hiking shorts
2 Fleece Pants
4 Underwear (merino)
Hands
Lightweight gloves or liner gloves
Pair of shell gloves (Gore-Tex)
Waterproof outer gloves
Down Mittens
Feet
3 Warm Trekking socks (smart wool)
3 Pairs of liner socks
2 Pairs of thick/ warm socks
2 Thick wool socks to wear at night in lodges
Trekking Boots (waterproof, ankle support with rigid sole, broken-in)
Lightweight Rubber Shoes / Trainers / Trail Runner to wear at the Tea Houses
Travel Bags (Rucksack) and Sleeping Gear
Rucksacks
A small daypack/backpack (40L) for carrying your valuables should have good shoulder padding.
Large Waterproof duffel (porters will carry this)
Small padlocks for duffel bags
Sleeping Gears
Sleeping Bag (a 5-season sleeping bag, suitable for temperatures for as low as -40°C)
The Therm-a-Rest sleeping pad which offers insulation and warmth in sub-freezing temperatures
Foam pad and Pillowcase
Fleece sleeping bag liner
Medical and First Aid Kit
Please note that our trekking guides will be too carrying the first aid kit with them, especially for the guests and the entire team. Still, we suggest taking the following items with you while trekking in the Himalayas of Nepal.
Personal Medication
Diarrhea Stopper (e.g. Imodium)
Paracetamol Tablets
Small Swiss Army knife (which has a knife, scissors and tweezers)
Diamox for altitude (consult your doctor about this)
Blister kit / Zinc Tape
Hand Sanitizer
Dressing Gauze
Antibiotic Cream
Small, personal first-aid kit (simple and light)
Extra pair of prescription glasses, contact lens supplies
One small bottle of water purification tablets or water filter
Miscellaneous yet Practical Items
Roll of repair tape (sewing-repair kit)
Lighter / small box of matches
Liquid Filled Compass or GPS (optional)
Camera with extra SD cards and batteries (optional)
Large Ziploc bags
Lightweight steel thermal bottle
Binoculars (optional)
4 large, waterproof, disposable rubbish sacks
Socket adapter Type C (with circular pins)
Foldable Trekking poles
2 Water bottles or camel bags, 1-liter (one with an insulated cover is recommended)
A pair of adjustable Trekking Pole
Ear Plugs
Portable Solar Charger
Smart Trekking Watch
Toiletries
Personal Hygiene
Others (Reading Books, Journal, Guide Book, iPod, playing Cards, etc.)
Important Notes to Consider
Don't compromise on the quality of gears and equipment
Know the function of each gear properly
Secure your gears well in advance
Seasonal changeability will influence the requirement for gear
Important Tips
You can always rent gear in Thamel, Kathmandu, if you are not willing to invest in gears and equipments
Do check the sizes of Climbing Boots before marching towards your Prime objective
Make sure to wear summit socks while trying the climbing boots for your expedition in Nepal Himalaya
This is just an essential checklist, and you may need to add or remove items depending on the specific peak you are climbing and the conditions you will be facing. Get in touch with us to make sure you have the right gear for your trip.