Overview:
Himlung Himal (7126m) is one of the most accessible and straightforward 7000m peaks nestled just between Mount Manaslu (8163m) and the Annapurna Himalayan ranges of Nepal. Himlung Himal is an expedition of stunning scenery, remote, pristine land and fascinating culture.This Himalayan giant is a perfect peak for someone with basic mountaineering experience willing to try a high altitude mountain expedition in Nepal as it provides all the aspect of a challenging adventure.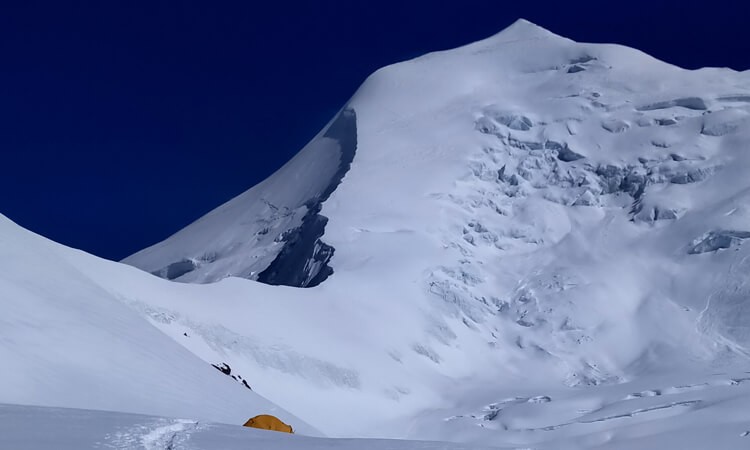 You pass through evergreen forests, springs and cavernous rocky gorges while surrounded by high snowcapped peaks and glaciers.The climbing route is semi-technical with fixed rope line support available to reach the summit. During climbing period, climbing guides from several groups work together to set up the ropes. The climbing route is mostly on ice and snowy surfaces with wide steep uphill climb all the way up to the summit.
If you want to climb a summit above 7000 meters of elevation and looking for a perfect and less technical tough mountain, Mount Himlung will be the best pick for you. Another astonishing 7000m peak to consider is Baruntse Peak.
Trekking Route: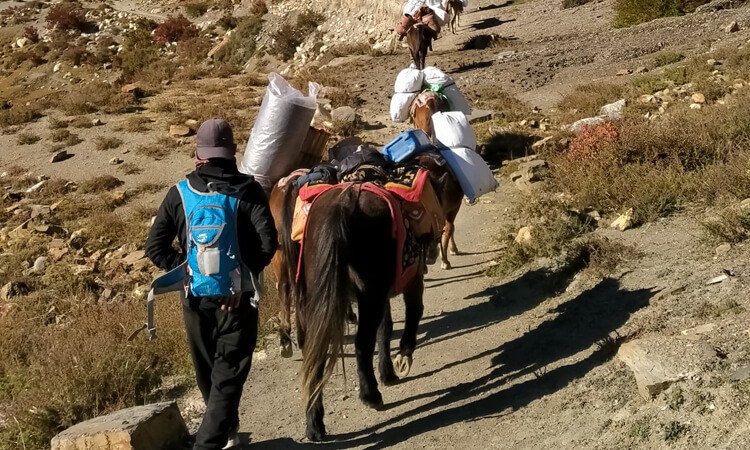 Our Himlung Expedition will begin with an 8 hours of drive to Besisahar and about another 6-7 hours Jeep drive to Koto the following day. The trail follows the Classic Annapurna Circuit Trekking trail up the Marshyangdi river valley to the village of Koto, before veering off into the Phu Valley. The ancient Tibetan settlements of Naar and Phu are nestled in the valley below the mighty Himlung Himal. You spend a day to acclimatize and explore this picturesque Buddhist settlement. On a grassy meadow high above Phu, is the Base Camp of Mount Himlung, at 4900m.
Summit Strategy: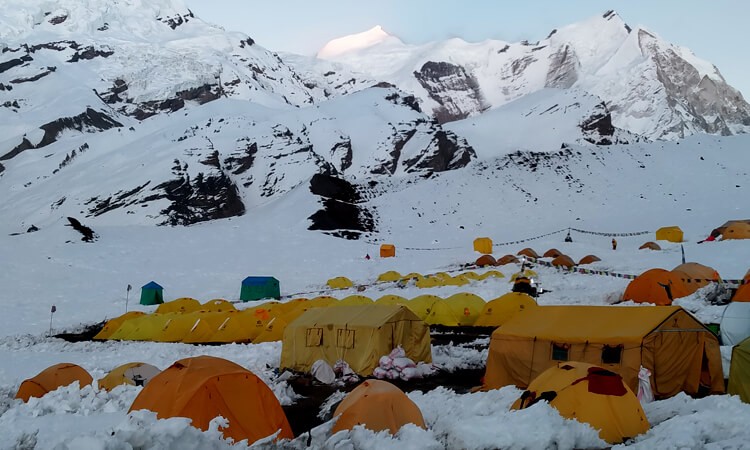 Base Camp to Camp 1
Himlung Himal base camp also known as the 'French Base Camp' is comfortable, with water nearby and protected from avalanches. The logistical challenge remains to pitch the camp as it seems a bit complex when crossing through the Pangri Glacier on big tiresome boulders.
Camp 1 to Camp 2 (Glacier Camp)
Reaching camp 2 from camp 1 will be an easy day as we've to trek only for 2-3 hours. The snow conditions may change the progression, of course, but there is no slope subject to avalanches on the way up.We find propergrounds to set up our camp on the 'Glacier Camp'. It will be satisfying and vast enough to welcome several groups.
Camp 2 - Camp 3
Marching towards Camp 3 from Camp 2 will be a pleasant walk of 2 hours continuing up on the icy cliff up to the last place before the ridge.
Camp 3 - Summit - Camp 2 or 1
The climb to reach at the top of Himlung Himal will be long and exhausting. The first part of the ascent consists of reaching the pass across snowy slopes (a little bit steep and wide-open.) Fixed ropes are often installed by the lead guide and once we are past that, then the slopes become less steep, with a few flat bits.After the crevasse opening, the slope on the side of the ridge becomes steeper. Which is the steepest part of the whole climb (400 approx.) After the summit, we retrace our steps down to camp 2 or camp 1 (depending upon situation.) Then the next day, we descend down to base camp, backpack all our gears and celebrate our summit success. From base camp, we'll retrace our steps all the way back to the starting point of our trek (Besisahar), drive back to Kathmandu and end our Himlung Himal Expedition.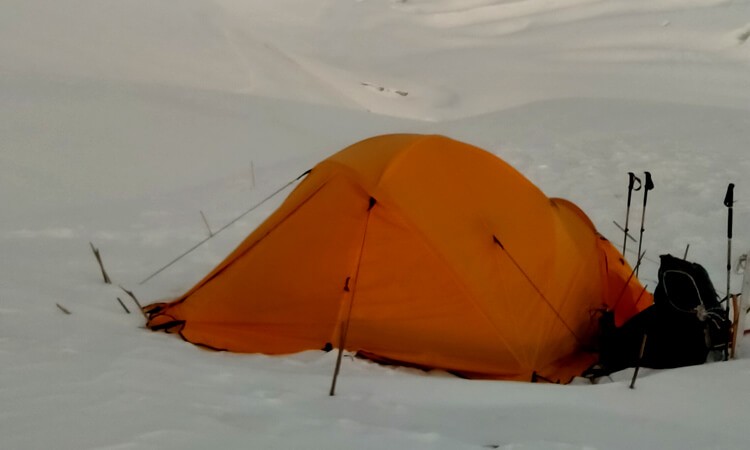 Himlung Himal Expedition Cost:
Private Trip: 1 Member: 1 Sherpa, Cost: $ 7500 USD per person for service till summit:
It will be a Private expedition. A Himlung Summiteer climbing guide will be provided along with other supporting staff for the expedition. Since it's a private trip, one can make some changes to the itinerary and other stuff, after discussing it with the guide
2-6 Members: Expedition Cost: $ 6000 USD per person, 1 Climber: 1 Sherpa Climbing Guide for service till summit
For this expedition, we provide 1 climber ratio 1 Sherpa climbing guide and other necessary supporting staff.
7-10 Members: Expedition Cost: $ 5500 USD per person,1 Climber: 1 Sherpa Climbing Guide for service till summit
For this expedition, we provide 1 climber ratio 1 Sherpa climbing guide and other necessary supporting staff.
Base Camp Services Only Cost: $ 3500 USD per person for service till Base Camp no services above Base Camp
What's Included:
Airport – Hotel- Airport transportation.
4 nights hotel (3 star category) in Kathmandu on BB plan sharing basis (Twin Bed Room)
National Park fees and Expedition permit.
Annapurna Foothills T-shirt
Camping equipment: sleeping tent and foam mattress, Dining tent, Kitchen tent and Toilet tent
Dining Tables, Chairs and Kitchen equipments
Three meals a day during the trek and camping (Morning tea or coffee, Breakfast, Lunch and Dinner)
Base Camp Manager, Cook, Kitchen boys and Porters for your trip.
Camping and Kitchen equipment
Heater will be provided at base camp for the dining tent
Daily wages for Porters and all Nepali staff
Insurance for Porters and all Nepali staff
Equipment for Porters and Nepali staff
Government Liaison officer, his all allowance, food, tent
Nepali culture show with welcome and farewell dinner
All the land transportation mentioned in the itinerary
Gamow Bag or emergency oxygen
Satellite phone service (pay calls)
Celebration Dinner last night in Kathmandu
Solar panel for batteries charges and lights
Garbage Fee
Annapurna Conservation Fee
Above Base Camp:High Altitude Tents, High Altitude Meals, EP Gas burner and cooking pot for members
Himlung summiteers Climbing Sherpa
Walkie Talkie Permit
Group climbing gears, fixed and dynamic rope required during the climb.
What's Excluded
Your personal equipment for climbing and trekking.
Your personal and medical insurance during the expedition.
Lunches and dinners in Kathmandu
Emergency Rescue evacuation by helicopter if required
Permits for Client's personal Radio set or Satellite phone
Previous Experiences: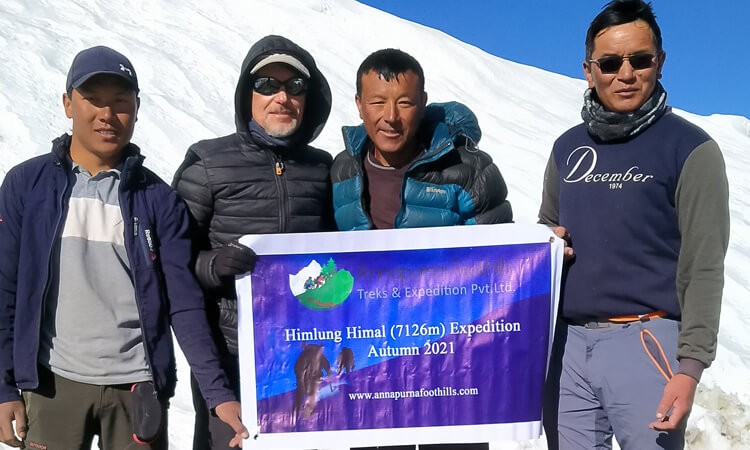 Although Mount Himlung is a gradual less technical climb at 7126 meters, it is a significant challenge in the Himalaya of Nepal. And to attempt for the summit, one must have some previous high altitude (6000m+) mountaineering climbing. Team members (climbers)should have adequate knowledge and experience of hiking and climbing, using crampons on snow, ice, and steep surfaces. Climbers should be familiar with the use of climbing gears, basic rope techniques (tying safety knots and abseiling when coming down from the mountains) and have the mental durability to climb in cold and windy conditions. Climbers will have to rely on their jumaring skill and strength (ascending) and rappelling/abseiling skills to safely descend down the mountains.Climbers must have patience, strength endurance and some previous climbing experience to make it all the way up to the summit of Himlung Himal.
Travel Insurance for Himlung Himal Expedition: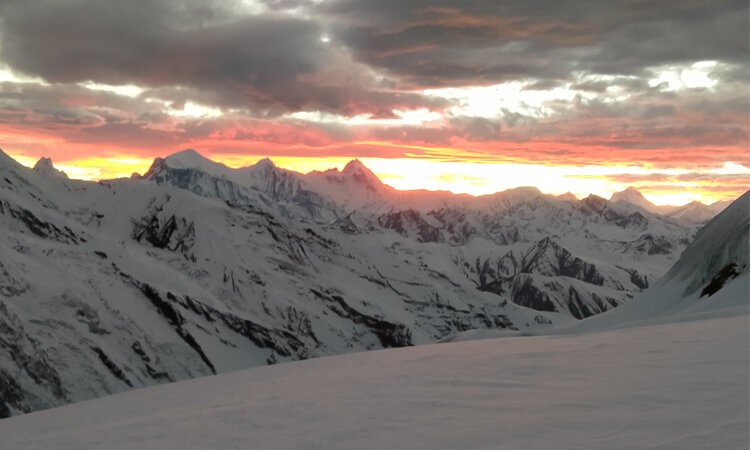 A big YES!! Annapurna Foothills strongly recommends you have Insurance Policy with coverage of emergency search and evacuation, injury, lost baggage, liability, medical treatment etc. during your Nepal Trip. The insurance must cover all the activities that you will be undertaking during your stay in Nepal. Annapurna Foothills Treks and Expeditions Pvt. Ltd. can organize the appropriate evacuation process and medical response based on the situation.
Food and Drinking Water during Himlung Himal Expedition:
Food during your expedition can be one of the major highlights. Most of the foods are prepared in the tea houses.Meals around the mountains consist of a diet rich in carbohydrates because our bodies do not process fat and protein efficiently at higher elevations and to compensate the increase in caloric need that high-altitude climbing involves. We try to make meals and breakfast varied and as normal as possible. Typical meals are rice, noodles, pasta, potato dishes along with vegetable and egg dishes.
During your climbing days, kitchen tents are set up by our Sherpa teams. Above Base Camp, climbing food mainly consists of dried meals such as pastas or rice. Basically, you will have dinner and breakfast at the lodge where you stay overnight and lunch will be at the tea houses on the way.
We strongly suggest all our guests to drink 5liters of water every dayas staying hydrated will help you in acclimatizing properly. We believe it'll be better to take hydration tablets or filtration bottles with you for the trip.
Proper Clothing and Gears:
Choosing the right gear for any adventure trip is crucial. We highly encourage our guests (climbers) to get the best quality of gears and clothing and to pay attention to layer up comfortably as well. During night, the temperature can fall down to -15 / -20 degrees Celsius. So, you will have to rely highly on your clothes to keep you warm enough for the dropping temperatures.
Please click our complete packing list for what to pack for your Himlung Himal Expedition.