Mera Peak: A Great First Climbing Experience
Mera Peak climbing is an exhilarating adventure that combines trekking through stunning landscapes with a rewarding summit experience. At an elevation of 6476 meters, Mera Peak is one of Nepal's most popular trekking peaks in the Everest region. Technically speaking, Mera Peak Climbing is an achievable climb compared to other 6000m trekking peaks in Nepal. It provides an opportunity to explore the pristine beauty of the Everest region while challenging yourself both physically and mentally, offering a stimulating yet achievable climbing experience for adventure enthusiasts.
Therefore, Mera Peak is an excellent pick for those looking for their first climbing experience in the Himalaya of Nepal. The 6476 meters high altitude above sea level does make up for the less technical skills. Hence, good training and preparations (both physically and mentally) for climbing Mera Peak are required. The other main reason people opt to climb Mera Peak is the magnificent summit view of the over-8000-meter-mountains such as Mt. Everest (8848.86m), Mt. Lhotse (8516m), Mt. Cho Oyu (8201m), Mt. Makalu (8463m), and Mt. Kanchenjunga (8586m).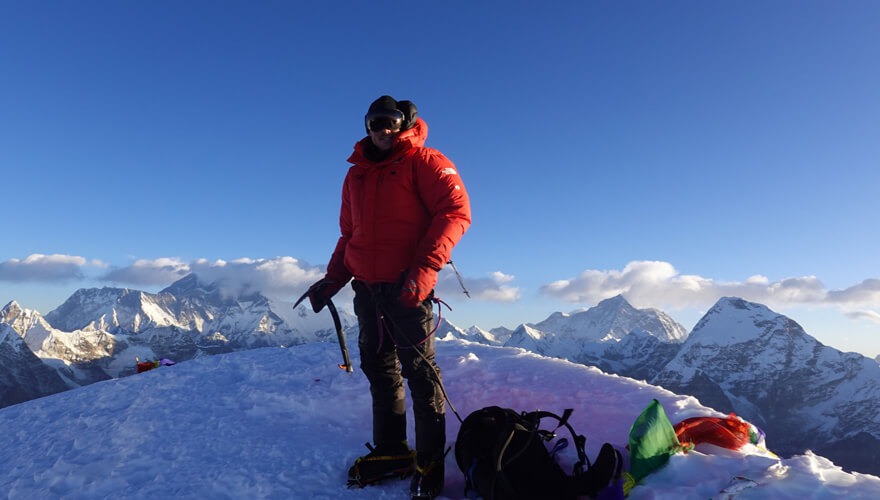 Mera Peak Climbing Route Overview
Our Mera Peak Climbing begins with a scenic flight from Kathmandu to Lukla. Lukla (2860m) is considered 'the gateway to the Everest region' and the starting point for the trek. From Lukla, you start trekking towards Paiya (2730m), also known as Chutok. The trail descends through forests and crosses several suspension bridges over the Dudh Koshi River. Along the way, you pass through small Sherpa villages, terraced fields, and rhododendron forests. The trail continues to Panggom (2850m), a Sherpa village above the Hinku Valley. You trek through dense forests, cross a ridge, and descend to Sibuche, from where you ascend to Ningsaw.
This unspoiled area of the Everest region boasts beautiful green terraced fields, dense forest, rushing streams, swinging bridges and yak pastures with a backdrop of the highest mountains in the world. Moving on towards our primary objective, we pass through several Sherpa settlements, namely Ramailo Danda (3276m), Chhatra Khola (3122m), Kothe (3600m), Thangnak (4356m) and finally Khare (5045m). Khare village is the last village on the Mera Peak trail where we will have Tea Houses. It is fair enough to state that Sherpa villages and guesthouses, high in the summer pastures, are a welcome place for weary trekkers.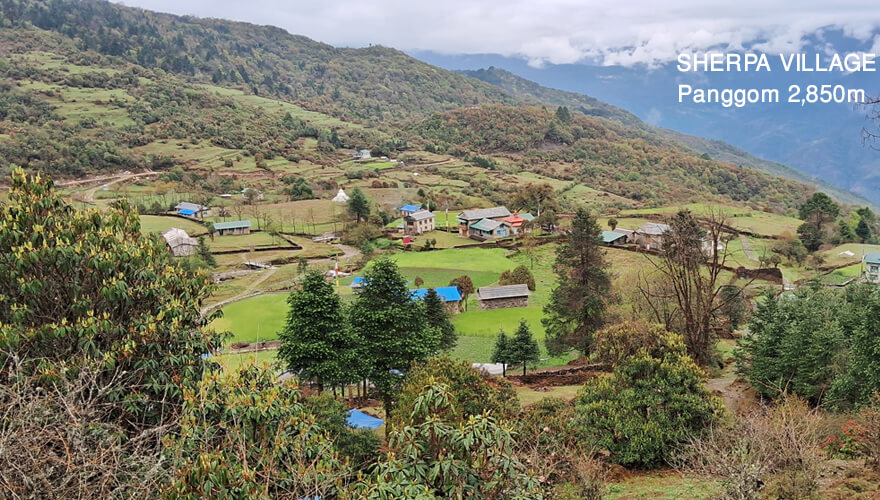 Mera Peak Climbing is a straightforward climb for which acclimatization is crucial. As you trek higher into this remote valley, following the river to the glaciers, your body gets gradually acclimatized for the climb. Mera Peak climbing trail moves towards Khare from Thangnak (4356m). Before marching to Khare, we'll have a rest day at Thangnak, allowing your body to acclimatize well and get used to the surroundings. The trail to Khare is challenging yet exciting as you have to pass through the steep moraine trails. We also have a mandatory acclimatization day at Khare, where we will conduct basic climbing training, a clinic program, and recheck climbing gear and equipment before we move to higher camps. We will set Base Camp at 5350 meters and High Camp at 5780 meters before attempting the final summit push. We will have one reserved day in case of bad weather or other unforeseen conditions. Previous climbing experience on snow, glacier and ice would be a great advantage; additionally, our well-experienced Sherpa climbing guides will organize a training session on your personal climbing gear and necessary skills required for the climb at Khare.
Mera Peak Summit Day
Congratulations on your summit day!
Summit day is typically the most challenging and exciting part of the climb. From Mera Peak High Camp, we push for the summit in the early morning hours, often before dawn. Climbing at a steady pace is vital to conserve energy and acclimatize properly. Your Sherpa climbing guide will set a suitable pace, ensuring you take regular breaks for hydration, snacks, and breathing. On a fine day, you'll eyewitness a surreal sunrise offering stunning views of the surrounding Himalayan peaks as you climb higher. The final section of the climb involves a push towards the summit. The terrain can vary, including snow slopes and possibly exposed ridges. Ropes, crampons, and ice axes may be necessary, depending on the conditions. With enough physical endurance and a consistent walking pace, we eventually reached the summit of Mera Peak. Reaching the summit of Mera Peak (6476m) is, undoubtedly, a remarkable achievement. We will take our time relishing and enjoying the breathtaking panoramic, which includes the world's five tallest mountains which are Mt. Everest (8848.86m), Mt. Lhotse (8516m), Mt. Cho Oyu (8201m), Mt. Makalu (8463m), and Mt. Kanchenjunga (8586m). After spending some time on the summit, we begin your descent. It's important to remember that descending can be as challenging as ascending. So, stay focused and maintain good footwork.
The following day, we descend further, making our way all the way back to Lukla. This descent helps your body adjust gradually to thicker air and reduces the risk of altitude-related issues. In the end, Zawtra La Pass (4700m) is a treat before we descend back to Lukla. This last evening in the mountains is the ideal opportunity for a farewell party with your Sherpa guides and porters and an excellent chance to sample some change, try Nepali and Sherpa dance and look back on the memorable trekking experiences.
Cultural Perspective of Mera Peak Climbing
Mera Peak climbing holds symbolic cultural perspectives due to its location, which Sherpa people primarily inhabit. The Sherpas have a rich cultural heritage deeply rooted in Tibetan Buddhism and mountaineering traditions. Here are some cultural perspectives related to Mera Peak climbing:
Sherpa Culture: The Sherpa people are celebrated for their mountaineering skills and have been contributing to supporting numerous climbing expeditions in the Himalayas. Their culture highlights a harmonious relationship with nature and a deep respect for the mountains, which they consider sacred. Mera Peak climbing provides an opportunity to interact and relate with Sherpa guides, porters, and local communities, allowing climbers to gain perceptions of their unique way of life, traditions, and spiritual practices.
Religious Significance: Climbing Mera Peak often involves passing through villages with monasteries and chortens (Buddhist shrines). Many climbers and Sherpas perform rituals and offer prayers for safe passage and good fortune before climbing. The spiritual aspect of the journey adds an insightful cultural element to the experience.
Sherpa Hospitality: Sherpas are known for their warm hospitality and welcoming nature. During the Mera Peak climbing expedition, climbers can stay in tea houses and lodges operated by Sherpa families. This allows for cultural exchange, as climbers can participate in conversations, share meals, and experience the Sherpa way of life.
Traditional Attire and Cuisine: While climbing Mera Peak, climbers may notice Sherpas dressed in their traditional attire, including distinctive clothing, jewelry, and headwear. Traditional Sherpa cuisine, such as Thukpa (noodle soup), momo (dumplings), etc., is often served in tea houses and lodges along the trekking route. Exploring these culinary traditions provides a cultural engagement experience.
It's crucial to approach Mera Peak climbing respecting the local culture and traditions. Being mindful of the cultural perspectives associated with the climb enriches the overall experience and upholds cultural gratitude and sustainability.
Permits and Regulations for Mera Peak Climbing
Nestled at an elevation of 6476 meters, Mera Peak is one of Nepal's most popular trekking peaks. One needs particular permits and needs to follow the regulations set by the Nepalese government to climb Mera Peak. Here is the information regarding permits and regulations for Mera Peak climbing:
Climbing Permit
To climb Mera Peak, you must obtain a climbing permit from the Nepal Mountaineering Association (NMA). The permit fee varies depending on the season.
Makalu Barun National Park Entry Permit
Since we will be trekking in the Makalu Barun National Park area, this permit is a must. As we enter the Makalu Barun National Park, we will witness many exotic bio diversities of the region well protected under the Makalu Barun National Park Management Committee.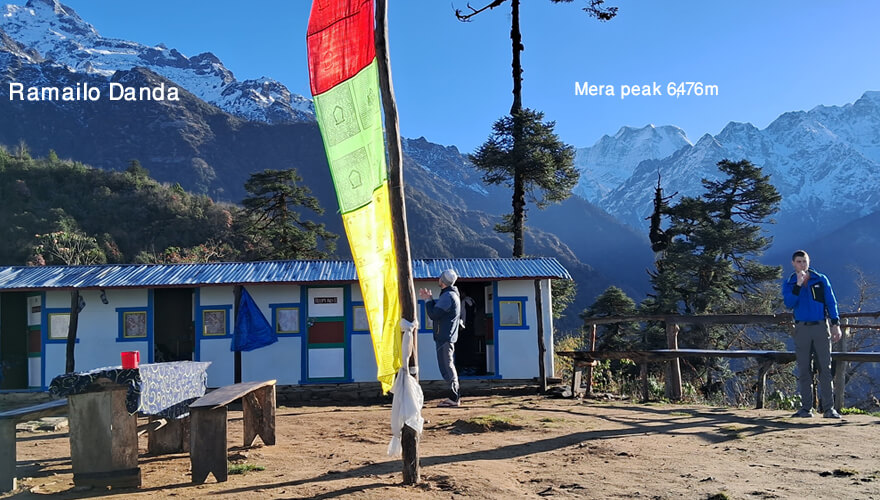 Mera Peak Climbing Difficulty Level
"Acclimatization is the Key"
Mera Peak is a popular trekking and climbing destination in Nepal's Khumbu region. The difficulty of climbing Mera Peak depends on several factors, including weather conditions, route choice, personal fitness level and experience. Mera Peak climbing is considered a technically straightforward climb, best suited for climbers with previous trekking experience and basic mountaineering skills. It's undoubtedly, a peak of less technical difficulty but leads to a strenuous long climb to reach the summit and taking care of descending where walk and climb leads to moraine-ice-snow and glaciers. However, it does not require advanced technical mountaineering skills like using ropes for steep rock or ice climbing.
Despite the route not being that technical, climbing Mera Peak does require a good level of physical fitness and endurance due to the altitude and the demanding nature of high-altitude trekking (long and challenging days of trekking, including steep ascents and descents, often in harsh weather conditions). Thus, we suggest our guests have prior trekking experience at high altitudes and be comfortable with multi-day trekking and camping. Undertaking comprehensive physical training before attempting the climb, including cardiovascular exercises, strength training, and endurance building, is highly recommended.
Why climb Mera Peak with Annapurna Foothills?
"Leave Nothing but Footprints, Take Nothing but Timeless memories."
Choosing Annapurna Foothills for your Mera Peak Climbing can offer several benefits and reasons for you. Not just because we are a Nepal-based local operator, but our Sherpa Trekking Guides are highly experienced, competent, and professional, and all of them have led groups in various parts of the Himalayas of Nepal. They are well-informed about the region and climbing conditions and provide guidance, support, and safety measures throughout the climb.
As much as we want you to witness the marvelous Mountains surrounding you from all sides, we also want to confirm that its incredible magnificence is well preserved and protected for travelers travelling to Nepal in the near future. We take great pride in being an eco-friendly trekking company. We focus on safety, quality and value for money by providing good equipment and logistics required for your trip, which many lower-cost programs need to facilitate.
Other advantages of climbing Mera Peak with Annapurna Foothills are mentioned below:
Risk Management: Climbing a peak like Mera Peak involves certain risks. At Annapurna Foothills, we prioritize safety and have proprieties to alleviate risks. We have professional Sherpa climbing guides, emergency communication systems, and evacuation plans to ensure your well-being, as keeping you safe is our topmost priority.
Logistics: Climbing Mera Peak requires careful planning and logistical arrangements such as obtaining permits, organizing accommodations, transportation, and food supplies. With Annapurna Foothills, everything will be well taken care of. All you have to do is focus on the climb.
Equipment and Gear: You don't need to worry if you don't have all the necessary gear or prefer not to purchase all of them. We at the Annapurna Foothills will arrange all the gear and equipment for your Mera Peak expedition. It's up to you to buy / rent.
Local Knowledge and Cultural Engagement: Being a local company, we proudly boast of providing our guests opportunities for cultural involvement and a deeper understanding of the region. Our Climbing Guides are the natives of the Everest region (Sherpas), and they offer insights into local customs, traditions, and the natural environment for our guests doing Mera Peak climb with them.
Environmental and Social Responsibility: Annapurna Foothills Treks & Expedition prioritizes responsible and sustainable practices, such as waste management, respect for local communities, and conservation of the natural environment. We value and operate eco-friendly trips and are committed to Leave No Trace contributing to ethical and responsible tourism. Our guides and staffs are well aware of their responsibility toward the environment.
Travel Insurance for Mera Peak Climbing
'Travel Insurance is a must.'
Annapurna Foothills strongly recommends that you have appropriate travel insurance coverage when it comes to adventure activities like climbing Mera Peak (6476m above sea level). Travel insurance that covers emergency evacuation, injury, lost baggage, liability, and medical treatment is recommended. The insurance must cover all the activities you undertake during your Nepal stay. Annapurna Foothills Treks and Expeditions Pvt. Ltd. can organize the appropriate medical response based on your policy.
Last Minute Booking with Annapurna Foothills
We understand it is never too late to plan a holiday, especially in Nepal Himalayas, so we accept last-minute bookings. Booking Mera Peak climbing at the last minute can be challenging as it usually requires planning and arrangements, adequate physical fitness and acclimatization. It's important to be sufficiently prepared with proper equipment, clothing, and training before attempting the climb.
We at Annapurna Foothills have been organizing Mera Peak trips and other 6000M+ and 7000M+ peaks from the very beginning of our establishment. And we are proud to say that we've dealt with plentiful last-minute Trip bookings giving us several years of experience organizing last-minute trips.
Make sure you land in Kathmandu at least one day before our Mera Peak Climbing starts. Feel free to contact us anytime and let us know your thoughts, queries or suggestions about your Nepal trip, and we'll customize your trip based on your preference and requirements.
Tipping your Guides and Porters for Mera Peak Climbing
Tipping is a common practice in the Hospitality Industry, especially in the trekking and climbing field, to show appreciation for the services provided by Guides and porters. Acknowledging their hard work, dedication, and assistance throughout your Mera Peak expedition is important. Tipping is not mandatory but is customary and significantly appreciated as a gesture of gratitude for their hard work and services. Also, at Tea Houses, it is common to see a box for tips. It is a nice gesture to leave a tip to show appreciation for their service.
Join Mera Peak Climbing: Autumn and Spring 2023 and 2024
We've added Mera Peak Climbing departure dates for Autumn 2023 and Spring and Autumn 2024. So, pick your preferred date and let us assist you to the summit of Nepal's highest permitted trekking peak, Mera Peak (6476m).
Mera Peak Climbing is available and can be done in Spring (March-May), Autumn (September-November), Late monsoon and Early winter with proper clothing, the right gear and equipment.
So, if the date you prefer is not listed on our mentioned dates, you can contact us directly to book the trip on your desired date. We have listed the price for up to 12 trekkers at maximum. If you are more than 12 trekkers, don't hesitate to contact us for an amazing discounted group price and further booking process.
Likewise, if you're a Female Traveler and wish to get a departure date in any of the categories, that is, in a group or solo in a private trekking group, we can manage that for you too. Private Trips to Mera Peak are possible on any date of the year. Contact us to design your own private trips with your loved ones.
Single trekkers (Solo Travelers) are always welcome to join the climb. Upon arrival in Kathmandu, you'll have a single room in Kathmandu Hotel as per your requirement and have to share a room at teahouses during Mera Peak Climbing.
Guides and Porters for Mera Peak Climbing
Guides and Porters are critical in providing support, know-how, and assistance throughout the climb. Your group size will determine the number of guides and porters you need for your Mera Peak Climbing. Climbing Mera Peak undoubtedly requires a trustworthy team of guides and porters to guarantee a safe and successful expedition. With Annapurna Foothills, we assure everything will be well taken care of.
Below is the Climbing Guide to Client Ratio for Mera Peak climbing in Nepal:
Climbing Guide and Climbers Ratio:
1 Sherpa Climbing Guide: 1-2 Climbers
2 Sherpa Climbing Guide: 3-5 Climbers
3 Sherpa Climbing Guide: 6-8 Climbers
Typical Day on Mera Peak Climbing
A typical day on Mera Peak climbing involves a well-structured routine ensuring climbers acclimatize properly and progress towards their goals. Normally, it begins with a wake-up call (usually at 6:00). After freshening up, we suggest our guests gather their climbing gear and pack their backpacks with essentials like water, snacks, extra clothing layers, and personal items before breakfast. Afterwards, we enjoy a hearty breakfast to fuel the day ahead. This may include hot beverages, cereals, bread, eggs, and sometimes local dishes. Begin the trek for the day, usually around 7:00 a.m. The trail may vary depending on the chosen route, but it typically involves ascending and descending through rugged terrain, forests and crossing suspension bridges over rivers. After walking for a few hours, we stop for lunch (usually around noon). This lunch break allows you to rest, refuel, and enjoy beautiful surroundings.
After the lunch break, we continue our journey to the destination chosen for the day to stay overnight. Upon reaching the designated destination, climbers settle into their rooms/tents and take some time to rest and relax. Dinner is served in the dining hall as the sun sets (around 6:30 p.m.). The meals typically consist of various dishes, including carbohydrates, proteins, and vegetables, to replenish energy reserves. After dinner, your Guide will conduct a briefing session, discussing the next day's plan, any challenges, safety precautions, and general mountaineering tips. After the briefing, climbers have free time to rest, chat, read, or engage in activities before bed. Getting enough rest is vital to aid in acclimatization and prepare for the next day's challenges. As climbers progress towards the higher altitudes of Mera Peak, additional rest days (at Thangnak and Khare) and altitude acclimatization are usually built into the itinerary to minimize the risk of altitude sickness and ensure a successful summit attempt.