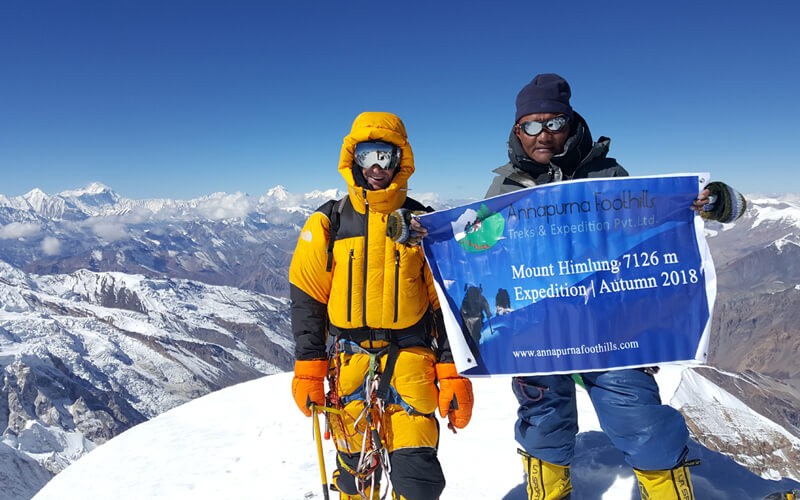 Mount Himlung (7126m) is a precise mountaineering expedition and real adventure in the Himalaya of Nepal. Mount Himlung lies to the northeast of Annapurna Range with an aspiring height of 7,126m, which lies in a secluded area of Nepal borders with Tibet. The paths are combined with towering peaks and goes through glaciers secluded villages with diverse cultures, Gompas, Stupas, Mani Wall, Apple farms and Red Pine forests. This region (Naar and Phu) is still a restricted area due to which all climbers are required to get a special restricted area and expedition climbing permit to enter the region.
Our Himlung Himal Expedition 2018 started on 10th October, 2018; a blue-sky and warm day in the mountain. There were four members in total; two Polish, a couple from Germany and there were Base Camp Manager, two Mountaineering Sherpa's Climbing Guide (Himlung summitters), a cook, two helpers ( kitchen boys ).


Mr. Dawa Sherpa was the Base Camp manager of our Mount Himlung expedition, autumn 2018. Mr. Dawa, expertise in Mountain Guide and Base Camp Manger, he has good command over English language and has 28 years of guiding experience in the Himalaya of Nepal and Tibet. He carefully takes his duty to set everything (Camp 1, Camp 2 and to Summit), coordinate and management of the camps. Two Sherpa Climbing Guides will support and lead the guests above Base Camp for thier summit push.
Sherpa Climbing Guide: Mr. Chhewang Sherpa has lots of enthusiasm to climb mountains. He already have sumitted Mt. Everest (8848m); two times from Nepal side and three times from Tibet, Lhotse (8516m); normal route 1 time, Mt Himlung (7126m) 5 times and Ama Dablam (6812m) two times. Mr. Sherpa is a strong and energetic staff of our company who has led several expeditions in Nepal and Tibet for Annapurna Foothills Treks.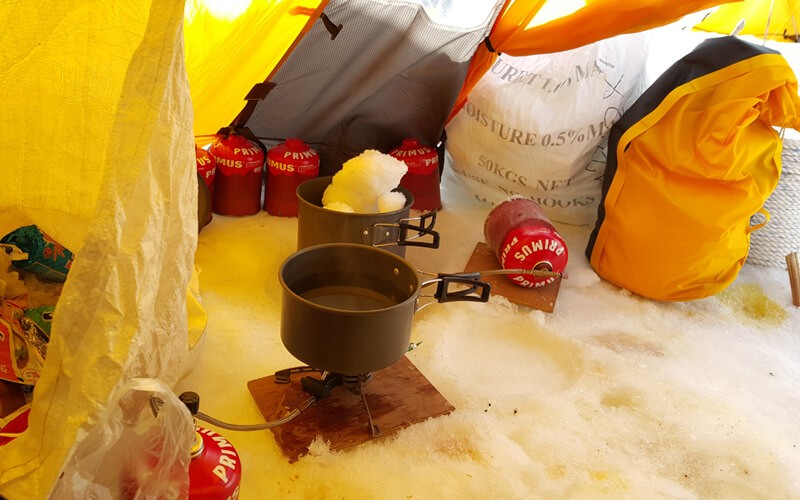 Summited Mt. Himlung on 27th October, 2018

Sherpa Climbing Guide: Mr. Ngawa Sherpa is a radical mountaineering guide, He's summitted Mt.Everest (8848m1 time) Barunste (7129m 1 time), Himlung (7126m two times), Mera Peak (6476m 15 times), Island Peak (6189m 10 times), Lobuche Peak (6119m 5 times) and other 6000m above peaks. Leading groups to climb 6000m, 7000m and 8000m climbs in the Himalaya.
Base Camp Cook : Mr. Pasang Sherpa is an expert in Kitchen Management for several expeditions and campings groups. Mr. Sherpa took Cook training course from Nepal Academy of Tourism & Hotel Management (NATHM) and has been working as a expedition and camping trip cook since 2000.
Porters (Ngima and Dawa Jangbu): Porters in general, don't speak that much English but they are very helpful and sincere. Backbone of any trekking, expedition in the Himalaya or anywhere. The most harworking members of the expedition.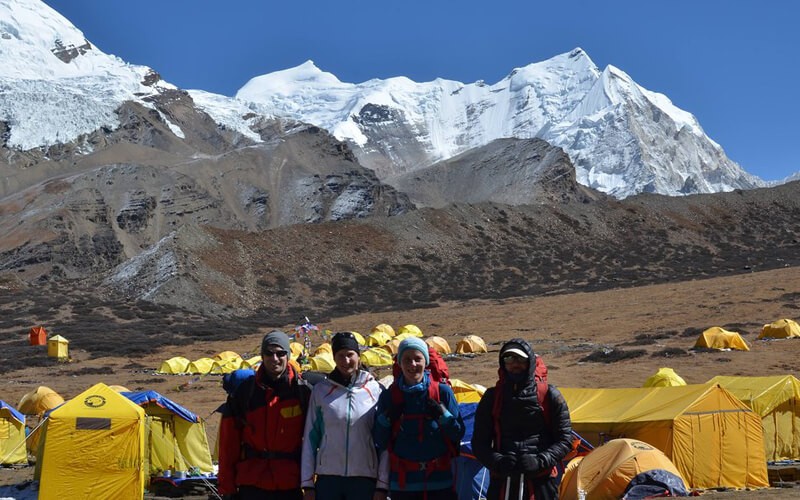 Celebration at Base Camp !!