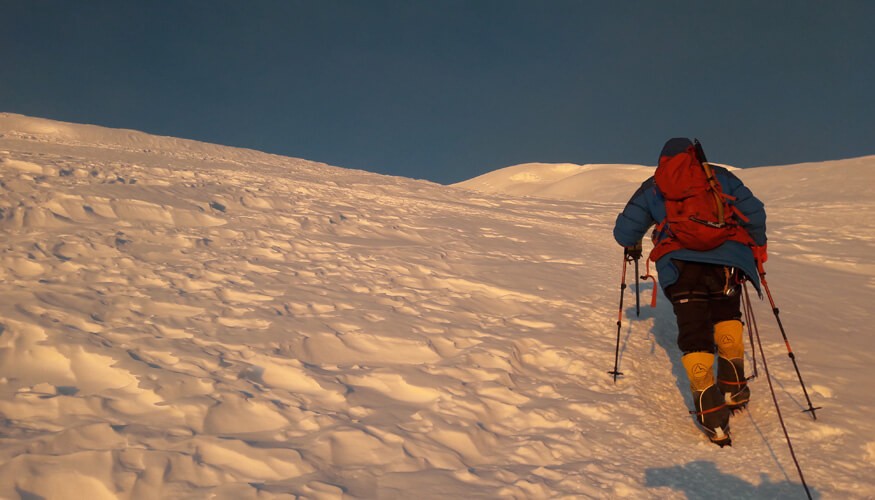 Golden hour on Mera Peak

How Hard is the Mera Peak Climb ?

The answer is a big YES. Mera Peak is indeed a very challenging climb. The real question is how hard it can get and how can we prepare ourself in the best possible way for Mera Peak.

Have you already been to Everest Base Camp or Annapurna Base Camp or done with your first trekking in the Himalaya of Nepal, or any other parts of the world ? Already planning your next visit in Nepal ? And wish for even higher objective by climbing a Trekking Peak in Nepal.

The term Trekking Peak is in itself somewhat misleading, as trekking peaks actually involve mountaineering of varying degrees of technical difficulty. A trekking peak could be described as a trip which consists mostly of trekking as well as a couple of days mountaineering.Trekking peaks usually involve ascending a glacier to a high camp followed by a summit day with some technical climbing. Mountaineering expeditionsrequire a different set of skills as well as technical climbing equipment.You may have to walk roped together across a glacier, cross a snow field wearing crampons, ascend a steep slope clipped into a fixed rope, or climb a vertical ice wall using the front points of your crampons and an ice axe.

Among the many Trekking Peaks governed by Nepal Mountaineering Association (NMA), Mera Peak is the second most popular trekking peak with 1502 Permits issued which is only behind Island Peak which got 2817 Permits issued in 2017 as per Nepal Tourist Statistics 2017.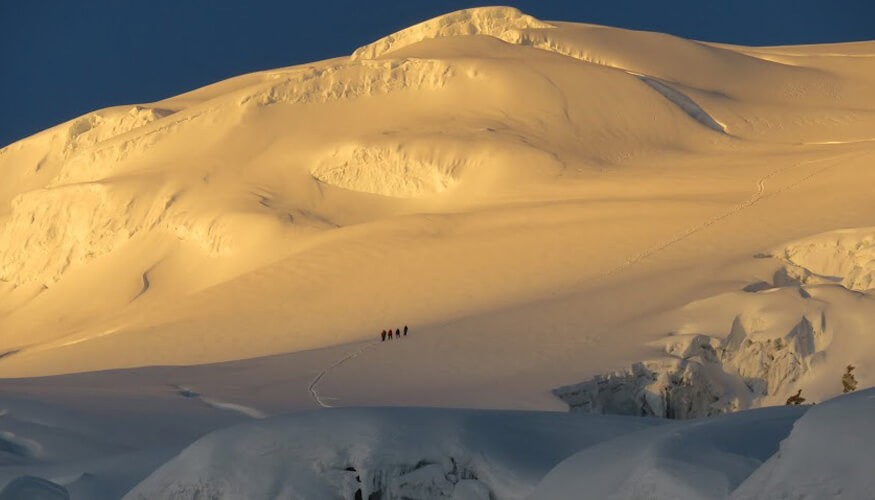 Climbing Mount Mera Peak

Mera Peak 6476m, is the highest permitted trekking peak in Nepal (NMA), yet its technically straightforward ascent makes it a realistic objective for avid trekkers to attempt as their first peak. From the summit of Mera Peak you are rewarded with a magnificent view of the over-8000-meter-mountains including Mt. Everest, 8848m, Mt. Lhotse, 8516m, Mt. Cho Oyu, 8201m, Mt. Makalu, 8463m, Mt. Kanchenjunga, 8586m, to name a few.

If scaling a high altitude peak and to experience trekking in high Himalaya has been your lifelong dream then Mera Peak will be your best option available to live your dream as the exploration to Mera Peak is the perfect combination of a remote trekking and climbing experience in Nepal. For most parts of the trip, the voyage to Mera Peak is like a tea house trekking in Himalaya but on the last after Khare, it becomes a climb which requires your strength and patience to do it successfully.

The big question is; what can be the probable challenges that you might encounter during your Mera Peakclimb.The difficulty level can totally differ as per your personal experiences, physical fitness and Team you choose. But we can draw some common issues we can find among treklkers planning to do this trip.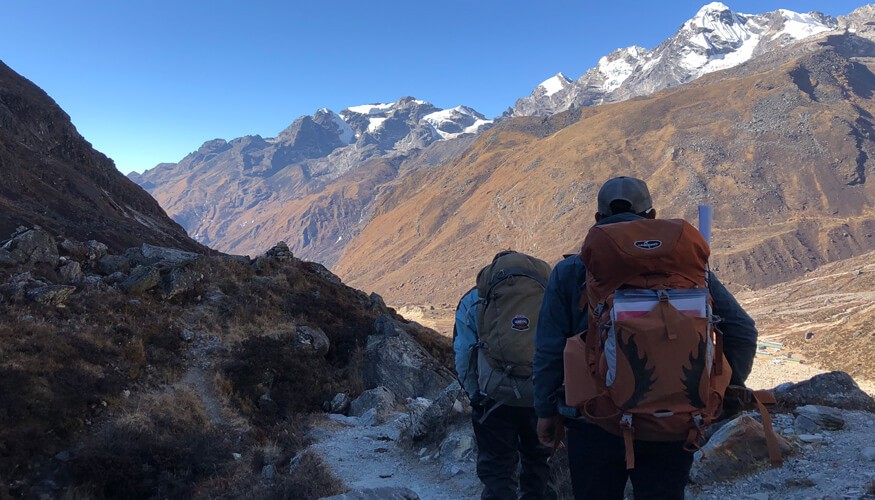 Our team en route to Khare

At first it is definitely the Altitude. 6476m is not a joke and it can be a real test for your body to cope with such elevation. All the problems that come with high altitude is always there while doing this climb. Hence proper and required Acclimatization is Key for Mera Peak. Having a previous climbing experience of Mt. Kilimanjaro, Everest Base Camp Trekking, and Alps, above 4000m will always be a plus point for those who are intending attempt the climb.

We have several routes to reach Kote and then Khare, the last village (Tea House) before we start our camping nights. The shortest one is via Zatra La Pass 4620m, followed by Pangom, Ramailo Danda route and the route via Cholem, Kholakharka.The routes we choose also determine how well we can acclimatize.Time duration can be an issue for many guests but for a maximum chance of making the summitwe suggest taking required number of days to make this climb.

Your physical fitness and strength is vital. Expect to walk 7-8 Hours a day including the breaks. The trails are as famously said, as a little bit up and a little bit down and always beautiful getting inside the Hinku Valley. The climb fromMera La to Mera High campwill go down as one of the major highlights of your trip. Especially the summit attempt of Mera peak from high camp, which is a long slog as you've to walk on glaciers for 6 – 8 hours. It will test your physical and mental strength equally. The reward of a magnificent view of the over-8000-meter-mountains including Mt. Everest, 8848m, Mt. Lhotse, 8516m, Mt. Cho Oyu, 8201m, Mt. Makalu, 8463m, Mt. Kanchenjunga, 8586m, will make you make you forget all the struggles and treasure your accomplishments.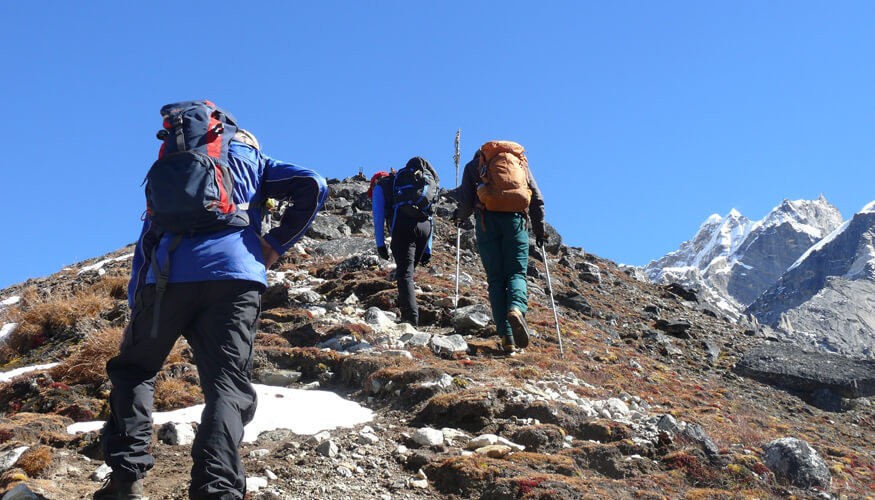 Acclamatization and Preparation Day at Khare

Weather condition and temperature is another important aspect that determines the difficulty level of climbing Mera peak because weather up in the Himalaya is always unpredictable. We keep our groups updated about latest weather forecast. If the weather gets extreme, there chances of doing the summit will be difficult. The wind up there can be very wild and furious which might stand as an obstacle between you and the summit.

Proper clothing and equipment is also crucial. One should have appropriate knowledge and should be familiar with the personal gears such as crampons, harness, climbing boots and other necessary climbing gears to do this climb. Our Sherpa climbing guides will provide training at Khare required on the mountain.

With all said Mera peak climbing is a challenging yet rewarding journey in the foothills of the Himalayas.Our local Sherpa team will take care of all the logistics and make all the arrangements during your Mera Peak Expedition.

Friendly, experienced, competent, qualified and always with a smile, is the kind of people working at Annapurna Foothills. Ensuring that all of our guests have a great time in the Himalaya of Nepal with Annapurna Foothills Family.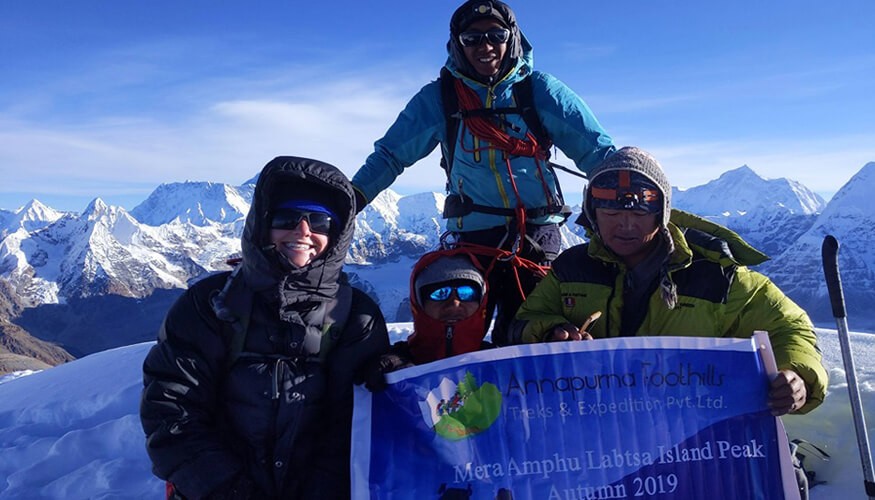 All smiles on the summit of Mera Peak