Island Peak also named as ImjaTse 6189m is a beautiful mountain to climb in the Khumbu Himalaya of Nepal. Graded as a Trekking Peak by Nepal Mountaineering Association (NMA), Island Peak is one of the most popular 6000m climbs along with Mera Peak 6476m and Lobuche East Peak 6119m. Named by Eric Shipton, member of the Mount Everest Expedition, 1953 as it appeared as an Island in a Sea of Ice when viewed from Dingboche.



The classic view of Island Peak on the trail from Dingboche to Chhukung

With the number of climbers increasing each passing season, there will always be emerging challenges and difficulties. The big question; how difficult is climbing Island Peak. Well, it totally depends upon your physical fitness, previous trekking and climbing experiences. Though any physically active person, with right preparations, training, acclimatization program, strong determination and mindset can summit Island Peak. Everest Base Camp Trekking, Khumbu Three High Passes Trekking, Gokyo Cho La Pass and Everest Base Camp Trekking. We recommend any of these beautiful treks in the Khumbu region before approaching for your Island Peak attempt.

In first place, Island Peak is not just a hill climbing peak. Just like Gokyo Ri or Kala Patthar or Chhukung Ri, though all of these climbs are great hikes offering one of the bests views of the Khumbu Himalaya of Nepal. Climbing Island Peak requires previous experience of basic rock and ice climbing, high altitude trekking either in the Himalaya or Alps or any other region. Having right gears and equipments required for the trek and climb is absolutely crucial.

Another interesting aspect of Island Peak is walking on the ladders. Sounds easy, but it is definitely not an easy thing to do.Imagine walking on ladders with your mountaineering boots, crossing the crevasses, at high altitude,cold temperature and high wind.This climb will definitely test you; physically and mentally. We request all the trekkers, climbers to be prepared to face the extreme of weather that might occur during their Island Peak climb.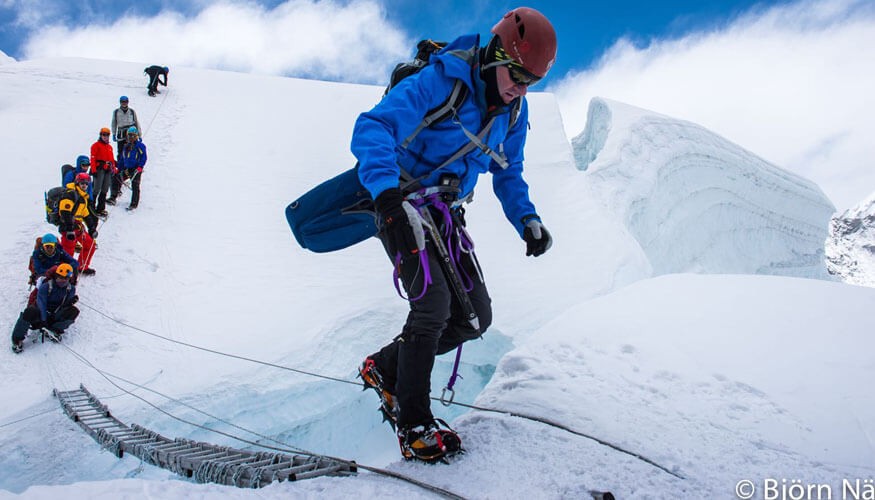 Ladders on Island Peak

The most talked about part of Island Peak is the popular Ice Head Wall section. The final push on Island Peak Head wall is indeed a tough climb. Most of our past guests who had climbed Island Peak with Annapurna Foothills stressed the head wall section.
The feeling of standing on the summit of Island Peak with the amazing mountains surrounding you somewhat makes you forget about the difficulties and enjoy your accomplishments. The job is not completed though, abseiling down the head wall can be equally challenging. We recommend an outdoor training on wall that focus on abseiling using figure of 8 devices, moving from one rope to another one. You need to be very comfortable abseiling down the headwall.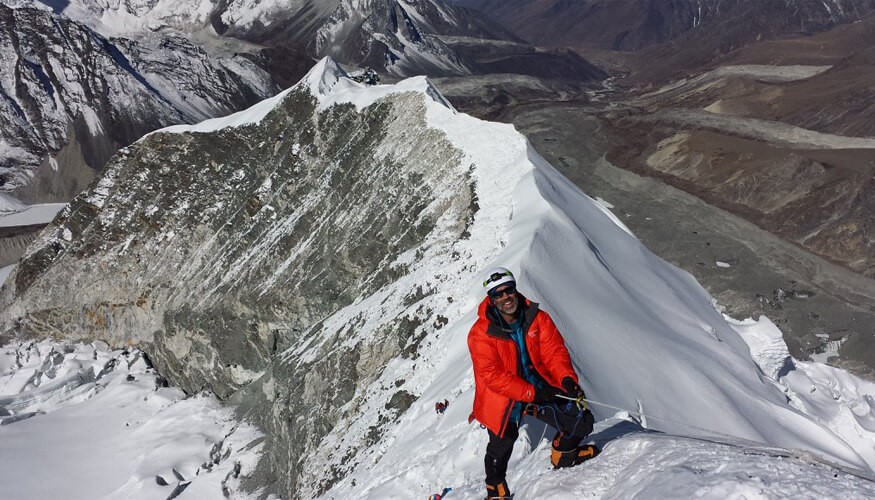 Summit ridge of Island Peak

Another tricky part in your Island Peak Expedition can be the section from High Camp to the crampon point. The rocky section can really challenge the climbers while climbing up for the summit push and during the descending time as well.

Choosing a right operator for you, either a Nepal based Local operator or a foreign operator is totally a different topic. Make sure you do your home work correctly, select the right itinerary having enough acclimatization days along the trail. As acclimatization is the key for any high altitude treks or climbs in the Himalaya.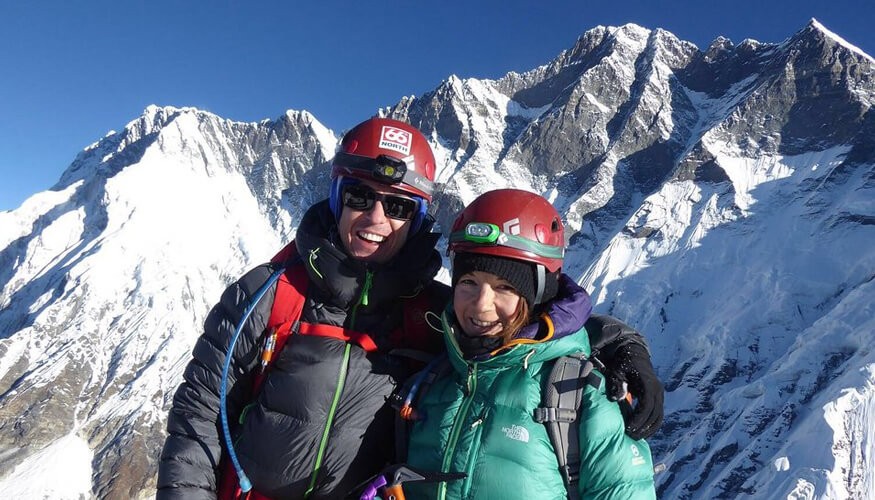 All smiles on summit of Island Peak

Our Standard Everest Base Camp Trekking and Island Peak Climbing is 20 Days. With more than 2 weeks on the mountain.So it is very essential that you feel good with the outdoor lifestyle. Staying at a Tea Houses and camping during the trip is not always a luxury. Up to Namche Bazzar, we have options, hot showers, cafes, working internet, etc. and the list goes on. But once we trek higher in the Khumbu valley then the options are very limited. Likewise we set up base camp and high camp for ourIsland Peak Trips before going for the summit push. Hence, it is very important that you are comfortable with the outdoor lifestyle. Enjoying the scenery, landscapes, air, mountains, being focused on your goal isn't the most difficult of things to do. We guess !! If so, then please get in touch with us for more conversations about your next adventure in the Himalaya of Nepal.