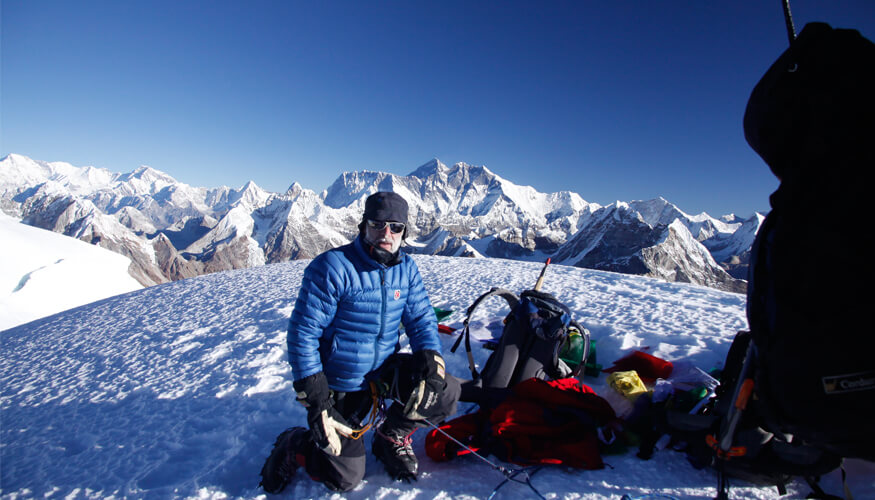 About Mera and Island Peak Climbing
Mera and Island Peak Climbing via Amphu Labtsa Pass is a thrilling and challenging journey through the Himalayas of Nepal. This trek takes you to the summits of two of the most dominating and popular Nepal trekking peaks and the rugged Amphu Labtsa Pass.
Mera Peak is the highest permitted trekking peak in the Khumbu region of Nepal, and it offers stunning views of the surrounding mountains, including Everest, Lhotse, and Makalu. Similarly, Island Peak is located in the centre of the Khumbu region, and it is a more technical climb than Mera Peak. The Amphu Labtsa Pass is a high pass offering surreal panoramic Himalayan views.
The trek to Mera and Island Peak via Amphu Labtsa is very much challenging, but it is worth the effort. The trail passes through dense forests, over rivers and streams, and up to the high altitudes of the Himalayas. The trek begins with a scenic flight to Lukla. From there, you will hike to the Mera Peak Base Camp and then to the summit of Mera Peak. After descending from Mera Peak, you will cross the Amphu Labtsa Pass and hike to the Island Peak Base Camp. The next day, you will summit Island Peak. After summiting Island Peak, you will retrace your steps to Lukla and fly back to Kathmandu. This trek is an unforgettable experience that will challenge you physically and mentally, offering the best of the Khumbu Himalayas.
Mera and Island Peak Climbing Detailed Itinerary
Day 1: Arrival in Kathmandu
Your arrival in Kathmandu is a truly captivating and unforgettable experience. As you step off the plane and onto the tarmac, you are greeted by a breath-taking panoramic vista of snow-capped peaks that seem to touch the sky. The air is crisp and fresh, and the sun is shining brightly. You feel a sense of excitement and anticipation as you make your way through the airport to meet your Annapurna Foothills Treks representative.
Your representative will be holding a sign with your name on it, and they greet you warmly. They take your luggage and lead you to a private tourist vehicle to your hotel. Driving through the city, you will be amazed by the sights and sounds. The streets are crowded with people, rickshaws, and cars.
Day 2: Preparation Day in Kathmandu
On your preparation day in Kathmandu, you will meet with the manager of your trekking company at your hotel. They will give you a comprehensive briefing on the upcoming expedition. You must settle any outstanding payments before you can begin your journey. The manager will also help you complete the necessary paperwork and secure the required permits for your trek. They will also thoroughly assess your climbing gear and ensure you have everything. If you need to purchase any additional trekking equipment, this is the time to do it.
Day 3: Flight to Lukla & Trek to Paiya, 4-5 hours (2,730m/8,956ft)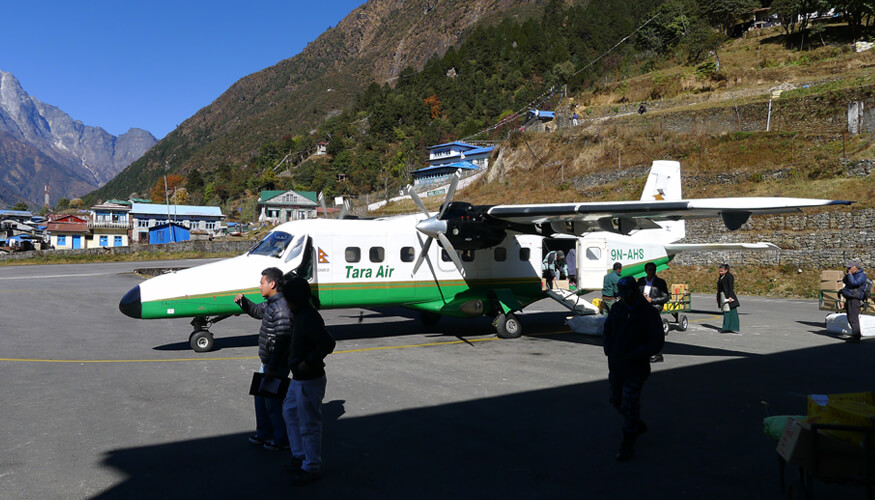 Flying from Kathmandu to Lukla
We will start our day early and head to the domestic airport for an early morning flight to Lukla. This approximately 40-minute flight is a captivating spectacle, treating us to spectacular vistas of the Himalayan range, including the towering presence of Mount Everest, Lhotse, and Cho Oyu.
Flying from Manthali to Lukla
During the busiest times of the year, Lukla Airport can get congested. This is why, during the autumn (October - November) and spring (April -May) seasons, all flights to Lukla are re-routed from Manthali. The drive to Manthali from Kathmandu takes about 4-5 hours. So, we will leave for Manthali at 1:45 a.m. to ensure we arrive on time for our flight. The flight from Manthali to Lukla takes around 17-20 minutes.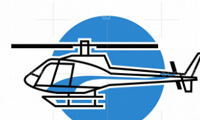 Helicopter Option
Flying in a helicopter is a unique experience that adds a touch of luxury to your journey. You can enjoy the pristine beauty of the Khumbu Himalaya in style. The helicopter flight will take you directly from Kathmandu to Lukla, bypassing the long drive and flight. This is an excellent option if you want to save time and avoid the crowds. The helicopter option costs an additional USD 300 per person (on a sharing basis).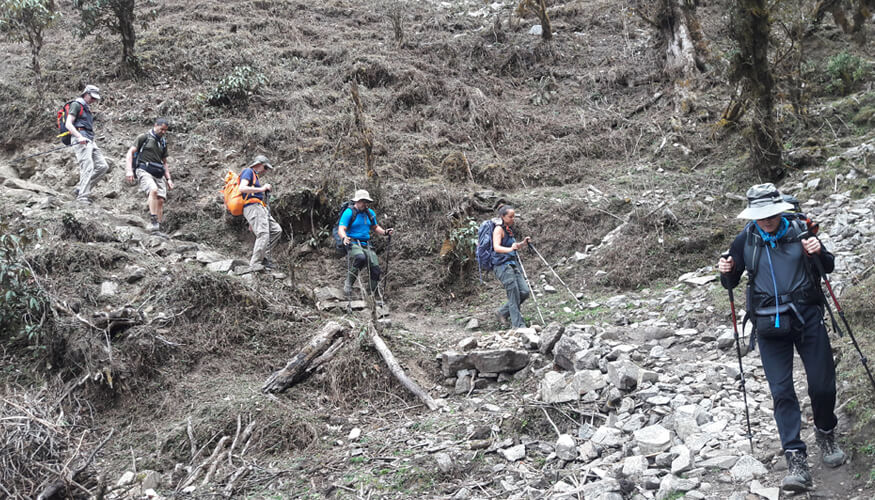 Trek to Paiya: 4-5 hours
Our trek begins from Lukla, a charming village nestled in the Himalayas. We will start by descending through lush forests to Surke Village, located at 2,290 meters (7,513 feet). Surke Village is the birthplace of Pasang Lhamu Sherpa, the first Nepali woman to summit Mount Everest.
We will then ascend to Pakhepani, located at an altitude of 2,560 meters (8,403 feet). During the spring season, the rhododendron forests in this area are in full bloom, creating a beautiful spectacle. It is important to note that the trail from Surke to Paiya can sometimes be muddy, especially during the monsoon season.
The day's final destination is Paiya, which is at an altitude of 2,730 meters (8,956 feet). Paiya offers stunning views of the surrounding mountains, including Kongde Ri, Khatang, Tang, and several other peaks over 7,000 meters tall.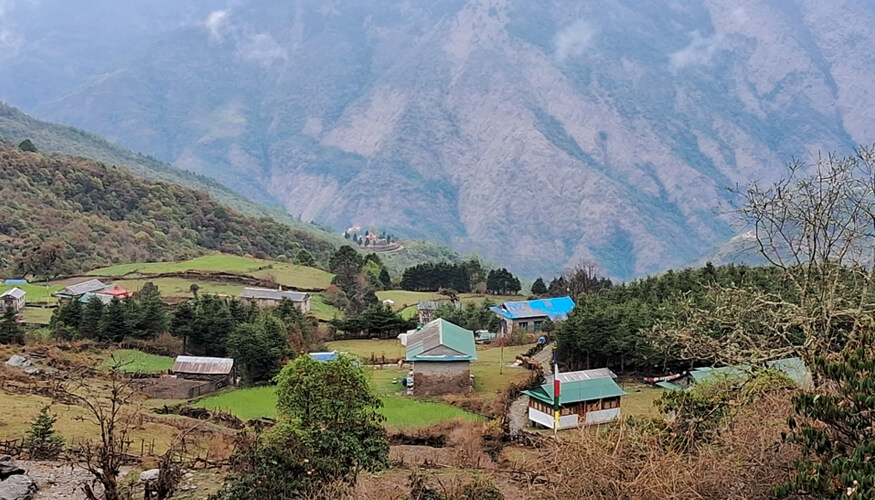 Day 4: Trek to Panggom, 6-7 hours (2,850m/9,350ft)
The trek from Paiya to Panggom is a challenging but rewarding one. The trail begins with a brief descent to a wooden bridge, which you will cross before ascending to the Kari La Pass. The pass is 2,990 meters (9,812 feet) and offers stunning views of Cho Oyu, the sixth-highest mountain in the world, and the Kharikhola Valley.
After the pass, the trail passes through dense forests and cascading waterfalls. The forests are home to various wildlife, including monkeys, birds, and snow leopards. The waterfalls are a sight to behold and make for great photo opportunities.
The day's final destination is Panggom village, which is at an altitude of 2,946 meters (9,675 feet). Panggom is a traditional Sherpa village and offers a glimpse into Sherpa culture. A short walk from the town is a magnificent monastery which watches over the village. Panggom is also the birthplace of Mr Lhakpa Sonam Sherpa, a successful businessman and the visionary behind Yeti Airlines and Tara Air.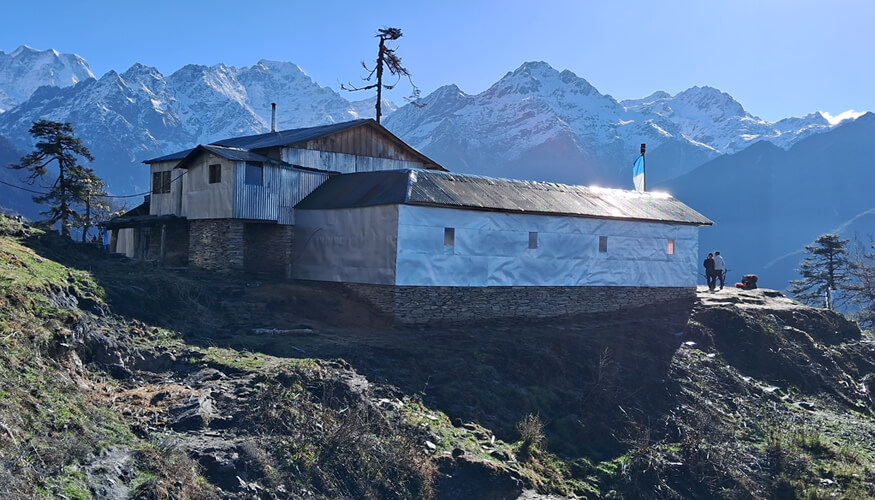 Day 5: Trek to Ramailo Danda, 6-7 hours, Elevation 3,276m/10,748ft
We start the day early and head to Panggom La Pass (3,180m), marked by Tibetan chortens. This trail takes us into the remote Hinku Valley, where we first witness a glimpse of the majestic Mera Peak. The trail then winds through cultivated fields, where we see local people working. We stop for lunch in Sibuje and then continue to Ningsaw. Depending on the conditions, our guide may take you to Ramailo Danda, which offers stunning Hinku Valley and Mera Peak views.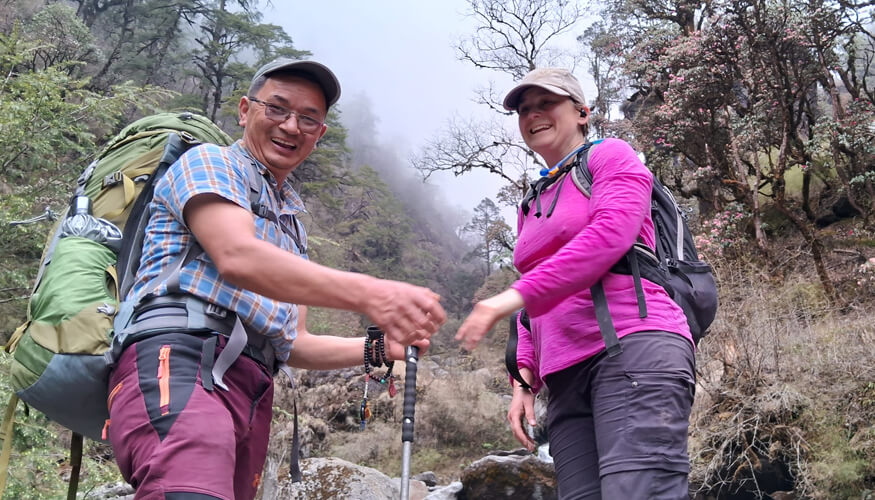 Day 6: Ramailo Danda to Chhatra Khola, 6-7 hours (3,122m/10,242ft)
The trail will ascend and descend, and we will reach Tama Khola after about 3 hours of hiking. We will cross the river and hike for 20 minutes to reach two newly established teahouses. We will have lunch at the teahouses and then continue our hike through the bamboo and rhododendron forest. We will reach Chhatra Khola, also known as the Bamboo Camp, after another 2 hours of hiking. Chhatra Khola is a beautiful spot to relax and enjoy the scenery.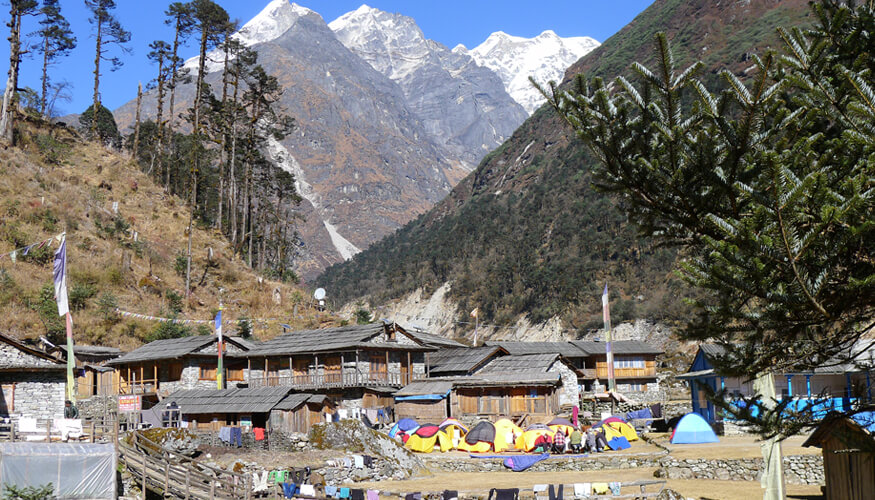 Day 7: Trek to Kothe, 6-7 hours (3,600m / 11,811 ft.)
Today, we hike through bamboo and pine forests to Taktor Village. At Taktor Village, we will meet up with the trail that comes from Thuli Kharka and Chhatra Khola. We will have lunch in Taktor Village and then continue our hike. We will pass through the isolated Tashing Dingma village and then follow the Inkhu Khola River. The Hinku Valley will open up before us, and we will get a great view of Mera Peak. We will hike along the ridge overlooking the river until we reach Kothe. Kothe is the gateway to the Makalu Barun National Park.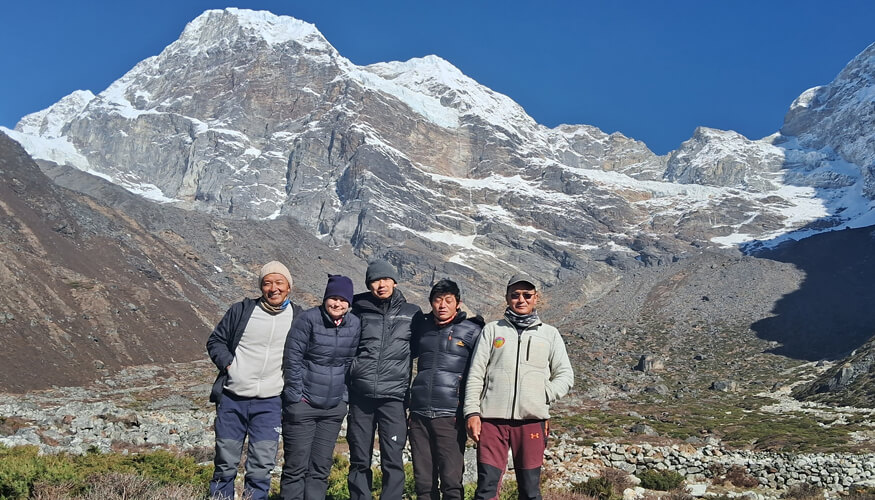 Day 8: Trek to Thangnak, 5 hrs. (4,356m/14,291 ft.)
The day begins with a serene stroll along the Inkhu Khola River, the waters of the surrounding mountains. The trail winds through tranquil forests, and the views gradually reveal a corridor of towering peaks. As we hike, the valley widens and curves to the east, revealing a new communal of majestic summits. We can see the path leading up to the Mera Glacier.
The outcome of the glacial lake Sabai Tsho's collapse is evident in the altered terrain of the valley. The river has changed course, with signs of erosion and flooding. By mid-afternoon, we will reach Thangnak, where we will stay for the night. Thangnak is a small village nestled in the valley, and it is a beautiful place to relax and enjoy the scenery.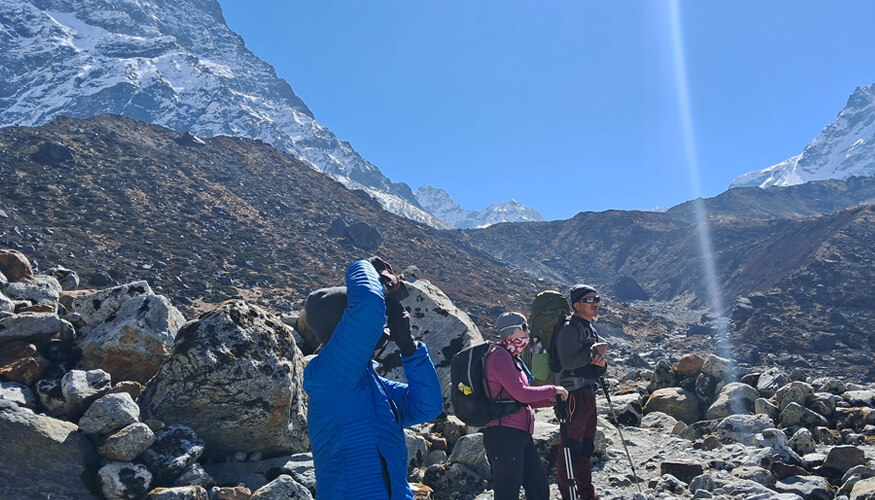 Day 9: Acclimatization Day in Thangnak, 5 hrs. (4,356m/14,291 ft.)
Acclimatization is Key
Acclimatization is essential for any successful trek, climb, or expedition. It adapts to low oxygen levels at high altitudes. There are a few things that you can do to help your body acclimatize which are:
Hike High, Sleep Low. This means you should gain as much elevation as possible during the day but then sleep at a lower altitude. It will help your body to adjust to the lower oxygen levels slowly.
Take it Slow. Don't try to do too much too soon. Give your body time to adjust to the altitude.
Drink Plenty of Fluids. It is essential to stay hydrated at high altitudes. Drink plenty of water, tea, or soup.
Listen to your Body. If you start to feel unwell, such as having headaches or nausea, descend to a lower altitude.
A Side Trip for Acclimatization
One way to help your body acclimatize is to take a side trip to the Tibetan Prayer Stones. This short hike takes you up to a ridge behind Thangnak. The views from the top are amazing, and the walk will help to increase your heart rate and breathing rate. It will help your body to adapt to the lower oxygen levels. This hike is a great way to exercise and enjoy the views. It is also an excellent way to help your body acclimatize to the altitude.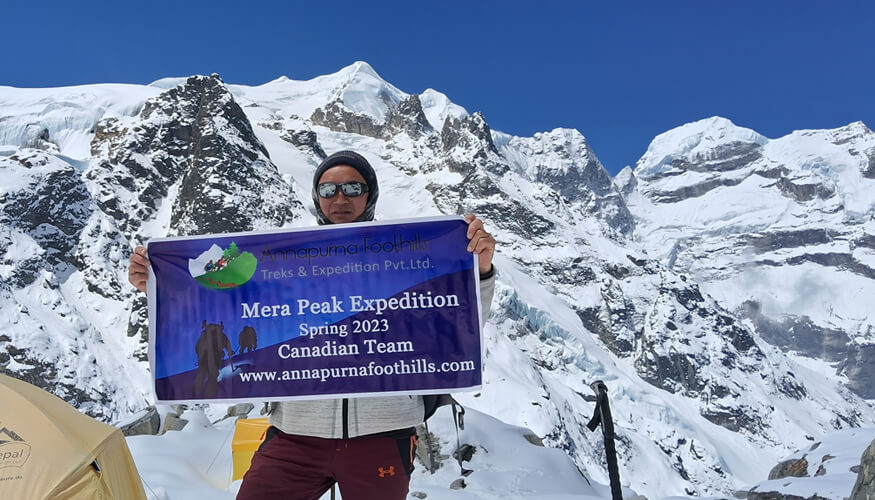 Day 10: Trek to Khare, 4 hrs. (5,045m/ 16,551 ft.)
The morning trek up alongside the Dig Glacier is simple and relaxed. The trail descends steeply out of the village, leading to prayer flags overlooking the Kyeshar glacier and myriad magnificent peaks. The trail then winds down through the valley towards Khare, Mera Peak's base camp (4,900m), where we will spend the next two nights.
Day 11: Acclimatization Day / Preparation Day in Khare
Today is a rest day at Khare, where we will focus on acclimatizing to the altitude and preparing for the summit attempt. We will make short hikes around the area to help our bodies adapt to the high altitude. These hikes will not be too strenuous but will allow us to get used to the thinner air.
Our guide will teach you some basic climbing techniques, such as how to use crampons and an ice axe. We will also practice using our harnesses and ropes. This will help us feel more confident and prepared for the summit attempt.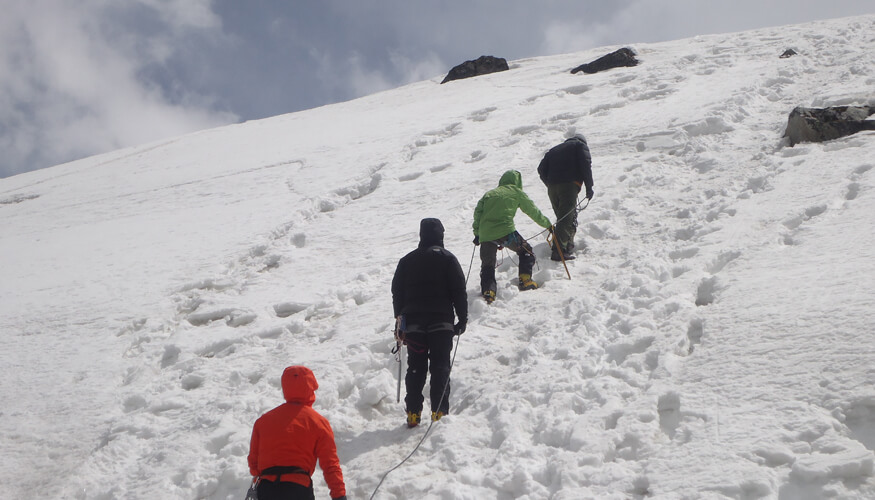 Day 12: Trek to Mera Base Camp, 4 hrs. (5,350m/17,552 ft.)
Today, we will trek to Mera Base Camp. Many companies mistakenly say you must cross Mera La to reach Mera Base Camp, but this is not true. From Khare, we ascend for three hours over a boulder-strewn path up to the glacier. It is a short climb to a glacial plateau leading to Mera Base Camp. It takes another hour to reach Mera La, but this is optional. Mera Base Camp is located at an altitude of 5,350 meters. It is a small camp with a few tents and a dining area.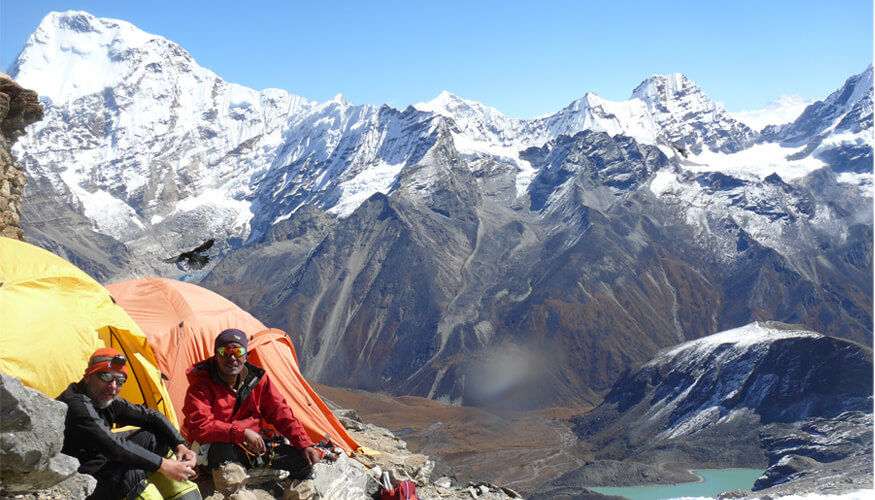 Day 13. Trek to Mera Peak High Camp, 4 hours. (5,780m/18,963 ft.)
Today, we will trek to Mera Peak High Camp. We will start by making the steep ascent to Mera La, which is a high pass that offers panoramic views of the surrounding mountains, including Mount Everest, Makalu, Kanchenjunga, Cho Oyu, and the south face of Lhotse, Nuptse, Chamlang, and Baruntse.
From Mera La, we will continue up the rocky north flank to a stony extension, where we will set up our high camp. This is a crucial day in our preparation for the summit attempt, as we will be sleeping at a high altitude and acclimatizing to the conditions.
Listening to your body and resting if you feel tired or unwell is essential. Suppose you experience any symptoms of altitude sickness, such as headache, nausea, or shortness of breath. In that case, you should tell your guide immediately.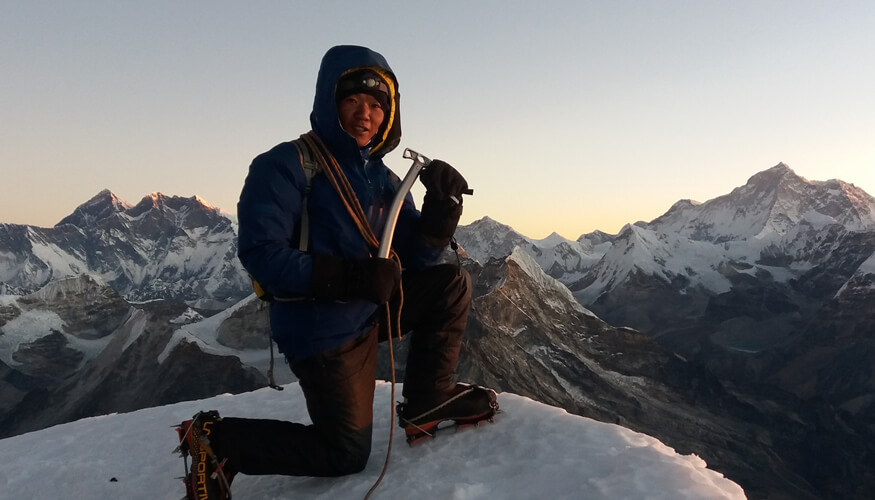 Day 14: Summit Mera Peak (6,476 m/ 21,246 ft.) and Descend to Kongma Dingma, 10-12 hrs. (4,900 m/16,076 ft.)
The climb to the summit of Mera Peak starts gradually, but the weather conditions can affect the timing. We usually leave high camp at 2 am, and reaching the summit takes 4 to 6 hours. It is important to take a rest stop and go slowly to conserve energy for the descent.
The central summit appears above the vast glacier, edged by two ridges. We climb the snowfields, avoiding the crevasses. This steep section can take 2 hours and is slow going. The route swings to the east of the left-hand ridge before turning back towards the main summit ridge of Mera. Mera Peak has three summits, and our objective is the highest.
After reaching the summit and enjoying fantastic views of the Himalayas, we have a short abseil before the long descent back to the high camp. We will rest for 45 minutes before returning to our campsite in the Hinku Valley at Kongma Dingma, 4,800 meters (15,748 feet). This is a 12-hour day round trip.
Day 15: Reserve Day
The reserve day is a contingency day in case we cannot summit Mera Peak on the scheduled date due to weather or other reasons. This extra day gives us some flexibility and allows us to wait for better weather conditions or to accommodate any delays or setbacks.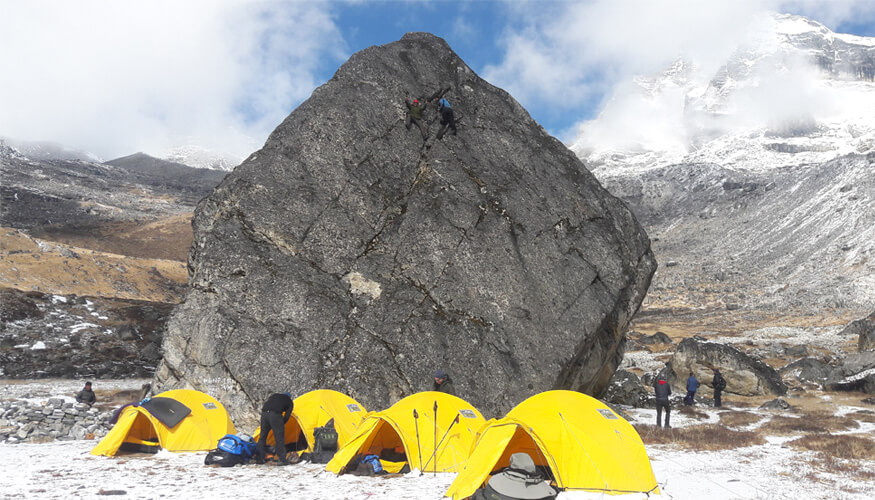 Day 16: Trek to Hongu River, Seto Pokhari, 4-5 hrs. (5,000 m/16,404 ft.)
After breakfast, we continue our trek up the spectacular high-altitude valley, following the bank of the Hongu River. The Amphu Labtsa peak comes into view before us, with Lhotse and the Everest group behind it and Ama Dablam just to the left. We can have an excellent view of Amphu Labtsa from the campsite, encircled by beautiful mountains. We spend the night in tents.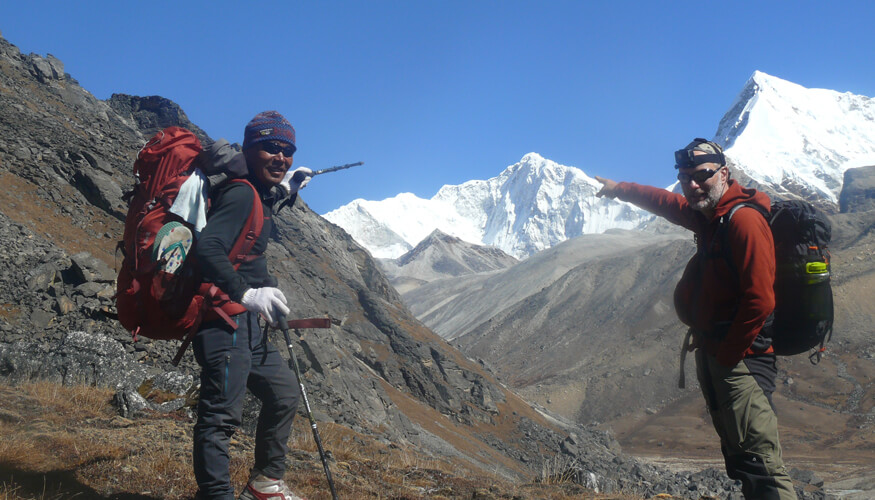 Day 17: Trek to below Amphu Labtsa Base Camp, 4 hrs. (5,400 m/17,716 ft.)
We trek for 4 hours below the Amphu Labtsa Base Camp at 5,400 meters (17,716 feet). The trail is steep and challenging, but the views of the surrounding mountains are stunning. We spend the afternoon relaxing in camp as our Sherpa team prepares the route over the pass.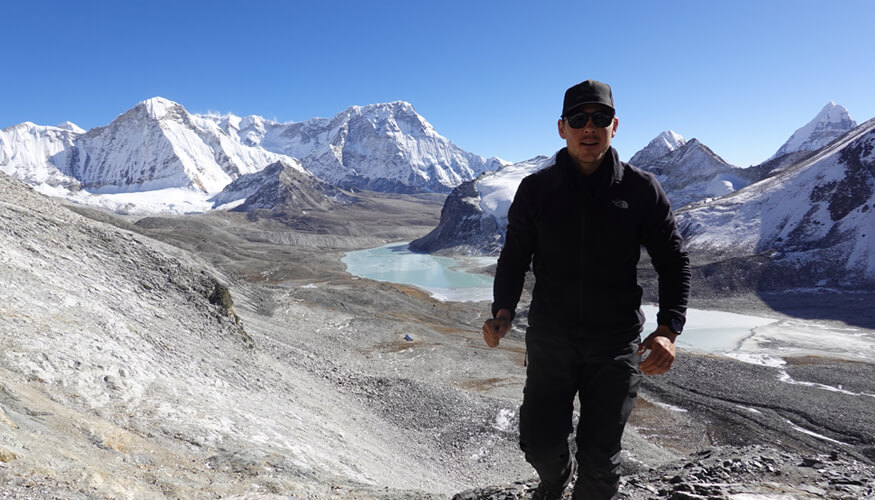 Day 18: Ascend the Amphu Labtsa (5,780m/ 18,963ft) and trek to Chhukung, 10-12 hrs. (4,710 m/15,452 ft.)
Crossing the Amphu Labtsa Pass requires technical skills and experience. We will start early in the morning when the weather is clear and calm. The pass is 5,780 meters (18,963 feet). We will need to cross a steep section of ice and rock. After climbing the pass, we will descend to the other end of the pass in the Imja Valley. We will continue walking to Chhukung, staying overnight in a comfortable lodge.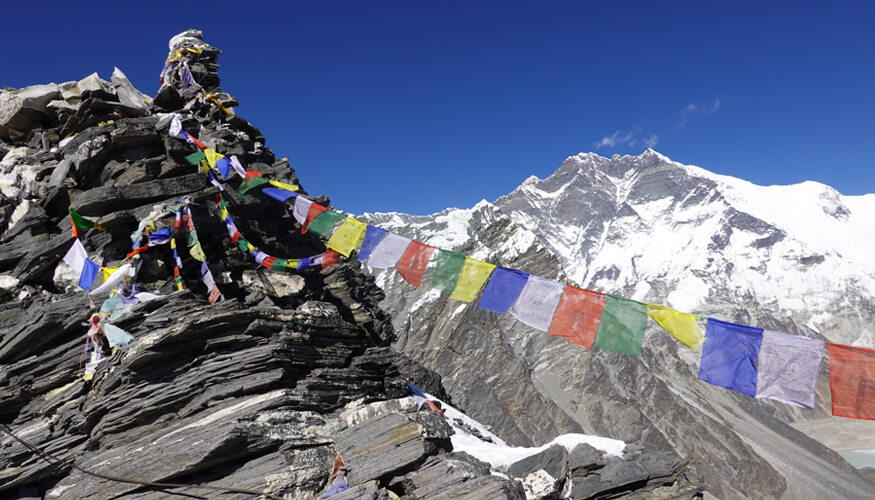 Day 19: Trek to Island Peak Base Camp, 3 hrs. (5,200 m/17,060 ft.)
We will trek for 3 hours to Island Peak Base Camp, located at 5,200 meters (17,060 feet). The trail starts by climbing steeply towards the west, then turns north and follows the valley along the moraine from the Lhotse glacier. We will continue on a short and pleasant walk along the riverside, which leads to Big Rock. From here, a 40-minute climb will take us to Island Peak Base Camp, where we will set up camp and relax for the rest of the day.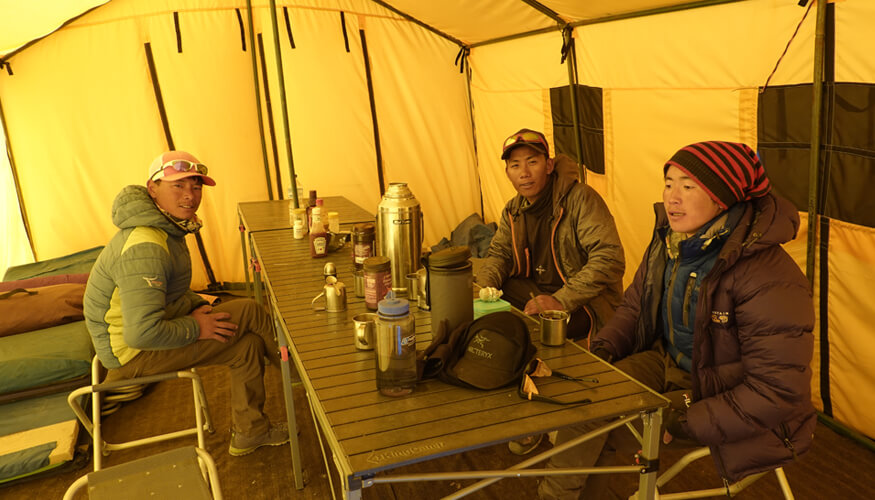 Day 20: Summit Island Peak (6,189 m/20,305 ft.) and descend to Chhukung, 10-12 hrs. (4,710 m/15,452 ft.)
The long-awaited day has arrived: our summit attempt at Island Peak! We will depart at 2 am for the challenging ascent ahead. We will start by hiking across a rocky scree terrain, ascending 150 meters (492 feet). Then, we will walk and scramble up a more vertical rock section. The physical demands are high, especially as we reach 5,700 meters (18,700 feet), where the altitude affects our pace. However, we will persevere through the seemingly endless final steep rock stretch. Island Peak summit Opens in a new window.
Once we reach a narrow ridge, we will put on our harnesses, crampons, and ice axes and form a roped team to navigate the glacier. We may need to cross ladders, ascend and descend steep slopes, and cross crevasses depending on the conditions. This section of the climb can take 1-2 hours and will lead us to the base of the Headwall. At the base of the Headwall, we will rest while our Sherpa team sets up the route. The Headwall is a 150-meter (492-foot) section with an angle of 50-65 degrees. Our Sherpas will secure the road with a climbing rope to ensure our safety during the ascent.
At the top of the Headwall, we will reach the summit of Island Peak. The views from the summit are incredible, and we will have the opportunity to take in the panoramic vista. However, the summit is relatively small, so staying clipped to the rope is essential. After enjoying the views, we will prepare to descend the Headwall. We will use controlled abseiling to descend the Headwall quickly and safely. This section of the climb requires mastery of abseiling on a fixed line. In Chhukung, we will enjoy a well-deserved rest and a delicious meal.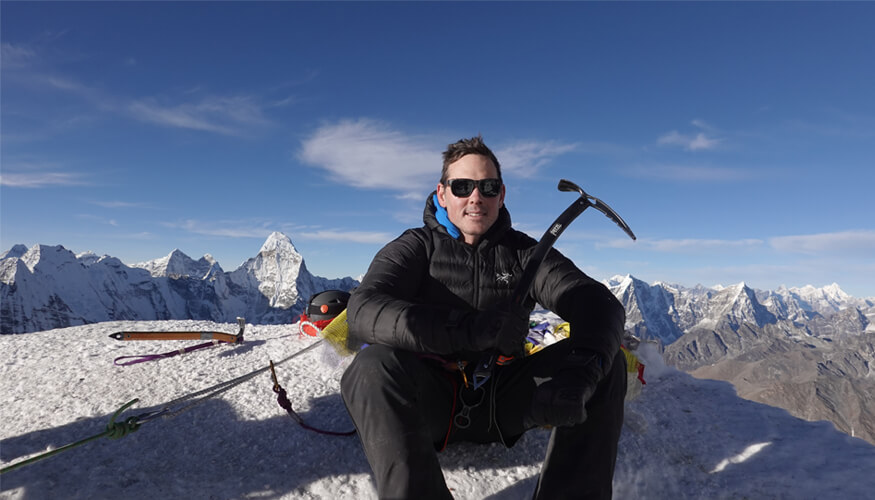 Day 21: Trek to Namche Bazaar (7-8 hours, 3,450 meters / 11,318 feet)
We will start our day by trekking down to Dingboche, the same trail we used on the way up. We will then pass through the Pangboche village. After crossing a river, we will walk up through the forest for an hour and reach Tengboche. Tengboche is a beautiful village located 3,860 meters (12,664 feet) above sea level. It is home to the Tengboche Monastery, one of the most important monasteries in the Khumbu region.
After spending some time in Tengboche, we will descend to the bridge over the Dudh Kosi River at Phunki Tenga. Here, we will see the water-driven prayer wheels. Then, we will continue to Namche Bazaar. We will arrive in Namche Bazaar in the afternoon. This is a good opportunity to rest and acclimatize to the altitude before continuing our trek.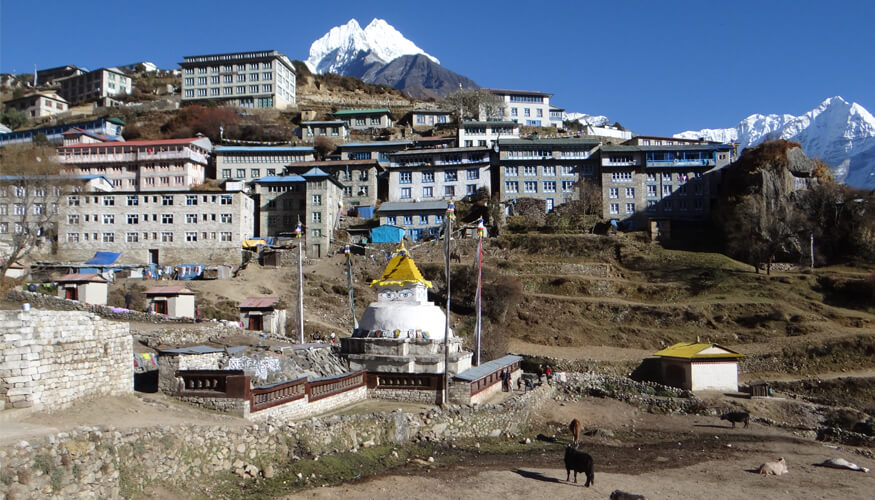 Day 22: Trek to Lukla (6-7 hours, 2,810 meters / 9,219 feet)
After a final night in Namche Bazaar, we will wake up early and start our trek back to Lukla. The trail descends gradually, and we will pass through Jorsale, Gumila, Phakdingma, and Choplung villages.
The high peaks of Everest and the surrounding mountains will slowly disappear behind the hills. This is a good opportunity to reflect on our trekking experiences and appreciate the Himalayas' beauty. We will have a farewell party with our Sherpa guides and porters in the evening. We will enjoy some Chhyang, a traditional Nepali alcoholic beverage, and try Nepali and Sherpa dances. This is a great way to end our trek and thank our guides and porters for their hard work.
We will also need to tip our guides and porters at this time. The tip amount is up to you, but it is customary to tip around 10-15% of the total cost of the trek.
Day 23: Fly to Kathmandu/Manthali
Morning Flight to Kathmandu
We take a scenic morning flight back to Kathmandu, giving us one last chance to say goodbye to the mountains. During the off-season in Nepal (December - February, June – August), travellers can enjoy a direct flight from Lukla to Kathmandu. The flight takes approximately 40 minutes. From the domestic airport, we will be transferred to our hotel in Kathmandu on a private tourist vehicle.
Flying from Lukla to Manthali
The flight from Lukla to Manthali is short, taking approximately 17-20 minutes. The views from the plane are excellent, as you get to see the snow-capped peaks of the Himalayas up close. Afterwards, we drive back to Kathmandu from Manthali, which usually takes 5-6 hours (the time may vary depending on traffic conditions). During the peak seasons, spring (March–May) and autumn (September–November), we will fly from Lukla to Manthali instead of taking the direct flight to Kathmandu.
Helicopter Option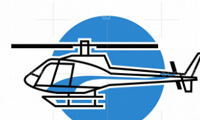 Helicopter Flight from Lukla to Kathmandu
Flying in a helicopter is a unique and luxurious way to travel and a great way to see the pristine beauty of the Khumbu Himalayas. The flight from Lukla to Kathmandu takes approximately 40 minutes.
The helicopter flight is an additional cost of USD 300 per person. This price is based on a sharing basis of 5 people. The cost will be higher if you would like to book a private helicopter flight.
Day 24. Free Day in Kathmandu
Take a free day to explore Kathmandu at your own pace. Visit the Buddhist stupa of Bouddhanath, the Monkey Temple at Swayambhunath, and the Hindu temple of Pashupatinath. These are just some of the religious highlights of this fascinating city. You could also visit Durbar Squares, UNESCO World Heritage Sites, or wander through the maze of streets in the old town. There are plenty of shops and restaurants to explore, and you're sure to find something to keep you occupied as there is something for everyone.
Day 25: Happy Departure
On your departure day, we will transfer you to the airport from your hotel on a private Tourist vehicle. The transfer to the airport takes approximately 30 minutes, depending on the traffic conditions. Please be ready to depart at least 2 hours before your flight. Until next time, we bid farewell to you, hoping to welcome you to Nepal again for your next once-in-a-lifetime adventure with us.