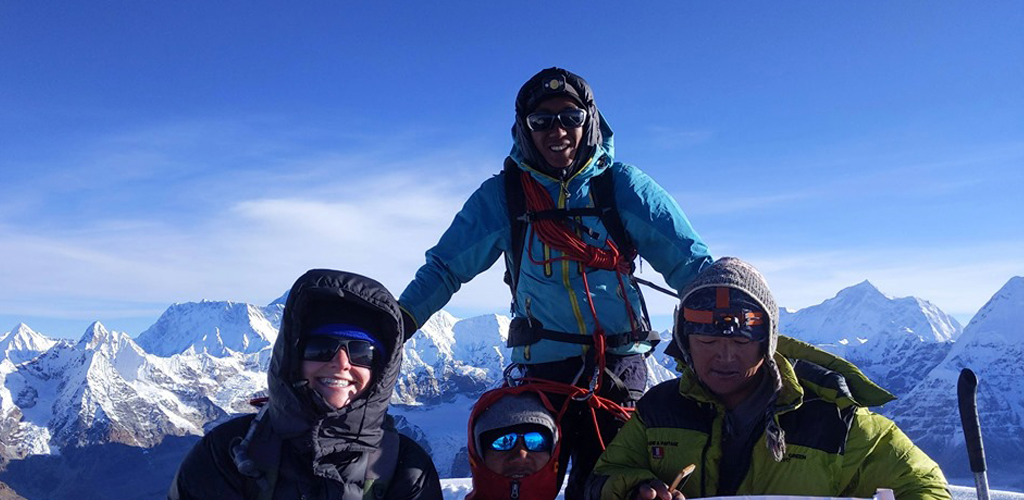 About Mera Peak
Mera Peak is a popular trekking peak in the eastern Khumbu region of Nepal. It is the highest trekking peak in the Everest region, at 6,476 meters (21,239 feet). Mera Peak's summit view is absolutely surreal as it offers astonishing views of five of the six tallest mountains in the world, namely Mt. Everest 8,848 m (29,031 ft), Mt. Kanchenjunga 8,586 m (28,169 ft), Mt. Lhotse 8,516 m (27,940 ft), Mt. Makalu 8,481 m ( 27,825 ft) and Mt. Cho Oyu 8,188 m (26,864 ft).
The region was first explored by British expeditions in the early 1950s, around the time of the first successful ascent of Mount Everest. Mera Peak was designated as a trekking peak by the Nepal Mountaineering Association in 1977 A.D. This means it can be climbed without prior roped climbing experience but still requires basic knowledge of ice axe and crampons.
The term trekking peak can give the impression that Mera Peak is simply achievable. However, it is a challenging climb at this altitude. The oxygen content of air at this altitude is less than half of what it is at sea level, and climbers must be well prepared for extreme weather conditions, as weather in the Himalayas are always unpredictable.
The first few days of the trek are relatively easy as hikers pass through terraced farmland and bamboo and rhododendron forests. As we gradually start gaining elevation, the trail becomes more challenging as the density of air gets thinner. After Khare, trekkers must don their crampons and take their harnesses and ice axes to cross the glacier to Mera Peak Base Camp. Summiting Mera Peak is a tough challenge, but it is also a rewarding one. The summit's views are breathtaking, and the sense of accomplishment is unforgettable.
Mera Peak Climbing Trip Map and Altitude Chart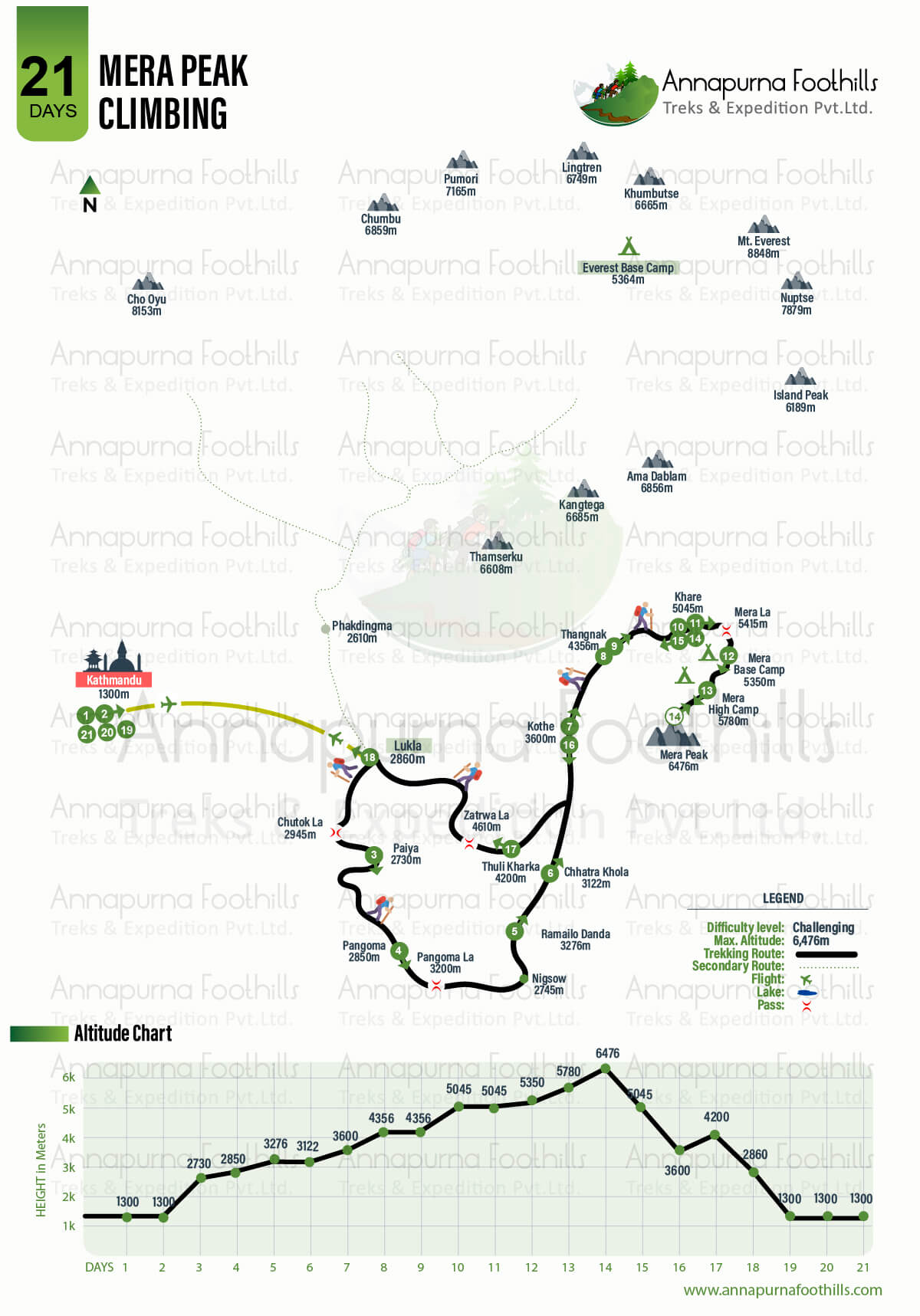 Mera Peak Climbing Day-by-Day Detailed Itinerary
Day 1: Arrival in Kathmandu 1,300m/4,265ft
Your arrival in Kathmandu is an exciting and memorable experience. On a clear day, you will get a panoramic view of the snow-capped towering peaks. Collect your luggage and exit the terminal after completing the visa formalities at the airport. One of our representatives will welcome you with your name on our company's signboard, Annapurna Foothills Treks. They will take you to your hotel in our private tourist vehicle. Once you arrive at the hotel, you will be welcomed by the staff and can relax in your room.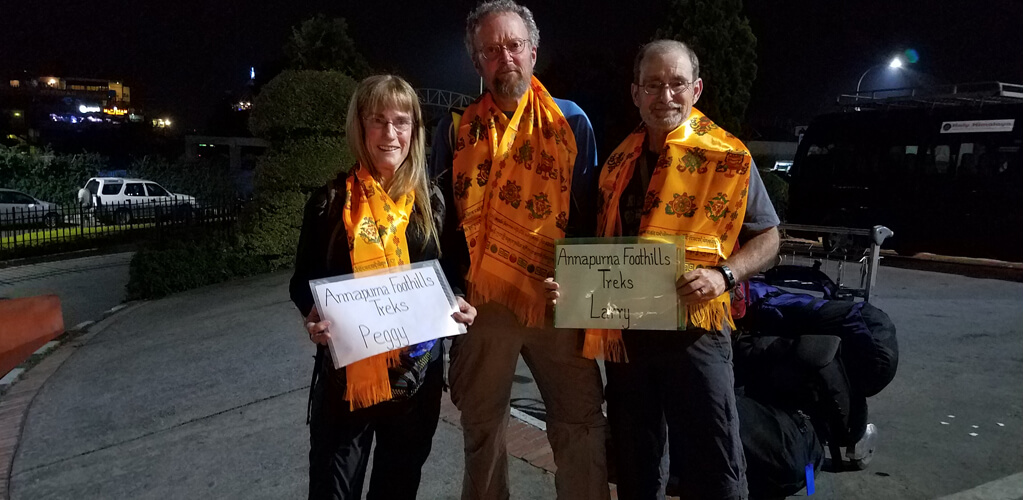 Day 2: Preparation Day in Kathmandu
The Managing Director of our company will meet you at the hotel to provide more information about the expedition. You will need to clear your dues before we proceed with the trip. We will finalize the paperwork and permits for your trip and make a final check of your climbing equipment. If you need any additional trekking gear, you will have a chance to buy it today. You can also choose to take a sightseeing tour of Kathmandu Valley.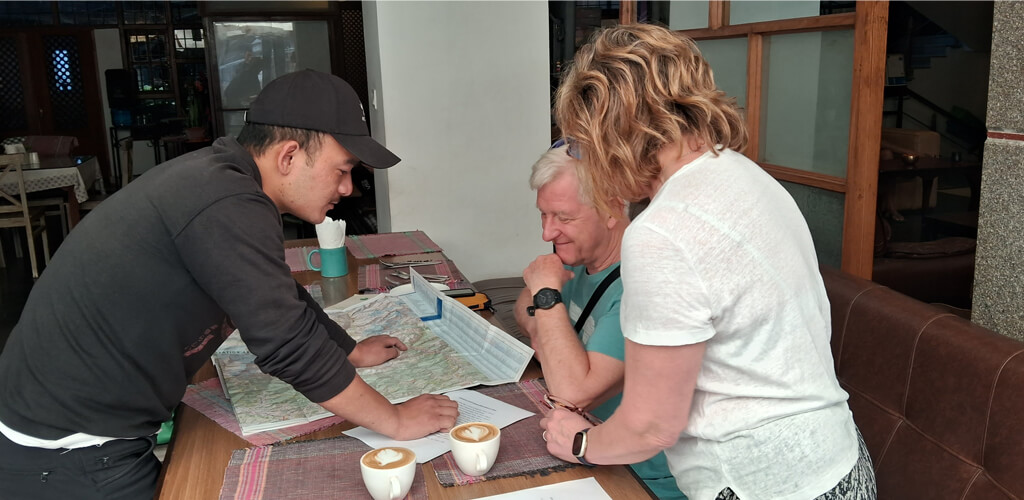 Day 3: Fly to Lukla & Trek to Paiya, 4-5 hrs (2,730m/8,956ft)
Flying from Kathmandu to Lukla
We will head to the domestic airport for our early morning flight to Lukla. The flight takes about 40 minutes and offers stunning views of the Himalayas, including Mount Everest, Lhotse, and Cho Oyu.
Flying from Manthali to Lukla
During the busiest times of the year, Lukla Airport can get congested. This is why, during the autumn (October - November) and spring (April -May) seasons, all flights to Lukla are re-routed from Manthali. The drive to Manthali from Kathmandu takes about 4-5 hours. So, we will leave for Manthali at 1:45 a.m. to ensure we arrive on time for our flight. The flight from Manthali to Lukla takes around 17-20 minutes.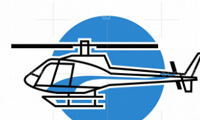 Helicopter Option
Flying in a helicopter is a unique experience that adds a touch of luxury to your journey. You can enjoy the pristine beauty of the Khumbu Himalaya in style. The helicopter flight will take you directly from Kathmandu to Lukla, bypassing the long drive and flight. This is an excellent option if you want to save time and avoid the crowds. The helicopter option costs an additional USD 300 per person (on a sharing basis).
Trek to Paiya, 4-5 hrs, 2,730m/8,956ft
The trek begins at Lukla, a small town at an altitude of 2,840 meters (9,317 feet). From here, the trail descends through forests to the traditional village of Surke, 2290 meters (7513 feet). Surke Village resembles the birthplace of Late Pasang Lhamu Sherpa (1961 A.D - 1993 A.D.), the first Nepalese Woman to summit Mount Everest.
The trail then ascends gradually to Pakhepani at 2,560 meters (8,403 feet). Along the way, you will pass through rhododendron forests in full bloom during spring. Sometimes, the trail to Paiya from Surke may get affected by monsoon rains making it muddy.
The day's final destination is Paiya (2,730 meters / 8,956ft feet). From Paiya, you will have stunning views of Kongde Ri, Khatang, Tang, and other 7,000+ meter peaks.
Day 4: Trek to Panggom, 6-7 hrs, 2,850m/9,350ft
Trek to Panggom from Paiya is challenging yet rewarding. The trail begins with a short descent to a wooden bridge, which you will cross before making a steep and slippery ascent to Kari La Pass.
The pass is at an elevation of 2,990 meters (9,812 feet), and from here, you will have stunning views of Cho Oyu, the world's sixth-highest mountain, and the Kharikhola Valley.
After the pass, the trail meanders through dense forests and towering waterfalls. The forest has various wildlife, including monkeys, birds, and snow leopards. The waterfalls are a sight to behold, and you will have plenty of opportunities to stop and take pictures that will last for a lifetime.
Today's destination is Panggom village, a traditional Sherpa village. Nestled at an elevation of 2,946 meters (9,675 feet), it is a great place to experience Sherpa culture. Walking for 20 minutes from the village, one can witness the beautiful monastery towering and protecting the village. Also, Mr Lhakpa Sonam Sherpa (a successful businessman and founder of Yeti Airlines and Tara Air) was born in this beautiful village.
The village's name is Panggokma. But by mistake, many guidebooks and maps mentioned this place as Panggom.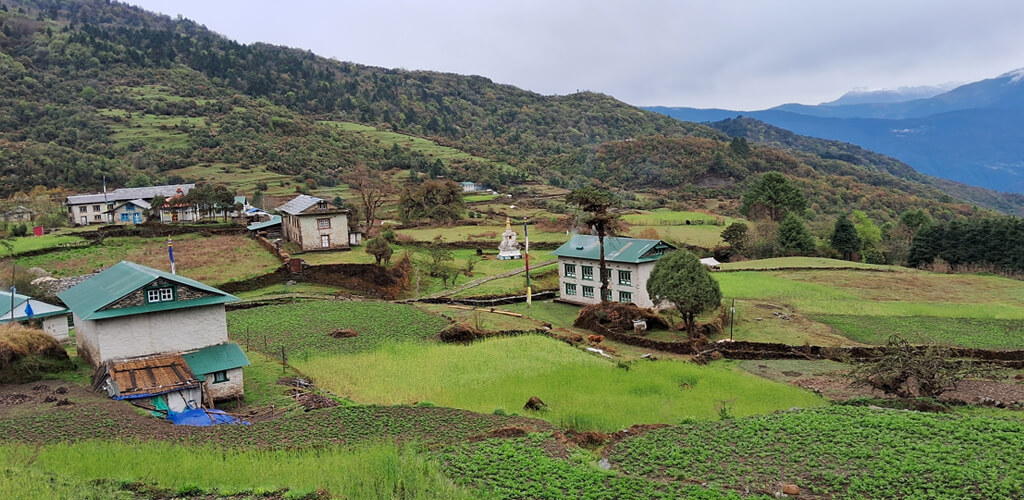 Day 5: Trek to Ramailo Danda , 6-7 hrs, 3,276m/10,748ft
Another early morning start takes us to the Panggom La pass (3,180m). Marked only by Tibetan chortens, our trail leads us into the remote Hinku Valley, where Mera Peak comes into view for the first time. It is an impressive first introduction to our end goal.
The trail then winds through cultivated land, where local villagers and farmers go about their daily lives. We will stop at the Sibuje for lunch before continuing on more Nepali flats to Ningsaw. Depending on local conditions, our guide may continue for another hour and a half to Ramailo Dada.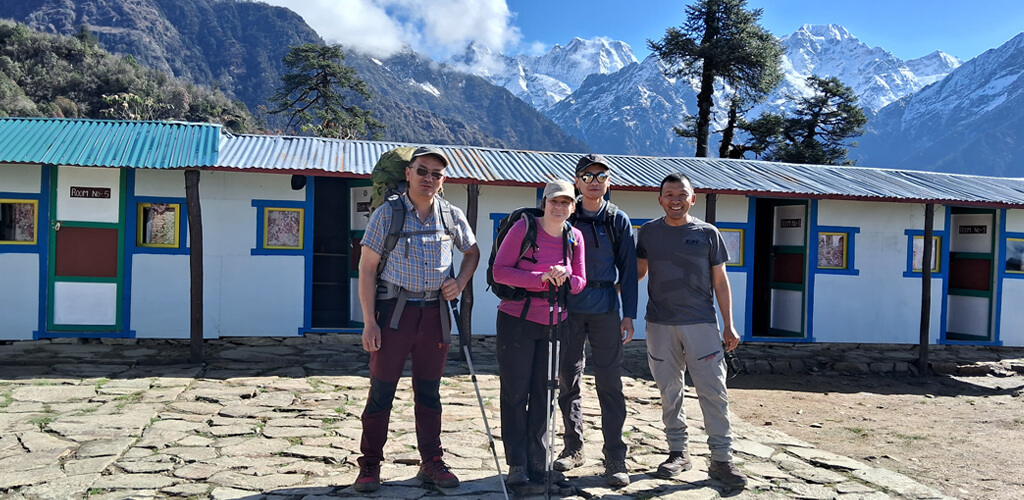 Day 6: Trek to Chhatra Khola, 6-7 hrs, 3,122m/ 10,242ft
Today's trail will primarily be through rhododendron and bamboo forests with many ascents and descents. We will traverse the woods for approximately 3 hours until we reach Tama Khola. We will cross the river and start hiking up for 20 minutes, where we will see the two newly built tea houses. We will stop here for lunch.
After lunch, we resume our journey through the bamboo and rhododendron forest again for another 2 hours until we reach Chhatra Khola, also known as the Bamboo Camp.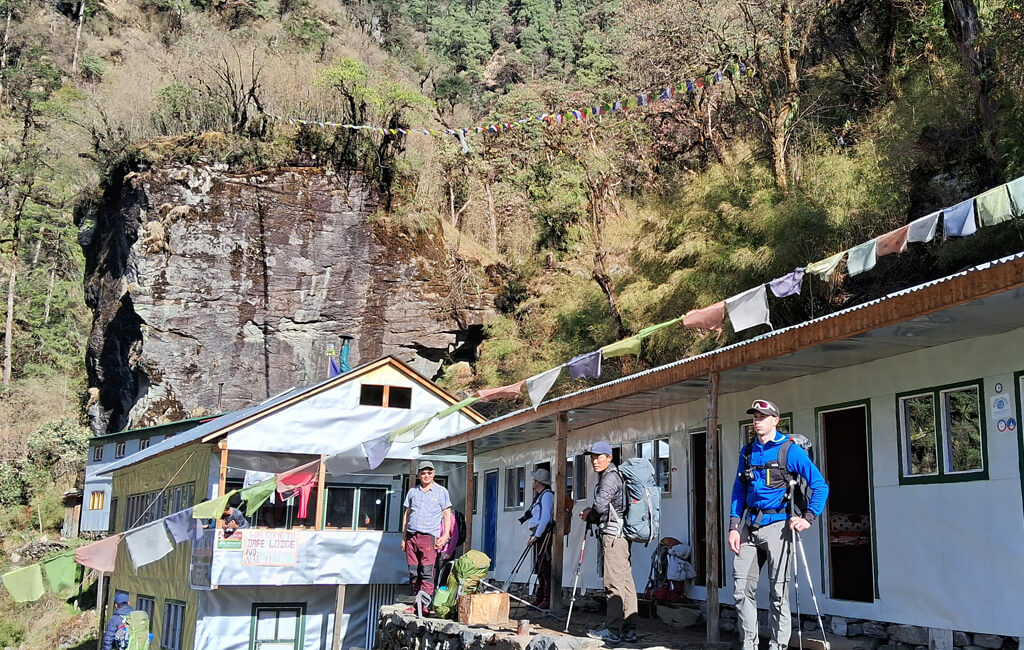 Day 7: Trek to Kothe, 6-7 hrs, 3,600m /11,811 ft
Marching towards Kothe, the trail continues through bamboo and pine forests until we reach Taktor Village. This village joins the course coming from Thuli Kharka and Chhatra Khola. We stop here for lunch. After lunch, we continued our journey passing through the abandoned Tashing Dingma. As we follow the Inkhu Khola, the Hinku Valley starts widening, and we enjoy the stunning view of Mera Peak ahead of us. The trail follows the ridge above the river to Kothe. Kothe marks that we've now entered the Makalu Barun National Park area.
Day 8: Trek to Thangnak , 5 hrs, 4,356m/14,291 ft
Today, we make our way to Thangnak, where we will spend two nights for proper acclimatization. We begin our hike walking along the bank of the glacial river, fed from the surrounding mountains. On a fine day, we will be surrounded by Mera Peak and Kusum Kanguru throughout the trail.
The trail is not demanding, but because of the elevation, we hike slowly, allowing our bodies to cope with the surroundings gradually. Upon reaching Saurya, we stop for tea/lunch, and after lunch, we rest well before heading towards Thangnak.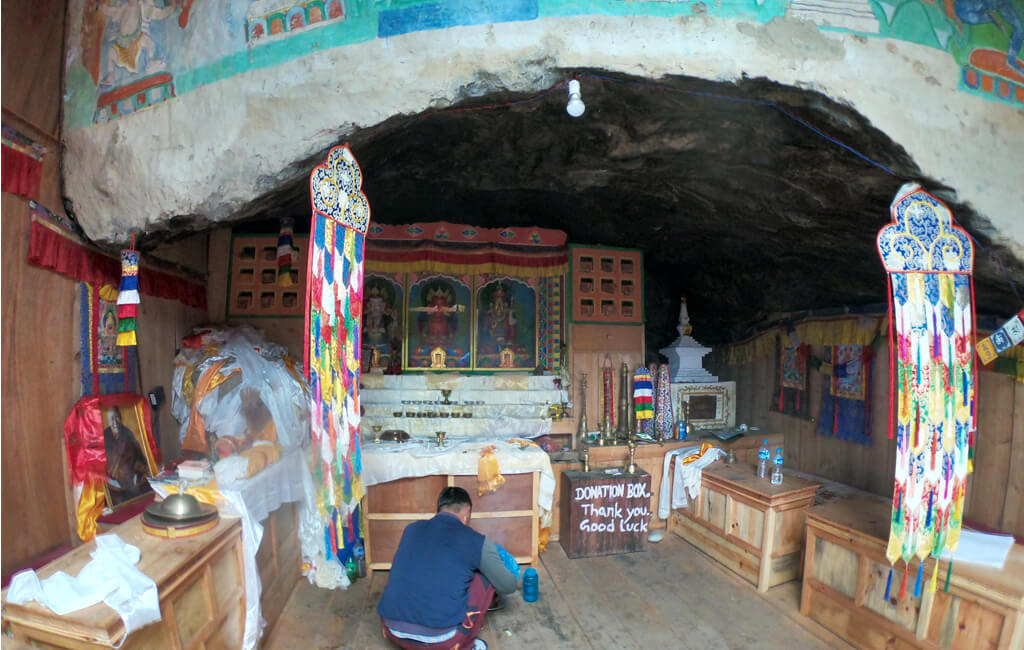 On the ridge above the river are pastures. Gondishung is a summer herders' settlement where there is an ancient monastery. We climb up further to reach Thangnak. While going Thangnak, we realize the treelines are becoming sparser as we near the snow line.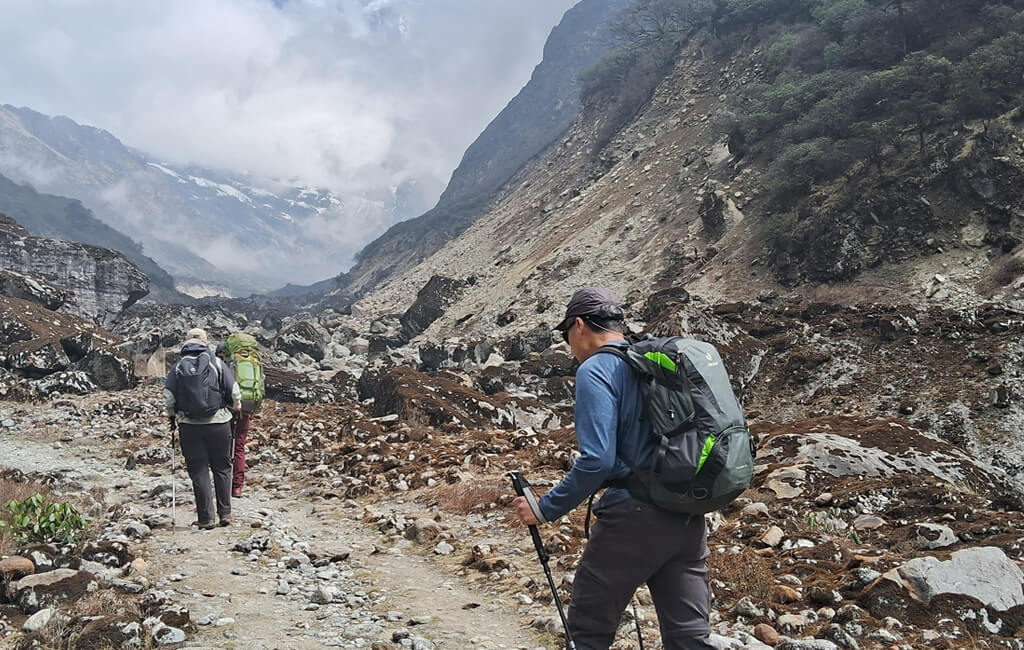 Day 9: Acclimatization Day in Thangnak, 5 hrs, 4,356m/14,291 ft
Acclimatization is Key
Acclimatization is essential for any successful trek, climb, or expedition. It adapts to low oxygen levels at high altitudes. There are a few things that you can do to help your body acclimatize which are:
Hike High, Sleep Low. This means you should gain as much elevation as possible during the day but then sleep at a lower altitude. It will help your body to adjust to the lower oxygen levels slowly.
Take it Slow. Don't try to do too much too soon. Give your body time to adjust to the altitude.
Drink Plenty of Fluids. It is essential to stay hydrated at high altitudes. Drink plenty of water, tea, or soup.
Listen to your Body. If you start to feel unwell, such as having headaches or nausea, descend to a lower altitude.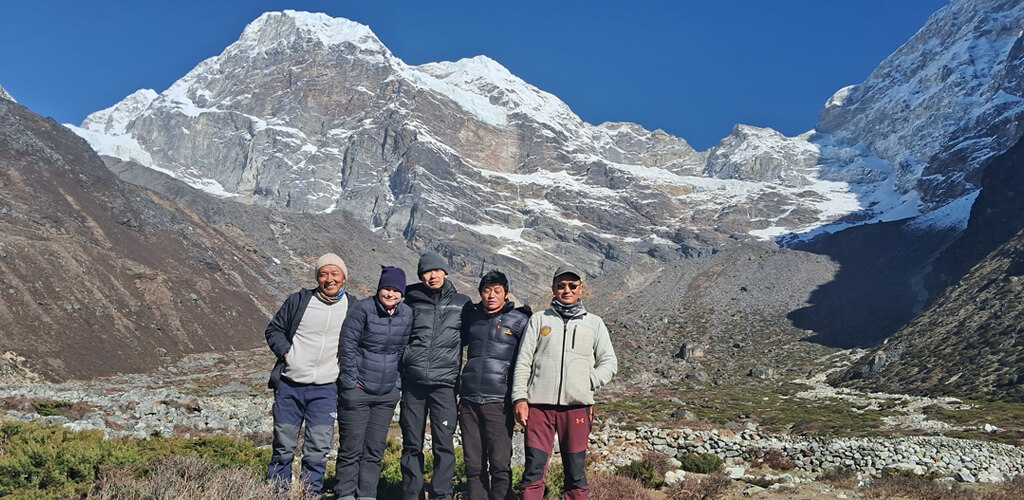 A Side Trip for Acclimatization
One way to help your body acclimatize is to take a side trip to the Tibetan Prayer Stones. This short hike takes you up to a ridge behind Thangnak. The views from the top are amazing, and the walk will help to increase your heart rate and breathing rate. It will help your body to adapt to the lower oxygen levels.
The hike to the Tibetan Prayer Stones is a great way to exercise and enjoy the views. It is also an excellent way to help your body acclimatize to the altitude.
Day 10: Trek to Khare, 4 hrs, 5,045m/ 16,551 ft
The trail crosses boulders left by Sabai Tsho, the glacial lake close to the trail north of Thangnak. We follow the lateral moraine of Dig Glacier to the grassy Dig Kharka, which offers exclusive views of Charpate Himal and Kyeshar Khang.
The trail climbs through moraines to the snout of the Hinku Nup and Shar Glaciers and then climbs more steeply to Khare, where we'll spend the next two nights. From a ridge above Khare, there is an excellent view of our route to Mera Peak.
Day 11: Acclimatization Day in Khare / Preparation Day.
Today is a rest day at Khare, where we will focus on acclimatization and preparation for the summit attempt. We will spend the day exploring the village and practising climbing techniques with our Climbing Guide. We will also make short hikes around the area to help our bodies adapt to the high altitude.
Listening to your body and resting if you feel tired or unwell is essential. If you experience any symptoms of altitude sickness, such as headache, nausea, or shortness of breath, make sure to tell your guide immediately and discuss what to do next.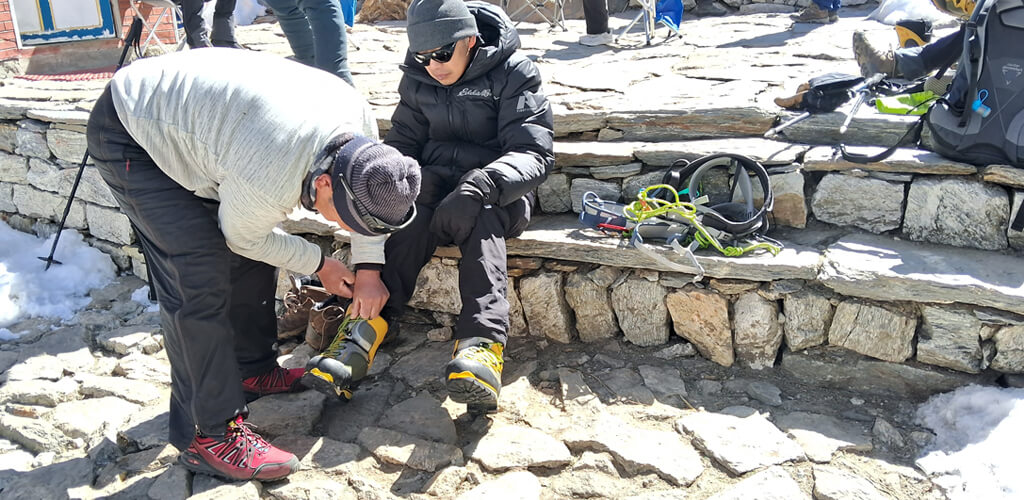 Day 12: Trek to Mera Base Camp, 4 hrs, 5,350m/17,552 ft
Please, understand the exact location of Mera Peak Base Camp. Many local and international companies mention that you must cross Mera la to reach Mera Base Camp, which is untrue (they still need to revise their information). From Khare, we ascend for three hours over a boulder-strewn path up to the glacier. It is a short climb to a glacial plateau leading to Mera Base Camp. It takes another hour from Mera Peak Base Camp to reach Mera la (which is optional to undertake).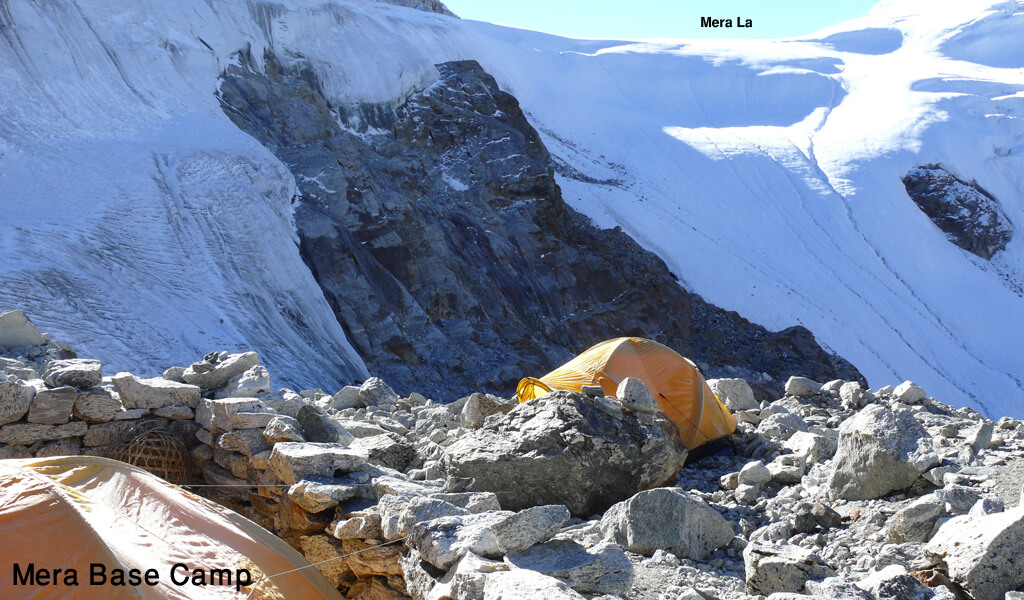 Day 13. Trek to Mera High Camp, 4 hrs, 5,780m/18,963 ft
We make the steep ascent to Mera La, where we enjoy panoramic views of the surrounding mountains, including Mount Everest, Makalu, Kanchenjunga, Cho Oyu, and the south face of Lhotse, Nuptse, Chamlang, and Baruntse. From Mera La, we continue up the rock-strewn north flank to a rocky outcropping, where we set up high camp.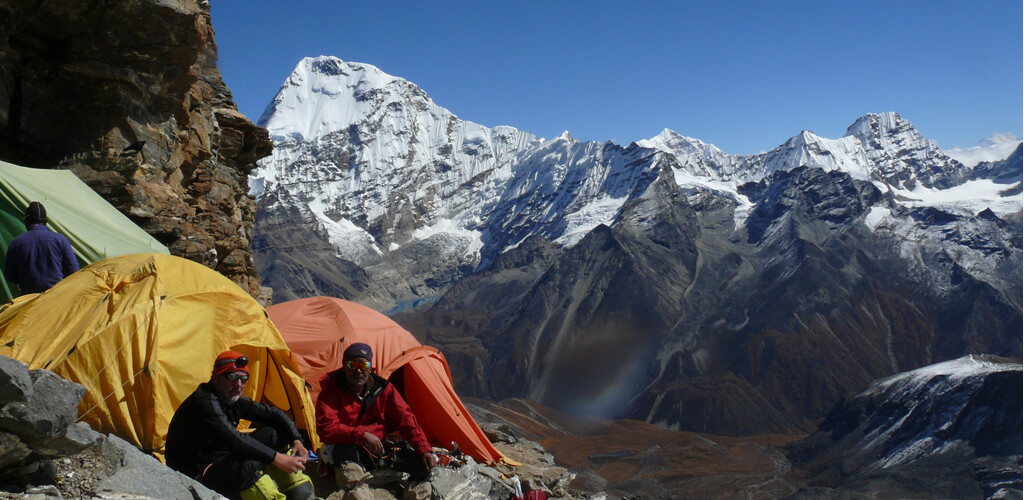 Day 14: Summit Day: Ascent of Mera Peak, 9-10 hrs 6,476m/21,246ft, and descend to Khare.
The summit day is typically the most challenging and exciting part of the climb. You will push for the summit in the early morning, often before dawn. The final section of the climb involves a push toward the summit. The terrain can vary, including snow slopes and possibly exposed ridges. Ropes, crampons, and ice axes may be necessary.
Reaching the summit of Mera Peak is, undoubtedly, a remarkable achievement. You will take your time relishing and enjoying the breath-taking panoramic, which includes the world's five tallest mountains which are Mt. Everest 8,848 m / 29,031 ft.), Mt. Kanchenjunga (8,586 m / 28,169 ft.), Mt. Lhotse (8,516 m / 27,940 ft.), Mt. Makalu (8,481 m / 27,825 ft.) and Mt. Cho Oyu (8,188 m / 26,864 ft.). After spending some time on the summit, we will begin your descent back to Khare.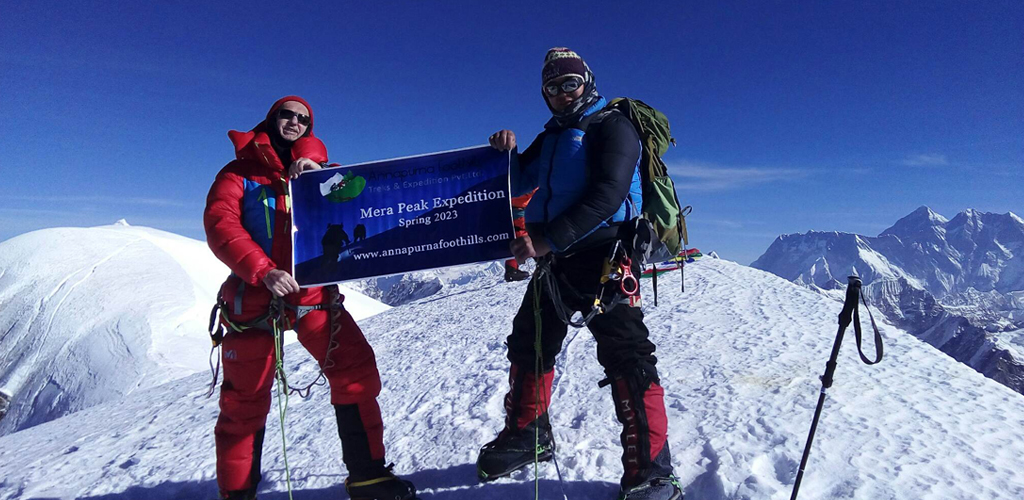 Day 15: Spare Contingency Day
We have included a spare contingency day in the itinerary if our summit attempt is delayed due to bad weather or the need to rest for another day. It gives us some flexibility and allows us to wait for a better weather window or to give someone in the group time to recover from altitude sickness.
If the spare contingency day is unnecessary, it will be added as an extra free day in Kathmandu. This will allow you to explore the city, visit some temples, or shop.
We hope you will not need to use the spare contingency day. Still, we appreciate your understanding that it is there for your safety and well-being.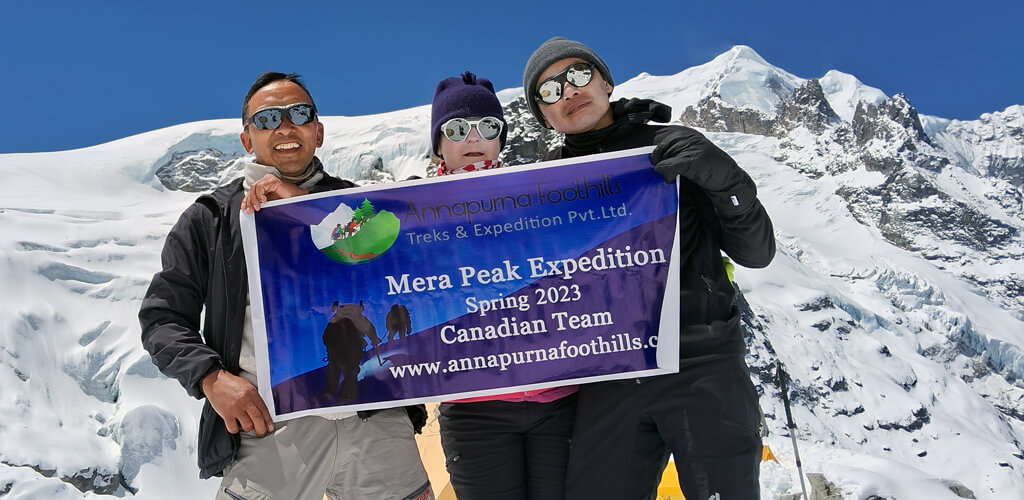 Day 16: Trek to Kothe, 6-7 hrs, 3,600m /11,811 ft
After a long and tiring trek back down the Hinku Valley, we finally arrive in Khote. The terrain is mostly descending, but the rocky moraine can be challenging. We need to watch our steps to avoid any twisted ankles.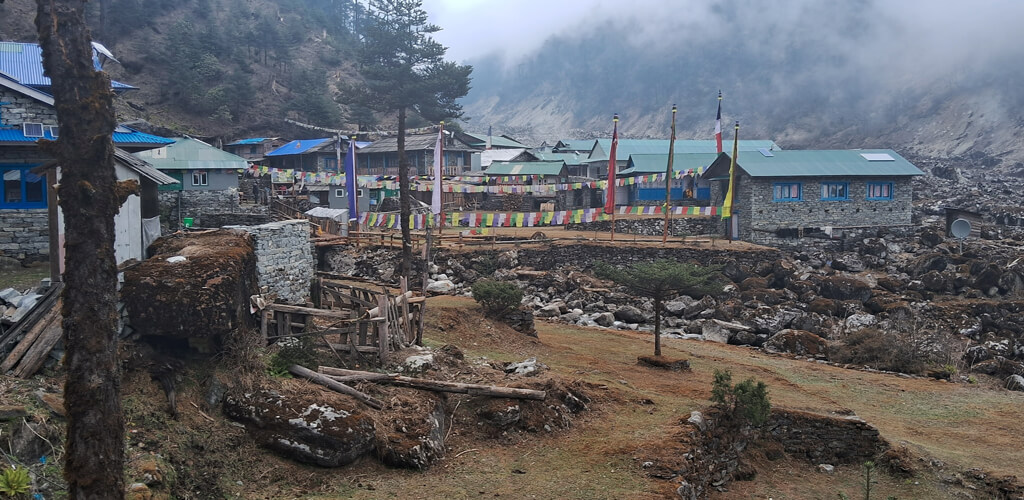 Day 17: Trek to Thuli Kharka/ Chhatrwabuk , 6-7hrs, 4,200m/13,779ft
With Mera Peak behind us, we stay high up on the open hillsides west of the Hinku River as we make our way to Chetera (4,200m) for the evening. It is a steep climb of 600 meters on a winding rocky trail that weaves up and down through rhododendron forests bursting with life.
The rhododendron forests are ablaze with colour in spring, and the views of the surrounding mountains are stunning. We will have plenty of opportunities to take in the scenery and enjoy the peace of the mountains.
Day 18: Trek to Lukla, 7-8 hrs, 2,800m/ 9,186 ft
After a steep ascent from Thuli Kharka, we reach the craggy Zatrwa La, 4610 meters (15,120 feet). From here, we can reflect on the Hinku wilderness and the peak we just climbed. The descent from the high crags can be icy, so it is essential to be careful.
Finally, we reach the forest and farmland of the Dudh Koshi Valley. Lukla is a busy place after several days in the Himalayas, with wide variations in its landscape. We enjoy a celebratory dinner with our crew.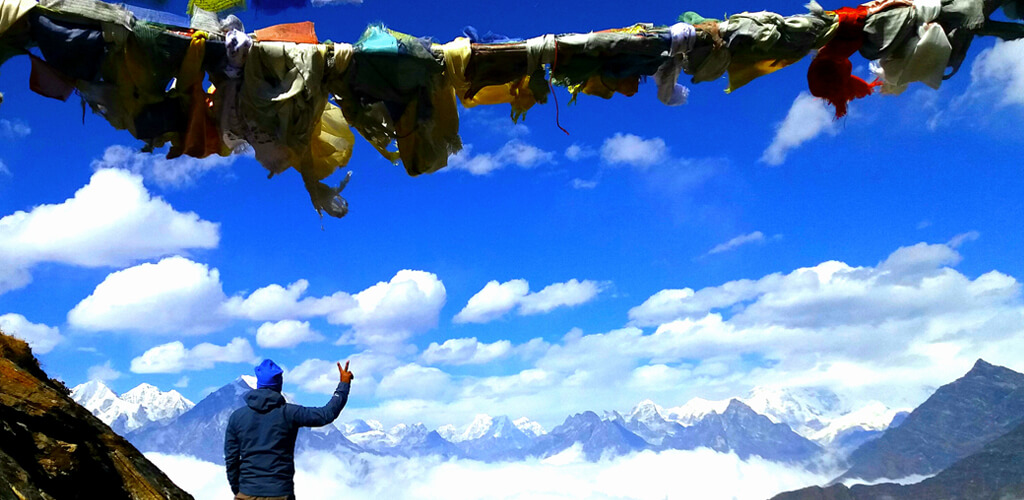 Day 19: Fly to Kathmandu/Manthali
Morning Flight to Kathmandu
We take a scenic morning flight back to Kathmandu, giving us one last chance to say goodbye to the mountains. During the off-season in Nepal (December - February, June – August), travellers can enjoy a direct flight from Lukla to Kathmandu. The flight takes approximately 40 minutes. From the domestic airport, we will be transferred to our hotel in Kathmandu on a private tourist vehicle.
Flying from Lukla to Manthali
The flight from Lukla to Manthali is short, taking approximately 17-20 minutes. The views from the plane are excellent, as you get to see the snow-capped peaks of the Himalayas up close.
Afterwards, we drive back to Kathmandu from Manthali, which usually takes 5-6 hours (the time may vary depending on traffic conditions). During the peak seasons, spring (April–May) and autumn (October–November), we will fly from Lukla to Manthali instead of taking the direct flight to Kathmandu because of Air Traffic Congestion (ATC).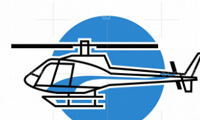 Helicopter Option
Helicopter Flight from Lukla to Kathmandu
Flying in a helicopter is a unique and luxurious way to travel and a great way to see the pristine beauty of the Khumbu Himalayas. The flight from Lukla to Kathmandu takes approximately 40 minutes.
The helicopter flight is an additional cost of USD 300 per person. This price is based on a sharing basis of 5 people. The cost will be higher if you would like to book a private helicopter flight.
Day 20. Free Day in Kathmandu
Take a free day to explore Kathmandu at your own pace. Visit the Buddhist stupa of Boudhanath, the Monkey Temple at Swayambhunath, and the Hindu temple of Pashupatinath. These are just some of the religious highlights of this fascinating city.
You could also visit Durbar Squares, UNESCO World Heritage Sites, or wander through the maze of streets in the old town. There are plenty of shops and restaurants to explore, and you're sure to find something to keep you occupied as there is something for everyone.
Day 21: Happy Departure
On your departure day, we will transfer you to the airport from your hotel on a private Tourist vehicle. The transfer to the airport takes approximately 30 minutes, depending on the traffic conditions. Please be ready to depart at least 2 hours before your flight. Until next time, we bid farewell to you, hoping to welcome you to Nepal again for your next once-in-a-lifetime adventure with us.