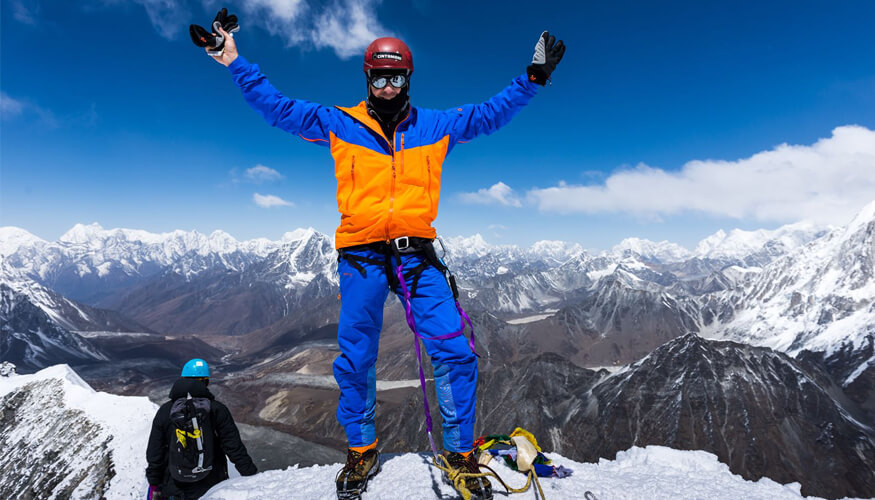 Summary of Everest Base Camp Trek with Island peak itinerary
The Island Peak expedition is a 20-day trip, including 16 days of trekking and climbing. We recommend allowing extra time for potential flight delays. The trek begins in Kathmandu and ascends the Khumbu valley, gradually acclimatizing the body to the altitude.
The final destination is Island Peak, a 6000m peak that Edmund Hillary and Tenzing Norgay climbed in 1953 as training for their Everest ascent. We will be well-acclimatized and in good physical condition by reaching Island Peak. During the trip, we will learn and practice essential mountaineering skills, such as glacier travel, scrambling, and moving on snow and ice. Good alpine skills are necessary for this trip. Still, we will provide plenty of opportunities to learn and practice them before reaching Island Peak.
The summit day on Island Peak is challenging. It requires crossing a crevassed glacier, negotiating ladders across crevasses, using a jumar to ascend a fixed line, and abseiling down a steep slope. There is no top rope on the abseil, so it is essential to have good technical skills. This is a fantastic trip for anyone who wants to experience the beauty of the Himalayas and challenge themselves physically and mentally.
Everest Base Camp and Island peak climbing Detail Itinerary
Day 1 : Arrival in Kathmandu 1,300m/4,265ft
Your arrival in Kathmandu will be an exciting and memorable experience. On a clear day, you will be greeted by a panoramic view of the snow-capped towering peaks. Collect your luggage and exit the terminal after completing the visa formalities at the airport. One of our representatives will await you with your name on our company's signboard, Annapurna Foothills Treks. They will take you to your hotel in our private tourist vehicle. Once you arrive at the hotel, the staff will welcome you, and you can relax in your room.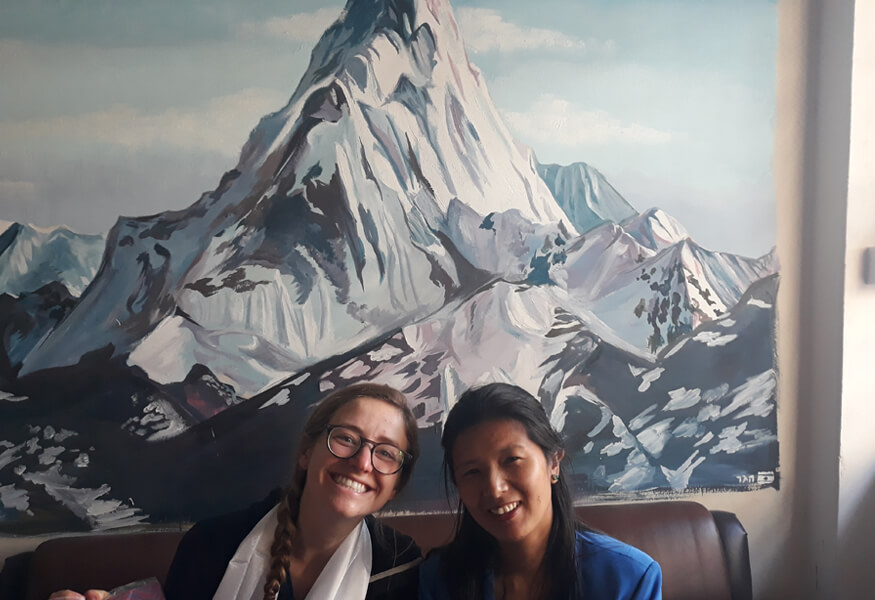 Day 2: Preparation Day in Kathmandu
The manager of our company will meet you at the hotel to give you more information about the expedition. You must pay your remaining balance before we can proceed with the trip. We will finalize the paperwork and permits for your trip and do a final check of your climbing equipment. If you need any additional trekking gear, you will have the opportunity to buy it today. You can also choose to take a sightseeing tour of Kathmandu Valley.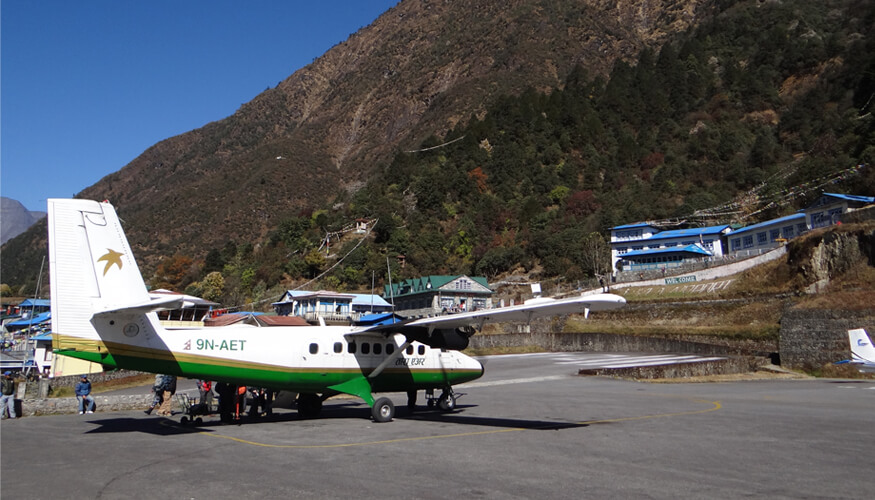 Day 3: Fly to Lukla; Trek to Phakdingma, 3hrs, 2,610 m/8,562 ft
Flying from Kathmandu to Lukla
We will take an early morning flight from Kathmandu to Lukla. The flight takes about 40 minutes and offers stunning views of the Himalayas, including Mount Everest, Lhotse, and Cho Oyu.
Flying from Manthali to Lukla
During the peak trekking seasons of autumn (October - November) and spring (April - May), all flights to Lukla are re-routed from Manthali due to congestion at Lukla Airport. The drive to Manthali from Kathmandu takes about 4-5 hours. So, we will leave for Manthali at 1:45 a.m. to ensure we arrive on time for our flight. The flight from Manthali to Lukla takes around 17-20 minutes. The views from the plane are just as stunning as from Kathmandu, as you will see the same snow-capped peaks.
Helicopter Option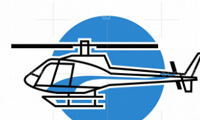 Suppose you would like to add a touch of luxury to your journey. In that case, you can fly in a helicopter directly from Kathmandu to Lukla. This will bypass the long drive and flight, and you can enjoy the pristine beauty of the Khumbu Himalaya in style. The helicopter option costs an additional USD 300 per person, but this is a shared cost. This is a shared cost, so if there are five people in the helicopter.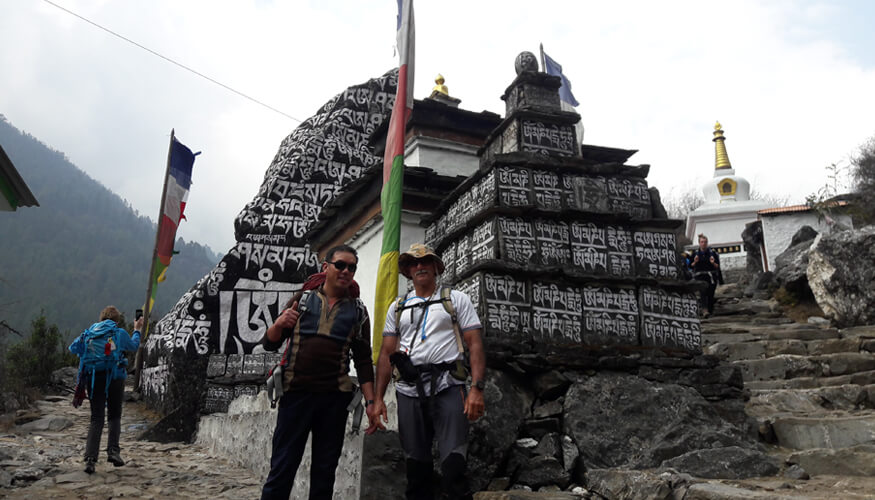 Trek to Phakdingma 3hrs, 2,610 m/8,562 ft
Our support crew will be waiting to welcome us at Lukla. After distributing our luggage among the porters carrying our burdens for the trip, we will set out downhill into the Dudh Koshi (milk river) Valley.
The trails in this part of the world reflect the important role that Tibetan Buddhism plays in the lives of the Sherpa people. Many mani stones are large, with Tibetan prayers chiselled into them all along the trails. You will soon become familiar with the customary way of passing chortens, mani stones, and prayer wheels in a clockwise direction.
In the late afternoon, we will reach Phakdingma, a small village beside the Dudh Kosi River. This will be our first overnight stop on the trek.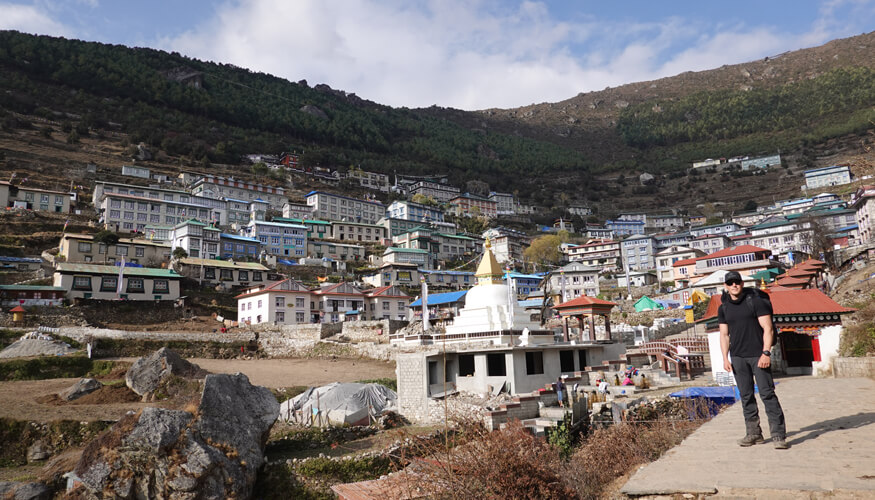 Day 4: Trek to Namche Bazzar, 6-7 hrs, 3,441 m/11,289 ft
On the second day of the trek, we will cross several famous suspension bridges and gradually ascend towards the entrance to Sagarmatha National Park, the official entry to the Everest Region. We will then briefly continue downhill before the trail levels to flat ground on mixed rocky terrain. The trail will then follow the river to the final high-suspension bridge. After crossing the bridge, we will begin the hike up Namche Bazaar.
We will be based in Namche Bazaar for two nights at 3,340 meters (11,286 feet). The trek from Phakdingma to Namche Bazaar is usually 6 hours respectively. We will hike slowly to allow our bodies to adjust to the lower oxygen levels. We will also take plenty of breaks and rest along the way. The trail has many exposed parts, so it is important to be aware of your surroundings and stay on the mountainside. Overnight in Namche Bazaar.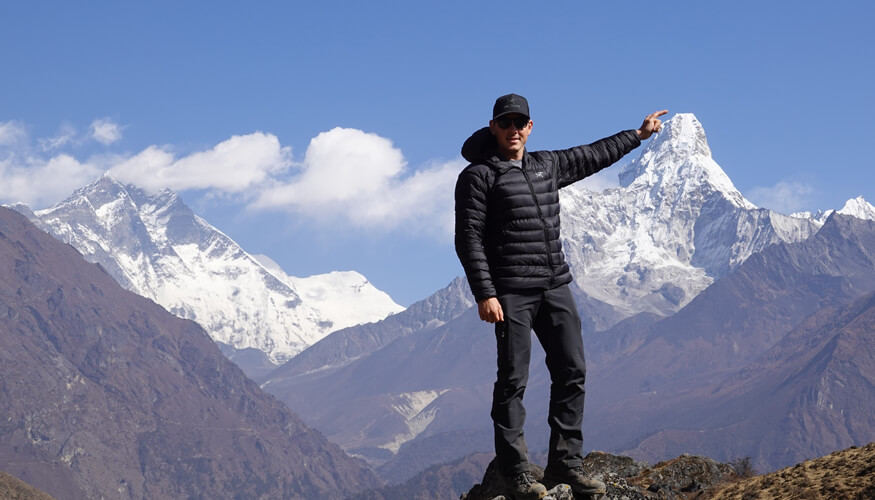 Day 5: Namche Bazaar Acclimatization Trek
Today is our first acclimatization trek day. We will hike up past the monastery on the western side of Namche Bazaar, which gives us great views of Thamsurku, Kongde Ri, and Kusum Kangguru. The trail is quite steep as we trek up behind Namche Bazaar. We will be walking on a steep staircase. We will feel the lack of oxygen as we ascend 460 meters (1,509 feet) to Shangboche Everest View Hotel and enjoy the sunrise over the Himalayas, including Mt. Everest, Lhotse, Nuptse, Ama Dablam, Thamserku, Kongde and so on. If we want a day hike, we can trek to Khumjung village. Today we also visit the Hillary School and a monastery which houses a yeti scalp! Overnight in Namche Bazaar.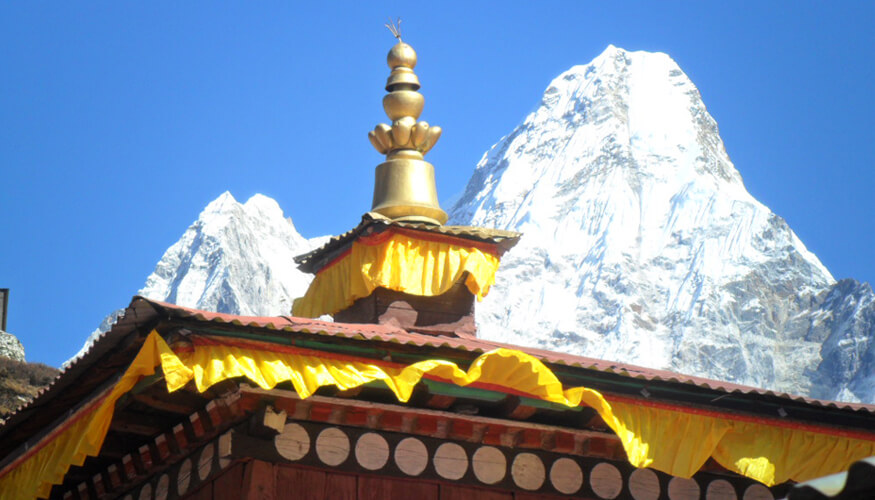 Day 6: Trek to Tengboche, 5-6 hrs, 3,864 m/12,677 ft
Today, you will hike from Namche Bazaar to Tengboche, a small village at 3,900 meters (12,795 feet). The first two hours of the hike are relatively easy as you traverse the left side of the valley, high above the valley floor. The trail then descends steeply down to the river for your lunch break.
After lunch, you will hike up a long hill for two hours to reach Tengboche. This is a gradual but long ascent, and the total hiking time for the day will be about 6 hours. There will be breaks along the way to rest and hydrate. The Tengboche monastery is the biggest in the Everest region. It is located within the Sagarmatha National Park, a UNESCO World Heritage Site. The sanctuary is blessed with panoramic views of the Himalayas, including Mount Everest, Nuptse, Lhotse, Ama Dablam, and Thamserku. The monastery opens at 3:00 PM, so if we reach there by 3:00 PM, we can observe a Buddhist religious ceremony. Overnight in Tengboche.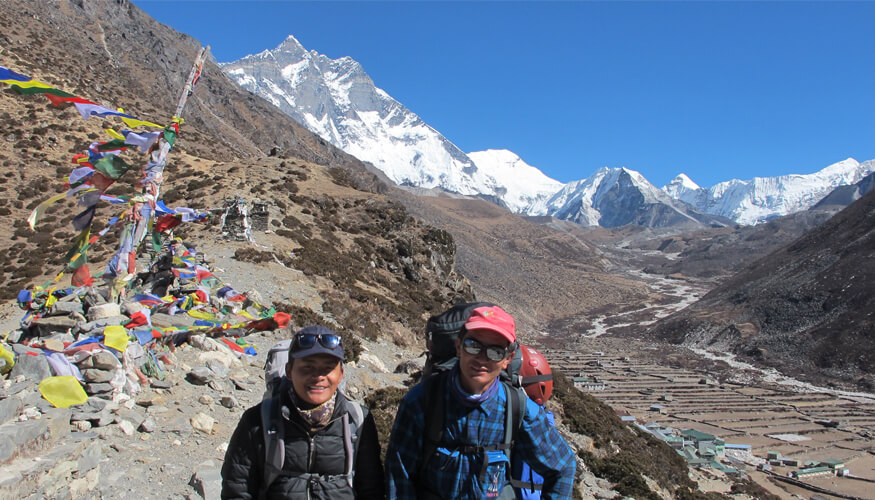 Day 7: Trek to Dingboche, 5 hrs, 4,400 m/14,435 ft
From Tengboche, we will trek to Dingboche at an altitude of 4,350 meters (14,271 feet). The trail starts downhill, then gradually ascends and descends hills before crossing the river. We will then head progressively uphill towards Pangboche, where we will take a tea break.
After Pangboche, we will continue to Shomare for lunch. Pangboche was one of the villages on the trail that suffered the most from the recent earthquakes. After lunch, we will continue our trek uphill towards the Imja Valley, looking towards Island Peak. The trail passes some landslide areas on your left, and then, 40 minutes later, you will arrive in Dingboche. Our lodge is at the top of the town. The total trekking time today will be 5 to 6 hours. Overnight in Dingboche.
Day 8: Acclimatization Above Dingboche
Today, we will continue our acclimatization by staying in Dingboche for another night. In the morning, we will hike to an altitude of 4,900 meters (16,076 feet), about a 2-hour hike. We can enjoy stunning views of Ama Dablam, Island Peak, Lhotse, and the surrounding mountains at this altitude. Depending on the weather, we will rest and enjoy the views for about 30-45 minutes. It is important to spend time at this altitude to help our bodies acclimate to the higher altitudes we will be trekking to later in the trip. After rest, we will hike back down to Dingboche for lunch and an afternoon of relaxing and rehydration. Overnight in Dingboche.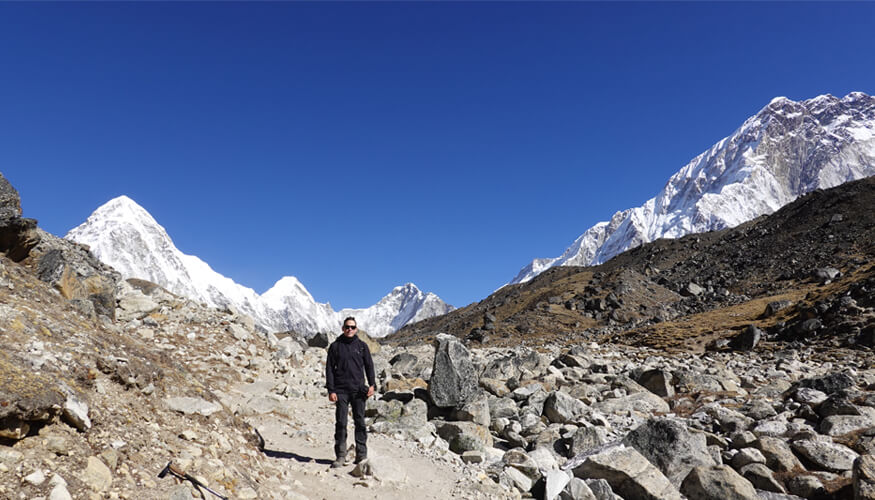 Day 9: Trek to Lobuche, 5 hrs, 4,915 m/ 16125 ft
Today, we will trek from Dingboche to Lobuche at an altitude of 4,920 meters (16,141 feet). The trail heads back towards the Khumbu Valley. It continues on a long and slow trek across a beautiful elevated route towards Tukla at an altitude of 4,620 meters (15,157 feet). This stretch usually takes 2 to 2.5 hours. We will stop in Tukla for lunch and rest for an hour.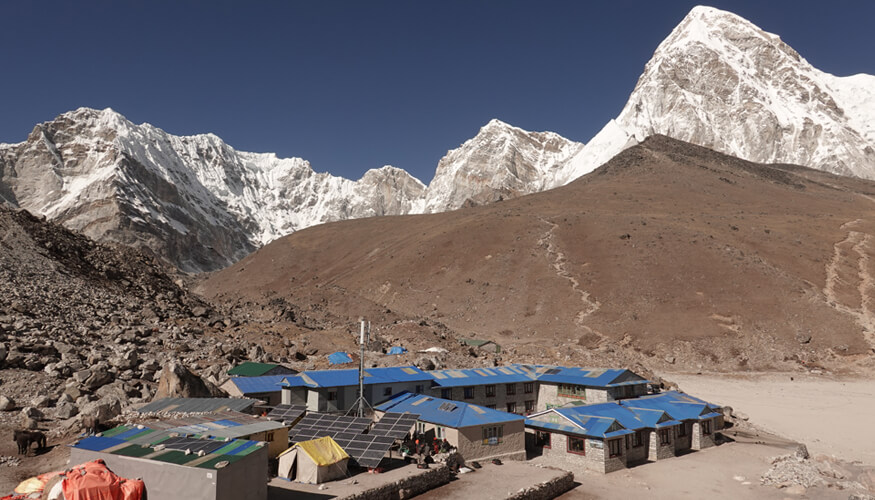 Day 10: Trek to Gorak Shep, 3 hrs, 5130 m/16,830 ft and hike to EBC (Everest Base Camp (5364m/17,598ft)
We leave Lobuche and hike to Gorak Shep, the last village before Everest Base Camp. The trail passes through the once-vast Gorak Shep Lake, which is now dry. The path from here can be misleading, so following our lead, Sherpa diligently is necessary. The walk is strenuous due to the thin air at the high altitude. We pass through rocky dunes, moraines, and streams before reaching Everest Base Camp.
Upon reaching Everest Base Camp, we are amazed by the sight of the tents of mountaineers that stand out in bright colors against the monotony of the grey surroundings. We can also see the mountains of Nuptse, Khumbuste, and Pumori from the base camp. We spend some time at Everest Base Camp, taking pictures and absorbing the atmosphere. Then, we hike back to Gorak Shep for a good night's rest.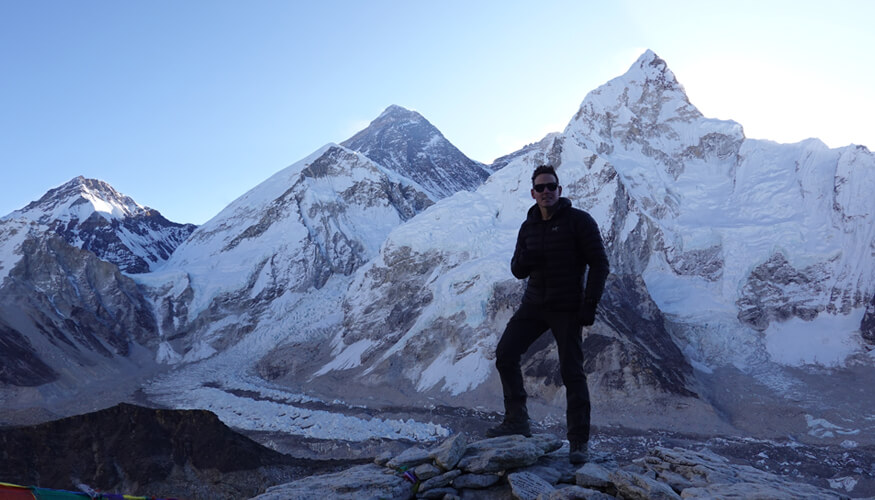 Day 11: Ascent to Kala Pattar and descent to Dingboche, 6-7 hrs, 4,400 m/14,435 ft
Today is a big day!
We will wake up early today, at around 4 am, and start hiking to Kala Patthar. The trail from Gorak Shep leads steeply uphill to the top of Kala Patthar, at an altitude of 5,645m/18,520ft. It will take us about 2 hours to reach the top, but the views from the summit are worth it! We will be rewarded with panoramic views of the Himalayas, including the famous Mount Everest.
After enjoying the views from the top of Kala Patthar, we will return to Gorak Shep, which will take about 1 hour. We will pack our bags and have breakfast there before continuing on our journey. We will retrace our steps through Lobuche and the Everest Memorial and usually stop in Thukla for lunch.
From Thukla, we will take the lower trail to the village of Dingboche. This will be a 6-7 hour hike, and we will arrive in Dingboche at an altitude of 4,400m/14,435ft. We will spend the night in Dingboche and rest up for our next adventure.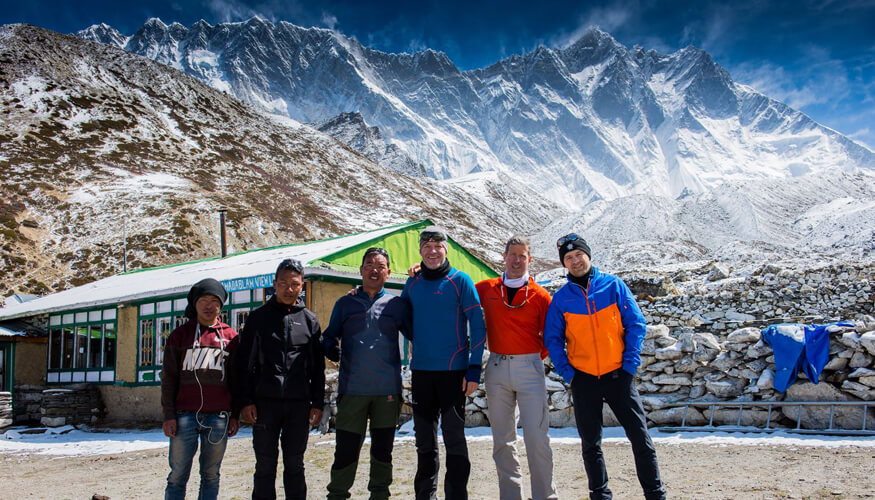 Day 12: Trek to Island Peak Base Camp via Chhukung, 4-5 hrs, 5,200 m/ 17,060 ft
We will wake up early this morning, have breakfast, and load our gear onto the animals. We will then start hiking to Island Peak Base Camp at 5,100m/16,732 feet. The trail from Dingboche to Island Peak Base Camp winds through the Imja Valley. We will follow the glacial moraine out of Chhukung before moving down towards the runoff from the Imja Lake. The trail weaves between small hills before coming onto a flat sand plain in front of Island Peak and Lhotse.
From here, we will walk around the right-hand side of Island Peak, which leads directly into Island Peak Base Camp. The fantastic views of the entire Imja Valley surround us throughout the hike today! We will take approximately 4-5 hours of trekking to reach Island Peak Base Camp.
Suppose time allows this afternoon and the weather is good. In that case, we will spend more time training today to move higher on the mountain. We will practice our crampons and ice axe skills and do some altitude acclimatization hikes. We are excited to reach Island Peak Base Camp and to start our preparations for the summit climb!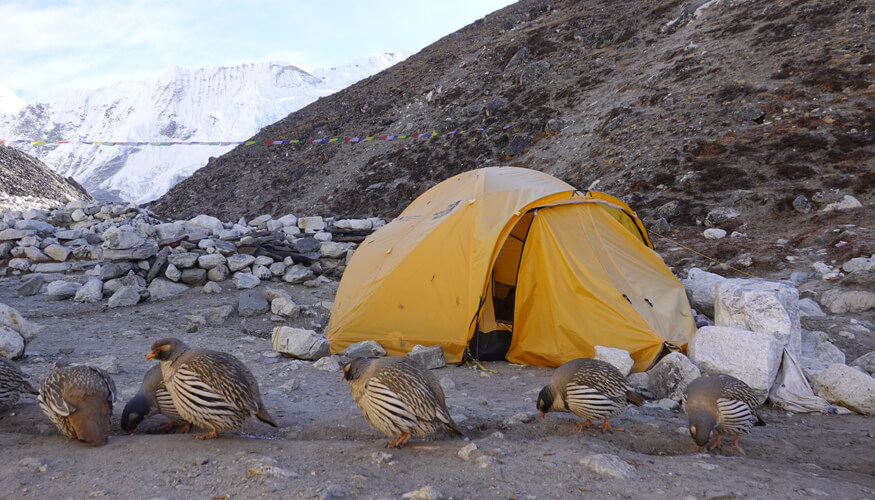 Day 13: Pre-Climb training and trek to High Camp, 3 hrs, 5,450 m/17,880 ft
Today is a very important day to acclimatize. After breakfast, our Sherpa guides will provide short training on peak climbing techniques and using climbing gears such as ice axes, climbing boots and crampons, harnesses, ascenders, and on how to go up and down using ropes.
In the afternoon, we will head up the steep hillside towards the Island Peak High Camp, 5,450 m/17,880 ft. The path is sandy initially, but it soon turns rocky before becoming boulder strewn. The slope arrows up as you climb the hill, entering a steep rock channel.
We will take our time on the hike, rest and hydrate regularly. The goal is to get our bodies used to the altitude and the physical demands of climbing. We will also be practising our climbing skills to prepare for the summit attempt. We will arrive at High Camp in the early evening and have dinner. We will then get a good night's sleep preparing for tomorrow's summit climb.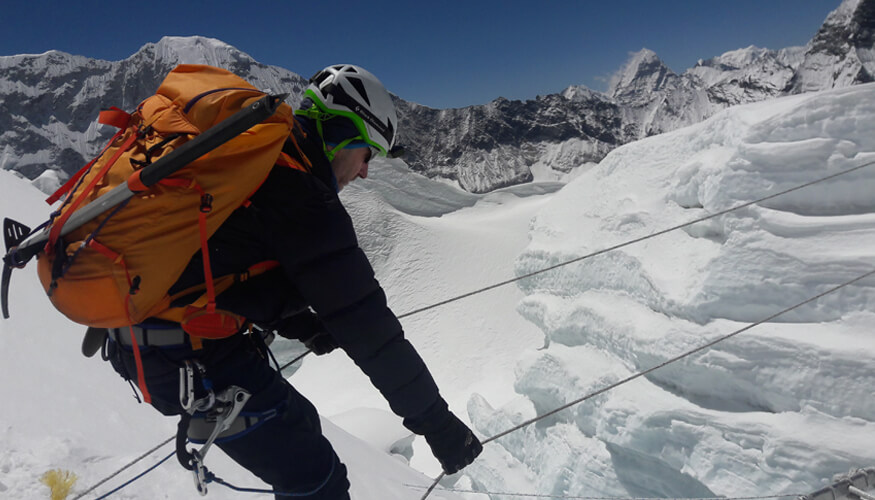 Day 14: Island Peak 6,189m/20,305ft Ascent and descent to Chhukung (Summit Day), 10-12 hrs, 4,710 m/15,452 ft
Island Peak Summit Day
Today is the day we have been waiting for! We will attempt to summit Island Peak, 6,189m/20,305 feet. We must leave early, at 2 am, as this is a long and hard climb. We will start hiking up rocky scree for 150m/492 feet. Then, we will scramble and traverse to a steeper section of rock. This is a mixture of trekking and scrambling, and it is very strenuous. Once we reach 5,700m/18,700 feet, the altitude will slow us down. The final steep rock section never seems to end, but we will dig deep and keep going.
We will top out onto a narrow ridge which takes us to the start of the glacier and crampon point. Here, we will put on our harnesses and crampons, get out our ice axe, and rope up to climb across the glacier. Depending on the conditions, there could be ladder crossings, steep climbing sections up and down, and large crevasses to cross. This can take us anywhere from 1 – 2 hours to reach the base of the Headwall. We will take a break once we reach the Headwall as our Sherpa team sets the route. Our expert Sherpa team will fix our climbing rope up the Headwall to ensure the way up the 150m/ 492 feet section, on a 50-65-degree angle, is set up safely. After the strenuous climb up the Headwall, we will reach the summit of Island Peak! The views of the summit are nothing short of spectacular! The summit is tiny, and you must remain clipped into the rope.
After you have enjoyed the views and taken all the pictures you can, we will prepare to head back down the Headwall. The abseil down the Headwall needs to be controlled to move quickly as a team on the glacier. You must be fully prepared and trained to abseil on a fixed line safely. Once off the Headwall, we will rope back up and retrace our steps through the glacier to the crampon point. From here, we can take off our climbing equipment and continue down the trail back to High Camp. Once we reach Camp, we will rest, pack up our gear and move lower down the path for one hour to Base Camp for a meal. If time allows, we will continue further down the trail to Chuckung, which takes approximately 2 hours. Once in Chuckung, we will enjoy a warm meal and quickly head to our well-deserved sleep in our beds!
Day 15: Reserve Day
There is no guarantee that the weather will be favourable on the scheduled summit day. If the weather is good, we can summit Island Peak. This could be due to bad weather conditions, such as high winds, snow, or rain. It could also be due to altitude sickness or other medical problems. This reserve day gives us some flexibility in case the weather is not favourable on the summit day. We can use this day to try to summit Mera Peak again, or we can use it to rest and acclimatize. This will help us to ensure that we are in the best possible condition for the summit attempt.
We will decide whether to summit on the reserve day or to rest and acclimatize based on the weather conditions and the group's health. We will always put the safety of the group first. We are confident that we will be able to summit Island Peak, but we want to ensure that we do it safely. This reserve day gives us the flexibility to ensure we have the best possible chance of success.
Day 16: Trek to Namche, 7-8 hrs, 3,441 m/11,289 ft
We will gradually trek down to Dingboche and pass through the Pangboche village, the same trail we used on the way up. The trail leads down to the river. After crossing the river, we will walk up through the forest for an hour and reach Tengboche. From Tengboche, we will descend to the bridge over the Dudh Kosi at Phunki Tenga. At Phunki Tenga, we will see water-driven prayer wheels. After crossing the bridge, we will make our way to Namche Bazaar.
This is a long and challenging day of trekking, but it is also beautiful. We will see some fantastic scenery, including Ama Dablam, Lhotse, and Everest mountains. We will also have the opportunity to visit the Tengboche monastery, one of the most important monasteries in the Khumbu region. After a long day of trekking, we will arrive at Namche Bazaar, where we can rest and relax. We will also have the opportunity to shop and explore the town.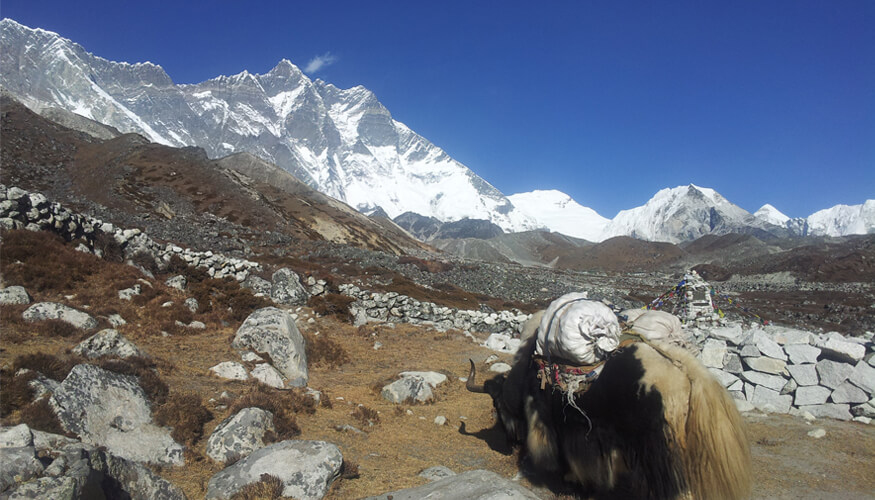 Day 17: Lukla – 2,850m/ 9,350 feet
Today is the final day of trekking! We will be hiking from Namche Bazaar back to Lukla. This is a long and challenging day, but it is also a beautiful one. We will see some fantastic scenery, including Ama Dablam, Lhotse, and Everest mountains.
We will start the trek by descending from Namche Bazaar to the high suspension bridge. From here, we will follow the river back to Phakdingma. We will stop for lunch in Phakdingma, and then continue to Lukla. The hike to Lukla is gradual, but it is also steep in some places. We will ascend for most of the day, so it is important to pace ourselves and take breaks when needed.
We will arrive in Lukla in the late afternoon after a long day of trekking. We will be tired, but we will also be filled with a sense of accomplishment. We will have completed the Everest Base Camp trek and experienced some of the most incredible scenery in the world. We will spend our final night in the Everest region in Lukla. We will have dinner and then relax in our hotel.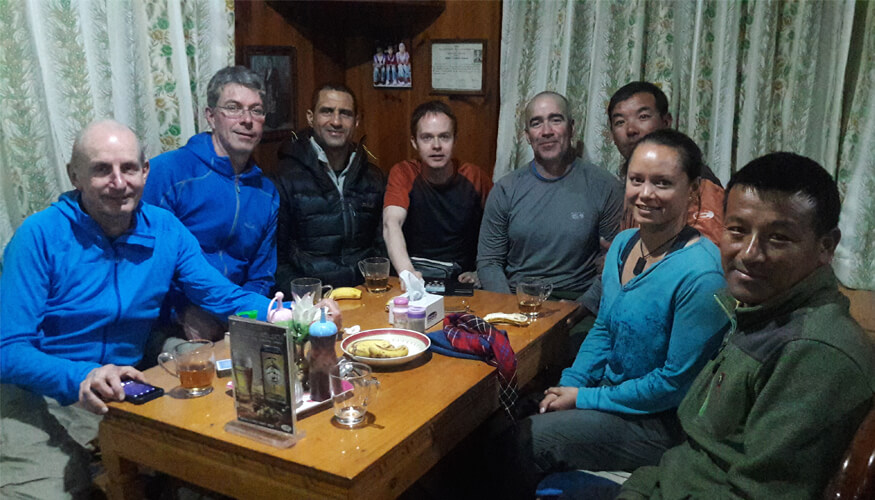 Day 18: Fly to Kathmandu/Manthali
Morning Flight to Kathmandu
We take a scenic morning flight back to Kathmandu, giving us one last chance to say goodbye to the mountains. During the off-season in Nepal (December - February, June – August), travellers can enjoy a direct flight from Lukla to Kathmandu. The flight takes approximately 40 minutes. From the domestic airport, we will be transferred to our hotel in Kathmandu on a private tourist vehicle.
Flying from Lukla to Manthali
The flight from Lukla to Manthali is short, taking approximately 17-20 minutes. The views from the plane are excellent, as you get to see the snow-capped peaks of the Himalayas up close. Afterwards, we drive back to Kathmandu from Manthali, which usually takes 5-6 hours (the time may vary depending on traffic conditions). During the peak seasons, spring (March–May) and autumn (September–November), we will fly from Lukla to Manthali instead of taking the direct flight to Kathmandu.
Helicopter Option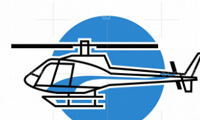 Helicopter Flight from Lukla to Kathmandu
Flying in a helicopter is a unique and luxurious way to travel and a great way to see the pristine beauty of the Khumbu Himalayas. The flight from Lukla to Kathmandu takes approximately 40 minutes.
The helicopter flight is an additional cost of USD 300 per person. This price is based on a sharing basis of 5 people. The cost will be higher if you would like to book a private helicopter flight.
Day 19. Free Day in Kathmandu
Take a free day to explore Kathmandu at your own pace. Visit the Buddhist stupa of Boudhanath, the Monkey Temple at Swayambhunath, and the Hindu temple of Pashupatinath. These are just some of the religious highlights of this fascinating city.
You could also visit Durbar Squares, UNESCO World Heritage Sites, or wander through the maze of streets in the old town. There are plenty of shops and restaurants to explore, and you're sure to find something to keep you occupied as there is something for everyone.
Day 20: Happy Departure
On your departure day, we will transfer you to the airport from your hotel on a private Tourist vehicle. The transfer to the airport takes approximately 30 minutes, depending on the traffic conditions. Please be ready to depart at least 2 hours before your flight. Until next time, we bid farewell to you, hoping to welcome you to Nepal again for your next once-in-a-lifetime adventure with us.