Nestled on the lap of the Himalaya, Nepal is well known for habituating eight of the fourteen 8000m mountains across the globe due to which it is also known as the land of the Himalaya. Nepal is also considered as a paradise for travelers, trekkers, explorers, mountaineers and many other outdoor enthusiasts. Among the 13000+ peaks above 6000m, 602 peaks are accessible and permitted for mountaineering by the Government of Nepal and Department of Tourism out of which 414 peaks have had clear routes summited by climbers of different countries at different times and 188 remain unclimbed but are ready for expedition. Each and every mountains holds a new enthusiasm and excitements.

The term Trekking Peak is in itself somewhat misleading, as trekking peaks actually involve mountaineering of varying degrees of technical difficulty. A trekking peak could be described as a trip which consists mostly of trekking as well as a couple of days mountaineering.Trekking peaks usually involve ascending a glacier to a high camp followed by a summit day with some technical climbing. Mountaineering expeditions require a different set of skills as well as technical climbing equipment.You may have to walk roped together across a glacier, cross a snow field wearing crampons, ascend a steep slope clipped into a fixed rope, or climb a vertical ice wall using the front points of your crampons and an ice axe. Generally, Trekking Peaks are those peaks which are less than 7,000 meters, permitted by Nepal Mountaineering Association (NMA) which falls between 5,800 and 6,584 meters above sea level. Nepal offers thousands of peaks to climb, however Nepal Mountaineering Association (NMA) is responsible to open the peaks for climbing to individuals in association with Government of Nepal. For a novice climber finding a best climbing peaks and climbing operator is not easy because of the large list. So, we have researched and listed the top 10 climbing peaks in Nepal for anyone who is planning for climbing in coming days. Here is the list of Top 10 attracting trekking peaks in Nepal that are calling out for adventure.

1. Mera Peak (6,476m/ 21,247ft)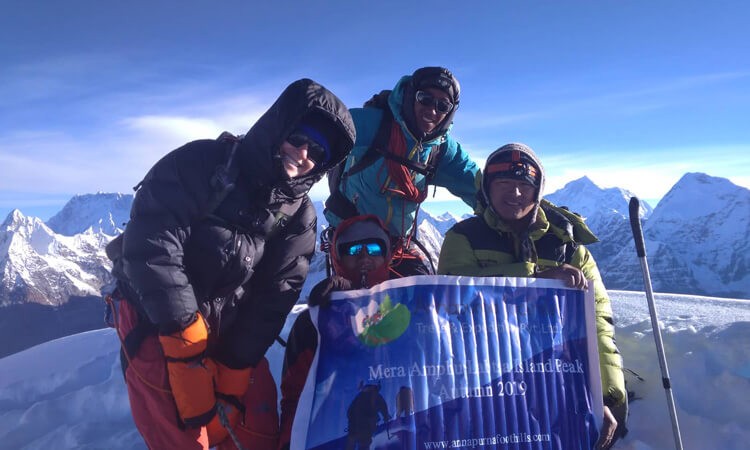 According to Nepal Mountaineering Association (NMA), Mera Peak (6476m) is the highest permitted trekking peaks in Nepal. This peak is perhaps one of the most admitted and popular trekking peaks rising to the south of Mount Everest in Makalu Barun Region. Trek to this wonderful peak begins with the scenic and spectacular flight from Kathmandu to Lukla, the gateway to Everest region. Mera Peak Climbing introduces you to the Hinku Valley, an isolated and less visited area within the Makalu Region. Following that is a 10 day trekking through the pristine but dazzling Hinku Valley to Mera Peak Base Camp. The base camp is situated at 5300m and then the next day, high camp is set up at 5,800m near a rocky outgrowth on Mera Glacier. Mera High Camp offers a marvelous picturesque view of some astonishing mountains including Mt. Everest, Mt. Makalu (8463m), Baruntse (7152m), AmaDablam (6856m), Lhotse (8414m), and so on. There are three main summits; Mera North, South and Central out of which the most chosen is the Mera Central (6476m). The summit view of the over-8000-meter-mountains such as Mt. Everest, 8848m, Mt. Lhotse, 8516m, Mt. Cho Oyu, 8201m, Mt. Makalu, 8463m, and Mt. Kanchenjunga, 8586m makes the climb a journey to remember for lifetime. Despite being a strenuous climb, Mera Peak is considered as one of the easiest and less technical peak climbing making the climb a perfect climb for the beginners.

2. Island Peak / ImjaTse (6,189m/ 20,305ft)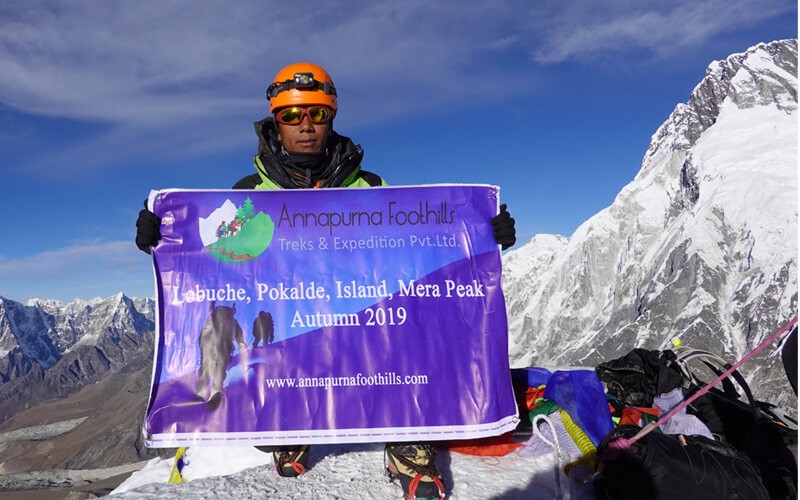 Nestled in the Everest Region, Island Peak is another fine gem for the climbers attempting a moderate to challenging climb in the Himalaya of Nepal. Climbing this beautiful is a joy to adventure seekers. Narrow summit ridge, big ice head wall of approx. 45 degree, crossing crevasses via ladders etc. sounds for a perfect adventure. Previous experience on mountain and knowledge about equipment, gears, rock and ice climbing, using Jumor to ascent, abseiling will be very handy. Island Peak Climbing combines the classic trek to the Everest Base Camp and climb of a beautiful 6000m peak. Another combination includes an Island Peak Climbing with a Mera Peak Climbing via the Amphu Lapcha Pass (5845m). View from the summit of Island Peak offers the magnificent view of enormous mountains like Mt. Everest (8848m), Nuptse (7861m), Lhotse (8414m), Makalu (8475m), AmaDablam (6856m) and Baruntse (7152m).

3. Lobuche East (6,119m/ 20,070 ft)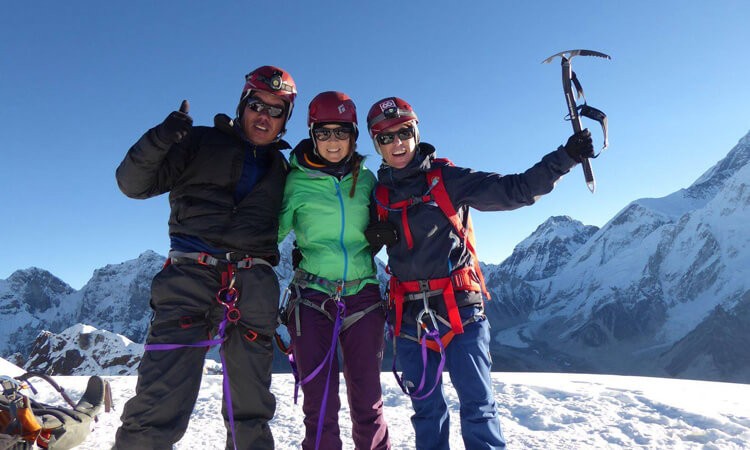 Lobuche East Climbing is a notable selection for a first 6000 meter peak with sensational summit view offering excellent panoramic outlook of Lhotse Face, Pumori, Ama Dablam and notably, a fantastic view of Mt. Everest, which is not visible from Island Peak. It is an exciting and challenging way to extend the classic Everest Base Camp Trek with a beautiful and technical 6000m climb. Lobuche East Trip follows the Everest Base Camp Trail, which in itself is an amazing experience in the Himalaya of Nepal. Proper acclimatization program is important for Lobuche East, and trekking the Everest Base Camp and hike to Kala Patthar provides the perfect preparation to continue on a carefully paced climb of Lobuche East Peak. This peak offers more challenges than its bystanders (Mera Peak, Island Peak), and has a more technical feel to it and is a fitter selection for those who have had some previous mountaineering.

4. Pachermo Peak (6,187m/ 20,298ft)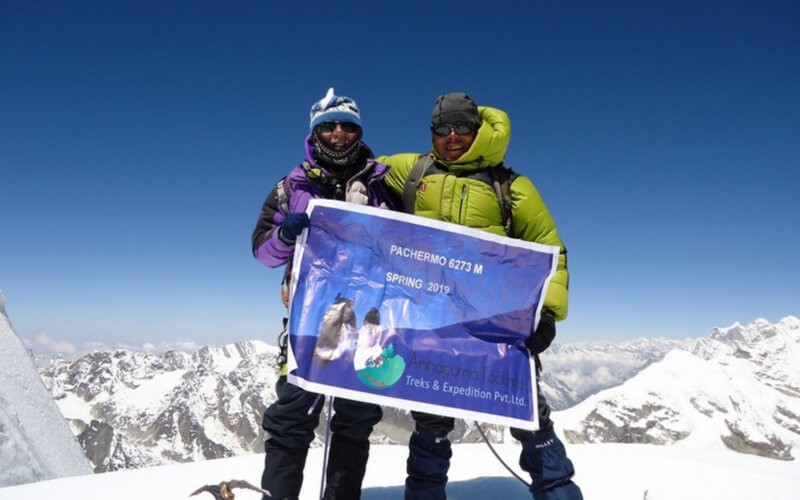 Pachermo 6187 Peak is an inviting straight forward snowy peak lying south of Tashi Labtsa Pass. This Peak is located in a wilder and remote region and is approached by trekking through the pristine Rolwaling Valley. This peak has a north by northwest ridge, which accelerates from the cracked glacier on the back of the Tashi Labtsa Pass.The exterior of the rim outlines a uniform tilt broken by crevasse rising from the rocky braces above the Drolambau Glacier in the west. This peak is the perfect trekking peak for those travelers who wish to bisect through the distant landscape with little encounters with other enthusiast trekkers, but still, want the glimpse of the mountains in the Everest as well as in the Rolwaling Region. It is one of the most alluring mountains in Nepal and can be accessed either from the hustling trekking trail of Khumbu region (via Namche Bazzar and Thame) or from off the beaten path of Rolwaling region. Also, it is an ideal choice to experience the culture and lifestyle of Sherpa local residing in this region.

5. Kyajo Ri (6,186m/ 20,295ft)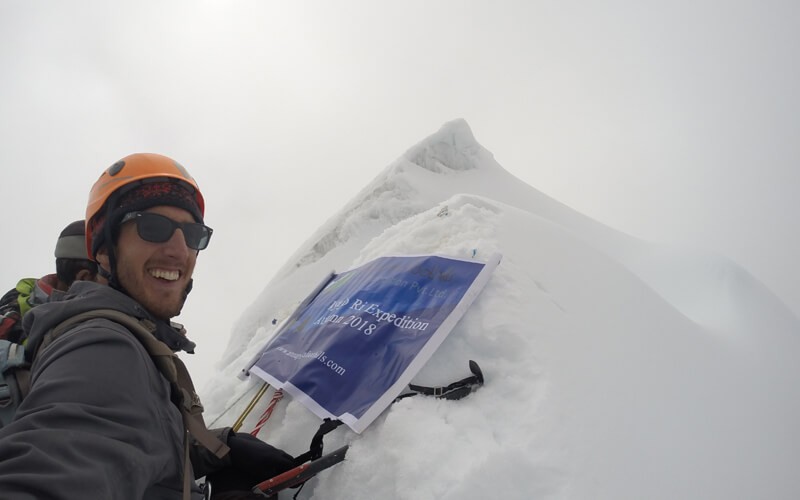 Kyajo Ri Climbing is the highest summit on the southern part of the Khumbu Himal ridge that runs north of Namche Bazaar. Kyajo Ri is a mini-scale expedition style climbing peak which is significantly challenging, physically and technically than other popular trekking peaks like Island Peak or Lobuche East. It is an ideal Himalayan peak for those who want to take the technical challenge of climbing a 6000m+ peak. The climb is a mix of moderate rock climbing and steep alpine ice and snow climbing. Kyajo Ri Base camp is at 4550 meters in a distant valley that'll be reached after a couple of days walk from Namche Bazaar. A high camp will be set on a glacier at 5200m. Then another camp is established before our final summit push. Finally, an attempt to the summit along the snow in angle with a small rock wall leads the way to the clear summit. The summit view of Kyajo Ri offers spectacular trans Himalaya scene of Mount Cho Oyu (8188m), Mount Everest (8848m) and other giants along with other peaks of both Everest as well as Rolwaling region.

6. Yala Peak (5,500m/ 18,045ft)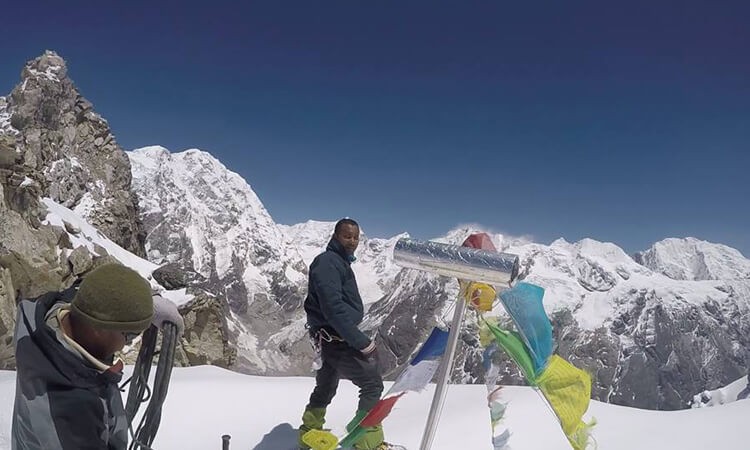 Yala Peak, 5550 m, is the minimal of all the trekking peaks in Nepal. Stationed in Langtang region of Nepal, journey to Yala Peak is an excellent choice for your first Himalayan climb with privileged Tibetan influenced local culture in the Langtang valley. It is the perfect initiation to Himalayan peak climbing; a safe way to have a true montane experience, even for the very first beginners. Yala peak is a straightforward Peak offering excellent views of Sishapangma (8013 meters) – the highest mountain in Tibet and others spectacular peaks such as Langtang Lirung, Langsisha Ri, Gangchengpo, Dorjee Lakpa and Nayakhang. Yala Peak can be done in the shortest time, while still at a pace to allow proper acclimatization. Views of the Langtang Range as well as the Tibetan giant, Shishapangma (8013m), appear extraordinary from the summit of Yala Peak. Part of the trek to this peak also includes the holy lake of Gosainkunda and a traverse through the Helambu region which divides the Kathmandu area from Langtang National Park.

7. Nirekha Peak (6,069m/ 19,910ft)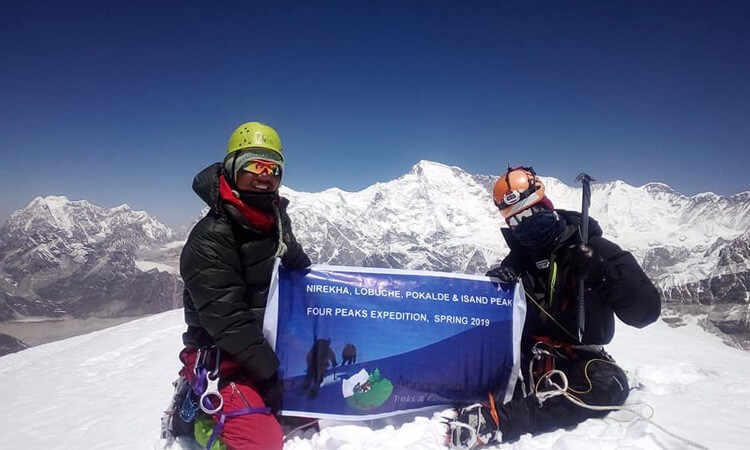 Nirekha Peak is comparatively a newly opened Himalayan Trekking Peak of Nepal categorized as Grade 'A' among the trekking peaks listed by Nepal mountaineering Association (NMA). It is relatively located on the conglomerate of Lobuche peak and just east of Cho-La Col which is just few distance below the Cho-la pass.The regular ascent to Nirekha Peak is not that hard but might get difficult depending upon the weather conditions on the mountain. Therefore, we highly recommend services of experienced Sherpa climbers with a competent logistics support at base camp. Nirekha Peak Climbing is an exciting mountain adventure that begins with a scenic flight from Kathmandu to Lukla. We will be hiking following the well - known 'Khumbu' region of Nepal which is also the cultural heartland of 'Sherpas'. It has not been long since Nirekha Peak was open for climbing. Therefore, it is less crowded and provides a truly unique mountain climbing experience for seasoned climbers. From high camp we'll put our best effort to the summit and once we reach the top, we'll be dazzled by the scenery seen from the top rewarded by the Nirekha Peak as in reward, it offers scenic view of alluring mountains like Mt. Everest (8848m), Cho-oyu (8150m), Nuptse (7879m), Lhotse (9501m), Lhotse Shar (8383m), Makalu (8475m), Baruntse (7720m), and some other peaks of Mahalangur range.

8. Chulu West (6419m/21060ft)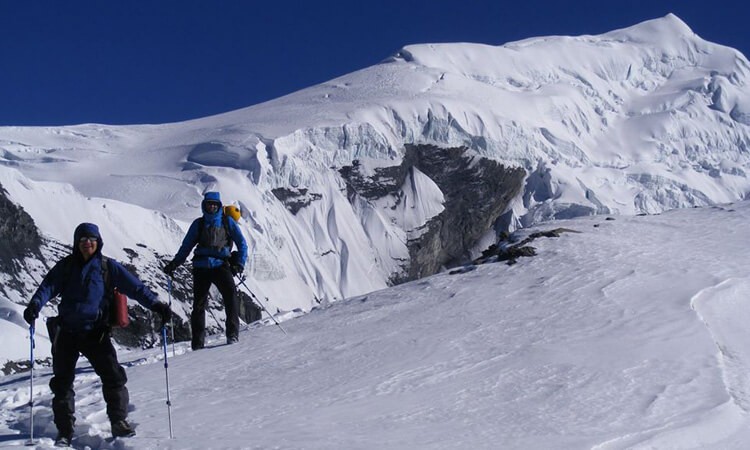 Chulu West 6419m is a part of the mighty Manang Himal enlisted in Damodar Himal. Chulu West Peak is another glittering peak that lies just off of the main Annapurna Circuit Trail. Voyage to Chulu West is a challenging trip as the climb is technical than its neighbor, Pisang Peak (6091m), Chulu Far East etc. This exciting trip starts at Besisahar and follows the Annapurna Circuit Trekking trail into the Marsyangdi valley to reach the north side of the Annapurna Massif. Trek to Chulu West Peak begins in the dripping, subtropical, bamboo jungles of the low lands and climb into to the dry, barren, windswept deserts of the north. As the altitude increases, mud houses surrounded by terraced fields are replaced by stone houses and pasture land. Mixed caste Hindus inhabit the south, whereas the hill tribes in the north are mainly Tibetan-Buddhist.We leave the Annapurna Circuit trail at Yak Kharkha, beyond the village of Manang, to follow a yak trail into a barren uninhabited land with little vegetation. We spend a couple of nights at the base camp of Chulu West to acclimatizing and practice climbing techniques needed for the summit.

9. Pisang Peak (6091m/ 19980ft)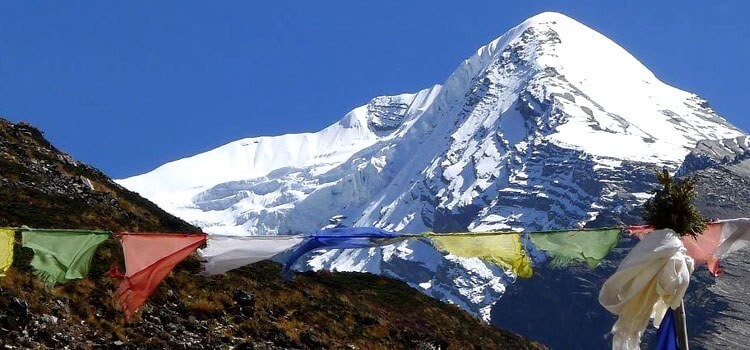 Pisang Peak 6091m, is a nearly perfect pyramid of ice and snow. Pisang Peak Climbing is one of the popular peaks for climbers in Nepal and rises opposite of Annapurna II (7937). It lays roughly in between the giants' Annapurna I and Manaslu both over eight thousand's mountain.Directly above a village with the same name, Pisang, the peak is reached through the northern edge of the Manang Valley. Pisang Peak Climbing follows the beautiful Annapurna Circuit trail to the north side of the Annapurna massive where we are surrounded by peaks on all sides and branches off to the Tibetan style village of Pisang. To reach the base camp from Pisang village, the path ascends through sparse wood and pasture to a Kharka at (4,380m) which is considered the best place for setting up the base camp. The trail from base camp is rocky and the landscape increasingly barren as we approach the South-West Ridge, where we set up High Camp, 5400 m. The ice, snow and lack of protection from the wind make High Camp very cold.From the summit there is a spectacular panorama: Himlung, 7126m and the trans-Himalayan Tibetan plateau to the north; Manaslu, 8163 m and Khangaru, 6981 m to the north east; Annapurna II, 7937 m, and IV, 7525 m, Lamjung, 6983 m to the south; Gangapurna,7454 m, Annapurna III, 7555 m, Glacier Dome, 7069 m and Tilicho Peak, 7134 m to the west.

10. Tent Peak (5,663m/ 18,575ft)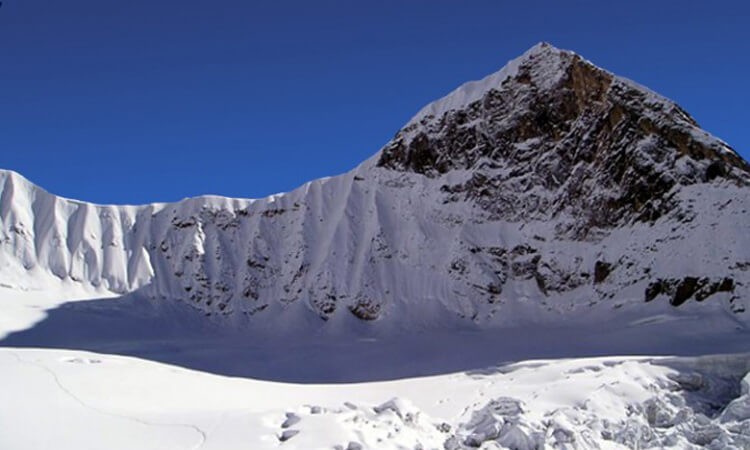 Tharpu Chuli (Tent Peak, 5663 m) rises in the middle of the amphitheater, encircled by immense walls of glaciers and mountains over 7000 and 8000 meters in height.The trail leading to this stunning peak is an extraordinary trek to Annapurna Base Camp. The Tharpu Chuli trek starts from Phedi, only a 45 minute drive from Pokhara and traces the classic stone-step trail of the Annapurna Sanctuary Trek all the way to Annapurna Base Camp (ABC). The first few days are spent on the south side of the Himalaya, the area of highest rainfall in Nepal, where there are lush subtropical jungles and rhododendron forests. Cozy Tea Houses/ Lodges provide welcome resting places in the villages which are predominately of the Gurung ethnic group. There are amazing post-card scenes of mountains, glaciers, rock faces, and sharp ridges with the patchwork of terraced fields in the foreground.Around four days into the trip, you will leave the lush jungles behind and reach rougher terrain, with colder temperatures, and walls of rock that shoot into the sky. The north side of the Annapurna's falls in the rain shadow and has a dry alpine climate with little vegetation. Since the climatic conditions on this trek change over such a short distance, it constantly provides a new environment to explore. If you are ready for the conversion from an intense traveler to an apprentice mountaineer then this peak is perfect for you.