Chulu West at an elevation of 6419 meters above sea level is an exciting challenge for both experienced trekkers and for novice climbers. Nestled in the beautiful region of Annapurna's and accompanied by magnificent mountains like Mt. Himlung (7126m), Mt. Manaslu (8163m) and Annapurna massifs, Chulu West Peak Climbing is technically easier to some extent than climbing Chulu East Peak (6584m). However, climbing Chulu West requires more stamina and strength to make the long tough slog through the snow to reach the summit of Chulu West Peak.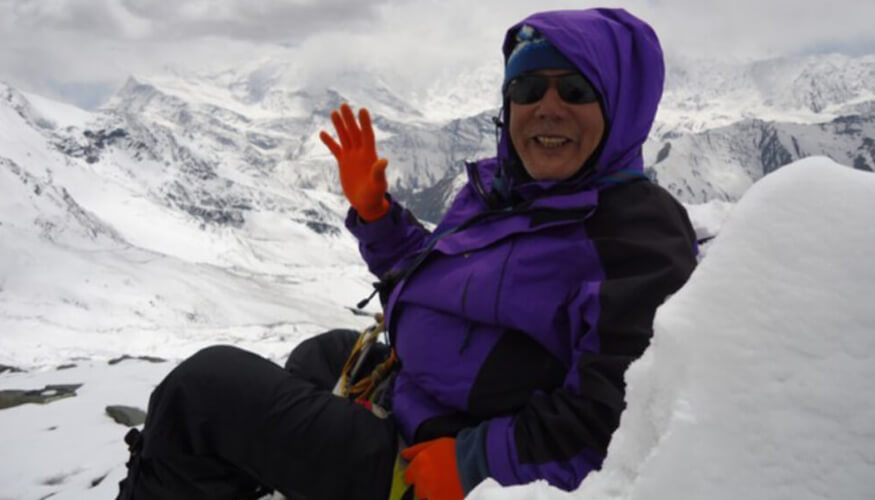 Our Chulu West Peak Climbing trekking trail leads us through one of the world's most beautiful trekking routes as we will be following the Classic Annapurna Circuit Trekking trail traversing through Marshyangdi Valley to reach the north side of Annapurna Massif. Climbers set apart to Chulu West Base Camp (4810m) from Letdar village beyond the village of Manang, to follow a yak trail into a barren uninhabited land with little vegetation to enter on our Peak Climbing adventure.
We spend 3 nights at Chulu Camps: one night at Base Camp (4810m), the other night at High Camp (5100m) and another night at Camp I (5530m) before the final push to summit. By doing so, you will have enough time for proper acclimatization your body requires, experience Alpine Camping, acknowledge the Himalaya surrounding you and do some basic trainings in brief and march towards the major objective: Chulu West Peak Summit.
Notable Highlights of Chulu West Peak Climbing
Out of many, we've mentioned some of the major highlights of Chulu West Peak Climbing:
View from the summit includes Three 8000ers; Mt Dhaulagiri (8167m) Mt Manaslu (8163m) and Mt Annapurna (8091m)
Challenging yet technically Straightforward Peak Climbing
Explore and experience the beautiful Gurung Villages, their culture, tradition and way of living in Annapurna Region
Includes the amazing Annapurna Circuit Trekking
Pay a visit to the nearby monasteries, such as Braga Monastery, Muktinath Temple and other sites of cultural and religious importance
Guided and accompanied by our experienced Sherpa Climbing Guides and the Team throughout the expedition
Traverse through Kali Gandaki Gorge Valley (the deepest River gorge in the world)
Chulu West Peak Climbing: Trip Cost, Service Includes and Service Excludes
Trip Cost for Chulu West Peak Climbing (All Inclusive Cost)
| | |
| --- | --- |
| No. of People | Price per Person (in USD) |
| 1 | US$ 3500 |
| 2-4 | US$ 2650 |
| 6-8 | US$ 2500 |
Our Service Includes:
Transfer from Airport – Hotel – Airport: Car, Van, Hi-ace or Coaster in a private vehicle.
Authentic Nepali welcome dinner with Live Nepalese Cultural Program.
Accommodation in Kathmandu, 2 nights on Twin share Bed and Breakfast Basis.
Accommodation in Pokhara, One night on Twin share Bed and Breakfast Basis.
Accommodation during Trek ; local lodges 9 nights (twin-share rooms ,beds with comfortable foam mattress and pillows)
Accommodation during Camping ; 5 nights full camping services
All standard meals(Breakfast, Lunch and Dinner) during the trekking
English speaking experienced Sherpa guide (Govt. Trained/License Holder).
All Camping Equipment required during the trek, sleeping tents/mattresses, kitchen tent, kitchen equipment
All required Personal and Group Climbing gears
Climbing rope, Ice screws, Snow bar
Trekking cook, kitchen staff, Trek Sherpa and other support staff while on Chulu West peak climbing
One Sherpa guide-assistant if group size is more than 4 Trekkers.
Porters: One porter for Two Trekker basis.
Trek Staff costs including their salary, insurance, equipment, food and accommodation.
Personal insurance for Nepalese staff.
Annapurna Foothill's Duffle bag for Trekking.
Energy Supplies; Snickers, Mars, Bounty etc.
Pulse Oximeter (Oxygen Meter) to check your pulse and oxygen saturation and heart rate to monitor your health condition throughout your trip
Assistance in arranging Helicopter rescue operations (24/7) in case of complicated health conditions or any other emergencies (should be covered by your Travel Insurance)
First aid medicine kit.
Chulu West Peak Permit
Annapurna Conservation Fee, TIMS permits & all required permits or Official Documentation.
All ground transfers.
Airfare Jomsom – Pokhara guests and guide
All government and local taxes.
Chulu West Peak climbing certificates issued from the respective body of Nepal Government
Personal Climbing Gears includes:
Mountaineering/ Climbing Boots
Crampons
Helmet
Harness
Ice Axe
2 x Screwgate Carabineers ( Lock and Un Lock)
Descender ( Figure 8, Belay Device)
Ascender (Jumar)
Prussic Loops
2 x Tape slings
Our Service Excludes
Your Personal Travel Insurance.
Nepal Entry Visa Fee.
Lunch & Dinner in cities - allow $ 10 to 14 for per meal in Tourist restaurants.
Beverages (all drinks, mineral water, boiled water and beer).
Tips for guide, porters and driver (customary).
Any personal expenses not mentioned in above services.
Additional night accommodation in Kathmandu because of early return from Trek (due to any reason) than the planned itinerary
Know When to Go !!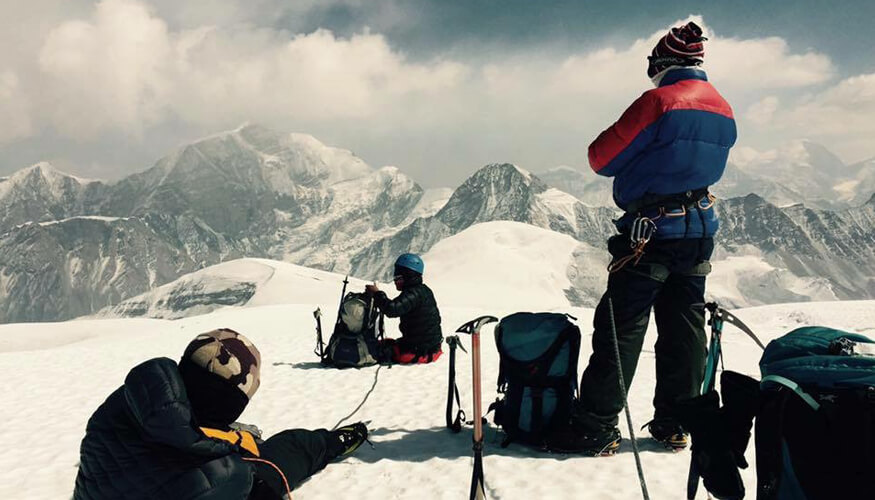 There are two prime seasons to do the Chulu West Peak Climbing. Autumn (Mid-September to November) and Spring (Early March – May) are the ideal time of the year to do the Chulu West Peak Climbing in Annapurna Himalaya. Comparatively, the numbers of climbers will be minimum in both the seasons.
Winter is also a great time to climb if you are well prepared for the cold weather. In the crisp and cold month of December, views of the mountains are crystal clear and there are fewer tourists around. Pre-arrangements and pre-preparations will have to be made but that will also depend on the number of climbers if you wish to do this expedition during winter. The duration of the trip can be lengthened or shortened according to your preference.
Chulu West Peak Climbing Difficulty Level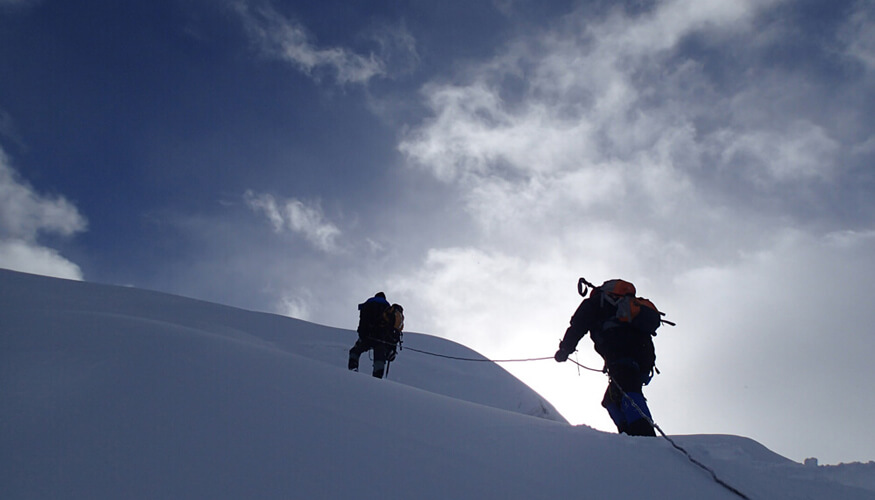 Chulu West Peak climbing at 6419 meters, is a straightforward climb and only a basic level of mountaineering skill is required. It's a peak of less technical difficulty (graded at PD/3) but leads to strenuous long climb to reach the summit as climbing Chulu West requires more stamina and strength to make the long tough slog through the snow to reach the summit of Chulu West Peak.
Breathing fairly (more or less) at such altitude is always a test for every single member but with proper acclimatization done prior the summit push, your body recovers and get used to the surrounding accordingly. Climbers must be mentally prepared to deal with strenuous situations at high altitude and give their best effort to reach Camp I (last night before the summit) in good physical condition.
Chulu West Peak Climbing Strategy: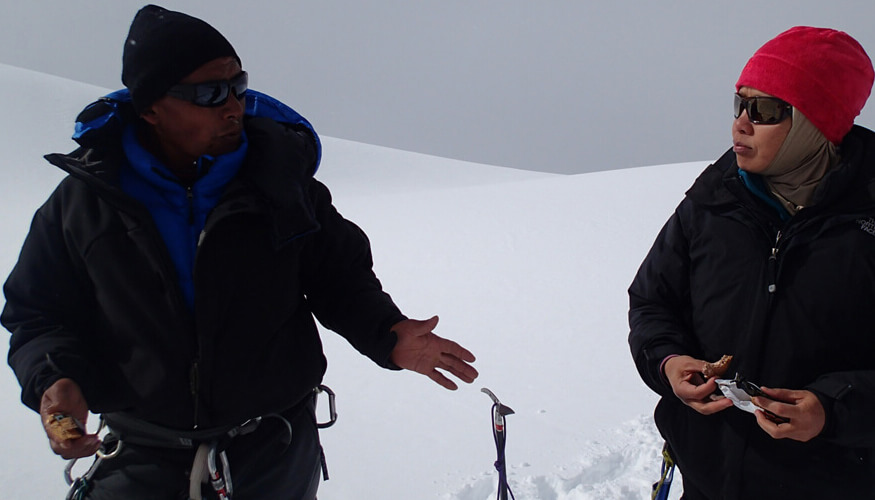 The approach to Chulu West Peak diverges from the Annapurna Circuit trail on the way to Thorang La pass. We establish the Chulu West Base Camp (4810m) in a hidden valley. The route follows a North-West ridge on rugged terrain of rocks and rough frozen ice. We climb snow slopes to the base of a band of rocks and upon reaching there, we establish Chulu West High Camp (5100m).
From high camp, we will mostly be climbing on steep ice and snow surfaces. We will be walking for approx. 5 hours to reach Camp I (5530m), the last camp before the final push. From Camp I, we push for the summit of Chulu West. With the goal of being at the summit by sunrise, we begin our summit push quite early (03:00 am). Summit Day is always the longest enduring and the most challenging yet rewarding part of the climb.
The long gradual ascent to the summit of Chulu West requires fixed ropes as the ridge grows increasingly narrow. You can expect to climb around 9-10 hours on this day as you will have to summit, cherish the moment from the summit and then descend back to High Camp (5100m) safely. Our Climbing Sherpa Guide will fix ropes to ensure our safe ascent and descent.
From the summit of Chulu West, we eye witness the magnificent panoramic views of Mt. Dhaulagiri (8167m), Mt. Manaslu (8163m), Mt. Annapurna I (8091m), Annapurna II (7937m), Annapurna IV (7525m), Nilgiri (7061m), Gangapurna (7455m), and other snowy neighboring giants.
After enjoying the summit view, we descend down to High Camp (5100m) on the same day. Leaving High Camp, we descend to Thorang Phedi and then march towards the next exciting ascent to Thorang La Pass (5416m), which touches the edge of the legendary Tibetan plateau. We then descend into the deepest gorge in the world, the Kali Gandaki valley, reaching a famous pilgrimage site, Muktinath, where there are a number of Hindu and Buddhist temples.
Food, Water and Accommodation during Chulu West Peak Climbing
Food
Food during your Chulu West Peak Climbing trekking trail will be one of a kind as we will be following the classic Annapurna Circuit Trekking trail. During the first few trekking days, one can get wide varieties of food items for breakfast, lunch and dinner. Most tea houses will have a Menu accepted by the local community. The menu will have variety of meals up to Manang. And as you trek higher, the choice on the menu will be limited but the food will be fresh, warm and eye appealing. Basically during trekking, you will have dinner and breakfast at the lodge where you stay overnight and lunch will be on the way with simpler menus.
During Camping days, your body will naturally want to reject food or avoid using energy on anything, which includes eating too. You might have to force yourself with the first few couple of bites and then eventually your body will start accepting the food. Foods during your camping period will be well cooked, tastes good and served with pleasant smile.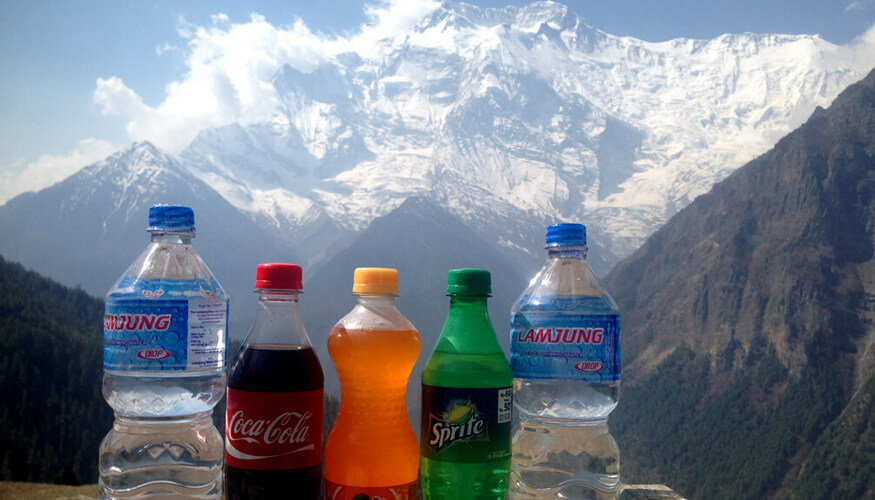 Water
While trekking, it is very important to keep yourself hydrated. Staying hydrated will also help you with acclimatizing properly. So, we strongly suggest all our guests to drink 4-5 l of water every day.
We do not suggest drinking tap water from the tea houses. We suggest bringing water bottles with UV light and purification. You can also bring a supply of water purification tablets or liquid. You can always buy boiled water at the tea houses. Although mineral water is also available in most places, there is no provision to dispose the plastic bottles properly so, we encourage our guests to do what they can to protect the environment.
Accommodation
Annapurna Foothills takes great care to arrange the most comfortable accommodation possible throughout your stay. We will provide a standard tourist accommodation for your stay in Kathmandu and Pokhara. During the trekking, we will provide clean and comfortable rooms for your stay at the tea houses. And during Camping, we will have our own well set up Camps and excellent logistics support throughout the entire expedition.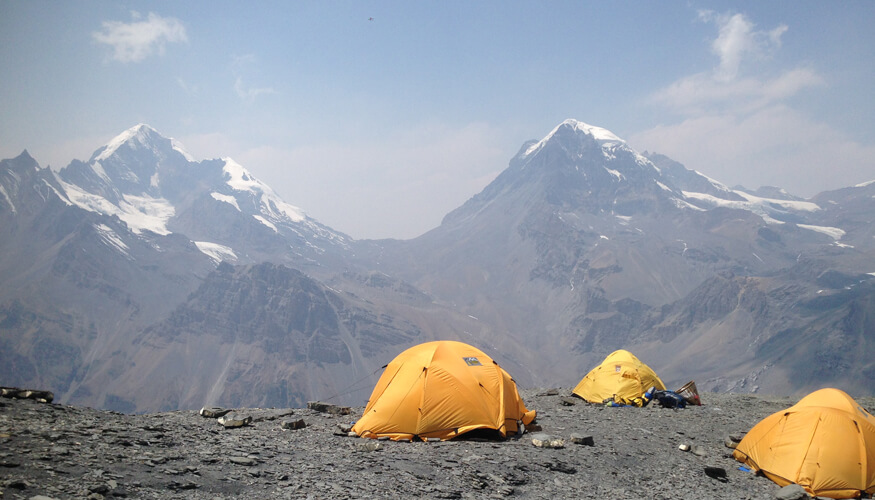 Most tea house/lodge has rooms with twin sharing basis. The family run tea houses are a great place to get to know the local people, experience the culture, lifestyles in the mountain and enjoy the excellent food that they serve. In Nepalese culture, a guest is equal to god and tourism and hospitality industry follows the similar value of welcoming and serving their guests.
Travel Insurance needed for Chulu West Peak Climbing
We at Annapurna Foothills, strongly recommends our valuable guests doing treks at high altitudes, Peak climbing, etc. to have sufficient insurance coverage. Travel insurance that covers emergency evacuation, injury, lost baggage, liability, and medical treatment is recommended. Helicopter evacuation is our final emergency option and we do recommend you have one in your insurance, as it is the only means of transport in Nepal Himalaya.
The insurance must cover all the activities that you will be undertaking during your stay in Nepal. There is a certain procedure to follow whilst calling for emergency evacuation. First, we will call the insurance company hotline, get approval with your insurance and only then helicopters are sent to the concerned call location. Annapurna Foothills Treks and Expeditions Pvt. Ltd. can organize the appropriate medical response based on your policy.
Things to Pack- Get the Right Gear for your Chulu West Peak Climbing
The best Trekking and Climbing seasons for beginning your Chulu West Peak Climbing are spring and autumn. During these seasons, maximum flow of trekkers can be witnessed. Weather during spring (March – May) and autumn (September – November) are likely to be mild with clear blue sky and outstanding mountain views. But nights can get freezing cold at higher elevation. So, packing appropriate clothing, gear, and equipments for your Chulu West Peak Expedition is a must for lifetime memorable trekking and climbing experience in Annapurna region of Nepal.
A strategically way of packing will be keeping in mind that your stuffs will be packed in two bags. One will be the daypack that you carry every day on your trek. Pack your daypack as light as possible by carrying only the essentials so that you can relish your moments in wilderness freely. Pack anything you may need each day during your hike in your daypack. Other bag will be your duffle bag which will be carried by your Porter from the very beginning of your trek till the end.
Please check our equipment blog for recommended Personal Climbing Equipment List and the Complete Packing Checklist for further information in detail.
Planning to climb Chulu West Peak in 2023 and 2024:
Guaranteed Departures: We are preparing for our Autumn 2023 and Spring and Autumn 2024 dates and groups for Chulu West Expediiton. Please get in touch for further details.
Grab this opportunity, Book your Spot and Experience the journey of a lifetime in Nepal Himalaya !!