Overview
If you are looking for a challenging and rewarding adventure, Mera Peak Climbing with Helicopter Return is the perfect trip for you.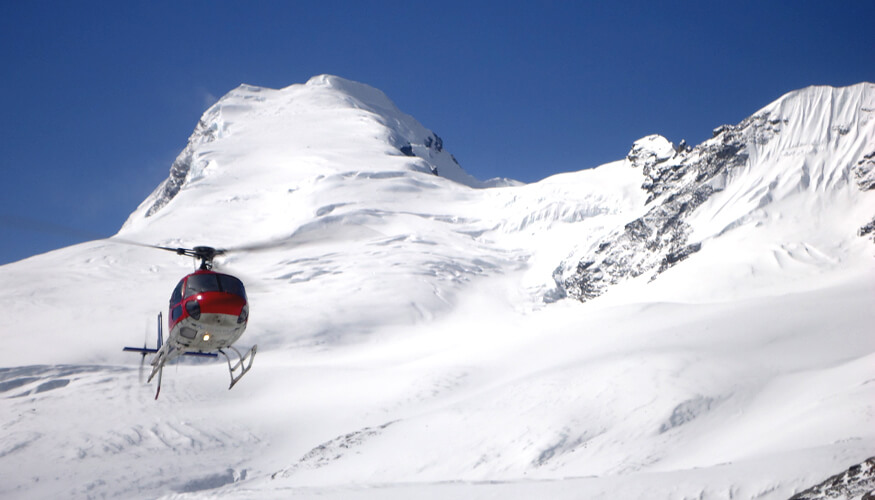 Mera Peak Climbing with Helicopter Return is a great way to experience the magnificence of the Himalayas and summit a challenging peak. The climb is not technically difficult, but it requires good fitness and some basic mountaineering skills. However, it is not a technical climb and can be completed by anyone reasonably fit.
Our amazing Mera Peak Climbing with Helicopter Return trip begins in Lukla, Nepal, and ascends through the Hinku valley to Khare (5045m). Afterwards, traversing through several Sherpa settlements, namely Paiya (2730m), Ramailo Danda (3276m), Chhatra Khola (3122m), Kothe (3600m), Thangnak (4356m) and finally Khare (last settlement before moving towards our major objective). From Khare, climbers ascend to the summit through a series of fixed ropes. The summit of Mera Peak is at an altitude of 6,476 meters and offers panoramic views of some of the world's most famous mountains, Mt. Everest 8,848 m (29,031 ft.), Mt. Kanchenjunga 8,586 m (28,169 ft.), Mt. Lhotse 8,516 m (27,940 ft.), Mt. Makalu 8,481 m ( 27,825 ft.) and Mt. Cho Oyu 8,188 m (26,864 ft.).
Trip in a Nutshell
Astonishing aerial view of Khumbu giants (Mahalangur Himalayan Range) from Helicopter while returning to Lukla
Eye witness the five highest 8000m+ mountains on Earth, including Mt. Everest (8848.86m) from Mera Peak summit
One of the most tempting Trekking Peaks in Nepal
Adequate acclimatization: the climb of Mera comes after week-long trekking designed to assist you with the best chance of an enjoyable and fulfilling journey.
Straightforward climb, ideal for novice climbers wishing to climb their first mountain in Nepal
Traverse through the wild and remote Hinku and Hongu Valleys
Well set up camps at Mera Peak Base camp and High camp
Fully Guided Trip
Trek and climb with our certified and experienced Sherpa Climbing Guides
Know When to Go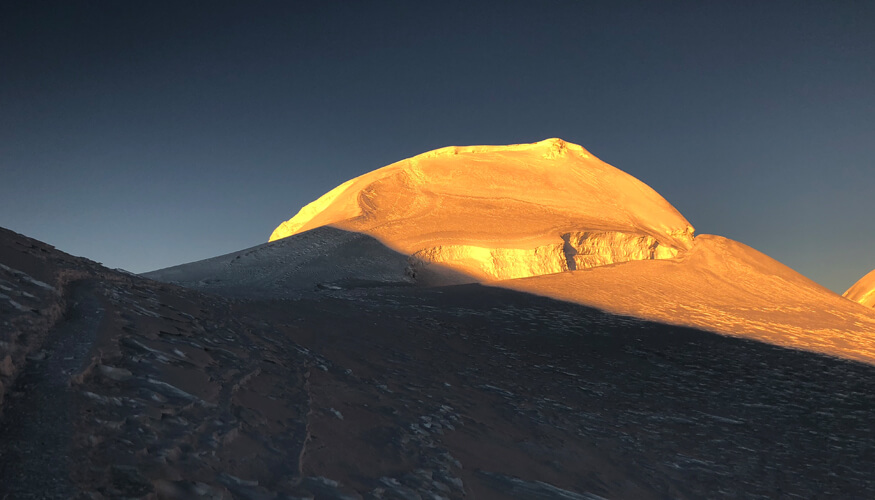 Climbing Mera Peak is an exciting adventure that combines traversing through superb sceneries with a gratifying summit experience. It provides an opportunity to explore the pristine beauty of the Everest region while challenging yourself both physically and mentally, offering a stimulating yet achievable climbing experience for adventure enthusiasts. The best season for Mera Peak climbing is September to November (Autumn) and March to May (Spring).
Returning Back to Lukla on Helicopter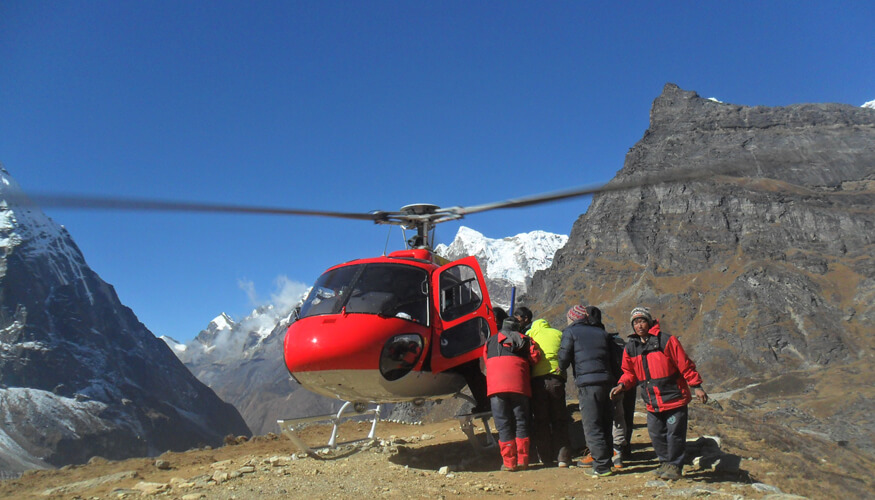 Returning back to Lukla by Helicopter is a great way to experience the grandeur of the Khumbu Himalaya. After summiting Mera Peak (6476m) and relishing the surreal panoramic Himalayan view, including Mt. Everest (8848.86m), Mt. Lhotse (8516m), Mt. Cho Oyu (8201m), Mt. Makalu (8463m), and Mt. Kanchenjunga (8586m), we retrace our steps back to Khare. Upon reaching Khare after the successful summit of Mera Peak, you can opt to fly back to Lukla by Helicopter from either of these three vantage points:
After scaling the Mera Peak summit, we retrace the steps back to Khare the same day and to Thangnak, Kothe and Thuli Kharka the following days. From here, we head towards Zatrwa La Pass at an elevation of 4610 meters. The ascent to the pass is mostly steep and icy, whereas the descent from the Pass to Kharkiteng is long, slippery and equally challenging. That's why most climbers, after summiting Mera Peak, prefer to fly out to Lukla by Helicopter from one of these three vantage points (Khare, Thangnak and Kothe).
| | | | | |
| --- | --- | --- | --- | --- |
| From | To | Cost | Type of Service | Carrying Capacity |
| Khare | Lukla | 1450 | Helicopter charter | 2 persons |
| Thangnak | Lukla | 1150 | Helicopter Charter | 3-4 persons |
| Kothe | Lukla | 850 | Helicopter Charter | 4-5 persons |
Note: Vat (13 %) is included in all of the Trip Costs mentioned above.
Preparation for Mera Peak Climbing with Helicopter Return
Mera Peak is an exhilarating climb, and proper preparation is a must for a successful ascent and safe experience, as preparing for Mera Peak climbing is an exciting and challenging endeavor.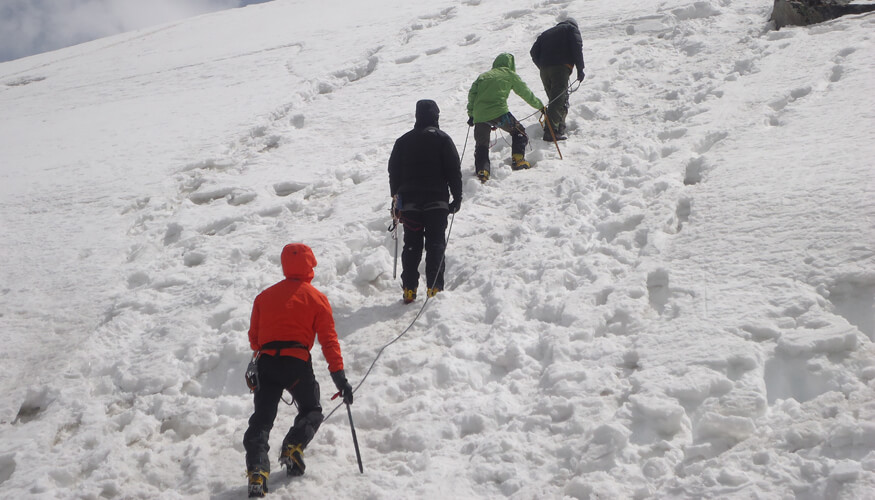 Physical Preparation
Climbing Mera Peak is a demanding one that requires a good level of physical fitness. Prepare yourself and work precisely on cardiovascular exercises like running, hiking, cycling, or swimming to improve your endurance. Include strength training exercises to build your leg muscles, core strength, and upper body strength as well. Another factor is acclimatization. Keeping that in mind, we've designed our itinerary with enough rest days and gradual altitude gains to allow your body to adjust to the thin air.
Mental Preparation
Preparing yourself mentally plays a crucial role in achieving the goal (reaching the Mera Peak summit) you've set. Prepare yourself mentally by researching and understanding the route, challenges, and risks involved. Build mental flexibility, a positive mindset, and confidence in your abilities.
Travel Insurance for Mera Peak Climbing with Helicopter Return Trek
'Travel Insurance is a must.'
Annapurna Foothills strongly recommends that you have appropriate travel insurance coverage when it comes to adventure activities like climbing Mera Peak (6476m above sea level). Travel insurance that covers emergency evacuation, injury, lost baggage, liability, and medical treatment is recommended. The insurance must cover all the activities you undertake during your Nepal stay. Annapurna Foothills Treks and Expeditions Pvt. Ltd. can organize the appropriate medical response based on your policy.
Other 6000 M+ Trekking Peaks to Consider
If only climbing Mera Peak does not satisfy your adventurous soul and want to extend your trip and combine other 6000m peaks along with Mera Peak, then we would like to recommend our valuable guests the following options:
Mera and Island Peak Climbing – 25 Days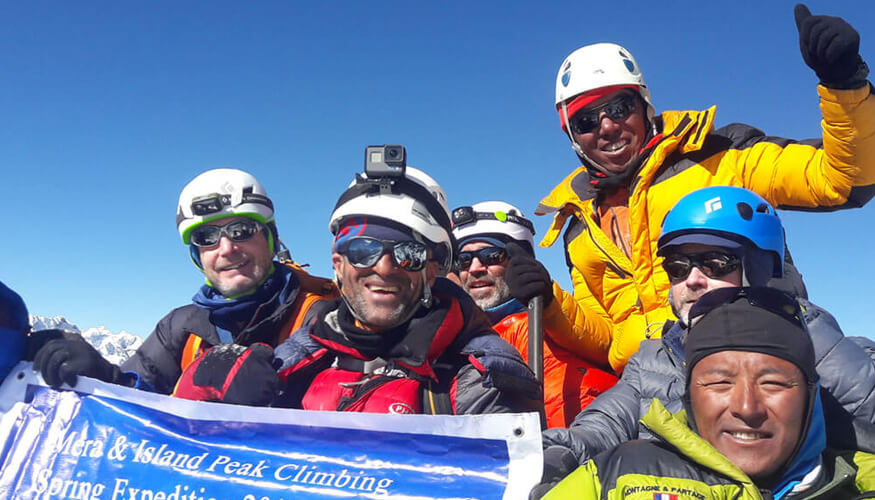 One of the best options to consider is doing Mera and Island Peak Climbing via Amphu Labtsa Pass (5700m). This exciting expedition includes two 6000m + trekking peaks and one challenging high pass. Our Mera and Island Peak Expedition starts with climbing Mera Peak first, followed by the rather tricky Amphu Labsta Pass and then a moderately difficult Island Peak, with its exposed summit. This exceptional high-altitude adventure is packed with an amazing variety of mountains and wilderness valleys, forests and grasslands, lodges and camping: a complete Khumbu trekking and climbing experience for adventure enthusiasts.
Three Peaks in Everest Region – 30 Days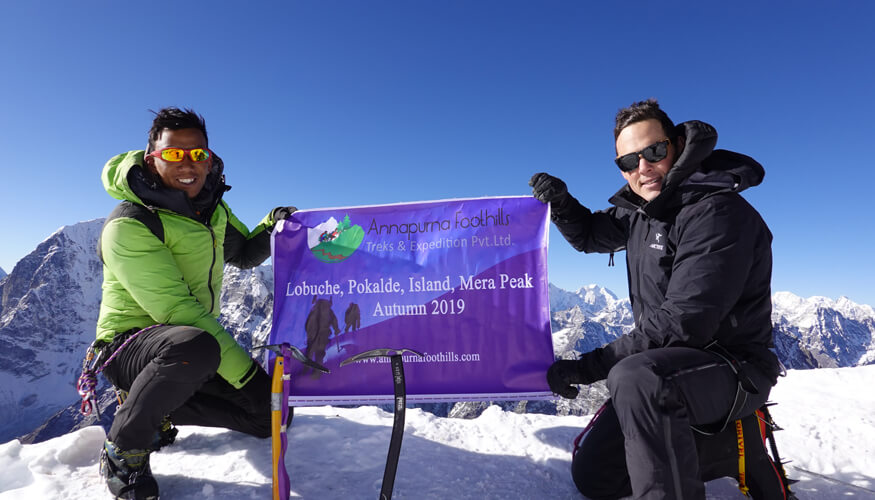 Climbing three of the best 6,000+ meter trekking peaks in the Nepal Himalaya is a physically and mentally challenging adventure through the Khumbu Valley. This is the Holy Grail of Himalayan climbing and the perfect introduction to high-altitude mountaineering. The three peaks are Mera Peak (6,476 meters), Island Peak (6,189 meters), and Lobuche East Peak (6,119 meters). Each peak offers stunning views of the surrounding mountains, including Mount Everest.
Rapid Mera Peak Climbing – 16 Days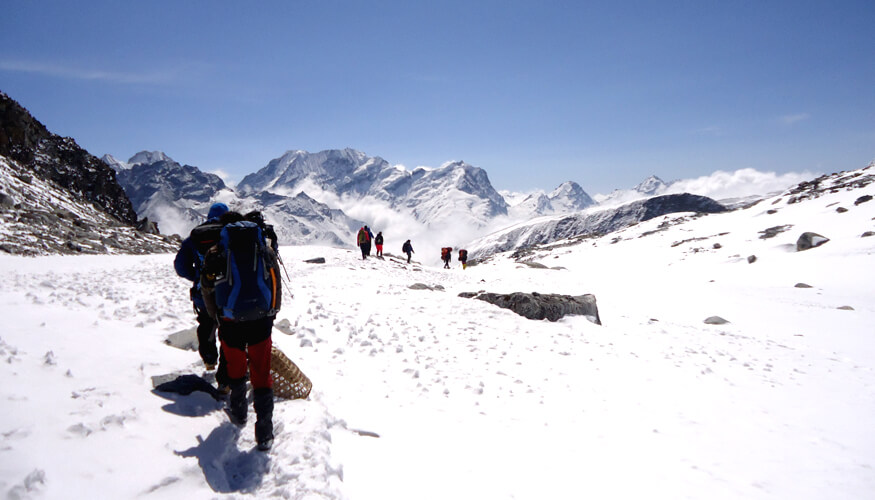 If you are considering getting into mountain expeditions or want to experience high-altitude peak climbing without many technical risks, Rapid Mera Peak Climbing is the ideal option for you. Our Rapid Mera Peak Climbing is a shorter and more affordable option than other Mera Peak climbing itineraries. The Rapid Mera Peak Climbing itinerary is typically 16 days long, starting and ending in Kathmandu.
Mera Peak Climbing with Helicopter Return Complete Packing List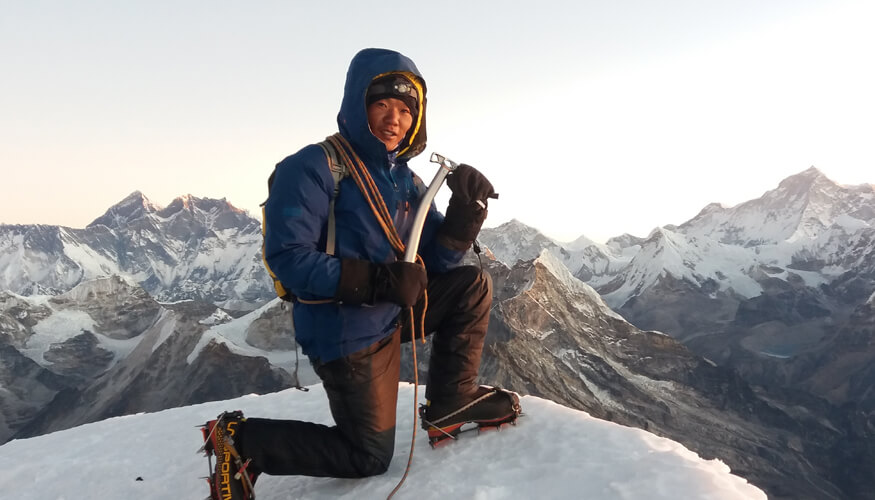 When packing for a trek, it is important to keep in mind that your belongings will be divided into two bags: a daypack that you will carry with you at all times and a duffle bag that will be carried by your porter. The daypack should be packed as lightly as possible, as you will carry it on your back for long periods. Only pack the essentials, such as water bottles, snacks, sunscreen, a first-aid kit, and any other items that you will need throughout the day. The duffle bag can be packed with bulky items, such as your sleeping bag, tent, clothes, and other gear. Click here to get the list of Complete Gears and Equipment Checklist needed for Mera Peak climbing in Nepal.