Highlights:
Nepal's highest trekking peak: a High altitude challenge gentle climb to the summit.
Ideal first Himalayan climb
Mera Peak is one of the most alluring trekking peaks in Nepal: culturally stimulating journey through remote picturesque villages and forests - It is perhaps best known because it is Nepal's highest trekking peak.
The climb of Mera comes at the end of a week-long trekking and acclimatisation programme designed to give you the best possible chance of an enjoyable yet successful journey.
The trip starts from Kathmandu where we make preparations and enjoy the diversity of this ancient city. A short but amazing mountain flight takes us to the trailhead at the town of Lukla in the Khumbu Valley, the gateway to the Everest region.

Mera Peak Information in Detail:
If you are thinking about getting into the world of serious expeditions, or wanting to experience high altitude without a lot of technical risk, Mera Peakis what you are looking for. Mera Peak, 6476m, is the highest permitted trekking peak in Nepal, yet its technically straightforward ascent makes it a realistic objective for avid trekkers to attempt as their first peak.From the summit of Mera Peak you are rewarded with a magnificent view of the over-8000-meter-mountains including Mt. Everest, 8848m, Mt. Lhotse, 8516m, Mt. Cho Oyu, 8201m, Mt. Makalu, 8463m, Mt. Kanchenjunga, 8586m, to name a few.

A Mera Peak climbing trip starts with a breathtaking mountain flight from Kathmandu to Lukla. Next we set out on incredibly beautiful trek through the incredibly remote Hinku Valley, where you can immerse yourself in local culture. Annapurna Foothill Treks highly recommends this his route allows a gradual acclimatization which will stand you in good stead when for the climb rather than the alternative, a more direct route over the Zatrwa Pass.

This less-visited and unspoiled area of the Everest region boasts of beautiful green terraced fields, dense forest, rushing streams, swinging bridges, and yak pastures with a backdrop of the highest mountains in the world. Sherpa guesthouses, high in the summer pastures, are a welcome place for weary trekkers.

Mera Peak Climbing is technically straightforward, as the snow slopes rarely exceed 40 degrees; however, the final 50m from the top requires ropes, ice pick, harness, crampons. Previous climbing experience would be an advantage, but it is not mandatory because our well-experienced guides will give you training on the climbing gear and necessary skills. Although the altitude makes it physically challenging, our itinerary has been carefully designed to allow gradual acclimatization.

Emergency evacuation:
Helicopter rescue services are available. Evidence of insurance will be required by the evacuation services before the helicopter will fly. It can be landed at Kote and up to Khare. However, emergency evacuation cost is not included in your expedition cost. Most helicopters struggle above 5500m. Often a helicopter can only take min 2 persons at the limit of its operating altitude. There is no mountain rescue squad available, the victims have to be evacuated to a safe helicopter landing site preferably below 5500m.

Trip specific safety:
We strongly recommend the use of a neck wallet or money belt while travelling, for the safe keeping of your passport, air tickets, cash and other valuable items. Leave your valuable jewellery at home - you won't need it while travelling. The hotels we use in Kathmandu have a safety deposit box which is the most secure way of storing your valuables. A lock is recommended for securing your luggage.

Upon Arrival in Kathmandu:
Upon your arrival at the Kathmandu Tribhuvan international airport, you look for a signboard of Annapurna Foothills Treks and you will notice our representative holding Annapurna foothills's board. He will welcome you with a garland and a bottle of mineral water, then assists you transfer to your respective hotel in Kathmandu in Annapurna Foothills Treks 's Van/Coach. On our every trip, we have all Airport pickup and drop shuttles included in the trip cost to protect you from any kind of hassles and tussles which is quite common to experience when you for the first time visit an alien country. Please be aware of people wanting to help you with your bags as they will ask for money once you get to your van/coach.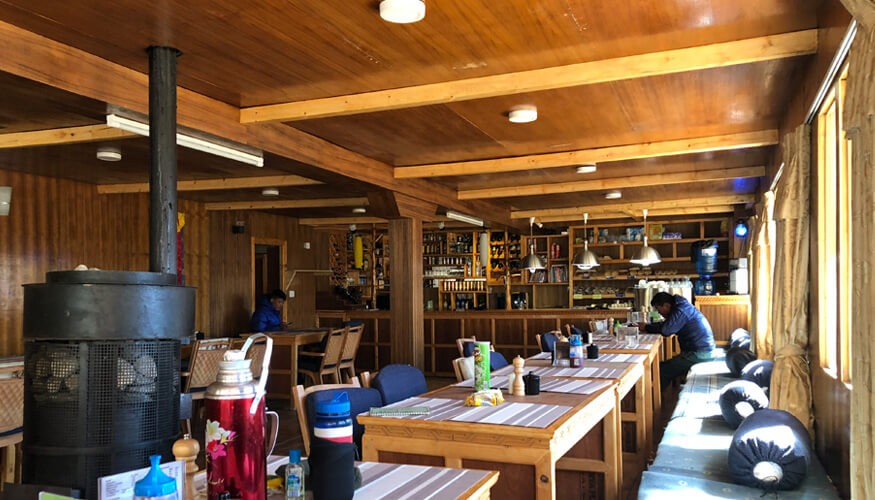 A Typical Dining Room
Mera Peak Trip Accommodation:
Annapurna Foothills Treks takes great care to arrange the most comfortable accommodation possible throughout your stay. Accommodation is included in the cost of your package.
During the trek, eleven nights will be spent in clean and comfortable tea houses/lodges and three-four nights camping in two-man tents. In major town like Lukla, the rooms have attached washrooms; however rooms in the more remote villages have shared washing and toilet facilities. For the nights in tents, four-season and foam mattresses will be provided. We take extra precautions to ensure your comfort even in adverse weather conditions.

Tea House Trekking:
Along the popular trekking trails in the Mera Peak regions charming family-run lodges provide simple rooms and good food which most trekkers thoroughly enjoy. Traditionally, tea houses, or chai bhati, were used by the local Nepalese on journeys through the mountains. Tea house treking not only supports the livelihood of the mountain people, but is a good chance for you to learn about the mountain culture and lifestyle and meet other trekkers. The cozy tea houses are sure to be a beautiful aspect of your Himalayan experience.We do our best to make sure your stay is comfortable.

Rooms:
The rooms are simple but clean. A room usually has two single beds with a foam mattress and pillow. The toilet could be shared. A blanket is provided, but many travelers prefer to bring their own sleeping bag.
If we are a large group we reserve beds in advance. This is simple where there is a telephone connection, but if there isn't the guide's assistant will go ahead to book the required rooms. A sense of adventure will be a great advantage to help you adjust to some lodges which are more basic than others. |

Washing and Toilet Facilities:
Most lodges offer hot showers, though sometimes a hot shower means a bucket of hot water. For ecological reasons please try and limit your use of hot water unless the water is solar-heated. Please note that at higher altitude and in colder seasons there is very little chance to have enough hot water for all the trekkers. If the water is frozen then ask your guide to get warm bowl of water. Every lodge will have some kind of hand washing facility but it is good idea to carry a bar of soap with you.
Toilets are usually Asian squat style and vary in how clean they are. Normally toilets are outside the lodge but now some lodges have attached or indoor toilets. The rubbish bin in the toilet is kept for your used toilet paper.

Meals:
All your meals during the trek are provided: a standard breakfast, lunch and three course dinner including tea or coffee with each meal. You can select anything from the menu. The food is tasty and hygienic, but the menu is not extensive and will be fairly similar from lodge to lodge. Cereal, porridge, bread and egg dishes are generally available for breakfast. Most tea houses offer variety of rice and noodles dishes with soup and seasonable vegetables. Snacks are not provided, but are widely available. Biscuits, chocolate bars, soft drinks and in some areas you will find local seasonal fruits. Beer and whisky are also available.
Please feel free to eat all that you want, however, we kindly request that you don't order more than you can eat. Many village people are struggling to get enough to eat, so in respect to them, we try not to waste food.
For trekkers doing a high altitude trek above 4000m, it is not advisable to consume alcohol and cigarettes.

Drinking Water:
While trekking, it is important to keep hydrated; you should drink at least 3 liters of water each day. In the Annapurna Region there are Euro-guard filters, so all you need is your own water bottle and you can refill it easily. In the other regions bottled mineral water is available in the lodges and shops, but we recommend that you refill your bottle with boiled water and/or use water purification tablets since the disposal of the plastic bottles is an environmental concern.
Many government and non-government agencies have provided trainings to the lodge owners so that they could provide quality services in an environmentally friendly way. All lodge owners in these areas use alternate fuel for cooking and heating. They dispose of garbage in proper way and have adopted eco-friendly measures.

Environmental Responsibility:
Annapurna Foothills Treks is deeply committed to maintaining ecosystems at home and around the world. With each expedition, we not only attempt to leave the environment as we found it, but strive to assist the local population in protecting the land and people indigenous to that region. Annapurna Foothills Treks reaches for the highest ethical business practices at home and abroad. Each staff member of AFT is dedicated to preserving the environment.
At Annapurna Foothills Treks environmental stewardship remains one of our core values and we take Leave No Trace ethics and practices very seriously. The mountains are our home and we are unwilling to sacrifice their preservation for human objectives. On every one of our courses and climbs we teach and follow the environmentally appropriate Leave No Trace principals and practices.
Annapurna Foothills Treks believe that given the proper information most people will do all they can to help protect and maintain the environment. AFT is committed to developing safe, self-reliant and environmentally conscious mountaineers.