About Yala Peak Climbing
Yala Peak climbing is a straightforward climb with stunning scenery and an impeccable introduction to Himalayan mountain climbing. Compared to other popular Trekking Peaks such as Mera Peak, Island Peak, etc., Yala Peak (5500m) is the smallest of all the trekking peaks in Nepal and can be done in the shortest time while still at a pace to allow proper acclimatization. Yala Peak is not technically demanding, but it is considerably high at 5500 meters, where you will feel the lower levels of oxygen and the extra energy being used up, and you are, of course, open to the elements. You need to take care of your hydration and maintain a slow, manageable pace.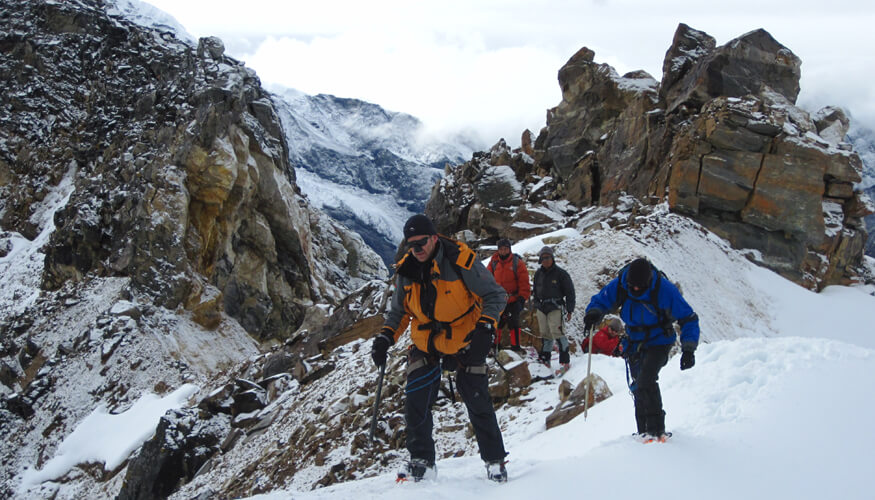 Beginning your adventure from rich green sub-tropical forests and agricultural areas to isolated and wide-opened rocky terrains, Yala Peak Climbing trekking trails leads you over some of the most exquisite and delightful landscapes of the Langtang Region that Nepal has to offer. Most of the villages in this region are admirably graced and adorned with flapping colorful prayer flags, chortens and pristine monasteries as the villages in this region are highly influenced by Tibetan Buddhism. Here, we have discussed everything you need to be aware of and prepared for before beginning your journey to Yala Peak in the Langtang Himalaya of Nepal.
Yala Peak Climbing Trip Facts
Region: Langtang Region, Nepal
Trip Style: Lodges and Tea Houses, 1-day camping at Yala Peak Base Camp
No. of Days: 12 Days
Trip Grade: Moderate to Challenging
Total Distance: 77 Km (48 miles)
Maximum Elevation: Yala Peak Summit (5550 m)
Starting Point: Syabru Besi
Ending Point: Syabru Besi
Best Months to Climb Yala Peak: March to May & September to November
Major Highlights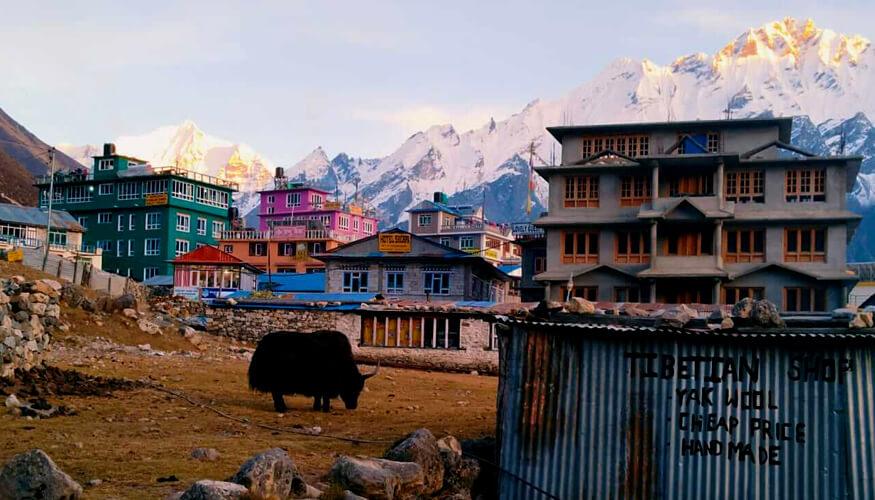 safe introductory peak for novice mountaineers

surreal panoramic view of Langtang Lirung, Yansa Tsenji, Shishapangma, Morimoto, Langshisa Ri and other snowy peaks

wonderful trek through the Langtang Valley

trek with our experienced local Sherpa guides

experience Tibetan-like culture and traditions
Yala Peak: Climbing Route
Our Yala Peak Climbing trail begins from Syabru Besi (1505m), after an amazing 9-hour (approx.) drive from Kathmandu that follows the twisting Trishuli River gorge. The trek starts in sub-tropical forests, and as soon as it climbs higher into the Langtang Valley, the forests grow thinner, and the valley widens.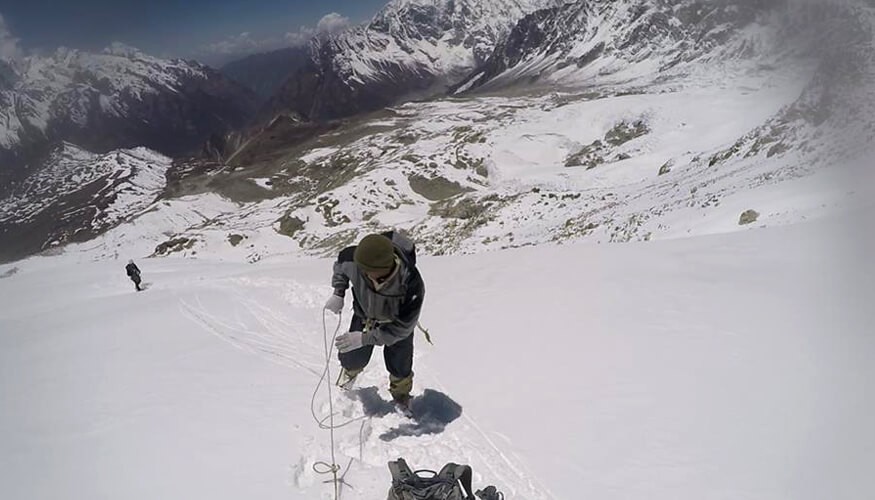 Moving a little higher, we reach Kyanjing Gompa (3740m), named after an ancient monastery. There are many chortens along the trail, and it is our practice to walk from the left-hand side. We spend an extra day at Kyanjing Gompa to acclimatize, allowing us enough time to explore the Langshisa glacier or climb to Kyanjin Ri (4773m) for more amazing views of the snow-capped mountains. We can visit monasteries and cheese factory in nearby. After spending an extra night at Kyanjing Gompa for proper acclimatization, we head to Yala Peak Base camp.
The trail to Yala Peak Base Camp (4800m) is relatively easy, and there are beautiful views on the way. The route to Yala Kharka Basecamp begins following the same path as Tserko Ri. We come underneath the ridge of Kyanjin Ri, cross the glacial river, and begin up the switchbacks beneath the Tserko Ri ridge.
Yala Peak Climbing Summit Day
Congratulations on your Summit Day !!
Just above base camp, we can see the rocky south face of Yala Peak and the Yala Glacier on the southwest face. From Base Camp, we pitch for the summit, which will be more difficult if there is snow. The first half of the summit push is a zigzag journey from one ridge to the next as we push up the snowy wave. Yala Peak always seems within reach, but it takes considerable time to reach the base of its rocky summit structure. It can be deceptive in that way.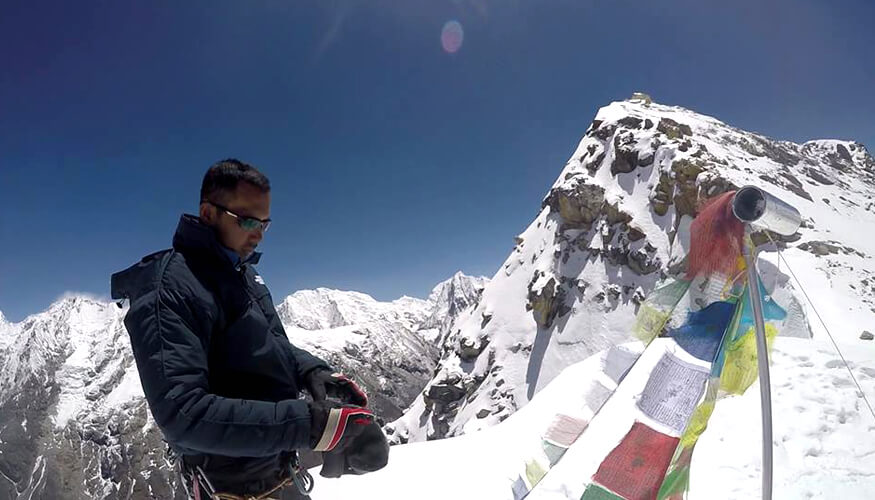 Moving forward, the trail ascends to a rocky ridge and then drops and ascends steeply on boulders. There is a flat area before the final 40m vertical snow/rock cliff leading to the narrow summit ridge. The view from the summit is impressive as we eyewitness the magical Mt. Langtang Lirung (7234m) to the west, Yansa Tsenji (6500m), a mountain on the Nepal-Tibet border, Morimoto Peak (6750m), Langshisa Ri (6800m) to the east and the only 8000er mountain, Mount Shishapangma (8013m).
Best Time to Climb Yala Peak Climbing
Yala Peak Climbing is doable throughout the year. But the best seasons for the Yala Peak Climbing are spring (March-May) and autumn (September-November). These months offer clear skies, sunny days, and stable weather, ideal trekking and climbing conditions. The views of the mountains are also spectacular during these seasons.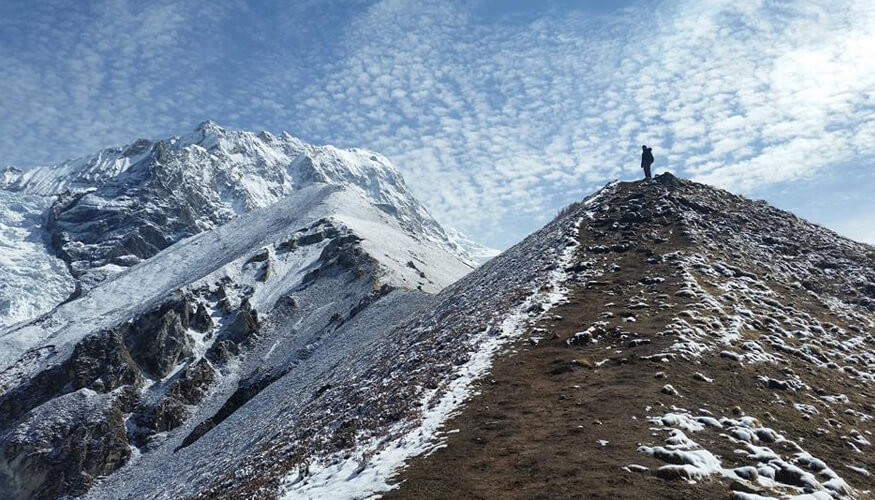 Yala Peak Climbing can also be done in the summer months (June-August), but the weather can be more unpredictable. There is a higher chance of rain and fog during this time, which can obscure the views of the mountains.
The winter months (December-February) are the coldest time of year in the Langtang region, but they can also be a great time to trek if you prepare appropriately. The trails are less crowded during this time, and you can see the mountains with fewer clouds. You need to be careful with your packing list, as weather conditions can get severe during the winter season.
Yala Peak Climbing Standard Itinerary
Day 01: Arrival in Kathmandu
Day 02: Kathmandu –Syabru Besi
Day 03: Trek to Lama Hotel
Day 04: Trek to Langtang
Day 05: Trek to Kyanjin Gompa
Day 06: Rest day in Kyanjin Gompa
Day 07: Trek to Yala Peak Base Camp
Day 08: Summit Yala Peak (5,550 m) and descend to Kyanjin Gompa
Day 09: Trek to Lama Hotel
Day 10: Trek to Syabru besi
Day 11: Drive to Kathmandu
Day 12: Happy Departure
Yala Peak Climbing Difficulty Level
Yala Peak, at an elevation of 5550 meters, is considered one of the most accessible peaks to summit in Nepal. Any physically fit person can safely summit Yala Peak. The route to the top is mostly scrambling on the rocky path, and the final ascent to the summit is pretty straightforward.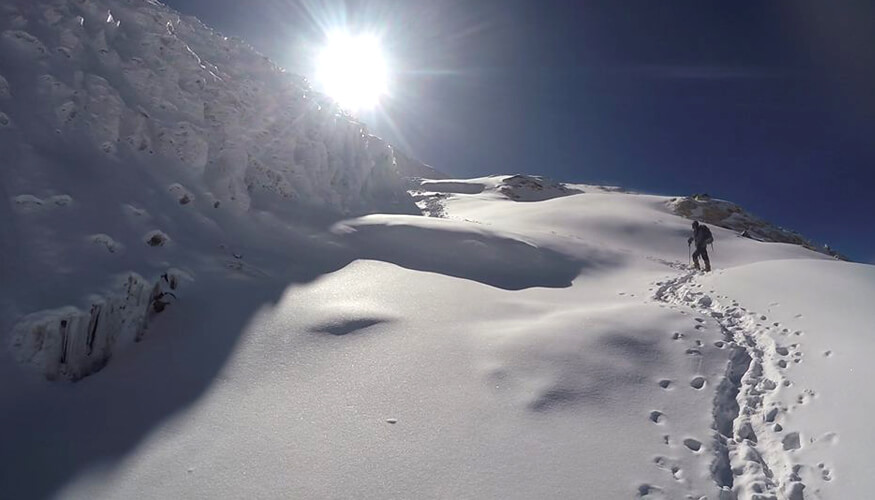 Yala Peak Climbing is very doable for every enthusiast trekker / Climbers who dreams of eye witnessing some of the most surreal mountains of Nepal and Tibet, including Mount. Shishapangma, even if it's their first time in the Himalayas of Nepal. Make sure to do adequate homework (physical fitness & training programs) before ticking off the Yala Peak Climbing Trip from your Bucket list. The trip grade is moderately challenging, but one with enough hiking/walking experience can do this trek as the trail is 100% safe, and there are no technical elements to the journey.
Yala Peak climbing begins from Kyanjin Gompa, where the trail then climbs steeply up the hill to Tsergo RI and follows halfway. From here, the trail separates off to the left, which still climbs up and takes you to the immensely beautiful pasture (Base Camp), where we set our tent for staying overnight. The next day, the adventure starts early in the morning when the trail traverses uphill through the rough and rocky trail to the summit of our final destination, Yala Peak (5500m) summit.
Permits Required for Yala Peak Climbing
Yala Peak is one of the free peaks, so a climbing permit is not needed for the climb. Still, you will need the following permits:
Langtang National Park Permit, which we will take from the Army check post
TIMS permit (required for the trekkers to trek into the Langtang Area).
Travel Insurance for Yala Peak Climbing
It is strongly recommended to be sufficiently protected when you go into nature for trekking and climbing. Not just Yala Peak Climbing, but you need travel insurance to do any trekking or climbing in the Himalayas of Nepal. Before beginning the Yala Peak Climb, make sure your insurance covers high-altitude evacuations, as accidents may happen, and people need to be evacuated if they experience severe altitude sickness or other unforeseen contingencies during your trek. We, the Annapurna Foothills, strongly recommend our valuable guests doing treks at high altitudes, Peak climbing, etc., have sufficient insurance coverage. Make sure you have precise travel insurance before you leave home. Travel insurance that covers emergency evacuation, injury, lost baggage, liability, and medical treatment is recommended. Helicopter evacuation is our final emergency option, and we do recommend you have one in your insurance, as it is the only means of transport in the Nepal Himalayas.
The insurance must cover all the activities you undertake during your Nepal stay. There is a specific procedure to follow whilst calling for emergency evacuation. First, we will contact the insurance company hotline and get approval with your insurance, and only then helicopters are sent to the concerned call location. We can organize the appropriate medical response based on your policy.
Food, Water and Accommodation during Yala Peak Climbing
Food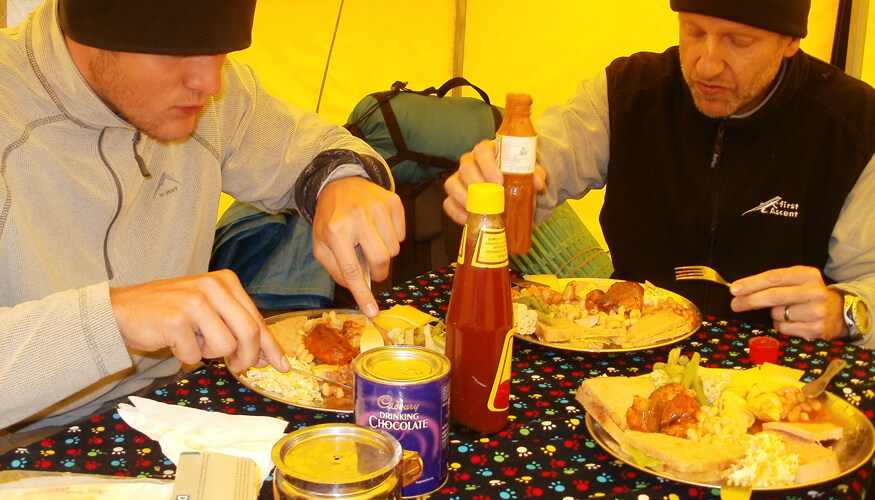 Meals in the Himalayas (Langtang Region) mainly consist of a diet rich in carbohydrates because our bodies do not process fat and protein efficiently at higher elevations. Three hot and delicious daily meals will be served (breakfast, lunch, and dinner) with tea, coffee and boiled water. Meals (Dinner and Breakfast) are consumed at the teahouses and lodges where you stay overnight, and lunch will be eaten somewhere on the way to the next destination at a lodge or a teahouse. Typical Nepalese meal (Rice, Daal, and Curry) is available throughout the Langtang region; which is considered the perfect combo of Nepalese meal as it is fresh, healthy and rich in calories making it the finest choice to choose from the Menu along the trekking trail en route to Yala Peak. We recommend keeping it vegetarian at higher elevations to avoid the dangers of meat gone wrong. However, you can enjoy meat with your lunch or dinner at lower elevations as they are fresh and farmed in most lodges. The food will be simple yet energetic enough to nourish your body for the next day's trek. Beverages like beer, soft drinks, bakery, tea and coffee are available throughout the trail and its price increases gradually with the rise in altitude.
Water
We suggest you drink boiled water or bring water purification tablets/liquid to purify the normal water available in the guest houses. There is a small fee for boiled water at guesthouses. Although mineral water is available in most places, there is no provision to dispose of plastic bottles properly, so we encourage our guests to do what they can to protect the environment and promote eco-tourism in one way or another.
Accommodation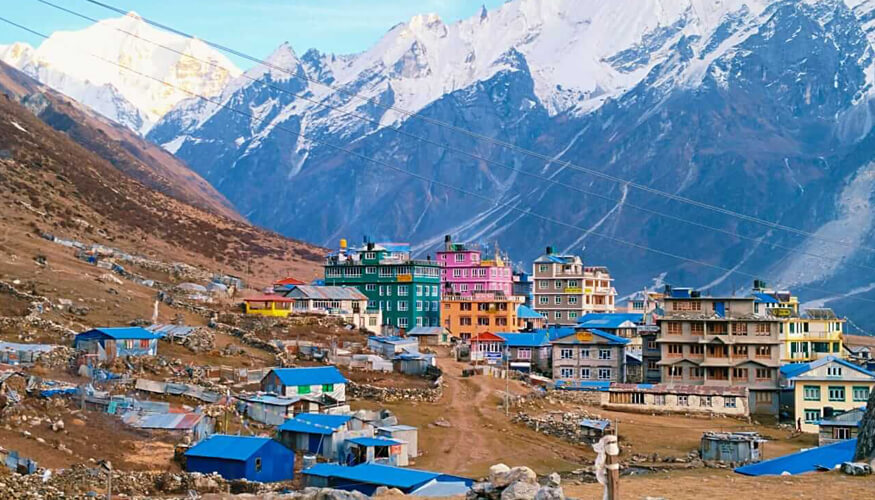 Accommodation is included in the cost of your package. Annapurna Foothills Treks takes great care to arrange the most comfortable accommodation possible throughout your stay. During the trek, the nights will be spent in clean, comfortable tea houses with plenty of character and good food. The simple rooms usually have two narrow beds. The family-run lodges are a great place to get to know the Nepalese people. In Nepalese culture, a guest is equal to god, and undoubtedly this has become even more of a reality since the tourism industry has improved their earning opportunities. You will be made very welcome!
Yala Peak Climbing Packing List
"There's no such thing as bad weather, only unsuitable clothing." - Alfred Wainwright.
Are you planning your dream trip to the Himalayas of Nepal?
A strategic way of packing will be keeping in mind that your stuff will be packed in two bags. One will be the daypack that you carry every day on your trek. Pack your daypack as lightly as possible by carrying only the essentials to relish your moments in the wilderness freely. Pack anything you may need each day during your hike in your daypack. Another bag will be your duffle bag carried by your Porter from the beginning of your trek till the end.
Here is the link complete packing checklist for Yala Peak Climbing or any other similar peaks climbing trip in the fascinating Himalayas of Nepal.
To conclude, Yala Peak climbing in the Langtang region is fantastic, rewarding a wide variety of diversified cultures, local people (mostly Tamang) and their lifestyle and witnessing ever-changing scenery and landscapes every single day during Yala Peak climbing.